Betta fish tattoo is one of the most popular fish tattoos other than the koi fish tattoo. Betta fish tattoo has become very popular because of their beautifully colored, flared fins and their reputation of aggression. Betta fish is also known as Siamese fighting fish. Because of their fierce and feisty nature, Betta fishes are often kept alone.
Betta fish tattoo symbolizes unique individuality, solitude, aggression, strength, power, freedom, beauty and defiant spirit. If you are looking for a Tattoo design to represent any of the above then Betta fish tattoo would be definitely the right choice.
Variations of fins and vibrant hues make Betta the most popular ornamental fish in the world. So if you are thinking of getting a Betta fish tattoo then you have variety of ways to design it.
Some of the common fin variation for Bettas' are
Veil
Crown tail
Comb tail
Half-moon
Rose tail
Feather tail
Plakat
Half-moon Plakat
Delta tail
Half-sun
Spade tail
You can also add some elements in to your Betta Fish Tattoo design to make it more meaningful and colorful. Check these beautiful Betta fish tattoos below for ideas.
Betta Fish Tattoo Designs by our House Artist Michael
Check the Betta fish tattoo designs sketched by our house artist Michael.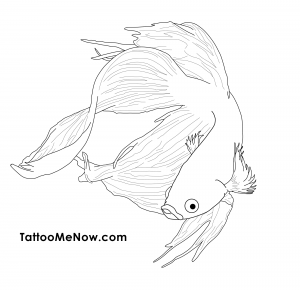 The most common breed of Betta is the veil tail. Their arch up float down tail creates the look of a veil. This Betta Tattoo will look good in any color.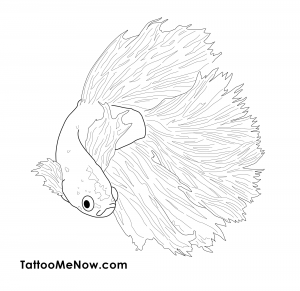 The super delta fin formation is very pretty. Some bright color and elements in the background will make this Betta tattoo look amazing.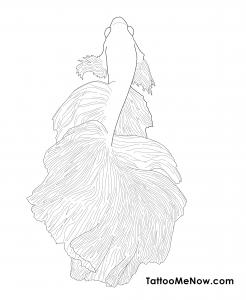 This one will have to be my personal favorite.  This Betta tattoo design reminds me of a flamenco dancer.
Download the high resolution copies of Betta fish tattoo designs from the  Member area.