Are you thinking about getting a Sugar Skull tattoo? Good news is that we've got you covered. In this article we will talk about why Sugar skull tattoos are so popular and meanings of Sugar skull tattoos. We have also collected 100+ unique sugar skull tattoo designs to help you get your next ink.
Skulls are one of the most common tattoo elements of all time. Traditionally skull tattoos symbolized death but not in a grim or negative way. In western culture skulls depict dark, deathly, horrid and symbol of mortality. A lot of people find skull tattoos too scary, morbid and intimidating. On the other hand, Sugar skull tattoos are very colorful, vibrant and not scary at all. Sugar skull tattoo has been a big part of Mexican culture.
In Mexico, Día de los Muertos also known as The Day of the Dead is a special holiday celebrated at the beginning of November. It is a time when all the families come together to honor death and those who have passed in a colorful celebration.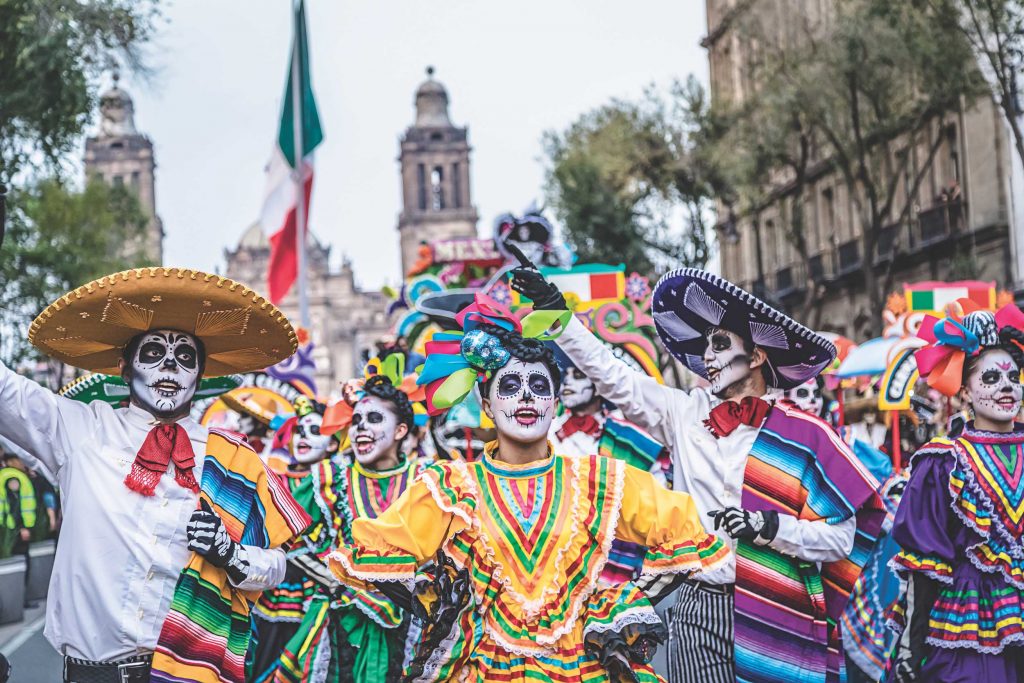 For the dead family members, families create beautiful altars called orfenda in their homes. They decorate the altars with flowers, candles, gifts, picture of their loved ones who passed away and their favourite foods and drinks when they were alive. Skulls made of sugar are placed as decorations to recognize the person who has passed. His or her name is written on the sugar skull's forehead and depending on the age of the deceased, the size of the skull might vary. Small skulls are dedicated to those who passed at a young age and larger skulls are for adults. The colors of the skulls differ too. Some skulls are covered in ribbons and icing, others are dipped in glitter and decorated with bright adornments like hats and bows.
There is a variety of versions of sugar skulls but none of them lack color, because color reflects life and the Day of the Dead celebrates just that.
Meaning of Sugar Skull Tattoos
Sugar skull tattoos are very popular among both men and women. Many people get sugar skull tattoos for their pretty designs but sugar skulls actually carry a very deeper message.
Like any other skull tattoos sugar skull represents the cycle of life, life and death. But since sugar skull has become an integral symbol of The day of the dead, people get sugar skull tattoos to commemorate their departed friends and family. Sugar skull tattoo is the symbol of celebrating life and moving on to the next life.
In sugar skull tattoo designs, you will notice that it has most details around the eyes. Flowers are meant to symbolize life, while cob webs symbolize death. Burning candles set inside the eyes are a sign of remembrance.
The colors used in a sugar skull tattoos have special meanings too. Here are the meanings behind the colors used in sugar skull tattoos:
Yellow – Represents the sun and unity, because under the sun, we're all the same.
White – Using this color in decorations represents spirit, hope and purity.
Red – Represents blood and life.
Purple – For this holiday, purple represents mourning, grief and suffering.
Pink – The bubbly color signifies happiness.
Sugar Skull Tattoo Designs
Sugar skull tattoos for females
Sugar Skull tattoos Small
Sugar skull tattoos sleeve
Sugar skull tattoos with rose
Sugar skull tattoos on thighs
Sugar skull tattoos black and white
Sugar skull tattoos for guys
Sugar skull tattoos with flowers
Sugar skull tattoos on arm
Sugar skull tattoos on forearm
Sugar skull tattoos on elbow
Sugar skull tattoos on wrist
Sugar skull tattoos on hand
Sugar skull tattoos on calf
Sugar Skull Woman