What is Stick and Poke Tattoo?
Stick and poke tattoos is also known as hand tattoo, DIY tattoo or homemade tattoo. Anyone can do Stick and Poke tattoo on their own in the comfort of their own home with some inexpensive tools. Basically you just poke your own skin with a needle and some ink.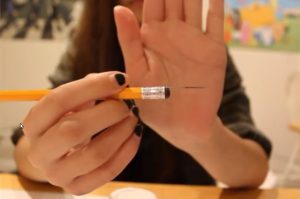 This method of tattooing was once popular among the prison inmates and now the trend has spread around the world where people wants to create their own DIY tattoos.
You may not create a masterpiece but stick and poke method works very well for small and simple designs. I have seen some amazing tattoos people have done by themselves by using tick and poke technique. See some Stick and Poke tattoo designs below:
The trend of Stick and poke tattoo is growing and celebrities like Cara Delevingne, Miley Cyrus, Rihanna, Kesha have hand poked body arts done by the professionals but that proves the popularity of the Stick and Poke tattoos.
What do you need to do Stick and Poke Tattoo?
Here is a list of tools and materials that you will need to create your own Stick and Poke tattoo.
Sterile tattoo needles or standard sewing needles
Needle support if you are using sewing needle
Cotton treads (if you are using sewing needle)
Tattoo Ink
Ink Container
Medical Gloves
Sanitary Wipes
Green Soap to sanitize skin
Rubbing alcohol
Tattoo pen or standard pen
Stencil Paper (Tattoo paper)
Preparing the work area for Stick and Poke Tattoo
It is very important that you sterilize the equipment, work area and the skin before performing Stick and Poke tattoo. Grab yourself a tray so you can keep all your tools together. Make sure to have a container to dispose the needles after you finish tattooing.
Tracing your Stick and Poke Tattoo design on your skin
You can use a standard pen to draw the design on your skin but tattoo pens are more hygienic. You can also use tattoo or stencil paper to transfer the design onto the skin.
How to do a Good stick and Poke Tattoo
Once the design is on your skin, dip the needle in the ink and start poking the skin on the outline. Every 1-3 pokes dip the needle in the ink. Do not poke too deep in the skin. Once the outline is complete start filling it in.
Stick and Poke Tattoo Ideas and Designs
For Stick and Poke tattoo always go for small and simple designs. With a sewing needle or tattoo needle it will be hard to do the details and shadings if you are not a professional. Keeping it simple and clean is the secret here.
Here are some amazing Stick and Poke tattoo designs that will give you inspiration and ideas for your tattoo.
Stick and Poke Tattoos
Stick and Poke Tattoo Supplies – Needles
There is no specific Stick and Poke needle. The point is to poke the skin with any sharp pointy object. Many people use sewing needles. The problems with sewing needles are very hard to hold and do not retain ink well. For the best result you should try professional tattoo needles. They give you good control, retain ink well, more hygienic and pretty cheap.
How to choose the right needles for Stick and Poke Tattoo
Tattoo needles are actually made of a group of tiny needles. They varied by the diameter, number of small needles and how they are arranged.
Needle Size for Stick and Poke Tattoo
Needle Sizes control the ink flow and smaller needle makes narrower and finer the lines. So, use the smaller needles for the outlines and bigger sizes for the shadings. Actually size 12 is the most popular for overall use.
On the needle packets you will see something like 1203 RL that tells the size of the needle is 12 mm in dimension which is grouped by 3 needles (RL is one of the arrangement types of the needles).

Needle count and arrangement for Stick and Poke Tattoo
It helps to tattoo better if you understand how the needles are grouped. Multiple needles grouped together still makes a single point or line.
Here is an example below how the needles are grouped.

RL (Round Liner) – for lining and outlining
RS (Round Shader) – for shading
MS (Magnum Shader) – for shading in larger areas
F (Flat) – for shading within geometric designs
For stick and poke tattoos RS (Round Shader) and RL (Round Liner) tattoo needles are most popular and highly recommended.
Recommended Stick and Poke Needles
Stick and Poke Tattoo Supplies – Ink
These days Tattoo inks are as cheap as the regular pen ink and easy to get online. So if possible I would recommend you to use the actual tattoo ink.
If tattoo ink is not available then your next choice would be India Ink. India ink should consist of water and black carbon which are the same ingredients used in black tattoo ink. Please be mindful that some manufacturers of India ink may use extra chemicals to make the ink flow better which might be harmful for your skin. So I would like to stick to tattoo inks as they are designed and tested to be used on skin.
Recommended Stick and Poke Tattoo Ink
Stick and Poke Tattoo Kit
Rather than buying needles and inks separately you can buy a Stick and Poke tattoo kit that contains everything to create a basic Stick and Poke tattoo.
Conclusion
How to make the Stick and Poke Tattoo safe?
Sterilize everything to avoid infection. If you are using sewing needle then hold it to the flame to sterilize before using it. Try to use proper tattoo needles if possible as they are cleaner and made specifically for tattooing.
Do not just use any ink or the ink from your pen because they can be highly toxic. Tattoo ink is preferred but you can also use India ink which is non toxic and pretty much as safe as tattoo inks and easily accessible.
Make sure you are not poking the needle too deep into your skin. You should be only poking the needle into the skin about 1/8 inch deep. If you are bleeding too much more than few droplets then stop immediately.
Treat it like a professional tattoo so aftercare is important. Apply antibacterial cream on the skin to prevent infection.
More Stick And Poke Tattoo Ideas