A symbol of masculinity and values, the samurai has been a popular tattoo for years in Japan and surrounding areas. Only recently has the samurai tattoo become more popular in Western countries. The style can come in many forms from very simplistic to very elaborate. Regardless of the style, the wearer usually chooses to adorn themselves with a samurai tattoo for significant reasons. The word samurai is translated to "to serve". Samurais are commonly known for their peaceable and respectful attitudes, yet they are very skilled and knowledgeable as warriors.
The samurai can be used to symbolize many different attributes such as bravery, life, death, discipline or honor. Since the samurai is a major part of Japanese culture, it is not surprising to see them paired with other Japanese symbols such as cherry blossoms or dragons. Samurai tattoos can be perceived as fearless or peaceful depending on the meaning. Below are a few examples of samurai tattoos.
17 Beautiful Samurai Tattoos
Peaceful Samurai Tattoo
A simplistic black and gray samurai tattoo shows a more peaceful warrior with his katana.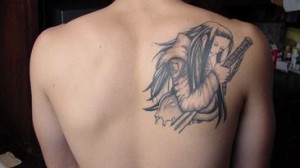 Humble Samurai
This upper arm tattoo shows a black and grey samurai standing with his back to the wind.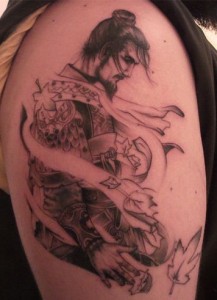 Strong Samurai Warrior
Black and grey scale samurai dragon warrior on the upper arm.
Full Back Samurai Warrior
This elaborate full back design shows a samurai warrior with many other Japanese symbols.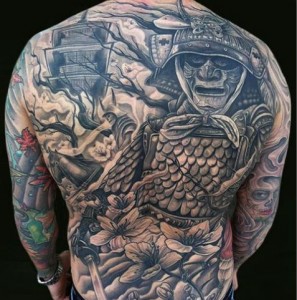 Serious Samurai
A more serious traditional Japanese samurai with a sword and armor.
Japanese Samurai Warrior
A colorful samurai warrior showing off his skill on the person's back.
A Bold Samurai
This is an original Japanese tattoo showing a samurai's strength as he defeats his enemy.
Samurai on Horseback
A black and grey scale samurai riding a horse into combat with his sword to the side.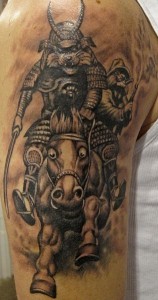 Traditional Samurai Fighting
A bit of color added to this tattoo makes for a nice traditional looking samurai warrior.
Bold Serene Samurai
A cherry tree in the background of this full back tattoo with a serene looking samurai in a zen pose.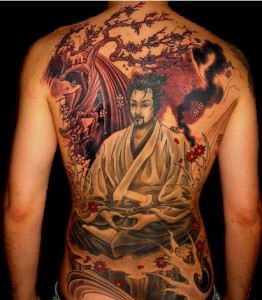 Face of a Warrior
A bold graphic samurai face with red flowers around him.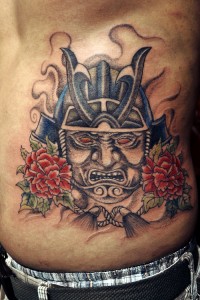 Samurai in Action
A samurai warrior jumping into action with his sword ready to strike his enemy.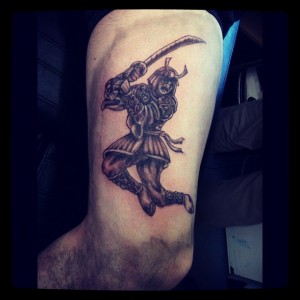 A Serious Samurai
A strong serious samurai with cherry blossom in the background makes for a bold upper arm tattoo.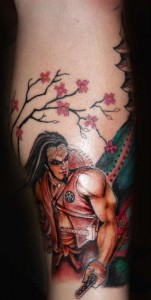 An Epic Battle
A full back tattoo with a traditional samurai preparing to fight a dragon samurai warrior.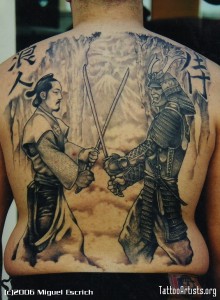 A Samurai in Progress
This samurai is not finished, but the colors are nice and the tattoo is another traditional samurai.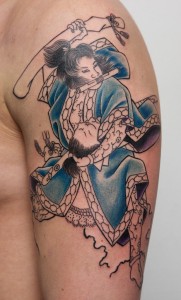 Samurai Line Art
A black line art samurai facing away from some Japanese symbols.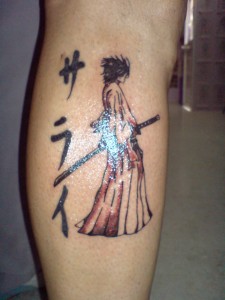 Blue Samurai
A black and blue image of a serious looking samurai on the right shoulder.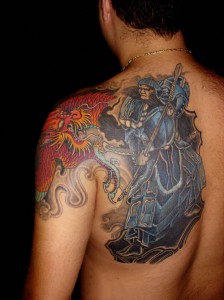 You may also like our in-depth article on Japanese Tattoos