Perhaps one of the most beautiful and easily recognizable flowers is the Cherry Blossom. These small pink flowers have a short blooming period, and therefore in Japan they are thought to represent the beauty and shortness of human life. This metaphor for mortality makes Cherry Blossoms very popular in Japanese artwork, as well as tattoos throughout the world. In China, the Cherry Blossom has a somewhat different meaning, as it is associated with femininity and love. Their pink coloration is also thought to be symbolic of feminine beauty, and the fact that they bloom in early spring gives them an association with the end of winter or a difficult time in someone's life.
These beautiful and highly meaningful flowers make for wonderful tattoos. If you are thinking about incorporating Cherry Blossoms into your next piece of body art, take a look at the following examples of beautiful Cherry Blossom tattoos.
Cherry Blossom Shoulder Tattoo
Differing colors of pink make this cherry blossom tattoo stand out.
Cherry Blossom Foot Tattoo
These feminine cherry blossoms create a beautiful tattoo on the ankle and foot.
Large Cherry Blossom Tattoo
These large cherry blossoms stand out against a black background.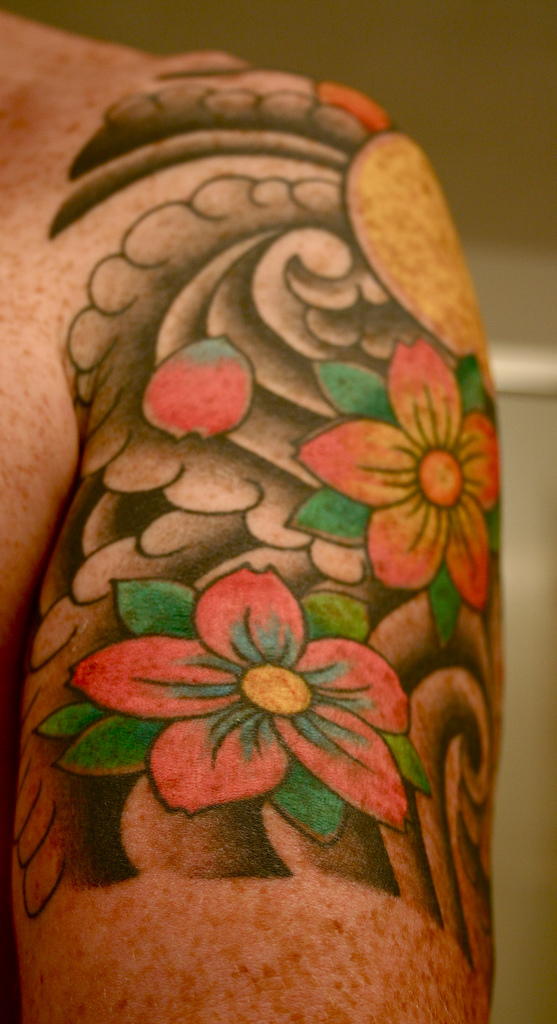 Detailed Cherry Blossom Tattoo
The details of each individual cherry blossom on this tattoo make it an amazing piece of art.
Cherry Blossom Back Tattoo
A cherry blossom branch begins at a woman's shoulder and continues down her back.
Single Cherry Blossom Tattoo
This tattoo of a single cherry blossom proves that the blooms can be just as beautiful on their own.
Pink and Blue Cherry Blossom Body Art
Accents of blue give extra color to this cherry blossom tattoo.
Cherry Blossom and Butterfly Tattoo
A small butterfly gives this cherry blossom an extra something.
Cherry Blossom Branch Tattoo
These beautiful blossoms make for a very feminine tattoo.
Cherry Blossom Bloom Tattoo
This delicate cherry blossom bloom is a dainty lower back tattoo.
Hot Pink Cherry Blossom Tattoo
The hot pink and black of this cherry blossom tattoo gives it a bold look.
Large Cherry Blossom Tattoo
Large and detailed flowers give this back tattoo prominence and flair.
Feminine Cherry Blossoms
The shape of this cherry blossom tattoo follows the curve of the woman's body beautifully.
Cherry Blossom Swirl Tattoo
This pink cherry blossom tattoo sits on a background of black spirals.
 Japanese Cherry Blossom Tattoo
The art style used in this cherry blossom tattoo, coupled with the Japanese character in the corner, gives this body art an Asian feel.
You may also like our in-depth article on Japanese Tattoos