Welcome to the vibrant world of peacock tattoos, where beauty, elegance, and a dash of whimsy come together in a mesmerizing dance of colors and designs! If you're a tattoo enthusiast looking for a fresh and fun way to express yourself, you've come to the right place. Our peacock extravaganza promises to whisk you away on a journey of artistic delight, showcasing not just ten, twenty, or fifty but a whopping 100 dazzling peacock tattoo ideas with their playful meanings!
In this blog, we'll uncover the secrets of what it truly means to adorn yourself with this stunning avian art. Get ready to explore the realms of beauty, spirituality, renewal, and more as we decode the hidden meanings behind these feathered masterpieces.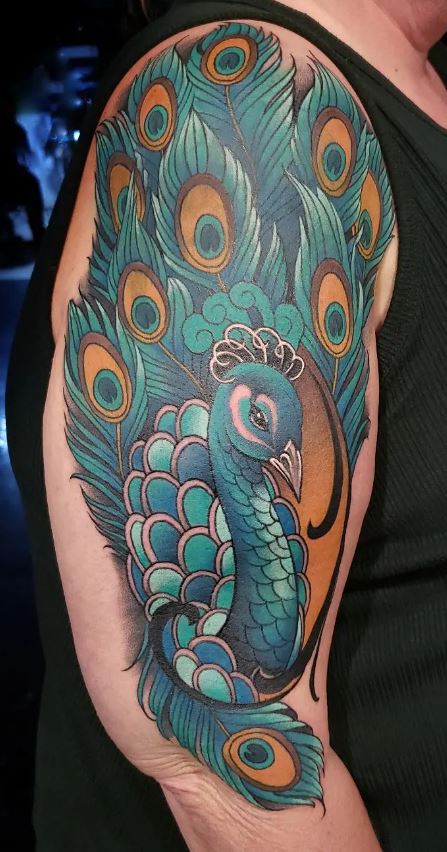 What Does a Peacock Tattoo Symbolize?
A peacock tattoo holds various symbolic meanings across different cultures and belief systems. Here are some common interpretations associated with peacock tattoos:
Beauty and Elegance: The peacock is renowned for its vibrant and captivating plumage, symbolizing beauty, grace, and elegance. A peacock tattoo can represent one's appreciation for aesthetics and the pursuit of beauty.
Confidence and Self-expression: Peacocks display their feathers in a magnificent fan-like manner to attract mates. This behavior is often associated with confidence and self-assurance. A peacock tattoo can serve as a symbol of embracing one's individuality and expressing oneself boldly.
Spirituality and Wisdom: In certain cultures, the peacock is considered a sacred bird associated with spirituality, wisdom, and enlightenment. The "all-seeing" eyes on the peacock's feathers are believed to possess mystical qualities, symbolizing heightened perception and divine knowledge.
Renewal and Rebirth: Peacocks undergo a molting process where they shed their old feathers and grow new ones. This cycle of renewal and regeneration is often associated with themes of rebirth, transformation, and personal growth. A peacock tattoo can signify embracing change and embracing new beginnings.
Protection and Watchfulness: The distinctive eye-like patterns on the peacock's feathers represent watchfulness and protection. A peacock tattoo can symbolize being vigilant, alert, and warding off negative energies or influences.
Love and Romance: Peacocks are often associated with courtship rituals and symbols of love and romance. A peacock tattoo can represent a deep connection with love, passion, and the pursuit of emotional fulfillment.
It's important to note that the symbolism of a peacock tattoo can be personal and may vary from individual to individual.
Peacock Tattoo Designs and Ideas
Realistic Peacock Tattoos
Opt for a detailed and lifelike portrayal of a peacock, showcasing its stunning feathers and intricate patterns. This design is perfect for those seeking a realistic representation of the bird's beauty.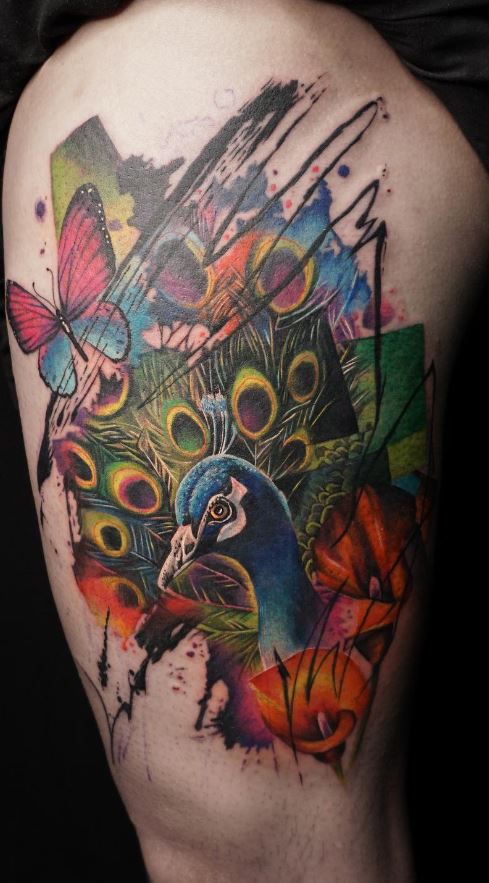 Watercolor Peacock Tattoos
Incorporate vibrant watercolor techniques to create a dreamy and ethereal peacock tattoo. The blend of colors will give a unique and artistic touch to the design.
Geometric Peacock Tattoo
Combine the elegance of the peacock with geometric shapes and patterns to create a contemporary and visually striking tattoo.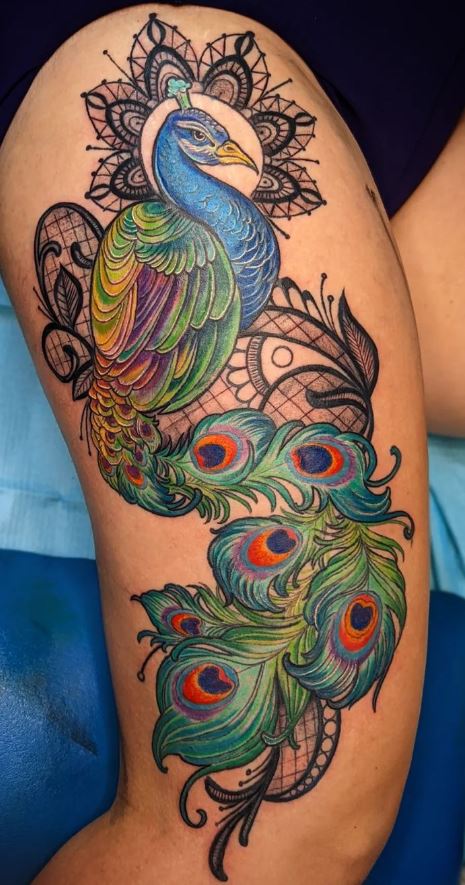 Minimalist Peacock Tattoos
In contrast to more elaborate designs, a minimalist peacock tattoo focuses on simplicity and clean lines. By using minimal colors and simplified shapes, this design conveys the essence of the peacock with subtlety and elegance. Minimalist peacock tattoos are versatile, and you can place them on smaller areas such as wrists, ankles, or behind the ear.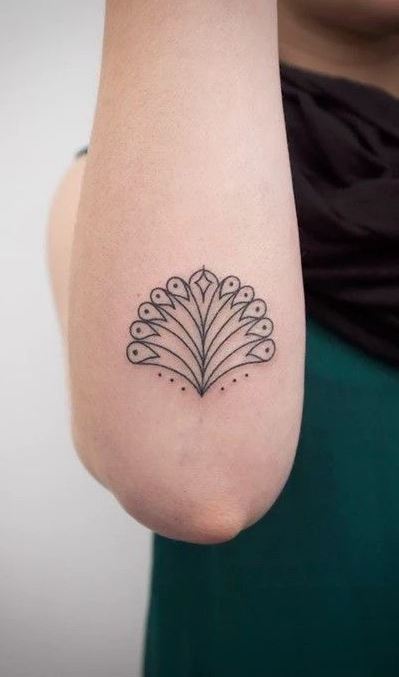 Peacock Feather Tattoo
If you want to highlight a peacock feather's intricate patterns and vibrant colors, a peacock feather tattoo is an excellent choice. This design lets you showcase the unique eye-like patterns on peacock feathers. You can ink it as a single feather or a cluster of feathers, and it works well on various body parts like arms, legs, or back.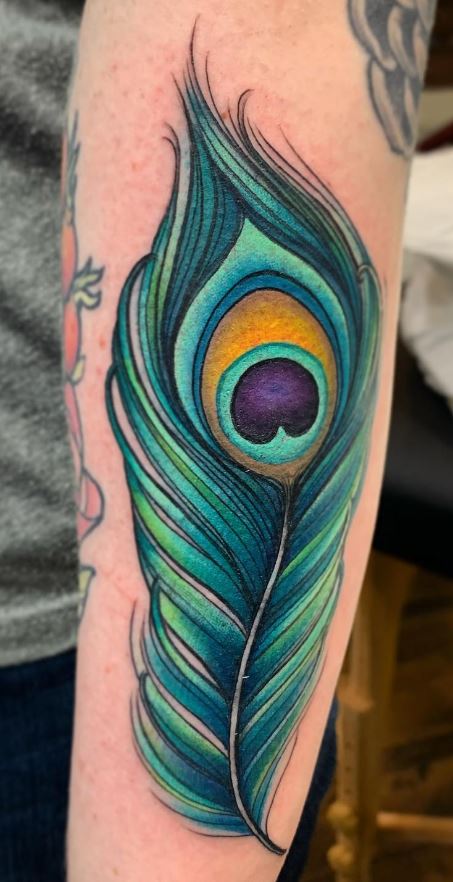 Simple Peacock Tattoos
Sometimes, simplicity is the key to creating an impactful tattoo. A simple peacock tattoo focuses on capturing the essence of the bird using clean lines and minimalistic elements. This design is perfect for individuals who appreciate minimalism and desire a more subtle representation of the peacock's beauty.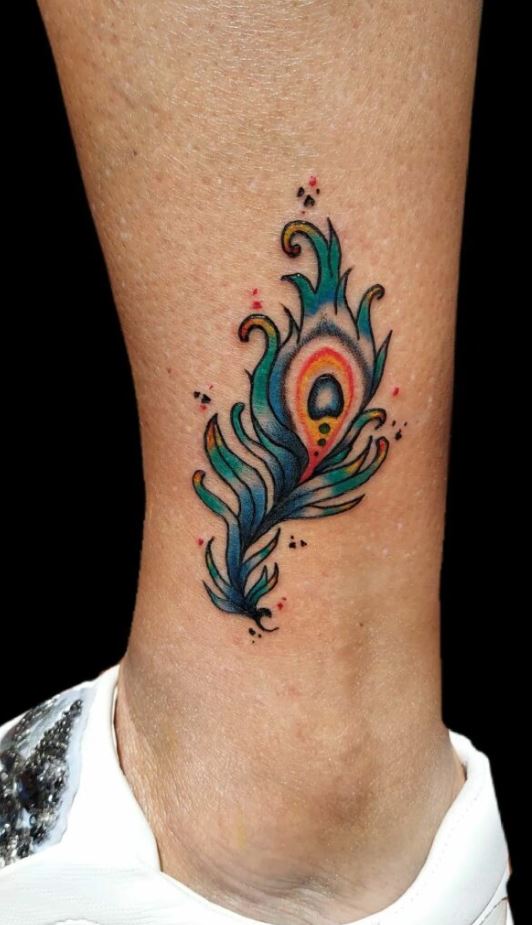 Traditional Peacock Tattoos
A traditional peacock tattoo is an excellent option for those who appreciate the classic and timeless style. This design incorporates bold outlines, rich colors, and strong shading techniques, capturing the majestic nature of the peacock. Traditional peacock tattoos often feature a symmetrical composition, emphasizing the bird's grace and beauty.
Colorful Peacock Tattoos
If you want to embrace peacocks' vibrant and eye-catching nature, a colorful peacock tattoo is the way to go. This design utilizes a broad spectrum of colors, ranging from blues, greens, and purples, to create a visually striking representation of the bird's plumage. It's perfect for individuals who want a bold and vivid tattoo that stands out.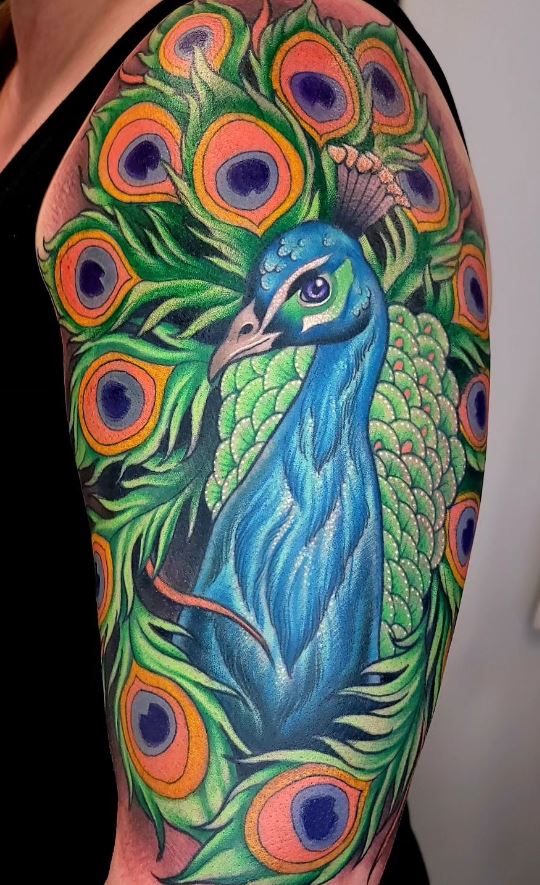 Peacock Tattoos for Men
While peacock tattoos are often associated with femininity, they can also be adapted to suit men's tastes and styles. For a masculine touch, incorporate geometric patterns, tribal elements, or a more realistic depiction of the peacock. You can place these designs on the chest, bicep, or back to create a powerful and masculine aesthetic.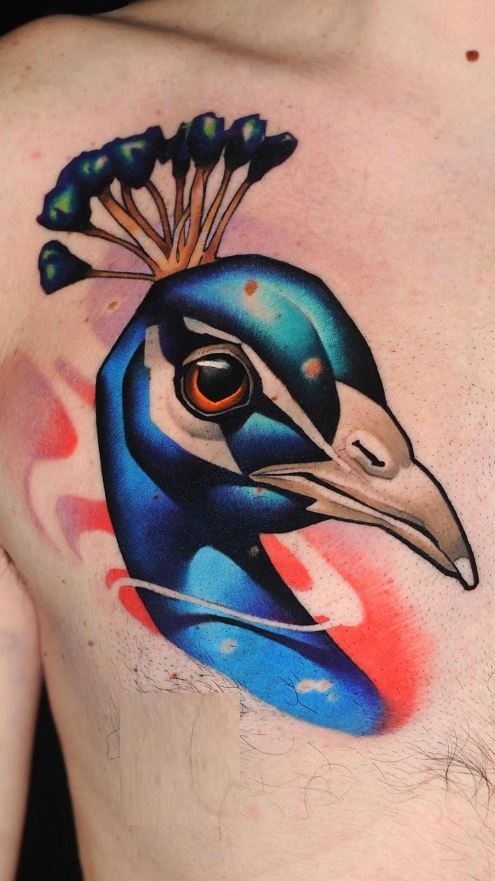 Small Peacock Tattoo
Not all peacock tattoos need to be large and elaborate. A small peacock tattoo offers a discreet yet meaningful way to incorporate this magnificent creature into your body art. These delicate designs are ideal for those who prefer a subtle and understated tattoo. You can place them on the wrist, ankle, or behind the ear.
Placement
When it comes to peacock tattoo placement, there are several factors to consider, including the size and design of the tattoo, your preference, and whether you want it to be visible or more discreet. Here are some popular placement options for peacock tattoos:
Thigh
Placing a peacock tattoo on the thigh offers a large, spacious canvas to showcase the bird's intricate feathers and details. This placement allows for a visually striking design that can wrap around the thigh or extend toward the knee. The thigh placement is versatile and can be easily covered or revealed depending on your choice of clothing.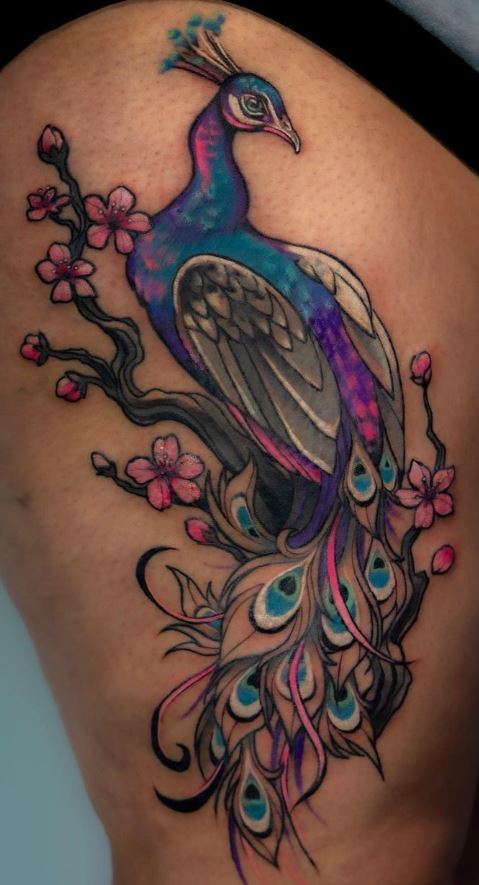 Arm
The arm is a popular placement choice for peacock tattoos, offering visibility and versatility. You can design a peacock tattoo for the upper arm to wrap around the bicep or extend toward the elbow. The forearm allows for a more prominent display of the tattoo, making it an excellent choice for showcasing the bird's elegance and colorful plumage.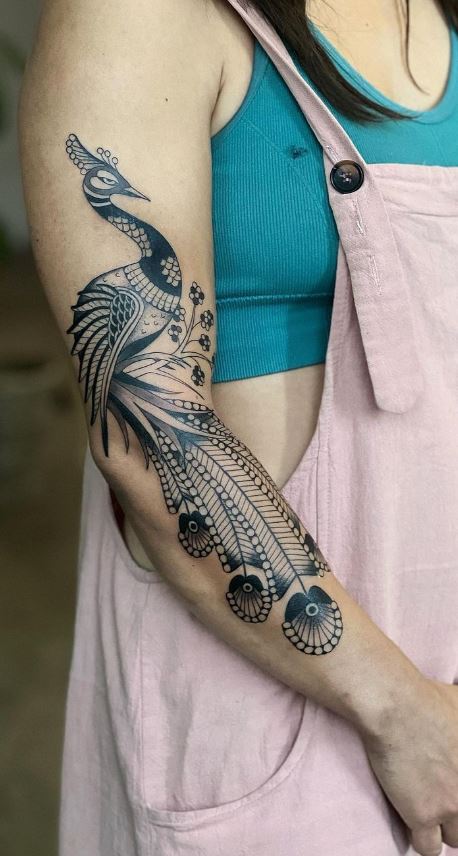 Shoulder
A peacock tattoo on the shoulder or shoulder blade creates a visually appealing and balanced composition. This placement accentuates the body's natural curves and allows for a design that flows gracefully across the shoulder.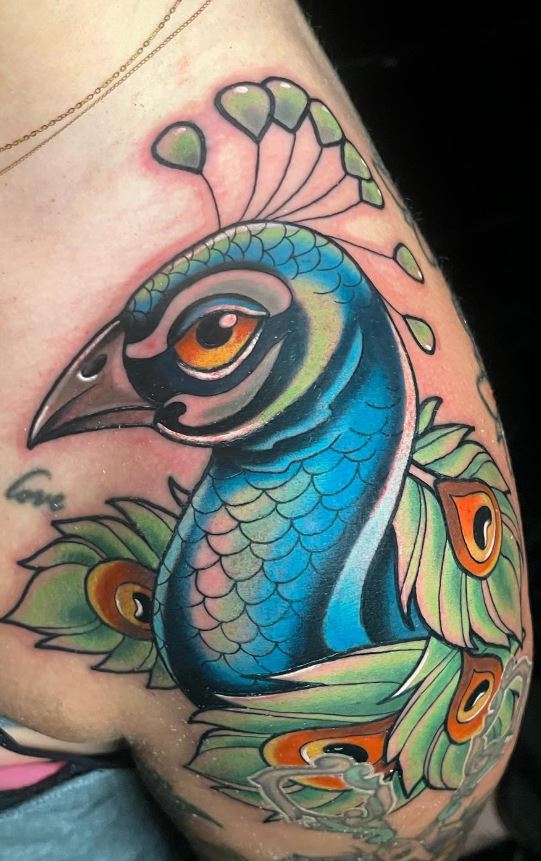 Back
The back provides an extensive and expansive canvas for a peacock tattoo, making it an ideal placement for intricate and detailed designs. A peacock tattoo on the back can span from the upper back down to the lower back or even extend into a full-back tattoo. This placement allows a breathtaking display of the bird's feathers and patterns.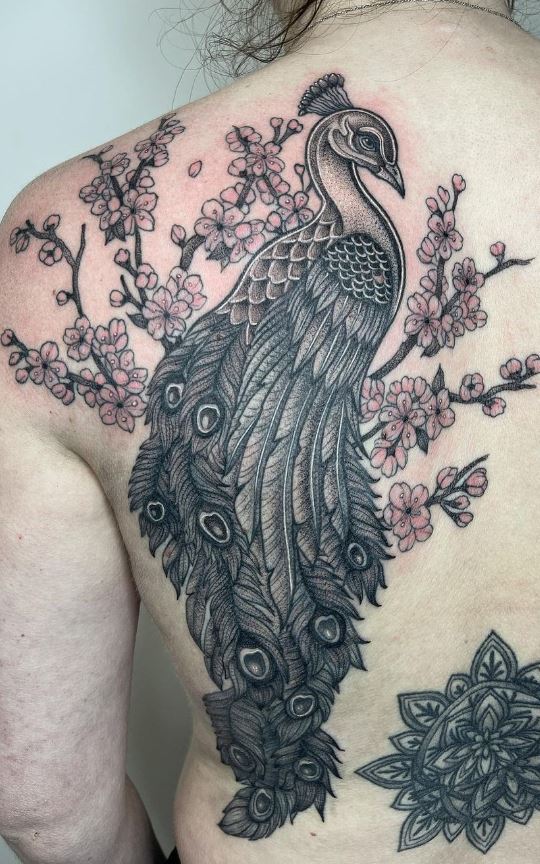 Leg
Placing a peacock tattoo on the leg offers both men and women a versatile option. You can have the tattoo on the calf, shin, or even the entire leg. This placement allows for a design that can wrap around the leg, showcasing the bird's vibrant plumage and creating a visually striking effect.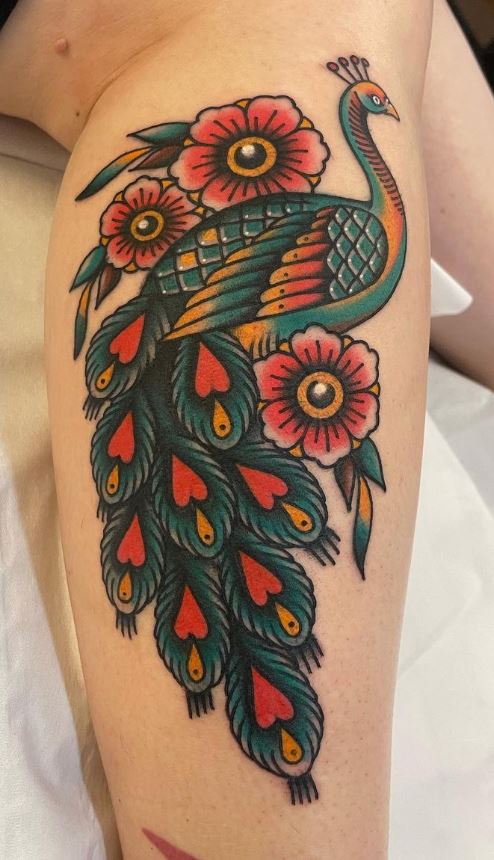 Forearm
The forearm offers a visible placement for a peacock tattoo that can be easily showcased or covered up as desired. This placement is ideal for both large and small designs, allowing for a visually striking composition that captures the bird's elegance and beauty.
Hip
A peacock tattoo on the hip offers a sensual and feminine placement choice. This area allows for a smaller or medium-sized design to conceal or reveal with different clothing styles. It's a discreet placement that adds a touch of allure and mystery to your tattoo.
Side
Placing a peacock tattoo on the side of the body, such as the ribcage or flank, creates a captivating and unique composition. This placement allows for a design that flows with the body's natural curves, emphasizing the bird's grace and beauty.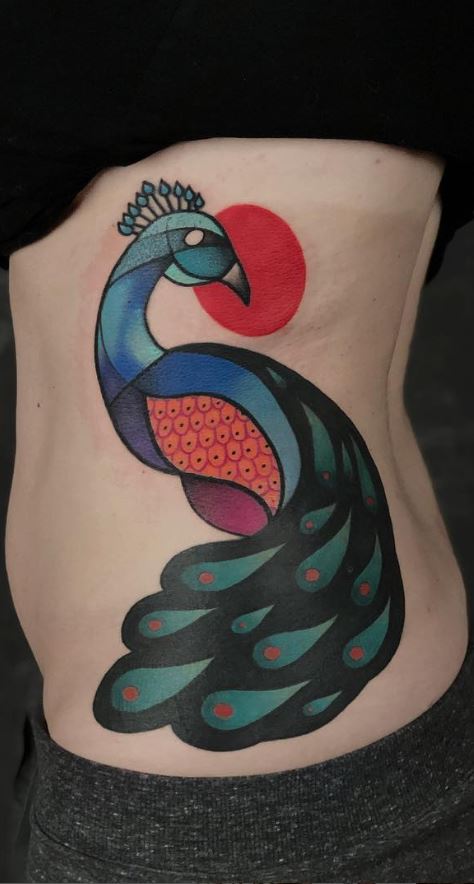 How To Design A Peacock Tattoo?
Designing a peacock tattoo is an exciting and creative process. Here are some steps to guide you in creating a unique and personalized peacock tattoo design:
Research and Inspiration: Start by gathering inspiration for your peacock tattoo design. Look for images of peacocks, feathers, and various tattoo styles that appeal to you. Explore different artistic interpretations, color schemes, and elements that resonate with your vision.
Determine the Tattoo Style: Consider the style you want for your peacock tattoo. Popular types include realistic, traditional, watercolor, neo-traditional, or minimalist. Choose a style that reflects your personality and complements your overall aesthetic.
Select the Elements: Decide which elements you want to incorporate into your design. Peacock tattoos include the entire bird, specific feathers, or a combination of feathers and other symbolic elements like flowers, mandalas, or jewels. Consider the composition, balance, and flow of the design.
Colors and Color Palette: Peacock tattoos are known for their vibrant colors. Determine the color palette you want for your tattoo, such as shades of blue, green, purple, or even incorporating metallic tones. Consult with your tattoo artist to ensure the colors complement your skin tone and achieve the desired effect.
Placement: Consider the placement of your peacock tattoo. Think about the size and intricacy of the design, as well as the body part where you want it inked. Consider the visibility and how it will interact with your body's natural contours.
Consult with a Tattoo Artist: Once you have a clear vision of your peacock tattoo design, consult with a professional tattoo artist. Share your ideas, references, and preferences with them. A skilled artist will help refine your concept, guide technical aspects, and offer their artistic expertise to bring your design to life.