Ladybug tattoos have a timeless appeal, capturing the hearts of tattoo enthusiasts with their vibrant colors and symbolic meaning. Whether you opt for a traditional design, a realistic portrayal, or a contemporary twist, ladybug tattoos offer a versatile canvas for self-expression.
In this blog, we will explore the enchanting world of ladybug tattoos, delving into their history, symbolism, and the diverse array of designs available. Whether you're considering getting a ladybug tattoo or appreciate their allure, this article will provide you with insights and inspiration.
Cultural Significance
Ladybugs, or ladybirds or lady beetles, hold cultural significance in various societies worldwide. These charming insects have captured the imagination of different cultures, symbolizing a range of beliefs and values. Let's explore the cultural significance of ladybugs in various regions:
Western Culture: Ladybugs in Western cultures commonly associate good luck and protection. The tradition of regarding ladybugs as symbols of good fortune dates back to the Middle Ages. Farmers, who relied on these insects to protect their crops from destructive pests, considered them a sign of a bountiful harvest. People believed that spotting a ladybug brought prosperity, and it was considered bad luck to harm them.
Eastern Culture: Asian cultures view ladybugs as auspicious creatures that symbolize love and happiness. In many parts of Asia, including China, Japan, and Korea, people associate the red color of ladybugs with luck and believe it brings blessings in relationships and matters of the heart. Traditional artwork, textiles, and decorative wedding elements often feature ladybug imagery.
Native American Culture: Certain Native American tribes hold ladybugs in high regard, considering them sacred insects. They view ladybugs as protectors and associate them with good weather, abundant crops, and natural harmony. People believe that ladybugs carry prayers to the heavens and bless the community. Ladybug motifs adorn Native American pottery, jewelry, and artwork.
European Folklore: In European folklore, ladybugs are believed to possess magical powers and were associated with the Virgin Mary. The name "ladybug" is said to have originated from the term "Our Lady's bird" or "Lady beetle," referring to the Virgin Mary's protection over crops. People believed that if a ladybug landed on a person, it was a sign of good luck, and the number of spots on its wings indicated the number of months of good fortune to come.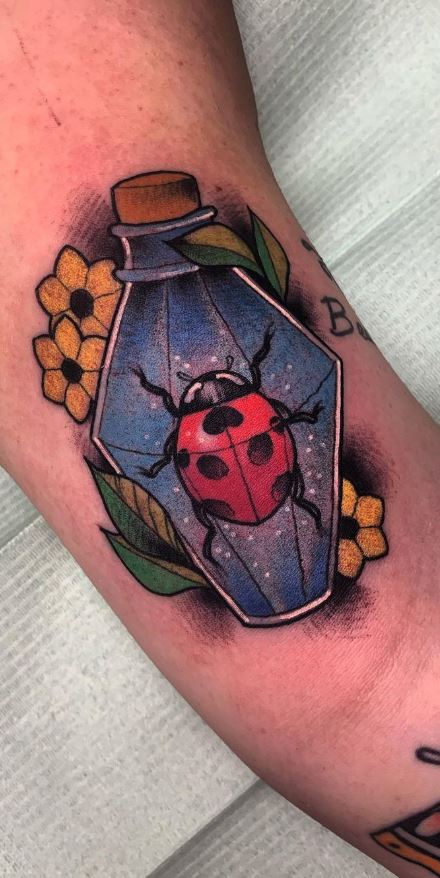 Meanings of Ladybug Tattoos
Ladybug tattoos are visually appealing and carry significant symbolism that resonates with many individuals. Here are some of the vital symbolic meanings associated with ladybug tattoos:
Good Luck and Protection: Ladybugs are symbols of good luck and protection in various cultures. People believe it invites positive energy, blessings, and good fortune into one's life. It serves as a reminder to stay optimistic, embrace opportunities, and trust the universe's benevolence.
Joy and Happiness: Ladybugs have a cheerful and vibrant appearance, which makes them symbols of joy and happiness. A ladybug tattoo can represent a celebration of life's simple pleasures, reminding the wearer to appreciate the beauty in everyday moments and find happiness in the little things.
Renewal and Transformation: Ladybugs undergo a metamorphosis during their lifecycle, transforming from larvae to pupae and emerging as fully formed adults. This transformational journey makes ladybugs a symbol of renewal, growth, and personal transformation. A ladybug tattoo can serve as a reminder to embrace change, let go of the past, and embrace the possibilities of new beginnings.
Spiritual Protection: Ladybugs are believed to bring spiritual protection and ward off negative energies or influences. Some see ladybug tattoos as spiritual armor, shielding against negativity and guiding the wearer on their spiritual journey.
Serenity and Harmony: Ladybugs are gentle creatures that peacefully coexist with nature. Their presence in gardens and fields is a sign of a balanced ecosystem. A ladybug tattoo can symbolize the pursuit of serenity, inner peace, and harmony with oneself and the world around them.
Playfulness and Youthfulness: Ladybugs have a whimsical and playful nature often associated with childhood innocence and a carefree spirit. A ladybug tattoo can represent a connection to one's inner child, reminding the wearer to embrace spontaneity, joy, and a sense of wonder.
Ladybug Tattoo Designs and Ideas
Ladybug tattoos offer endless possibilities for creative expression, allowing individuals to customize their designs to reflect their personalities and style. From traditional renditions to contemporary interpretations, numerous design variations exist. Whether you prefer a minimalist outline, a realistic portrayal, or a fusion of ladybugs with other elements like flowers or mandalas, the options are as diverse as your imagination.
Traditional Ladybug Tattoos
The traditional ladybug tattoo design incorporates bold black outlines, vibrant red wings, and signature black spots. These classic designs pay homage to the cultural symbolism associated with ladybugs as bringers of good fortune and protection.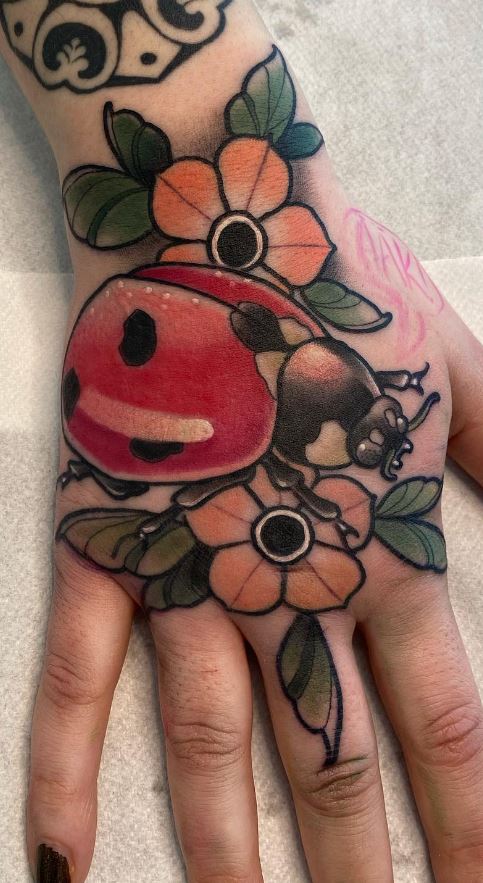 Realistic Ladybug Tattoos
Realistic ladybug tattoos are an excellent choice for those seeking a more lifelike representation. These designs capture the intricate details of the ladybug's delicate body and distinctive red and black pattern, creating a stunning and visually appealing tattoo.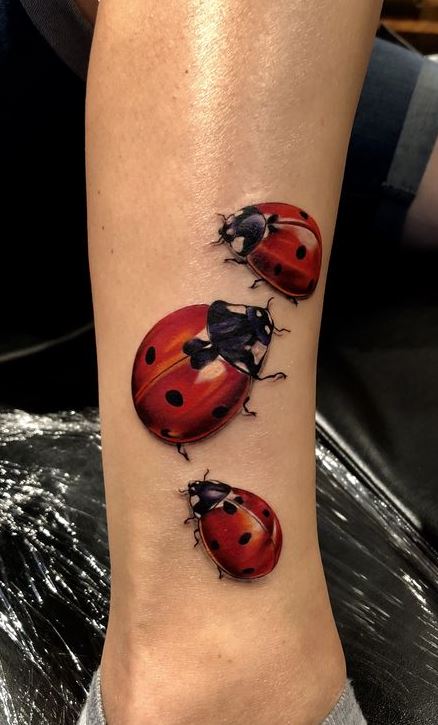 Watercolor
Watercolor tattoos are renowned for their soft, flowing colors and ethereal appearance. Incorporating this technique into a ladybug tattoo can create a dreamy, artistic rendition that adds whimsy and elegance to the design.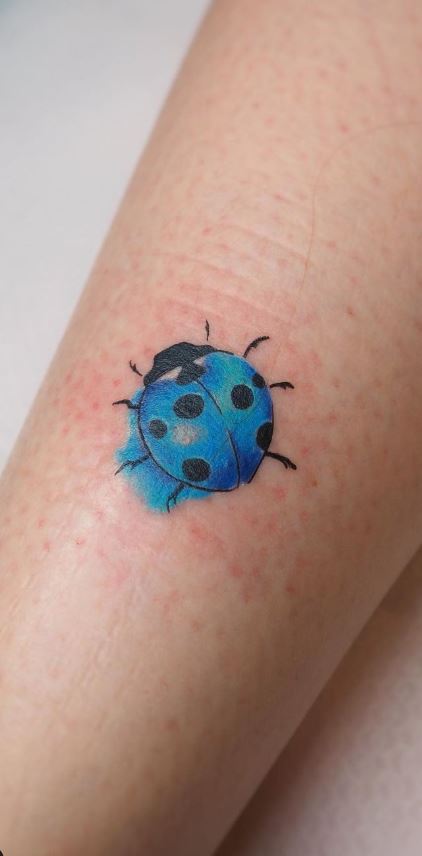 Geometric Ladybug Tattoo
Geometric tattoos utilize shapes, lines, and patterns to create striking designs. Combining the grace of a ladybug with geometric elements can produce a unique and contemporary tattoo that blends natural beauty with modern artistry.
Minimalist Ladybug Tattoos
For those who prefer a more subtle and understated design, minimalist ladybug tattoos offer a minimalist approach. These tattoos often feature a simple outline or silhouette of a ladybug, emphasizing the essential elements of the insect while maintaining a clean and minimalistic aesthetic.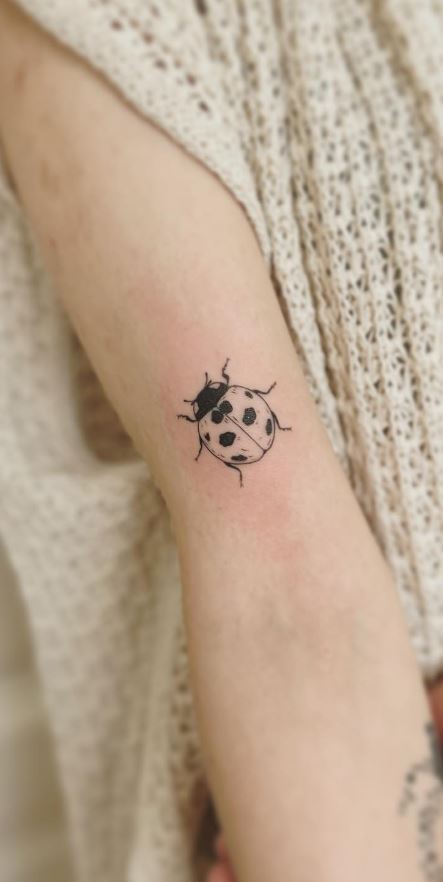 Floral Ladybug Tattoos
Incorporating flowers into ladybug tattoos creates a harmonious combination of nature's beauty. Blossoming flowers such as roses, daisies, or cherry blossoms can be intertwined with the ladybug, symbolizing the delicate relationship between insects and flora.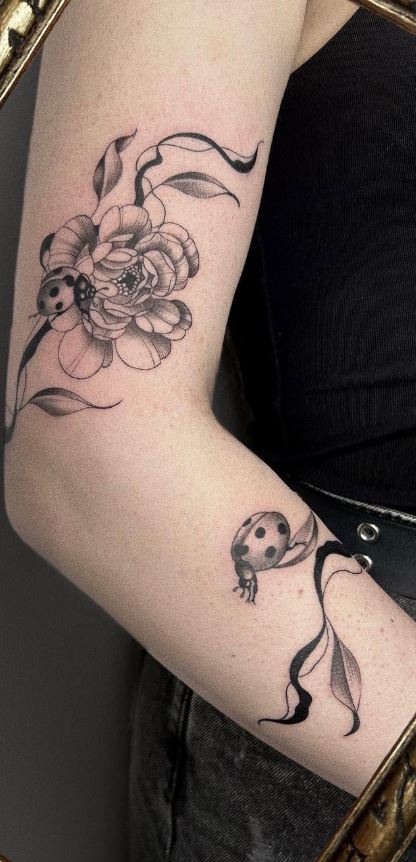 Ladybug Mandala Tattoos
Mandala tattoos are intricate, circular designs that hold profound spiritual significance. By infusing the ladybug into a mandala pattern, the tattoo takes on a meditative and symbolic quality, representing balance, harmony, and the cyclical nature of life.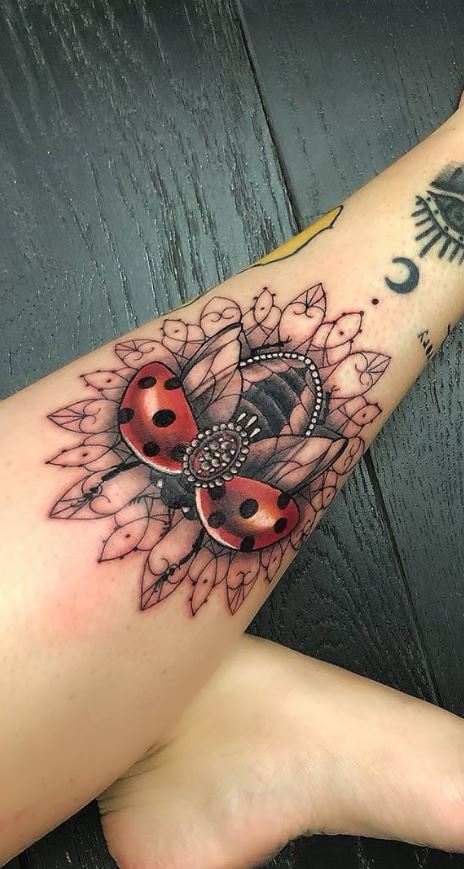 Tribal Ladybug Tattoos
Tribal tattoos draw inspiration from indigenous cultures and feature bold, black lines and intricate patterns. These tattoos fuse the cultural significance of tribal designs with the symbolic representation of luck, creating a unique and culturally rich tattoo.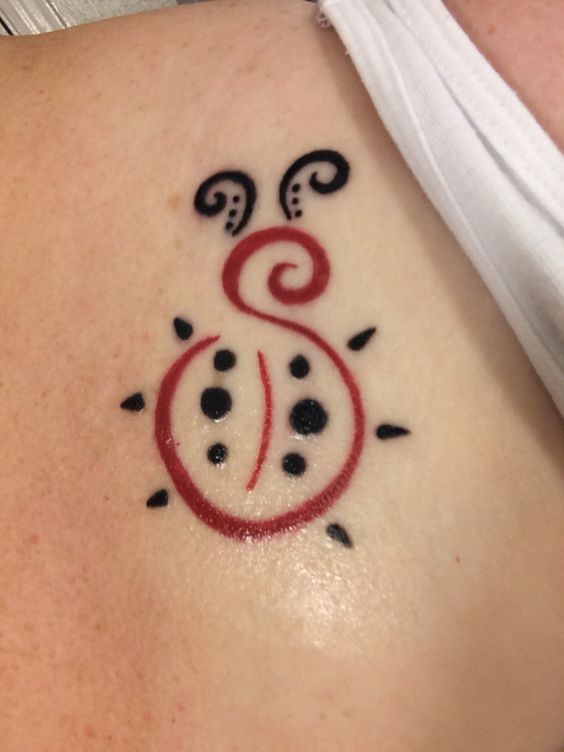 Cartoon Ladybug Tattoos
Cartoon-inspired ladybug tattoos add a touch of playfulness and nostalgia. These designs typically feature a cute and animated ladybug character, bringing a light hearted and whimsical vibe to the tattoo.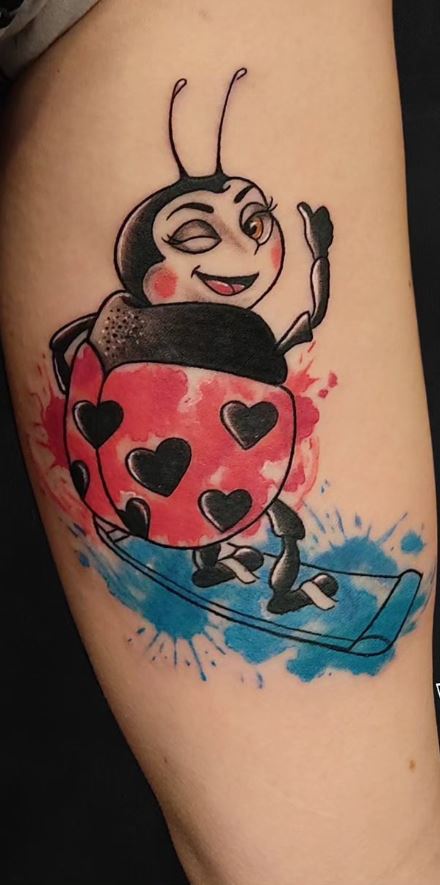 Ladybugs with Love Hearts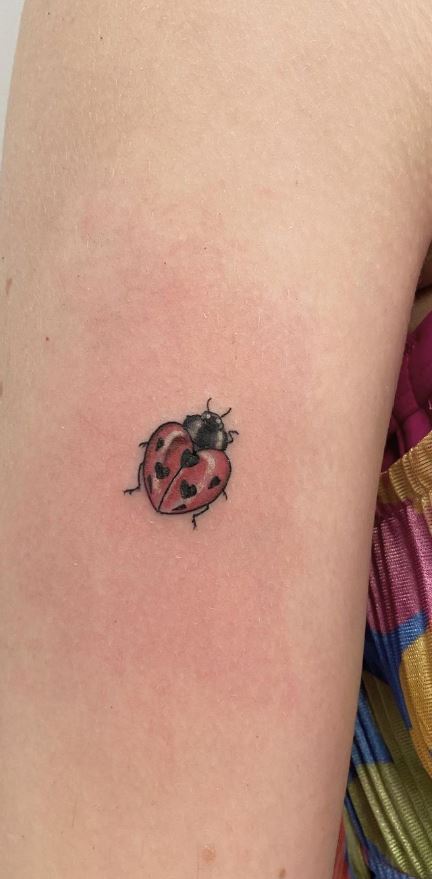 Placement
Depending on personal preference and the desired aesthetic, you can place a Ladybug tattoo on various body parts. Here are some popular locations for ladybug tattoos and design ideas for each:
Wrist: A ladybug tattoo on the wrist is a delicate and subtle choice. It can be a minimalist outline or a small, intricate design. Consider adding flowers or a trail of dots to enhance the visual appeal.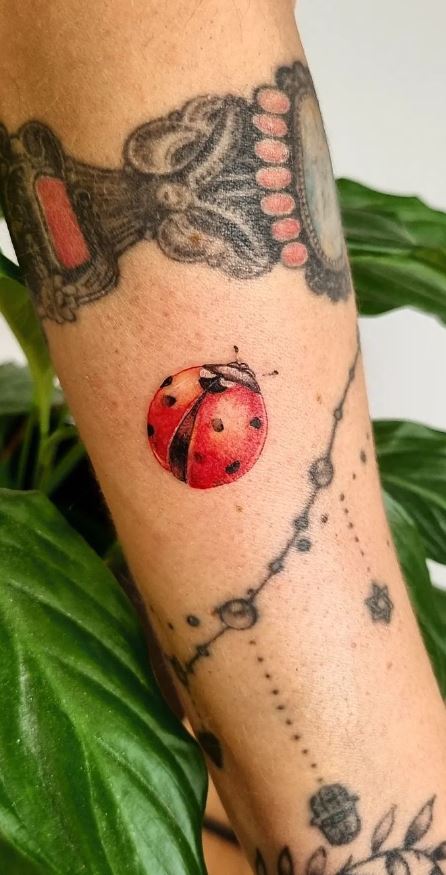 Shoulder: The shoulder provides a larger canvas for a ladybug tattoo. You can opt for a realistic depiction of a ladybug with vibrant colors and intricate details. Alternatively, incorporate elements like flowers, vines, or mandalas around the ladybug for a more elaborate and visually striking design.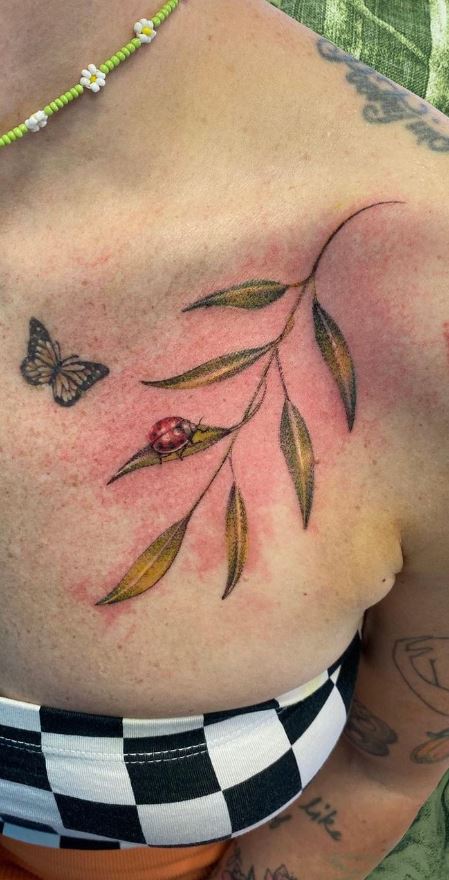 Ankle: Ankle tattoos are ideal for smaller ladybug designs. A single ladybug with minimalistic details or a tiny trail around the ankle can be charming and discreet.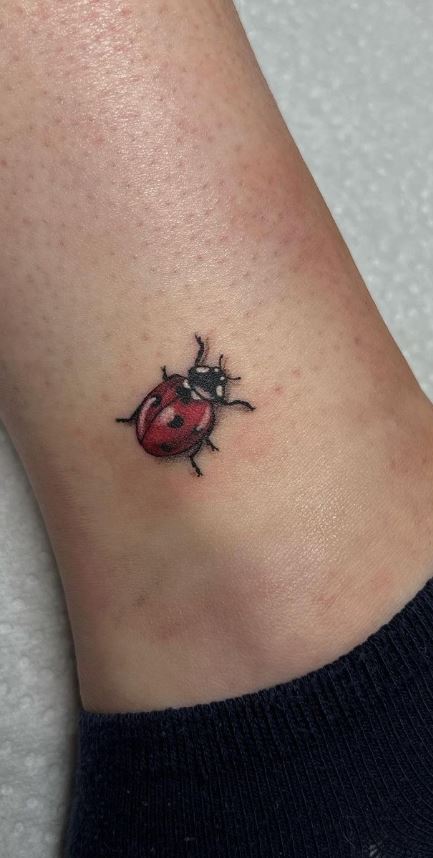 Forearm: Ladybug tattoos on the forearm can be showcased prominently or easily concealed, depending on your preference. Opt for a bold and vibrant ladybug design with intricate patterns and details. You can also consider a larger ladybug surrounded by symbols or quotes of personal significance.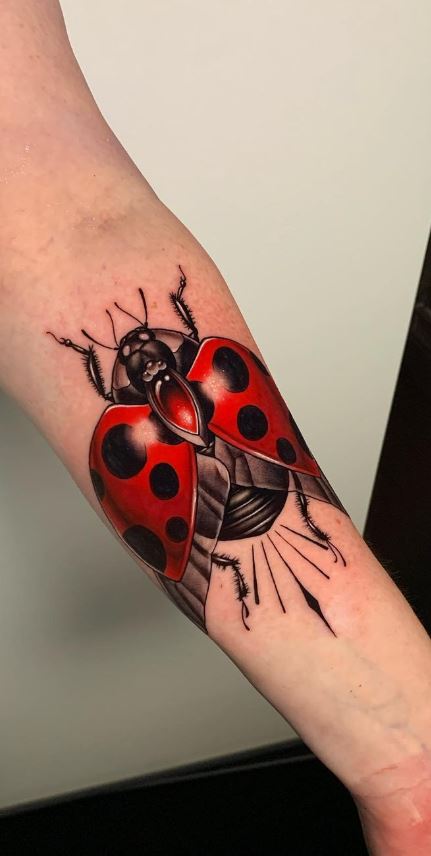 Thigh: Thigh tattoos provide a larger, more versatile space for ladybug designs. You can choose a realistic or stylized ladybug with intricate details and vibrant colors. Incorporating elements like flowers, butterflies, or other insects can add depth and visual interest to the tattoo.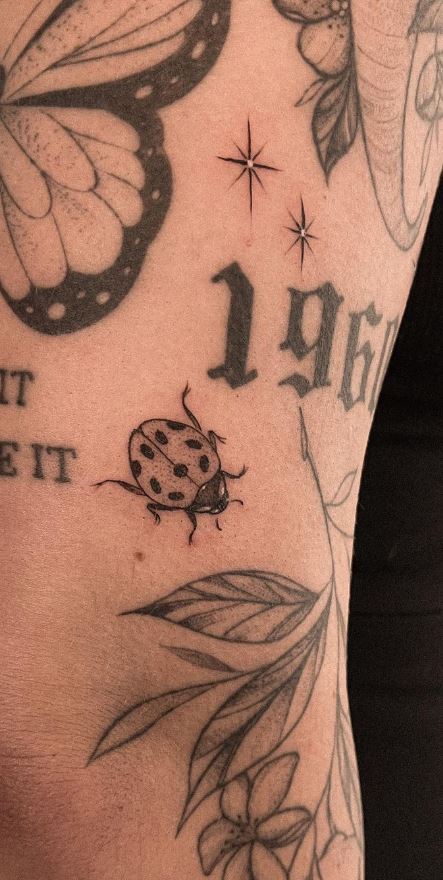 Behind the Ear: A ladybug tattoo behind the ear is a subtle and unique placement choice. Consider a small, minimalist ladybug design or a tiny ladybug trail. It represents luck and protection while adding a touch of whimsy to your overall look.
Remember, these are just suggestions, and the placement of a ladybug tattoo ultimately depends on your style, comfort, and desired visibility.
Various Ladybug Tattoos