While there are many beautiful images that people choose to get tattooed onto themselves, sometimes the best way to express a thought or emotion is to get a tattoo of a meaningful word or phrase. Music lovers often get a favorite song lyric inked on their bodies, while fans of literature may get a tattoo of a favorite quotation from a book or poem. People who believe strongly in their religions may wish to tattoo a meaningful verse from their holy books, and those who speak different languages may choose to think outside the box and get tattoos in languages other than English. The possibilities for lettering tattoos are as limitless as the many words of the languages of the world.
Another thing to consider when getting a lettering tattoo is the font in which it is written. Do you want an elaborate style of writing, or a simplistic one? The great thing about lettering tattoos is that no two are the same, and the meanings are infinite.
While we cannot hope to make a dent in the numerous types of lettering tattoos, here is a small sampling to get you started with inspiration if you are considering this type of body art.
Family Tattoo
Although the font is slightly hard to read, this beautiful tattoo is a tribute to a person's family.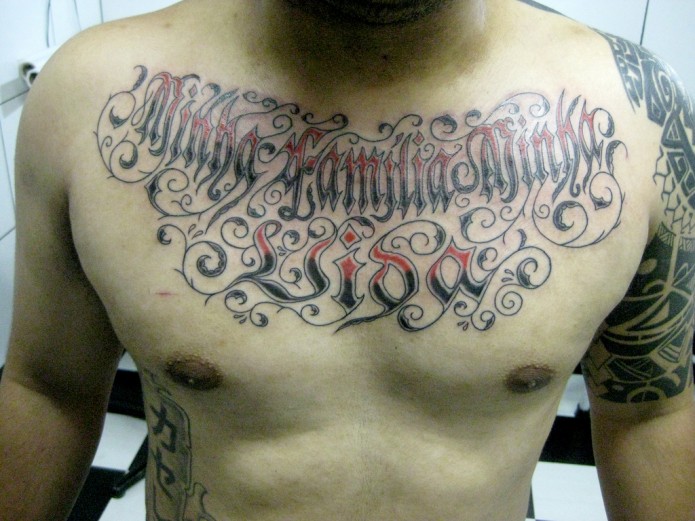 Amazing Font Name Tattoo
This name tattoo is done in a very intricate font; there is even a treble clef hidden in the "R"!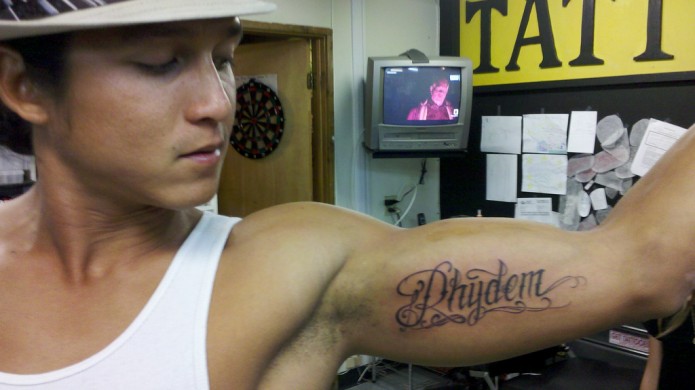 Name Tattoo with Heart
This tattoo includes a small heart at the end of a loved one's name.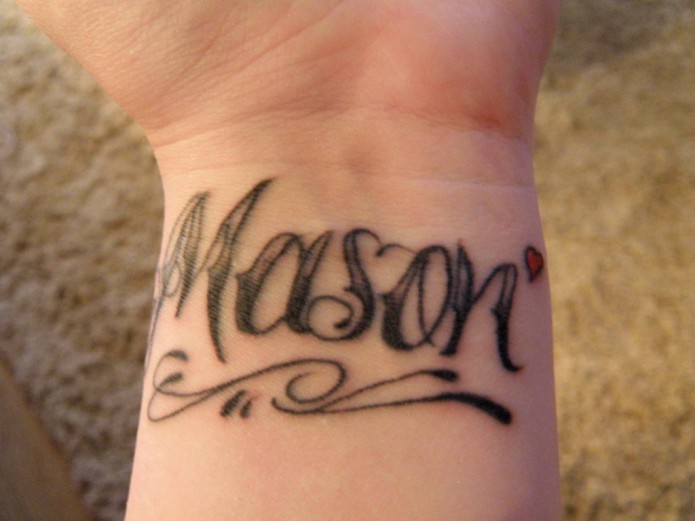 "Legacy" Tattoo
This tattoo can serve as a reminder to leave behind something of substance and worth.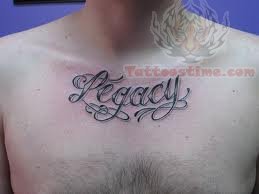 "Love is my Freedom" Tattoo
This blue lettering makes the message stand out.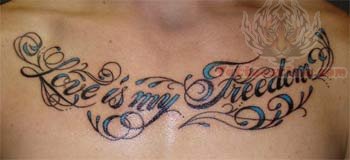 "Freedom is not Free" Tattoo
The font of this tattoo appears to be on fire, giving extra force to the message behind it.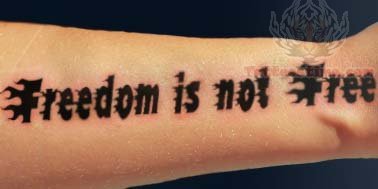 Name Tattoo
The flourished lettering of this tattoo makes it a perfect tribute to a loved one.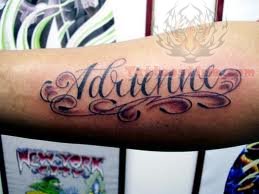 "Pobody's Nerfect" Tattoo
This tattoo is an amusing play on words.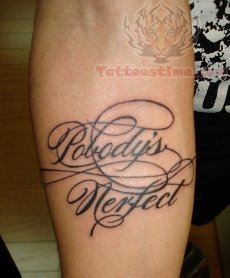 "Dream as though you'll live forever; live as though you'll die today" Tattoo
This quote can serve as a reminder to live life to the fullest.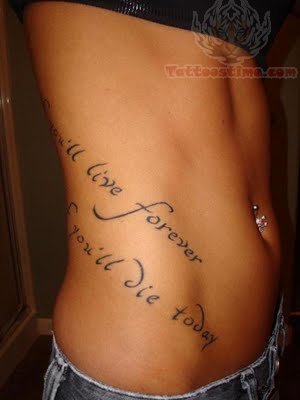 Edgar Allan Poe Tattoo
"All that we see or seem is but a dream within a dream," a line from an Edgar Allan Poe poem, is written here in beautiful cursive.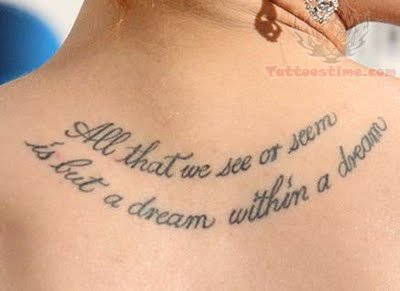 "Forgive" Tattoo
This simple word in a simple font can serve as a daily reminder to the person who wears it.
 "Tus Colegas for Life" Tattoo
This tattoo, which means "Your Colleagues for Life," shows a sense of camaraderie.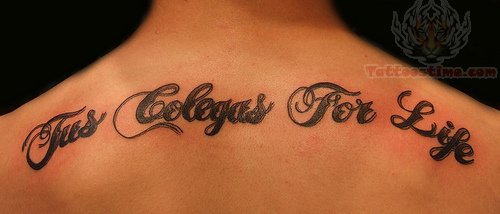 Foreign Language Lettering Tattoo
The vertical placement of these Arabic characters is a beautiful form of expression.
"All is Fair in Love and War" Tattoo
The lettering of this foot tattoo has a number of flourishes, but is still easily legible.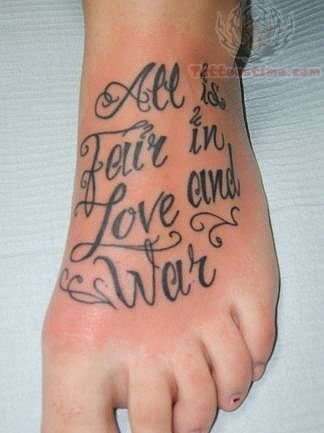 "Halloween" Tattoo
This black and orange tattoo with decrepit lettering adds to the spooky feel of Halloween.