A great symbol for power, magic and the circle of life, mushrooms come in a variety of styles. Some are groovy and psychedelic while others are more traditional or realistic looking. Some say that a mushroom represents how everything is linked together in nature. While the symbolism behind the mushroom is different from each culture, it is ultimately up to the person wearing the tattoo to give their own meaning, if any at all. Some simply come from a video game and mean nothing more than that.
Mushrooms are a great way to incorporate color into a tattoo. The artists often have fun with the coloring of mushrooms because they are whimsical and playful and the color looks amazing when finished. They are often done in a cartoonish way and may have human attributes.
Having a mushroom tattoo will often strike interest in those around you since mushrooms are not a very common tattoo design.
Pale Mushroom Tattoo
This mushroom is pale, yet colorful and has a name placed on the top.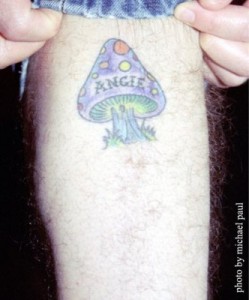 Realistic Mushroom Tattoo
This bold mushroom tattoo is more realistic and very artistic.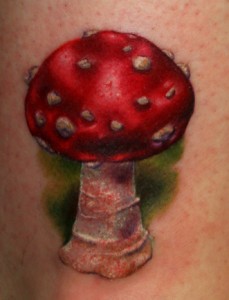 Groovy Mushroom Tattoo
This playful mushroom is full of fun colors and patterns.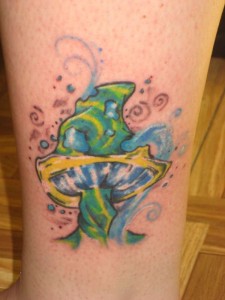 Classic Mushroom Design
This classic mushroom style is colorful and cartoonish with flowers and butterflies around it.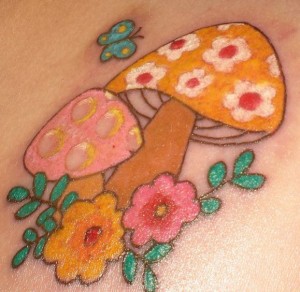 Video Game Mushroom
A popular shroom from the Mario video games behind this woman's ear.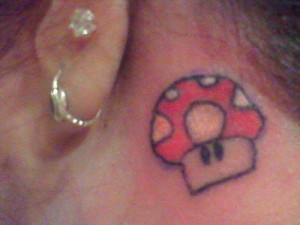 Colorful Mushroom Tattoo
This mushroom tattoo is very colorful and not too cartoonish, but the unusual colors make it seem that way.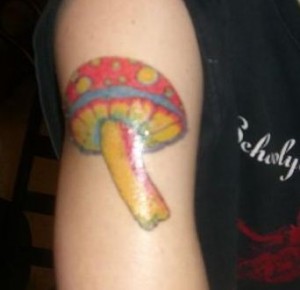 Grey Scale Mushroom
This mushroom is surrounded by grass and done in grey scale shading.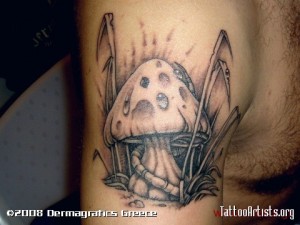 Whimsical Mushroom Tattoo
Done in primary colors with a simple design make for a nice mushroom tattoo.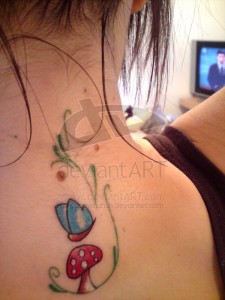 Cover Up Mushroom
This red and white mushroom tattoo was designed to cover up another tattoo.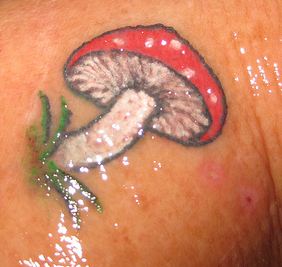 Angel Mushroom Tattoo
This mushroom adorned with wings and a halo is done with a more dramatic shading and darker colors.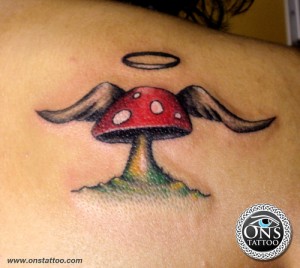 Monster Mushroom
A green and yellow mushroom monster placed on a hand.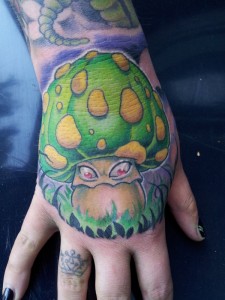 Butterfly and Mushroom Line Art
This simple design makes for a cute lower leg tattoo.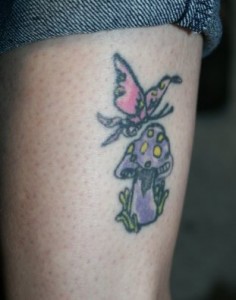 A Modernized Mario Mushroom
This mushroom from the video game Mario is a more modern approach to the extremely simplistic design.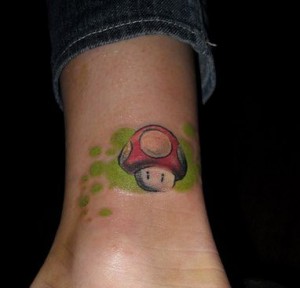 Kodama and Mushroom Line Art
This is a very simple black line art mushroom tattoo with a little character below it.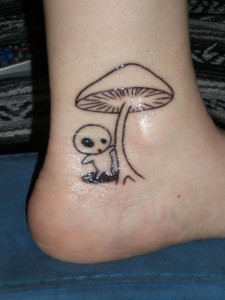 Psychedelic Mushroom
This mushroom has swirls and bold patterns to make it look as though it is dancing.