Since the beginning of time, they've captivated the imagination of civilizations all around the world. Everywhere around you, hidden in plain sight, encoded into art, religion, philosophy, architecture, and fairytales, there's a secret knowledge in one of the world's greatest mysteries known only to a select few. Mushrooms have been revered as a medicine, seen as portals to another dimension, feared and vilified by some.
A great symbol of power, magic, and the circle of life, mushroom tattoos come in various styles. Some are groovy and psychedelic, while others are more traditional or realistic looking. Some say that a mushroom represents how everything is linked together in nature. While the symbolism behind the mushroom can differ from each culture, it is ultimately up to the person wearing the tattoo to give their meaning. Some mushroom tattoo ideas come from a video game and mean nothing more than that.
Mushroom & Ancient Art
Cave paintings in the Sahara desert dating back to the end of the paleolithic era depict mushrooms in a shamanic context. Similar rock paintings in Spain around 6000 years ago suggest that people used mushrooms during certain religious rituals.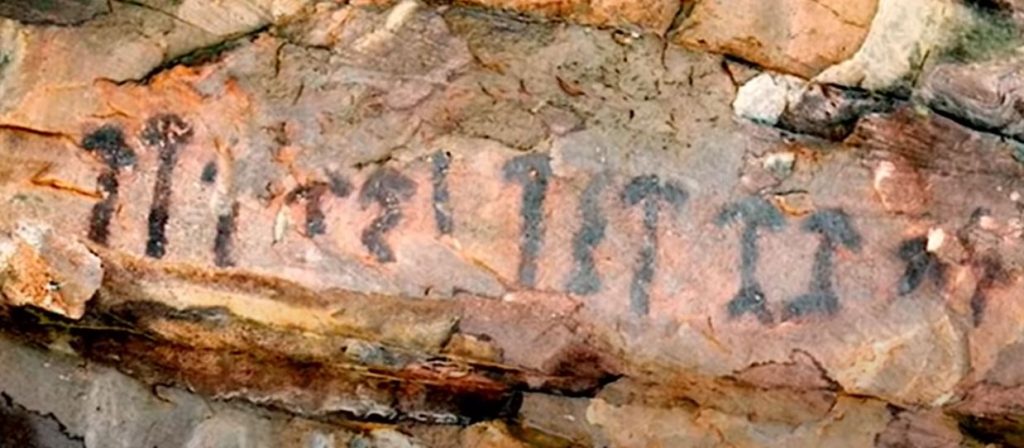 Some researchers believe that the use of psychedelic mushrooms may have even led to the invention of painting more than 40,000 years ago. This belief comes in part from the common occurrence of patterns known as Turing instabilities by prehistoric artists thousands of miles away from one another who never met. These spiraling swirling patterns are common hallucinations after the ingestion of psychoactive substances.

Mushroom in Chinese Culture
The earliest direct empirical reference to psychedelic mushrooms comes from the record of diverse matters by Zhang Hua. Written in 290 CE, this manuscript, also known as The Bowu Zhi, is not a materia medica. Instead, it is a document of supernatural phenomena in the natural wonders of ancient China.
Mushroom in Egyptian Culture
In ancient Egyptian art, there are images of various crowns. Some researchers believe that these represent mushrooms, and wearing such headwear was indicative of having achieved enlightenment via the mushroom. Only the higher class could experience this at that time.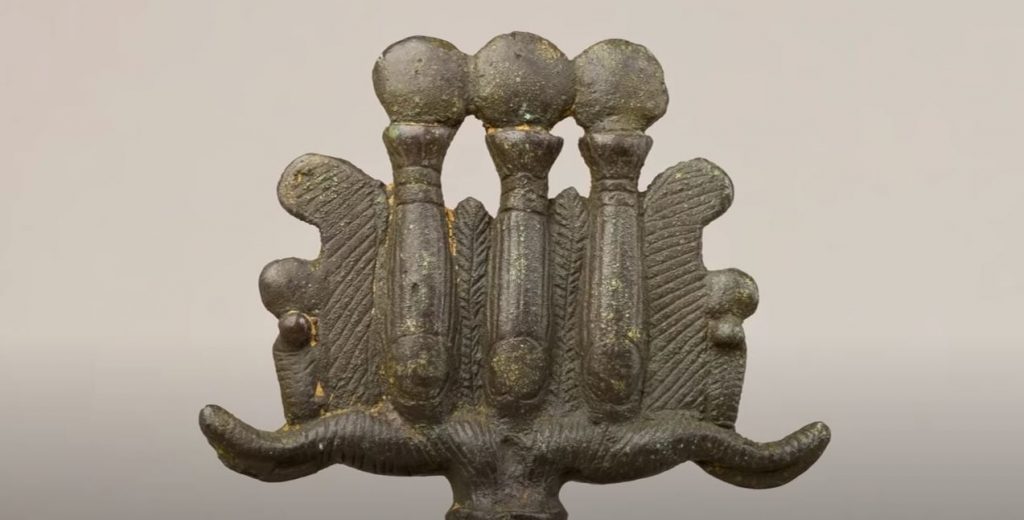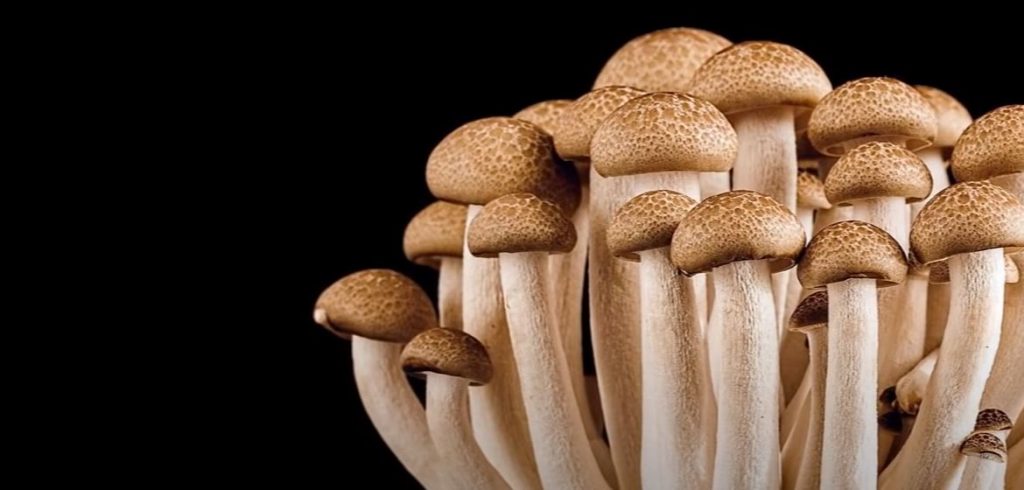 Some have even argued that the Egyptian Ankh (symbol of life) is a representation of mushrooms. Though there is no definitive evidence suggesting that this is so, imagery shows the Ankh being fed to the god Osiris the God of spiritual rebirth.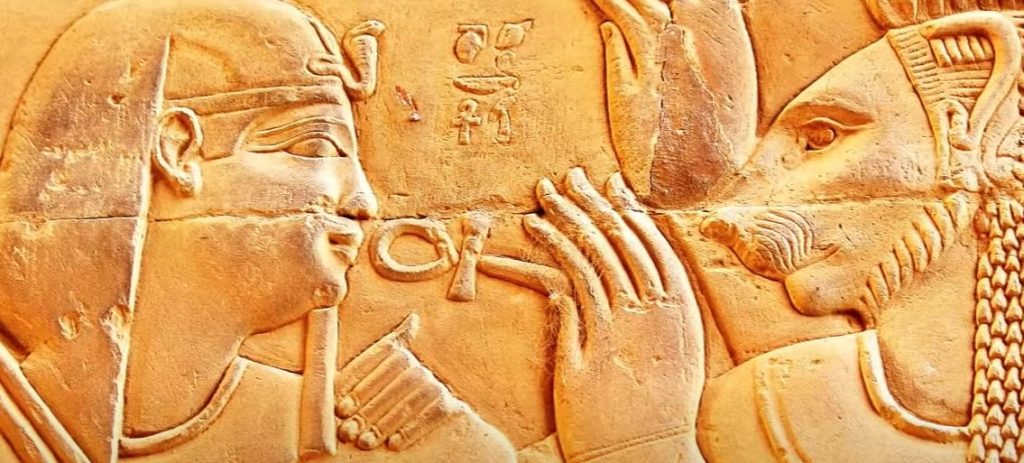 Other Egyptian hieroglyphs share a striking resemblance with hallucinogenic mushroom species as well. These parasols shaped carvings typically referred to as an unidentified plant by mainstream Egyptologists. In the Pyramid Texts these refer as a golden plant with magical properties used only in the gods' most sacred celebration.
Designing A Mushroom Tattoo
Mushrooms are a great way to incorporate color into a tattoo. The artists often have fun with mushrooms' coloring because they are whimsical and playful, and the color looks fantastic when finished. They look cartoonish and may have human attributes.
Having a mushroom tattoo will often strike interest in those around you since mushrooms are not a very common tattoo design.
Mushroom Tattoo Designs & Ideas
Trippy Mushroom Tattoos
Psychedelic Mushroom Tattoos
Cute Mushroom Tattoos
Blackwork
Small Mushroom Tattoos
Colorful
Trendy
More Mushroom Tattoos
Pale Mushroom Tattoo
This mushroom is pale, yet colorful and has a name placed on the top.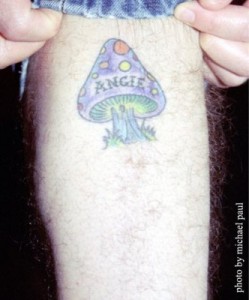 Realistic Mushroom Tattoo
This bold mushroom tattoo is more realistic and very artistic.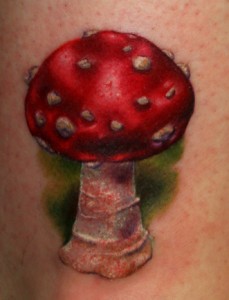 Groovy Mushroom Tattoo
This playful mushroom is full of fun colors and patterns.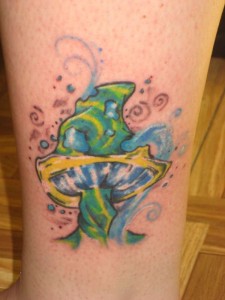 Classic Mushroom Design
This classic mushroom style is colorful and cartoonish with flowers and butterflies around it.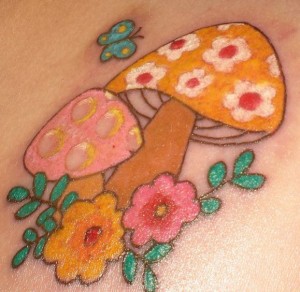 Video Game Mushroom
A popular shroom from the Mario video games behind this woman's ear.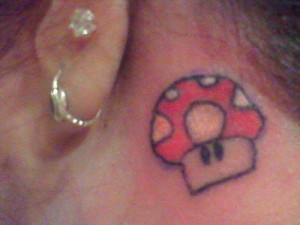 Colorful Mushroom Tattoo
This mushroom tattoo is very colorful and not too cartoonish, but the unusual colors make it seem that way.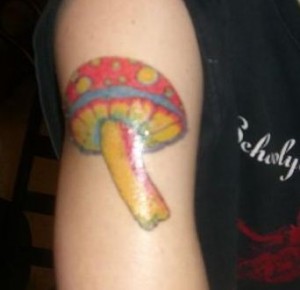 Grey Scale Mushroom
This mushroom is surrounded by grass and done in grey scale shading.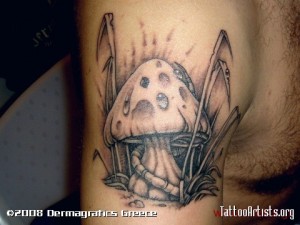 Whimsical Mushroom Tattoo
Done in primary colors with a simple design make for a nice mushroom tattoo.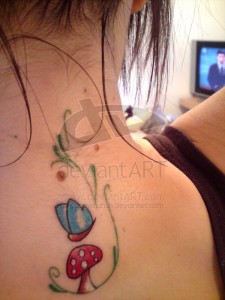 Cover Up Mushroom
This red and white mushroom tattoo was designed to cover up another tattoo.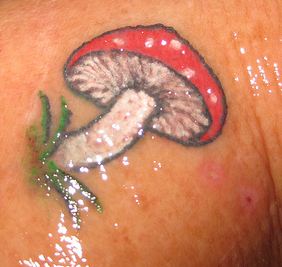 Angel Mushroom Tattoo
This mushroom adorned with wings and a halo is done with a more dramatic shading and darker colors.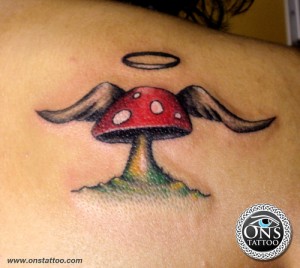 Monster Mushroom
A green and yellow mushroom monster placed on a hand.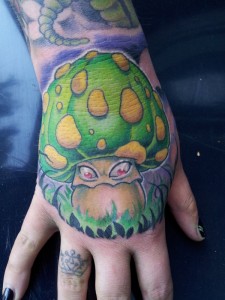 Butterfly and Mushroom Line Art
This simple design makes for a cute lower leg tattoo.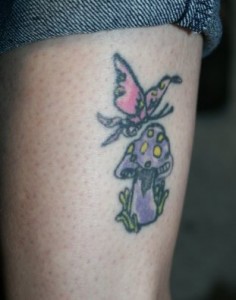 A Modernized Mario Mushroom
This mushroom from the video game Mario is a more modern approach to the extremely simplistic design.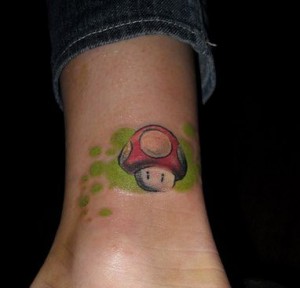 Kodama and Mushroom Line Art
This is a very simple black line art mushroom tattoo with a little character below it.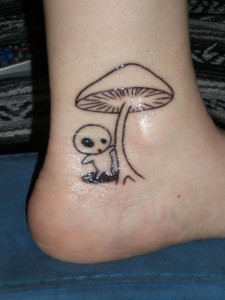 Psychedelic Mushroom
This mushroom has swirls and bold patterns to make it look as though it is dancing.