Daisies are a cheerful flower and they look really nice, so it's no surprise that someone who is looking for a flower tattoo would choose the daisy. Daisies are often seen in white, but they can come in a variety of colors as well. While there is no specific meaning behind the daisy tattoo, a person may have a certain connection with the flower (e.g. favorite flower, relatives' favorite flower).
Daisy tattoos look amazing on men and women alike. Whether it be a small playful daisy or a bold detailed daisy, they look amazing and will definitely make a statement. Daisies can be paired with any other design and still look really nice. Some people choose to pair the daisy with another type of flower, while others choose a star or swirly line to compliment their daisy tattoo. No matter what the reason behind choosing the daisy tattoo is, you will be able to find several different designs.  Listed below are several amazing daisy tattoos to choose from.
Colorful Daisy Tattoo
A cute daisy tattoo in color with a happy little honey bee above it.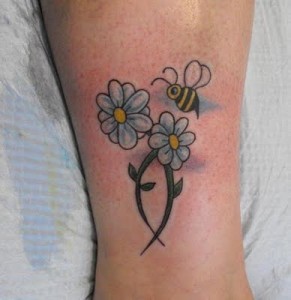 Realistic Daisy Tattoo
This tattoo is a more realistic looking daisy with some color.
Grey Scale Daisy Tattoo
This is a nice looking grey scale daisy tattoo on the wearer's back.
Playful Daisy Tattoo
A nice looking foot tattoo with three colorful daisies.
Pink Daisy Tattoo
Pink is an uncommon coloration of the daisy, but it still makes for a great tattoo.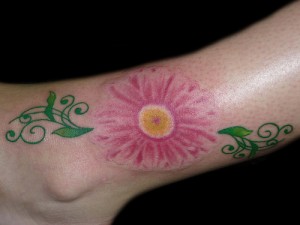 Loves Me, Loves Me Not
A daisy tattoo where the pedals are being pulled off.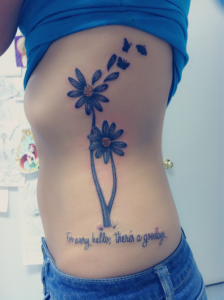 Daisy Tattoo
A simple looking daisy tattoo nicely placed on the ankle.
Hint of Blue Daisies
This tattoo has several daisies within it and they are done in white with blue shadowing.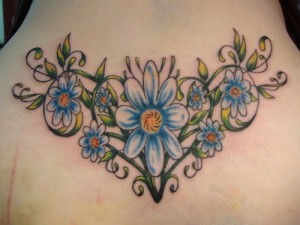 Daisy Side Tattoo
A bold daisy on the side makes a very nice looking tattoo.
Daisy and Rose Tattoo
A nice looking daisy paired with a gorgeous rose make a nice tattoo on the girl's side.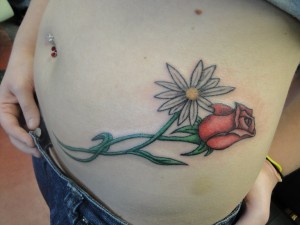 Detailed Daisy Tattoo
This colorful daisy tattoo is very detailed and elegant looking.
Bold Daisies
The pop of yellow makes this bold design compliment these nice looking daisies.
Daisy Toe Tattoo
This is a small, colorful, realistic daisy tattoo on the big toe.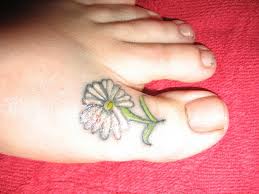 Daisy Side Tattoo
This is a  nice looking grey scale daisy tattoo on the wearer's side.
Line Art Daisy Tattoo
A nice looking, playful line art daisy tattoo with some colorful stars and black swirls.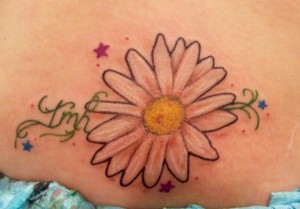 Small Daisies Tattoo
A side tattoo with a couple daisies and swirls in black ink.