Introduction to Skeleton Key Tattoos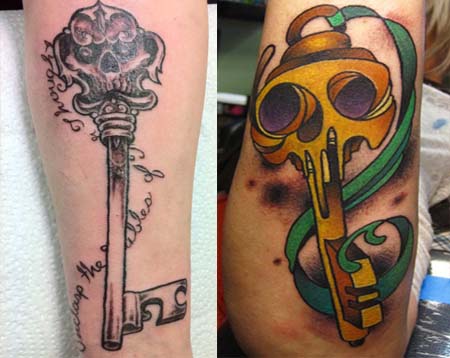 Skeleton key tattoos are popular for a number of reasons.  First they are extremely artistic; varying from the minimalist to very ornate.  For people who appreciate metal art, this gives a great opportunity to couple the art of tattooing with the metal art.  They are also trendy because they can send a secretive message, especially if placed appropriately.  Another reason they are in style is because they are the complement of some other people's skeleton key tattoos.
History of Skeleton Keys
The art of creating skeleton keys is hundreds of years old.  Only for a very brief period were they made from wood.  The rest their history shows fabulous metal art.  If you're considering skeleton key tattoos be sure to study images of skeleton keys.  The minimalist folks would appreciate the simplistic designs that were created during that period.  However some extremely elaborate metal art were created with these keys.  If you're looking to wear a skeleton key simply because it fits in well with your body art, consider elaborate skeleton key tattoos.  Coloring for these keys can be all over the place.  Original coloring, or course, would be realistic metal colors, steel, grey, black, and rust, anything metal oxidizes into.  If you gravitate towards fantasy, cartoon, or overstated, you can use any color. Remember the more elaborate the key, the more skin it will take; you'll want to show that detail.  However the size of this tattoo allows placement just about anywhere on your body.
Ideas for Skeleton Key Tattoos (and Their Meanings)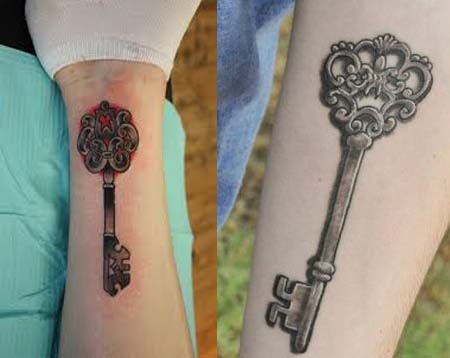 Trendy today, is to use the skeleton key tattoos to imply a secret message to which you only know the answer.  When using skeleton key tattoos to send this message, many people hide this tattoo. It is often placed behind, the ear, back of the neck, other places people aren't normally allowed to see. When choosing your design for this tattoo, pick a key that means something to you.  If you can't find a key illustration that is meaningful, design one with your tattoo artist.  These tattoos, because of their nature are usually small.   Coloring is an option, but because of their size you would probably want to keep your design more simple.  It's more difficult to get color ink into an elaborately designed tattoo the smaller it is.
In line with skeleton key tattoos that we've just discussed is another version.  This includes sharing your secret with another person(s).  In this case, two people or a group of people could get skeleton key tattoos inked in the same spot at the time, but choose their own key.  This could symbolize the sharing of a special time in your lives or a secret you all share and never want to forget for rest of your lives.  For example, a fraternity, childhood friendship, graduating together, spring break together, a wedding with your best man and maid of honor, a club …well you get the message.  Each person choosing their own key as mentioned above is probably the best idea, as most of us know, group consensus, no matter how close you are, is difficult.  But placement will be important because to make this idea really work, you'll all want them in the same placement.  Because of the variation in skeleton key tattoos, which effects placement, you'll have to come to some compromise.  Good friends are good at that.
Images from:
http://tattoosbymoreah.com and http://www.tattooinspiration.com
http://blog.blacklinestudio.ca and http://www.tattoomuch.com