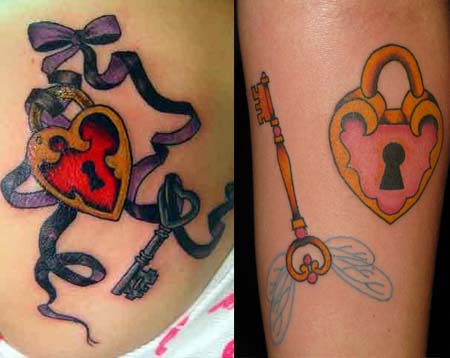 Key to my heart tattoos at a glance seems to have a simple meaning of true love. These tattoos could represent the love for your mother, the close bond with a sibling or even the close ties of a lifelong friend. Key to my heart tattoos may also reflect the values you live by in day to day life. There are other meanings that key to my heart tattoos can represent as well. Here we will discuss some possibilities in design patterns as well as sizing, placement and color choices for some of the key to my heart tattoos we talked about above. This tattoo design is seen on both men and women. Most often the heart will be tattooed on the women and the key on the man.
Ideas for Key to My Heart Tattoos
Key to my heart tattoos with a message of love is very popular these days. Their message is quite simple but very powerful. Only you can unlock my heart or you have found your true love. For couples, an idea that represents true love could be the heart in red ink with two roses crossed behind the heart with the stems up. As a border around the heart use inter woven rose stems with many thorns, for the woman's half. For the man's half of the tattoo, try using an old skeleton key with a section of chain or even a piece of weathered looking ribbon with your girls name in it. These tattoos look good in small to medium size on the ankle, lower leg, wrist, neck. Red ink for the heart, yellow ink for the roses and green for the stems.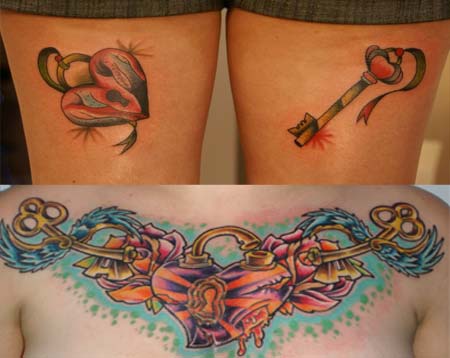 Key to my heart tattoos makes for a great tribute for your mom. This tattoo will have more personal meaning by using fun things that you share interest in; it may be butterflies, flowers, cats etc. Try using the heart with your mom's zodiac birth symbol in the back ground. You could also set the heart in the middle of angel wings. Sizing for these tattoos are normally small with plenty of color to draw attention to them. Good placement of this tattoo is on the neck, shoulder blade or forearm.
Placement and Color Of Key to My Heart Tattoos
You will never have a friend like your childhood best friend.  If you are still best friends forever by the time you are old enough to get inked consider key to my heart tattoos; after all who knows your heart better than your best friend forever. This design should include, of course a heart and then the special things and events, including love that you've shared over the years.   Key to my heart tattoos symbolizes never ending love because someone has reached your inner soul. A symbol that represents eternity and the never ending cycle of life would wear well with this type of key to my heart tattoo.  Coloring here would of course be decision the two of you could make together because you might want to consider getting tattooed with your key to my heart tattoos at the same time, by the same artist so match.  You can wear them anywhere you want, but close and personal sounds the best. Don't you think?
Images from:
http://tattoosmania.info and http://sunnybuick.typepad.com
http://newpicturetatto.blogspot.com and http://www.zhippo.com