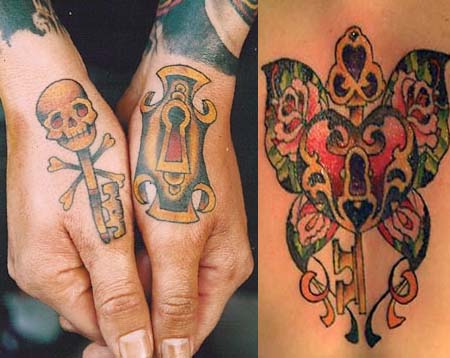 Key and lock tattoos have various meanings.  All of them are valuable; some are serious, mysterious, and humorous. On the serious side, key and lock tattoos can represent freedom from a time in your life when you felt locked up. They can be mysterious if visible, because viewers of your body art will wonder what you have locked away.  On the humorous side…well we'll get to that in a minute; read on.
Meaning of and Ideas for Key and Lock Tattoos
Key and lock tattoos worn to represent a time in your life where you lacked freedom probably would involve you wearing both the lock and the key.  The design suggestions for these key and lock tattoos are various depending if you lean toward the male or female aspect of design.  For a male, suggestions would be a minimalist designed lock, with a more elaborate designed key.  They are what set you free, so give more attention to the key.  For a female, the same idea would apply, but you probably won't want the bold minimalist look, so you could go with a Victorian style lock with simple color.
Mysterious key and lock tattoos are generally worn by couples. One wears the lock and the other wears the key.  You will need to decide if you want body art or to keep it personal, meaning hidden.  Either way, come to an agreement on style, because you'll want them to match, just like you!  The most elaborate style of key and lock tattoo designs come from the Victorian era when a lot of artistic effort was put into metal art.  This same art is imitated in tattoos today. Study some of the skeleton keys and locks from that era by visiting galleries and searching images.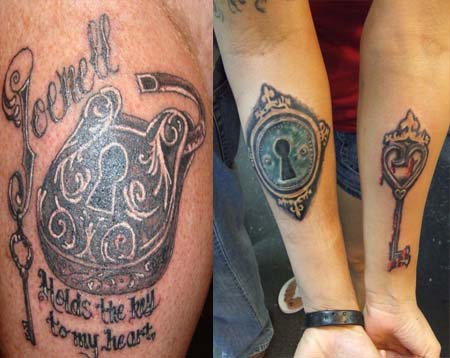 Humorous key and lock tattoos; is there such a thing? Yes, there is.  Ladies, just how daring and risqué are you; do you like the look of that panty line just above your low riders?  Visualize these key and lock tattoos:  lower back tattoos are still in style, however, ideas are getting a little used, here's a new one based on an old idea using current styles. Consider having your lock tattooed in the form of a lower back tattoo, possibly in Celtic style, imitating a panty top.  It would represent the top of a chastity belt.  For those of you who do not know what that is, they were used in the distant past; by men who locked they're woman's private parts with a device that prevented entry by anyone else.   You could add the keyhole to this tattoo; of course your man would be wearing the tattooed key that complemented your lower back tattoo.
Coloring and Placement of Key and Lock Tattoos
Coloring of these key and lock tattoos depends on the design style.  Because they are all key and locks, you'll probably want to stay with shades of black, gold, silver, gray, and blue.
Placement also depends on which design style you've chosen.  For the serious that may want their key and lock tattoos hidden, keys behind the ear are a very popular place to hide, between fingers, and on the foot, as well.  For the freedom folks, you may want to show body art and will be wearing both pieces.  Why not put the lock on one arm and the key on the other.  This would a great place that would also represent your strength, endurance and tenacity in overcoming your obstacle. For the humorous…well I think you get the point.
Images from:
http://tattooflux.com and http://penetrationtattoo.net