Hawk tattoos have captivated individuals across cultures and generations with their powerful symbolism and striking aesthetics. The hawk, a magnificent bird of prey, has long been associated with various meanings, making it a popular choice for tattoo enthusiasts seeking to convey strength, freedom, and spiritual connection through their body art.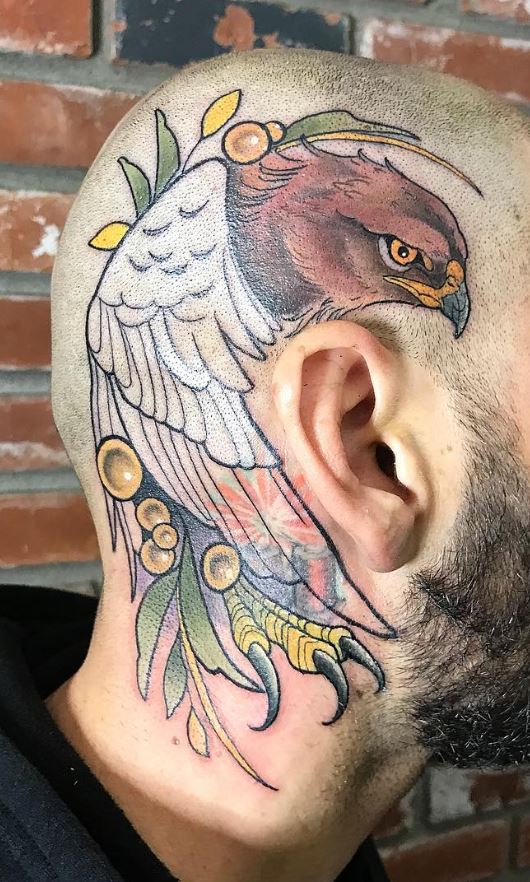 Symbolism Behind Hawk Tattoos
Beyond their physical beauty, hawk tattoos carry deep symbolic significance. Hawks are often seen as symbols of freedom, independence, and agility. They possess keen eyesight, representing vision, perception, and the ability to see beyond the surface. Additionally, hawks embody strength, power, and the relentless pursuit of goals, making them a powerful totem for those seeking to embrace these qualities.
In this blog, we will explore the world of hawk tattoos, exploring their meanings, design ideas, and various styles. Whether you're considering getting a hawk tattoo or simply curious about the allure of these designs, this comprehensive guide will provide valuable insights and inspiration. From realistic and traditional designs to geometric and watercolor interpretations, we'll showcase the diverse range of hawk tattoo options available.
So, prepare to spread your wings and embark on a journey through the fascinating realm of hawk tattoos, where symbolism meets artistry and personal expression takes flight.
Meanings of Hawk Tattoos
Freedom and Independence
Hawks are renowned for their soaring flight and ability to navigate vast expanses of the sky with grace and freedom. As tattoo symbols, they often represent the desire for independence and the pursuit of personal freedom. They can serve as a reminder to break free from societal constraints, embrace individuality, and strive for personal growth.
Vision and Perception
Hawks possess exceptional vision, spotting even the slightest movement from great heights. They symbolize heightened perception, clarity of sight, and the ability to see things others might overlook. Hawk tattoos can convey the importance of being observant, wise, and focusing on goals or life's path.
Strength and Power
Hawks are formidable predators, possessing strength, agility, and powerful hunting abilities. As tattoo symbols, they embody strength, power, and tenacity. They can inspire individuals to tap into their inner strength, overcome challenges, and assert their authority in various aspects of life.
Spiritual and Mystical Significance
In many cultures, hawks are associated with spiritual and mystical beliefs. They are often considered messengers between the earthly realm and the spiritual world. Hawk tattoos signify a deep spiritual connection, representing guidance, intuition, and a connection to higher realms. They can also symbolize the presence of a guardian or spirit animal watching over the wearer.
Whether you resonate with the desire for freedom, seek heightened perception, wish to embrace personal strength, or feel a spiritual connection, a hawk tattoo can be a powerful symbol to express these meanings and constantly remind you of the qualities you aspire to embody.
Popular Hawk Tattoo Designs
Neo Traditional Style Hawk Tattoos
Neo Traditional tattoo style combine the boldness of traditional designs with contemporary elements and vibrant color palettes. These tattoos often feature intricate linework, detailed feathers, and exaggerated proportions. Neo Traditional hawk tattoos are popular for individuals seeking a fusion of classic and modern tattoo aesthetics.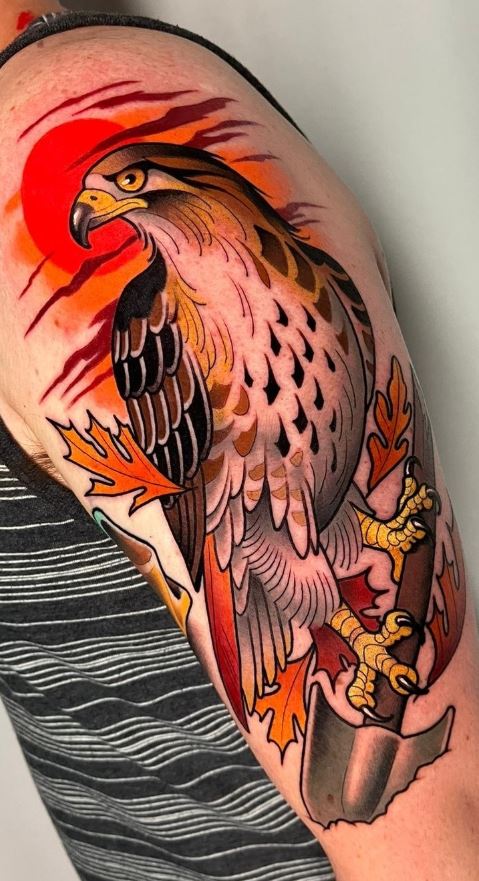 Black and Gray Hawk Tattoos
Black and gray hawk tattoos rely on shades of gray and black ink to create stunning, realistic depictions of hawks. These tattoos showcase the intricate details of the bird's feathers, eyes, and talons, resulting in a captivating and sophisticated design. Black and gray tattoos offer a timeless and elegant choice for those who appreciate monochromatic artwork.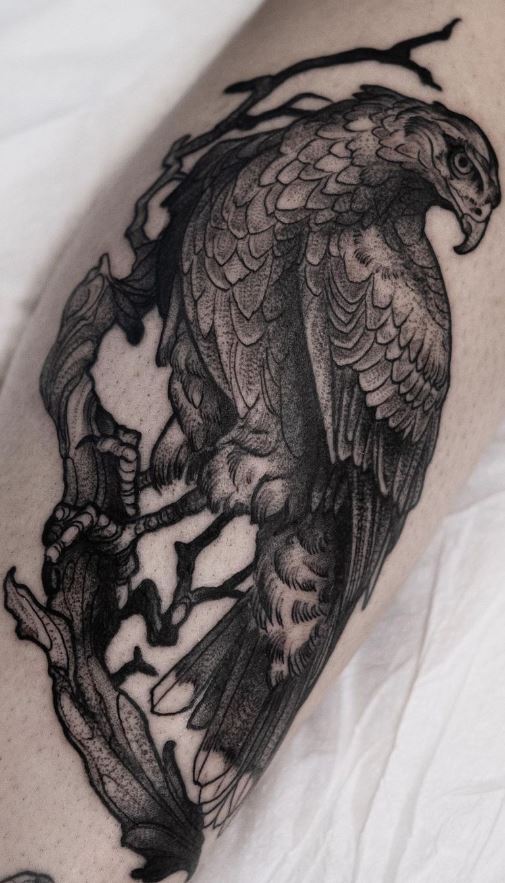 Linework Hawk Tattoo
Linework hawk tattoos emphasize clean, precise lines to create a minimalist and striking design. These tattoos focus on the hawk's silhouette, often incorporating geometric elements or abstract patterns to enhance the overall composition. Linework hawk tattoos are an excellent option for individuals seeking a sleek and modern interpretation of the bird's form.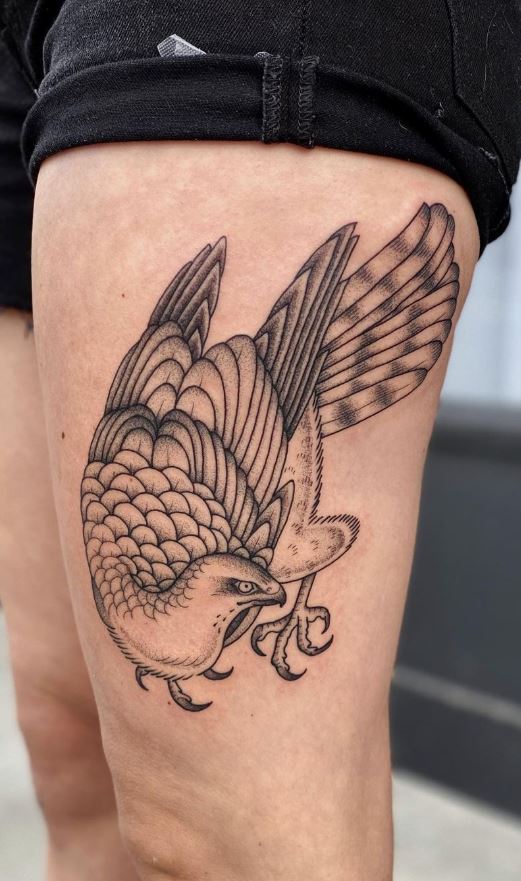 Japanese Hawk Tattoo
Japanese hawk tattoos draw inspiration from traditional Japanese art and folklore. These tattoos often feature bold colors, intricate detailing, and a sense of dynamism. Japanese hawk tattoos may incorporate traditional Japanese motifs such as cherry blossoms, waves, or clouds, creating a visually stunning and culturally significant design.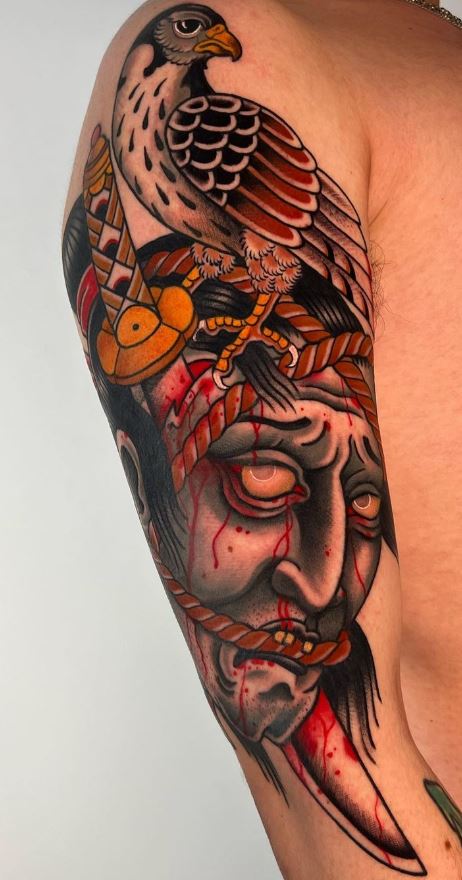 Blackwork Hawk Tattoos
Blackwork hawk tattoos rely on bold, solid black ink to create striking, high-contrast designs. These tattoos often feature intricate linework, negative space, and heavy shading, resulting in a powerful and visually impactful representation of a hawk. Blackwork hawk tattoos are favored by individuals who appreciate bold and minimalist aesthetics.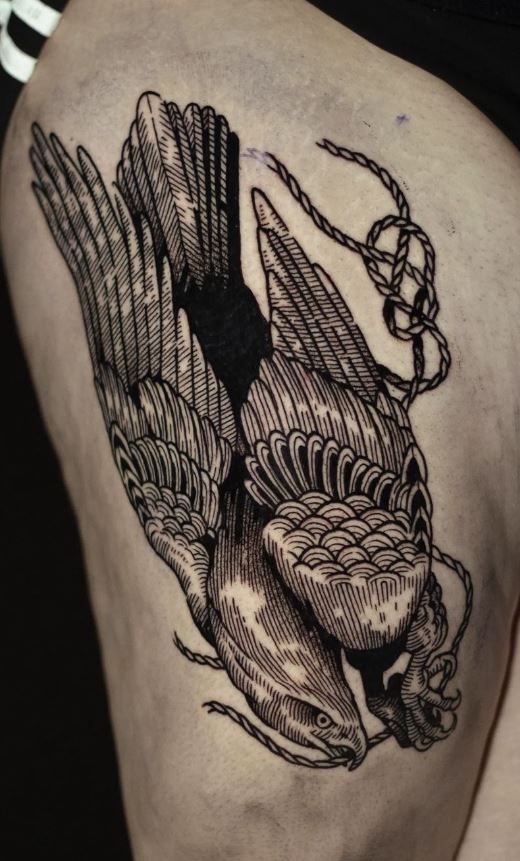 Realistic Hawk Tattoo
Realistic hawk tattoos aim to capture the bird's lifelike appearance with meticulous attention to detail. These tattoos showcase the hawk's feathers, eyes, and features with remarkable accuracy, creating an incredibly realistic and three-dimensional effect. Realistic hawk tattoos require a skilled artist who specializes in realism and can bring the bird to life on the wearer's skin.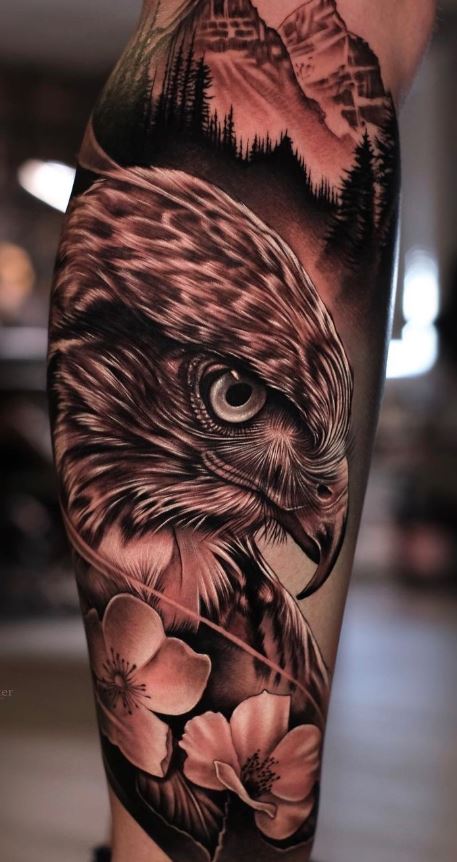 New School Hawk Tattoo
New School hawk tattoos are characterized by their vibrant colors, exaggerated proportions, and cartoonish elements. These tattoos often feature playful and imaginative interpretations of hawks, incorporating bold outlines, exaggerated expressions, and unconventional designs. New School hawk tattoos are perfect for those who seek a whimsical and eye-catching representation of the bird.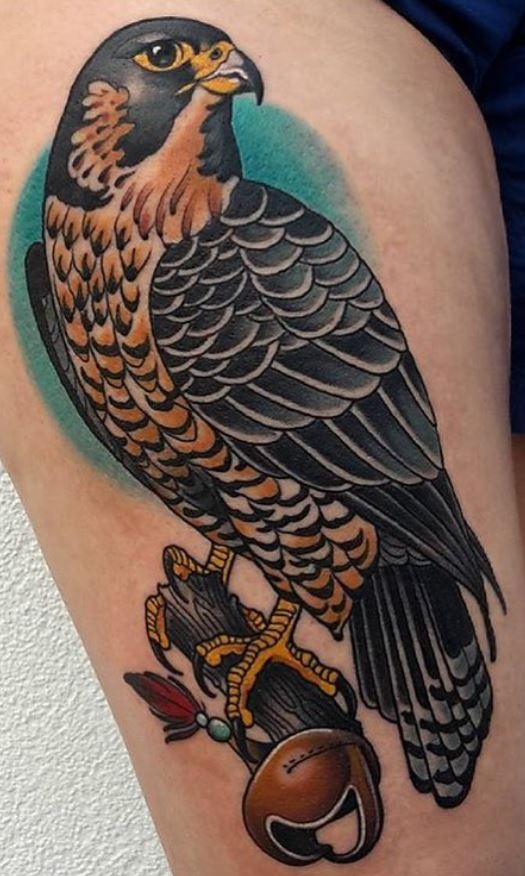 Traditional Hawk Tattoo
Traditional hawk tattoos draw inspiration from classic American tattoo styles. These tattoos feature bold outlines, vibrant colors, and a distinctly vintage aesthetic. Traditional hawk tattoos depict the bird in a perched or flying pose, exuding strength, power, and traditional symbolism. These timeless designs are ideal for individuals who appreciate traditional tattoos' rich history and iconic imagery.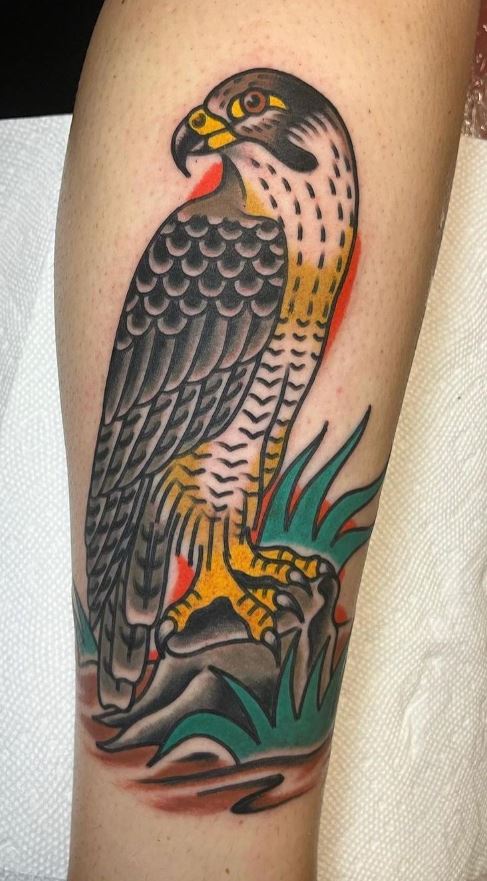 Small Hawk Tattoo
Small hawk tattoos offer a minimalist and discreet option for individuals who desire a smaller-scale design. These tattoos often focus on capturing the essential features of a hawk, such as its silhouette, wings, or distinctive eyes. Small hawk tattoos can be placed on various body parts, making them versatile and suitable for those who prefer subtle yet meaningful ink.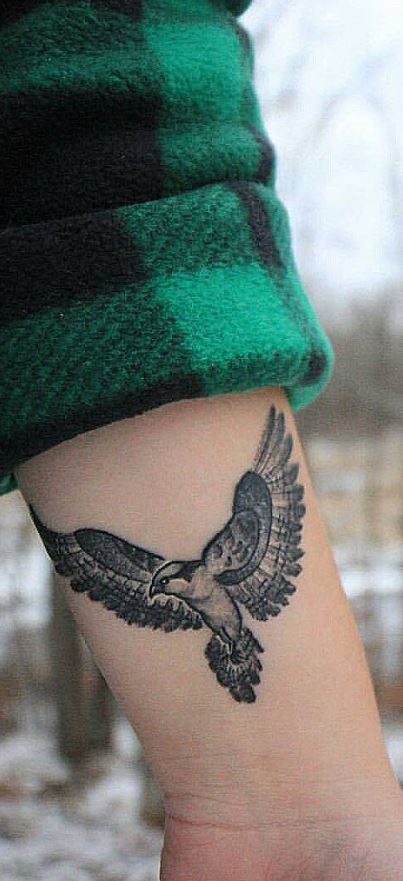 Minimalistic Hawk Tattoos
Minimalistic hawk tattoos embrace simplicity and clean lines to convey the essence of a hawk in its most basic form. These tattoos often feature geometric shapes, minimal detailing, and a stripped-down aesthetic. Minimalistic hawk tattoos are perfect for individuals who appreciate minimalism and desire a sleek, understated design.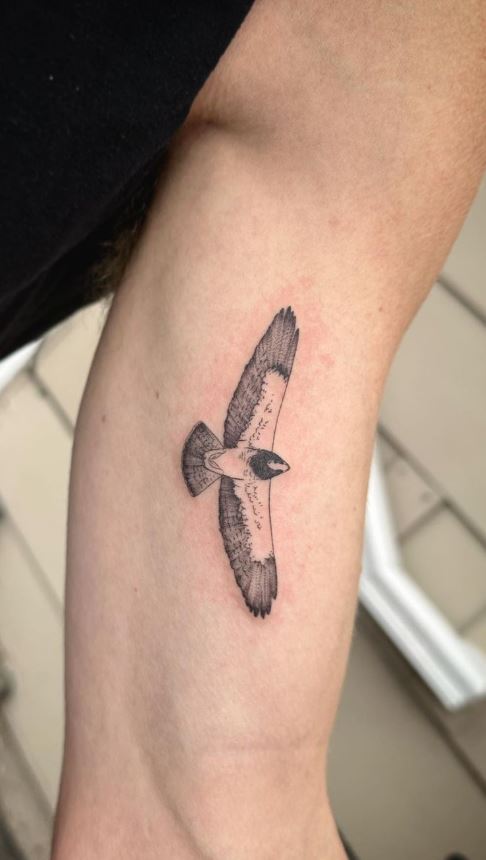 Geometric Hawk Tattoo
Geometric hawk tattoos combine the beauty of hawks with the precision of geometric shapes. These tattoos incorporate intricate patterns, symmetry, and geometric elements to create a striking composition. Geometric hawk tattoos offer a unique and contemporary interpretation of the bird, appealing to those who admire geometric art and symbolism.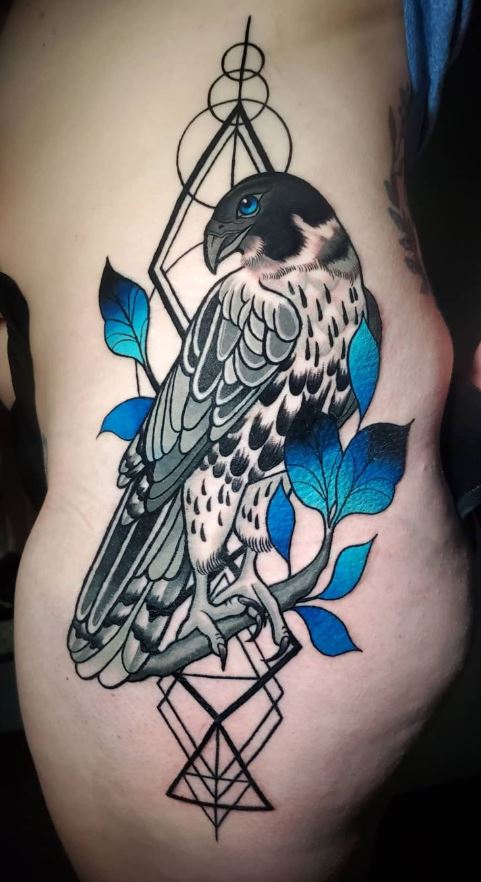 Feminine Hawk Tattoo
Feminine hawk tattoos cater to individuals who desire a hawk design with a touch of femininity. These tattoos often incorporate softer lines, delicate details, and feminine elements such as flowers, feathers, or intricate filigree. Feminine hawk tattoos can be customized to reflect personal style and preferences, allowing for a beautiful and personalized representation of the bird.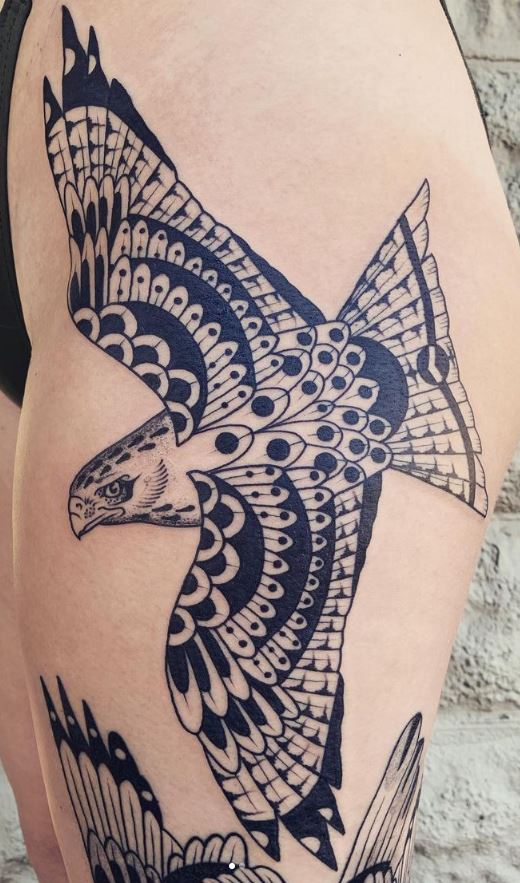 These popular hawk tattoo designs showcase the versatility and creativity that can be achieved with these majestic bird motifs. Whether you prefer a realistic portrayal, a bold traditional design, or a minimalist interpretation, there's a hawk tattoo style to suit every individual's aesthetic preferences and personal meaning.
Placement Ideas for Hawk Tattoos
Arm
The arm is a classic and popular placement choice for hawk tattoos. Whether on the upper or lower arm, this location offers a versatile canvas that can accommodate different styles and sizes of hawk designs. The arm placement allows for easy visibility and can be further accentuated by incorporating the hawk's wings to flow with the natural contours of the arm.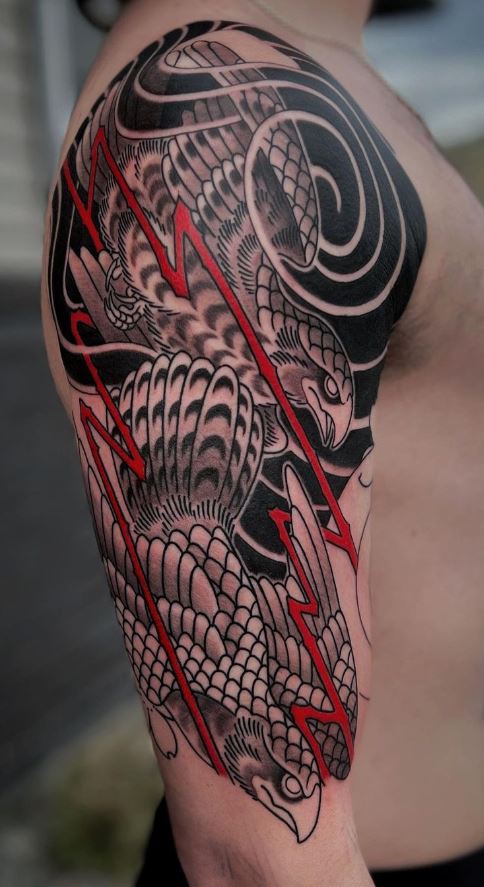 Forearm
A hawk tattoo on the forearm offers a visible and easily accessible location. The forearm provides ample space to showcase the intricate details of the hawk design, particularly if you opt for a larger or more elaborate tattoo. This placement allows you to display your hawk tattoo proudly, making it a popular choice for those who want to show their ink.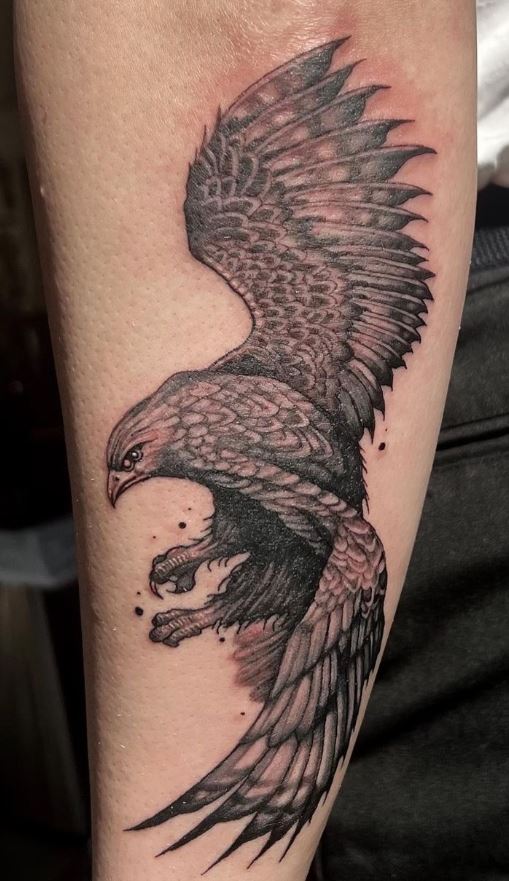 Shoulder
The shoulder is a versatile and prominent placement for a hawk tattoo. Whether you choose the front, side, or back of the shoulder, this area provides a spacious canvas to showcase the wingspan and majesty of a hawk design. The shoulder placement allows for easy visibility and can be easily covered if desired, making it suitable for various professional and social settings.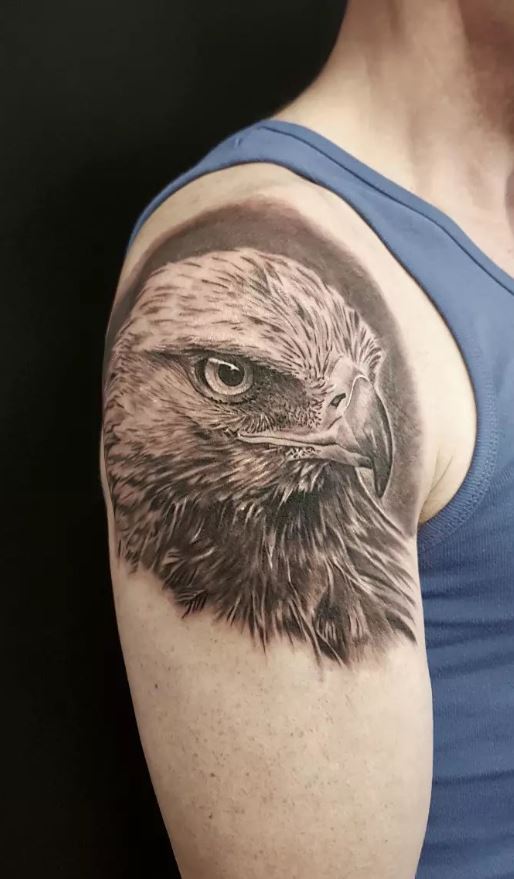 Back
The back is an expansive and captivating placement for a hawk tattoo. This area allows for larger, more intricate designs, making it ideal for detailed depictions of hawks in flight or perched on a branch. The back offers a visually striking canvas that can span across the upper or lower back, providing ample space to showcase the beauty and grandeur of a hawk tattoo.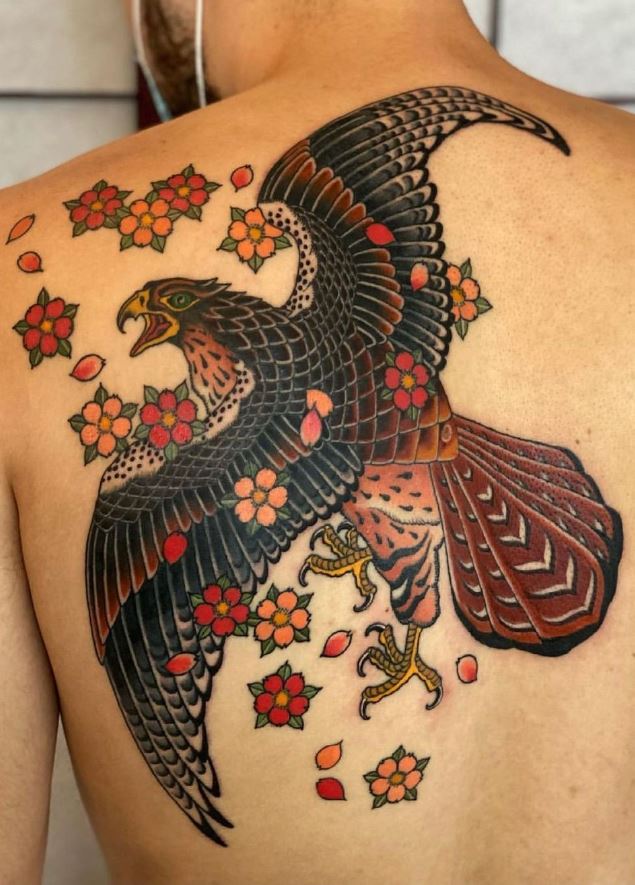 Chest
Placing a hawk tattoo on the chest creates a bold and impactful statement. The chest provides a central location that draws attention to the symbolism and power of the hawk design. The chest placement is versatile, allowing for various sizes and styles of hawk tattoos, from smaller minimalist designs near the collarbone to larger, more intricate pieces spanning across the entire chest.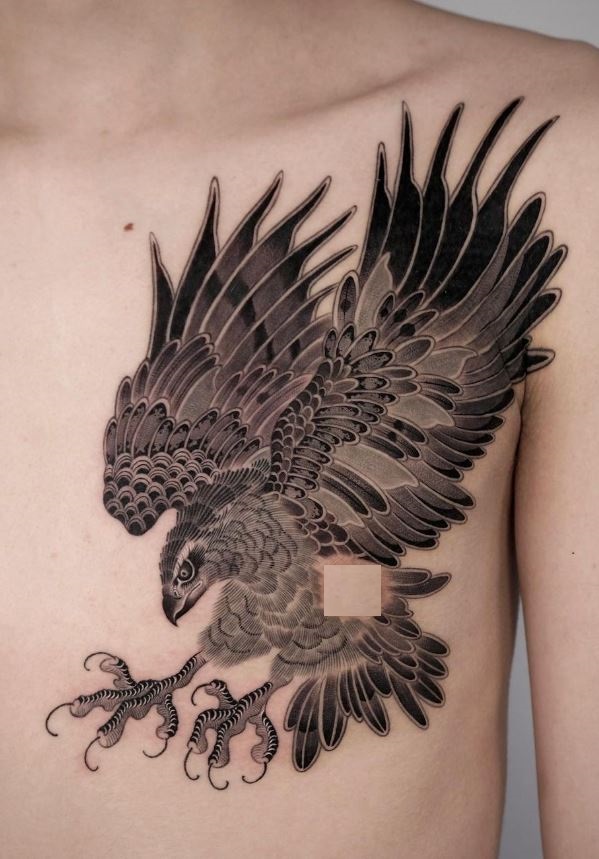 When choosing the placement for your hawk tattoo, consider personal preference, visibility, and how the design will interact with the body's natural lines and movements. Ultimately, the placement should complement the size and style of the hawk tattoo while aligning with your desired level of visibility and personal significance.
Personalizing Hawk Tattoos
A hawk tattoo holds immense personal significance, and customizing it allows you to infuse your unique personality, experiences, and symbolism into the design. Here are some ways to personalize your hawk tattoo:
Adding Elements of Nature: Enhance your hawk tattoo by incorporating elements of nature that hold personal meaning to you. Consider including trees, mountains, clouds, or other natural elements to create a cohesive and meaningful composition. These additions can symbolize a connection to the natural world or represent specific places that hold significance in your life.
Incorporating Other Symbols: Infuse additional symbols into your hawk tattoo to amplify its meaning. You can incorporate feathers, dreamcatchers, arrows, or celestial symbols like the sun, moon, or stars to represent concepts such as protection, dreams, guidance, or spirituality. Choose the symbols that resonate with your beliefs, values, or personal journey to create a deeper and more personalized narrative within your hawk tattoo.
Combining Hawk with Other Animals – Consider combining the hawk with other animals to create a powerful and symbolic representation. You can include wolves, eagles, or other predators to convey a sense of camaraderie, strength, or shared characteristics. These combinations can create visually striking compositions and further enrich the storytelling aspect of your tattoo.
Personalizing your hawk tattoo transforms it from a mere symbol into a powerful representation of your individuality, beliefs, and life journey.
Customizing your tattoo ensures that it holds deep personal meaning and creates a truly unique piece of art that resonates with you profoundly. Work closely with a skilled tattoo artist to bring your personalization ideas to life, ensuring the design reflects your vision and captures the essence of your narrative.