Do you love Japanese culture, or thinking about getting a Geisha tattoo? You have come to the right place. In this article, we have gathered a collection of 65 gorgeous geisha tattoos for your inspiration.
Geisha is an iconic symbol of Japanese culture, instantly recognizable around the world. Geisha translates to "art person."
She has become such an easily recognized part of Japanese culture due to her vibrant reds, whitened face, and stark black hair. She is a symbol of intrigue and beauty. In traditional Japanese culture, she is known as a living work of art….perhaps most appropriate for us people who love tattoos! She is the ultimate in beauty, composed and outwardly without emotions.
Becoming a geisha takes years of training. In Western society, we hold a great fascination for the mystery and the poise of the Geisha – in Japan, she is still a great attraction to the thousands of tourists who flock there.
Geisha tattoos have many possible meanings and they symbolize the body as a work of art, or a symbol of beauty, or a symbol of mystery and untouchable desire. Geisha women were well educated and well-rounded in their knowledge, so she could also be seen as a symbol of intelligence. She is often pictured holding an umbrella or a fan, or a musical instrument to represent her mystery and skills.
The Most Beautiful Geisha Tattoos
Geisha Warrior Tattoos
Traditional Geisha Tattoos
Geisha Tattoo Colored
Geisha Mask Tattoos
Blackwork
Geisha and Cherry blossom
Creepy Geisha Tattoos
Images of Geisha Tattoos
More Geisha Tattoo Ideas
A blackwork geisha tattoo seems a little out of whack at first until you get your eyes on the beauty of this work. The fan, the integration with the other work – it's stunning.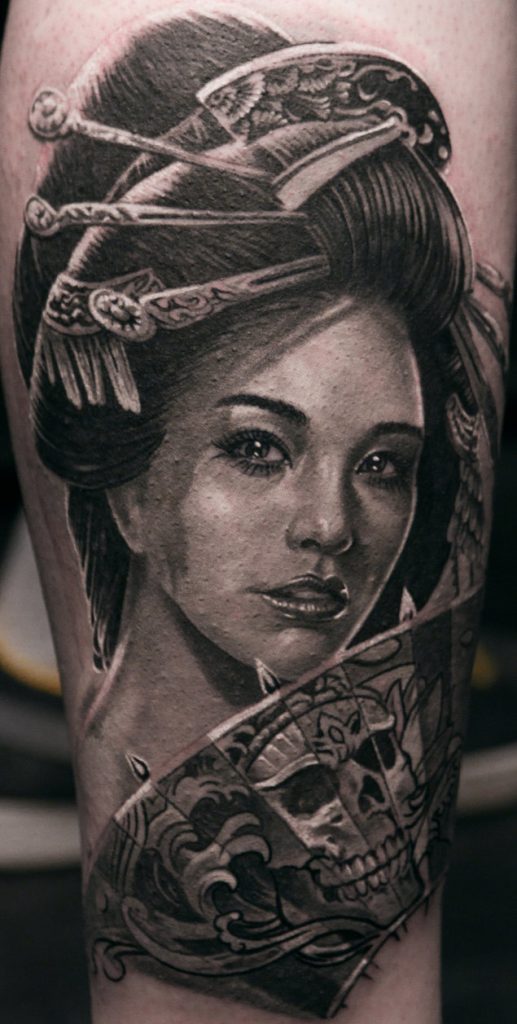 For a subject like a geisha, which is so dramatic, why stop at a tiny tattoo? This full-back tattoo dramatically represents the body as art. The color and the detail are unforgettable.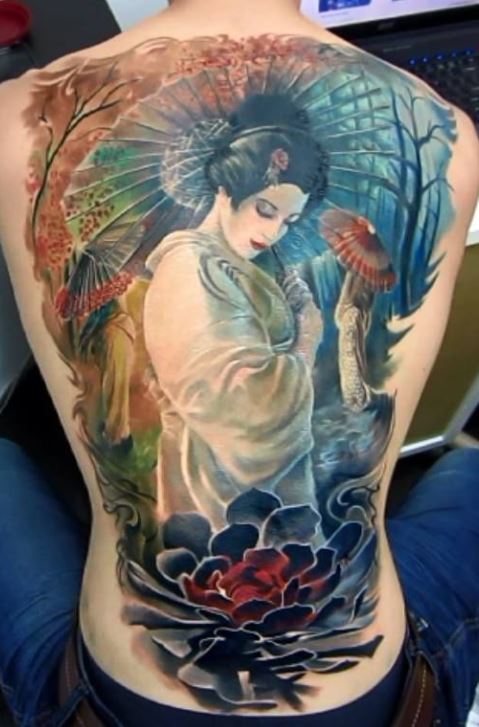 Now, here's a tattoo that's just plain graceful! Elegant! Sophisticated!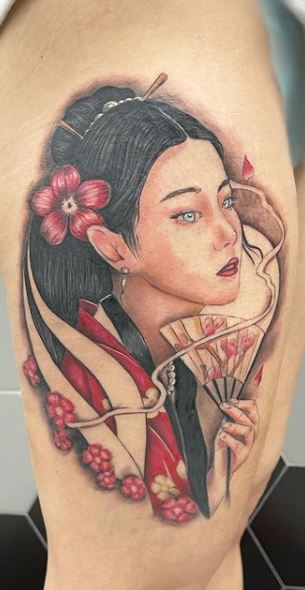 You know, there is not much more striking than a red and black tattoo. But you combine it with such a well-crafted design, and it's positively breathtaking.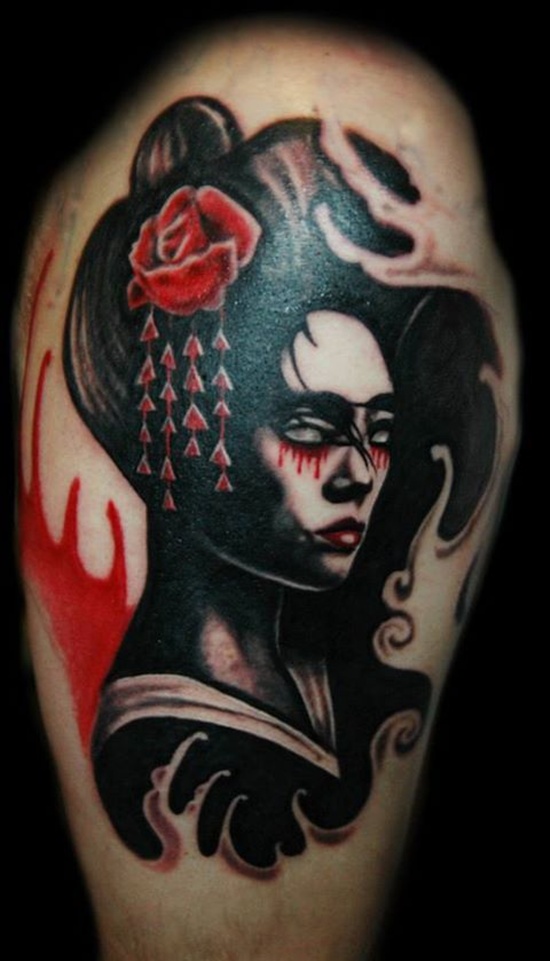 As is this ripper. The tattoo size really does lend itself to the larger body parts, the torso, the back, the thigh.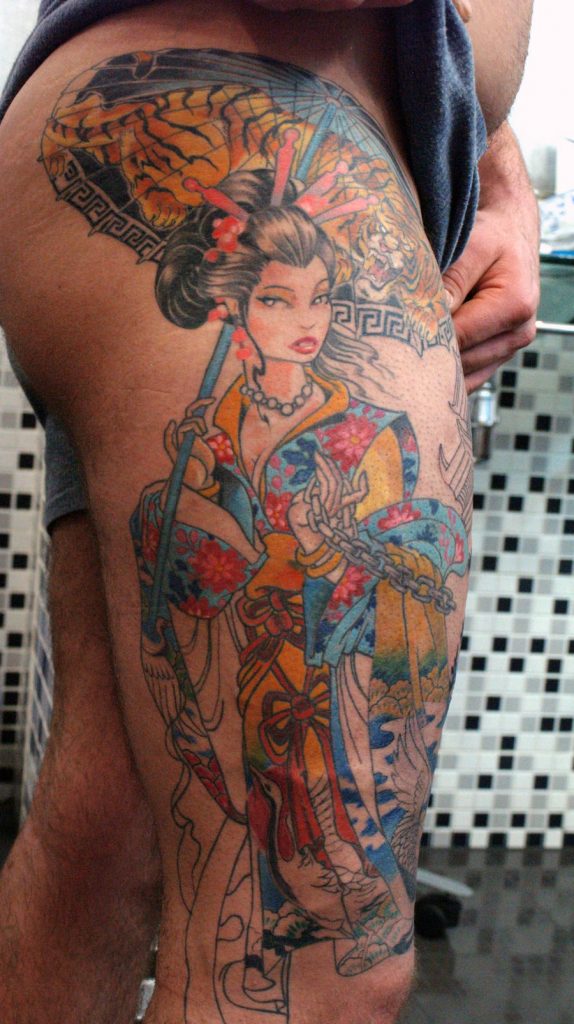 Another stunning sleeve, appropriate for either a man or a woman.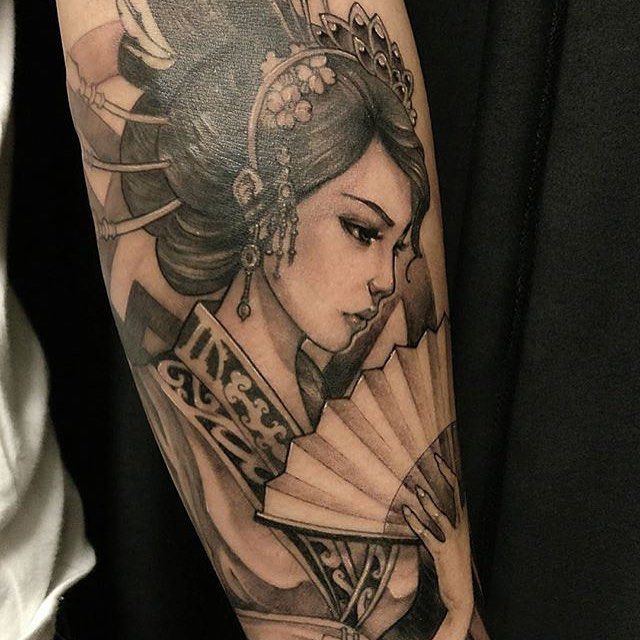 Again, a touch of the macabre, here. Still the traditional kimono and the red silk, and the umbrella.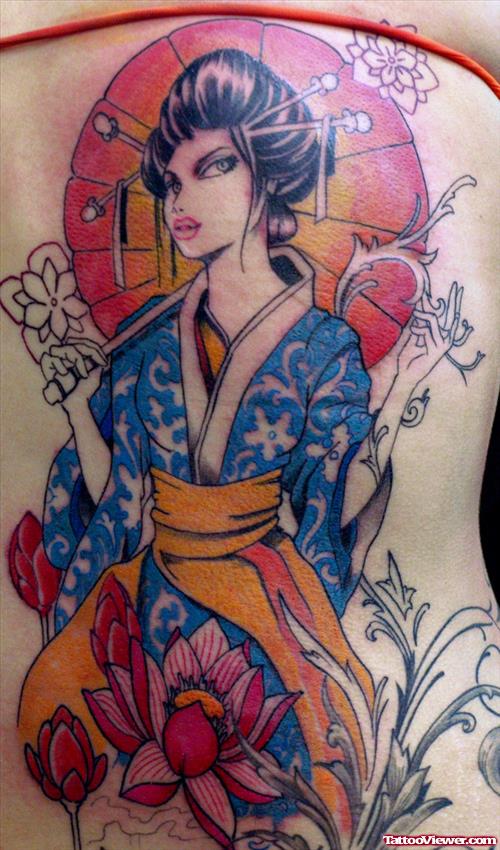 You may also like our in-depth article on Japanese Tattoos