Fox tattoos, cunningly charming and full of intrigue, have taken the tattoo world by storm! Animal tattoos have long been a favorite choice for self-expression. Among them, the fox stands out as a captivating and enigmatic creature with a rich history in mythology, folklore, and spiritual beliefs. Whether you're a tattoo enthusiast or just someone curious about the allure of ink art, join us on a whimsical journey to uncover the magic and symbolism behind these mesmerizing fox tattoos.
In this blog, we'll explore the creative artistry behind these cunning designs, the unique styles that make them pop, and how they can reflect your personality in the most foxy way possible! From celebrities flaunting their foxy ink to heart warming stories of tribute and transformation, you'll see why fox tattoos have stolen the hearts of tattoo lovers worldwide.
So, get ready to dive into the enchanting world of fox tattoos – where the mystical beauty of these cunning creatures meets the artistry of inked expression. Whether you're contemplating your first tattoo or just here to appreciate the foxy vibes, let's embark on a delightful journey into the whimsical world of fox tattoos!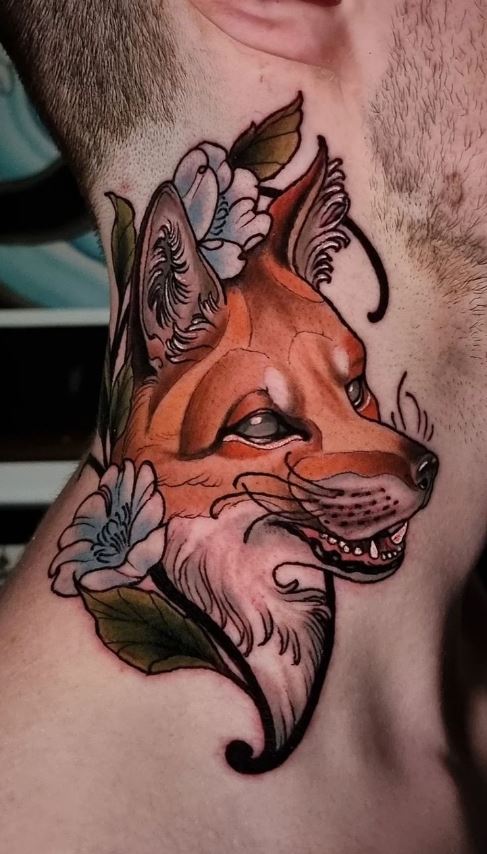 The Fox in Mythology and Folklore
Throughout human history, cultures worldwide have given the fox a prominent place in their mythology and folklore. This cunning and mysterious creature has captivated people's imaginations for centuries, symbolizing both cleverness and deceit.
In numerous cultures, the fox is closely associated with intelligence and wit. In ancient Greek mythology, the god Hermes embodied the cunning trickster figure of the fox. Depicted wearing a fox's skin, Hermes symbolized the creature's crafty attributes with his clever and quick-witted nature. In Japanese folklore, the fox, known as "kitsune," is revered as a shape-shifting creature capable of transforming into a beautiful woman to trick or aid humans. These mythical foxes are believed to possess great wisdom and magical powers, often seen as protectors and messengers of the gods.
In Chinese mythology, the fox is renowned for its shape-shifting abilities. The "huli jing" or "fox spirit" is considered a powerful and enchanting creature capable of taking on human form. Often portrayed as alluring and seductive beings, these fox spirits engage in folktales exploring themes of love, temptation, and the consequences of desire.
Similarly, Native American folklore portrays the fox as a clever and cunning character. Tribes such as the Navajo, Hopi, and Cherokee tell tales of the fox outsmarting other animals through cunning strategies. The fox is a teacher and a cautionary figure, imparting wisdom through clever actions.
Beyond its association with intelligence, the fox symbolizes transformation and adaptability. In Celtic mythology, the fox is linked to the "fae" or fairy realm, embodying the concept of shape-shifting and the fluidity of boundaries between worlds. The fox's ability to blend into its environment and adapt to various situations has earned it a reputation as a symbol of survival and resilience in several cultures.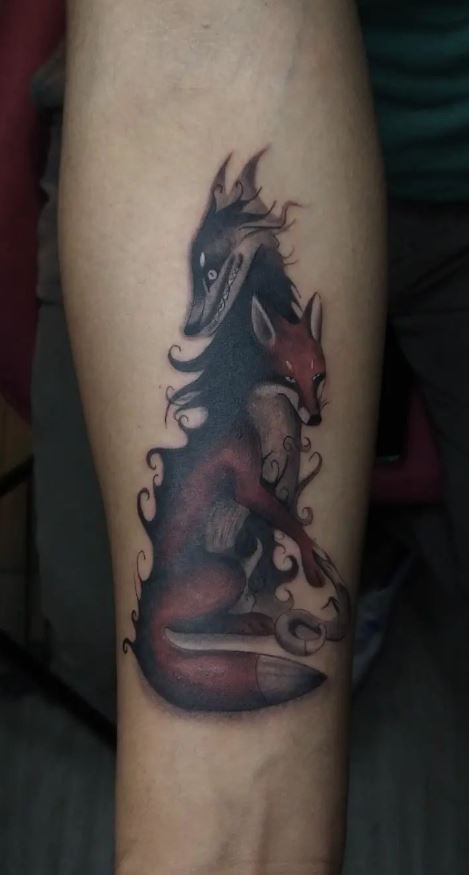 The Spiritual Significance of Fox Tattoos
In several spiritual traditions, the fox is believed to be a wise and mystical creature that acts as a spiritual guide and messenger. Some cultures view the fox as a guardian of the spirit world, leading souls on their journey from one realm to another. Getting a fox tattoo can serve as a reminder of this spiritual guidance, offering protection and support during life's transitions and challenges.
Shape-shifting and Transformation
The fox's ability to shape-shift and adapt to different environments has been associated with transformation and spiritual growth. In meditation and spiritual practices, the fox is often seen as a symbol of inner transformation, encouraging individuals to embrace change and new opportunities for personal growth. A fox tattoo can be a powerful talisman, symbolizing one's spiritual desire to evolve and adapt.
Cunning and Intuition
The fox's reputation for cunning and keen intuition also holds spiritual significance. The fox is seen as an emblem of acute perception and wisdom in many belief systems. A fox tattoo can remind one to trust one's instincts and intuition, guiding them to make decisions aligned with their higher purpose and spiritual journey.
Nature Connection
For some, the fox represents a deep connection to nature and the natural world. It is often associated with the cycles of the seasons and the changing tides of life. A fox tattoo can symbolize a profound bond with the Earth, reminding the wearer to stay grounded, mindful, and in tune with the rhythms of nature.
Balancing Dualities
In some spiritual contexts, the fox embodies the balance between light and dark, yin and yang, and other dualities. It represents the harmonious coexistence of opposites and the understanding that light and shadow play essential roles in the spiritual journey. A fox tattoo can serve as a reminder to embrace all aspects of oneself and find unity in diversity.
Protection and Luck
In certain traditions, foxes are considered protectors and bringers of good luck. People may get a fox tattoo as a talisman for safeguarding against negative energies or as a symbol of good fortune and prosperity on their spiritual path.
Ultimately, the spiritual significance of a fox tattoo varies based on individual beliefs and interpretations. Whether it serves as a guide, a symbol of transformation, or a connection to nature, a fox tattoo can be a deeply personal and spiritually enriching experience. It represents not only the allure of an enigmatic creature but also the journey of the soul seeking to explore the mysteries of life and find its place within the vast tapestry of the universe.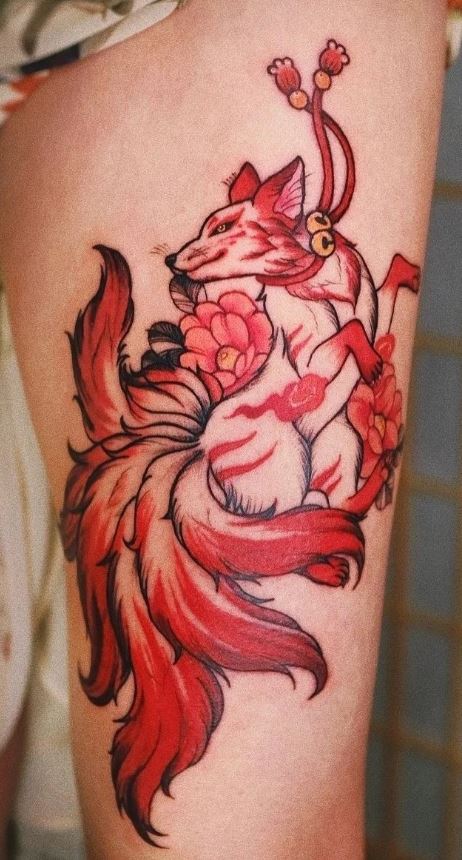 Fox Tattoo Designs and Ideas
Fox tattoos are not just an image you ink on the skin; they are exquisite masterpieces of art that combine creativity, skill, and imagination. These cunning creatures provide a versatile canvas for tattoo artists to showcase their talent, resulting in a wide array of stunning designs that captivate the eye and stir the soul. Let's explore the artistry behind fox tattoos and the various styles that bring these enchanting creatures to life.
Realism
Realism is a popular style for fox tattoos, where artists meticulously replicate the intricate details of a fox's fur, eyes, and features. The precision and attention to detail in realistic fox tattoos can leave one in awe as if the fox is about to leap off the skin and into the real world. This style highlights the beauty of nature and allows individuals to carry a lifelike representation of their favorite animal wherever they go.
New School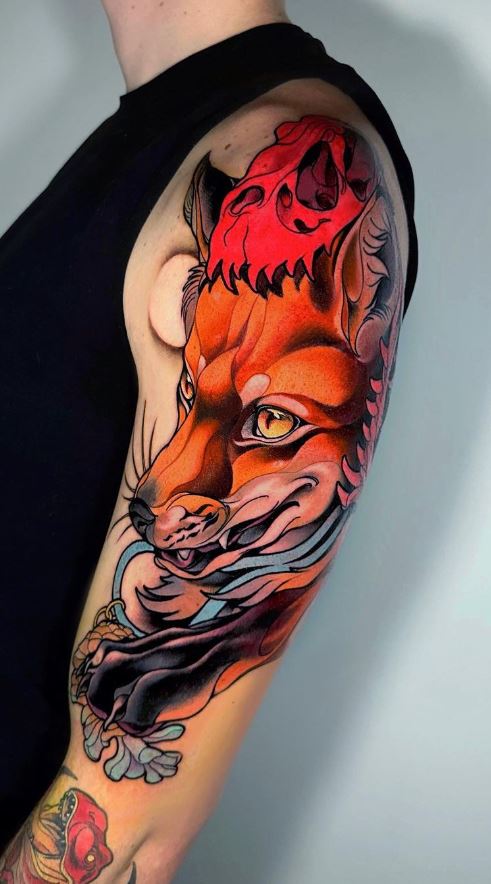 Watercolor
Watercolor fox tattoos are a stunning fusion of art and emotion. Artists create a dreamy, ethereal effect that resembles a watercolor painting using vibrant hues and fluid brushstrokes. The flowing colors blend effortlessly, giving the tattoo a unique and whimsical appearance. Watercolor fox tattoos often evoke a sense of freedom and wonder, as if the fox is an otherworldly creature straight out of a fairytale.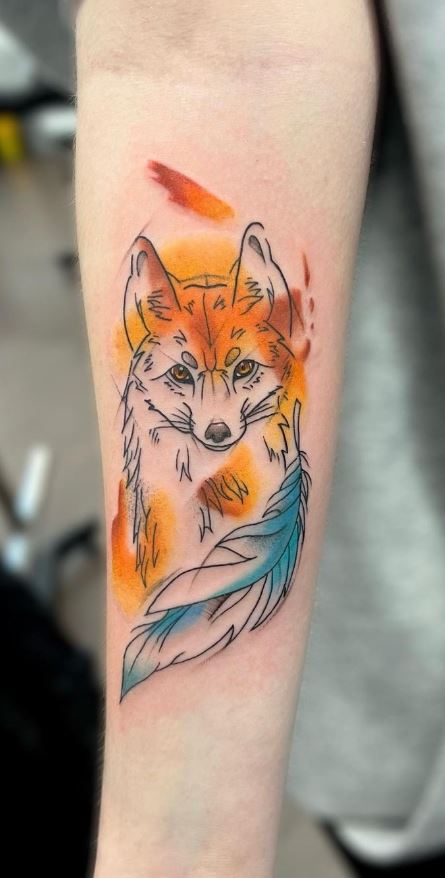 Geometric
The geometric style offers a contemporary take on fox tattoos with sharp lines and intricate patterns. Geometric fox tattoos use shapes and designs to create a modern and edgy look. Artists can experiment with angles and symmetry, resulting in visually striking and abstract fox representations.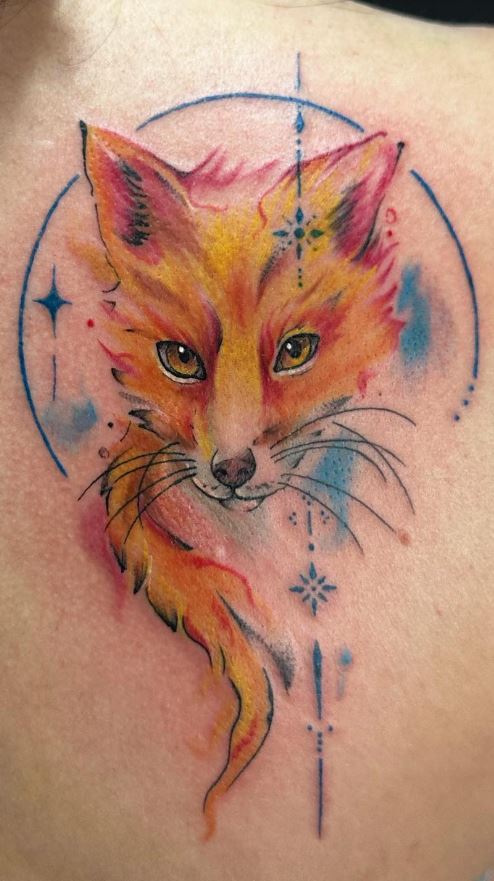 Illustrative
Illustrative fox tattoos showcase the storytelling aspect of art. Tattoo artists use their creativity to craft a narrative around the fox. They often incorporate elements from mythology, folklore, or personal symbolism. The illustrative style allows for a fusion of realism and creativity, bringing to life the rich tales and emotions associated with the fox. Each illustrative fox tattoo becomes a unique and personalized work of art, reflecting the wearer's individuality and imagination.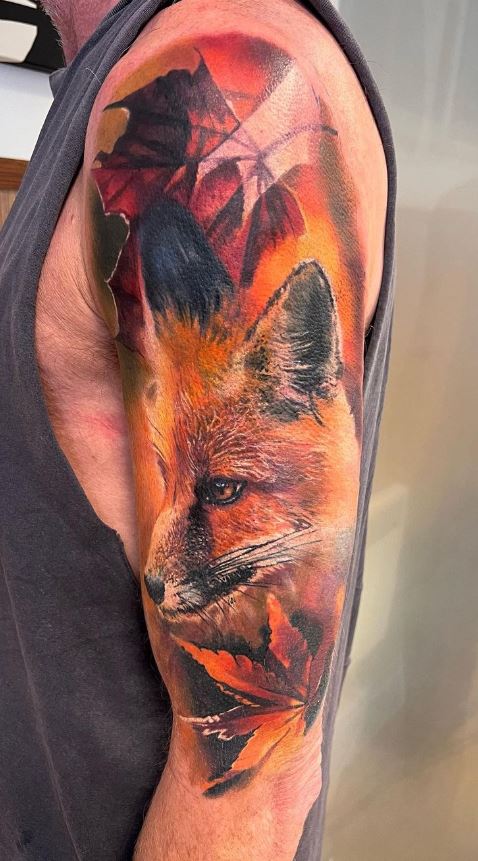 Blackwork
Blackwork fox tattoos rely solely on black ink, creating a bold and striking contrast on the skin. The simplicity of blackwork emphasizes the fox's shape and form, allowing the creature's essence to shine through without distractions. This minimalist style can evoke a sense of mystique and elegance, celebrating the fox's natural beauty and allure.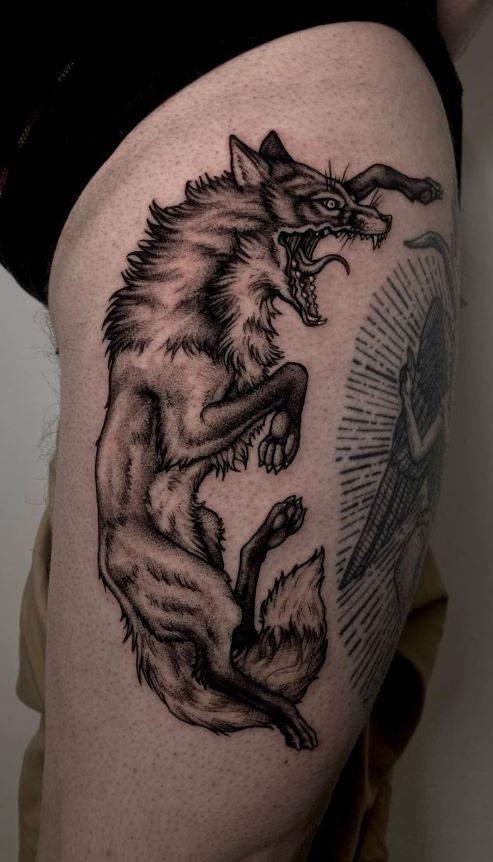 Neo-traditional
Neo-traditional fox tattoos blend the classic elements of traditional tattooing with a contemporary twist. Bold outlines, vibrant colors, and exaggerated features are common in this style, giving the fox a bold and eye-catching appearance. Neo-traditional fox tattoos often incorporate elements like flowers, moons, or other symbolic motifs to enhance the storytelling aspect and add layers of meaning to the design.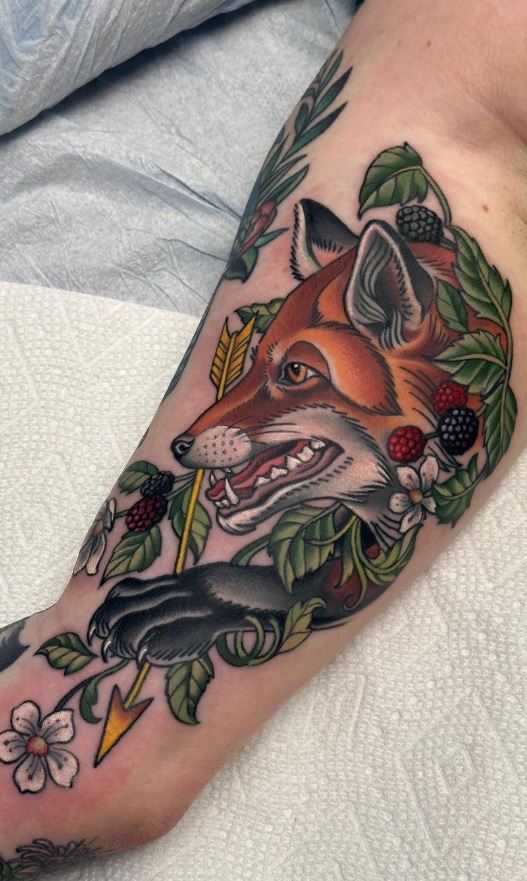 Simple Fox Tattoos
The simple fox tattoo focuses on clean lines and minimalistic design. It emphasizes the beauty of simplicity, often depicting a fox's silhouette or a basic outline with minimal details. This style is perfect for those who prefer a subtle yet elegant representation of the fox.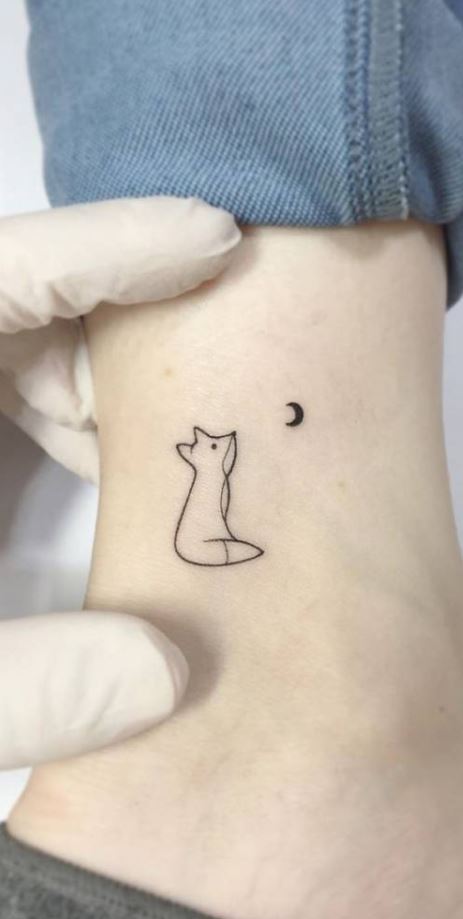 Traditional Fox Tattoos
Traditional fox tattoos draw inspiration from classic tattoo art. They feature bold outlines, vibrant colors, and a vintage feel. Traditional fox tattoos may incorporate elements such as roses, banners, or daggers, giving the design a timeless and iconic appearance.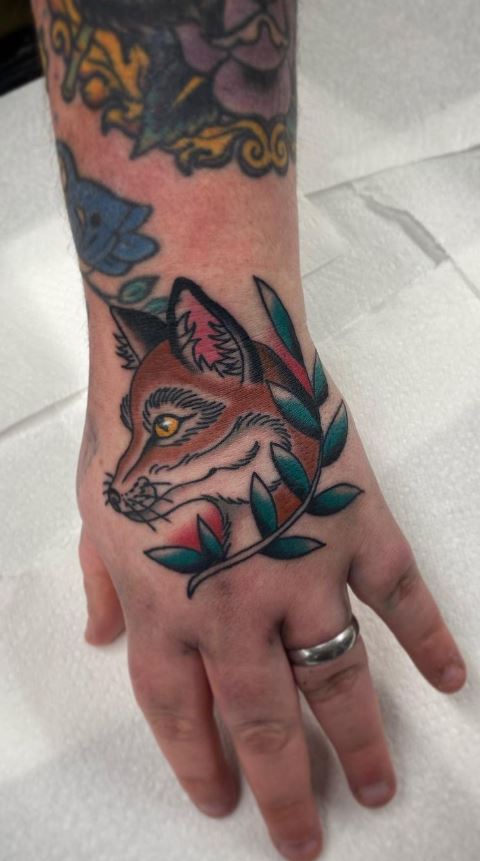 Small Fox Tattoos
Small fox tattoos are delicate and charming. They are perfect for those seeking a discreet and dainty fox design. Despite their size, small fox tattoos can still showcase remarkable detail and convey the fox's character and spirit.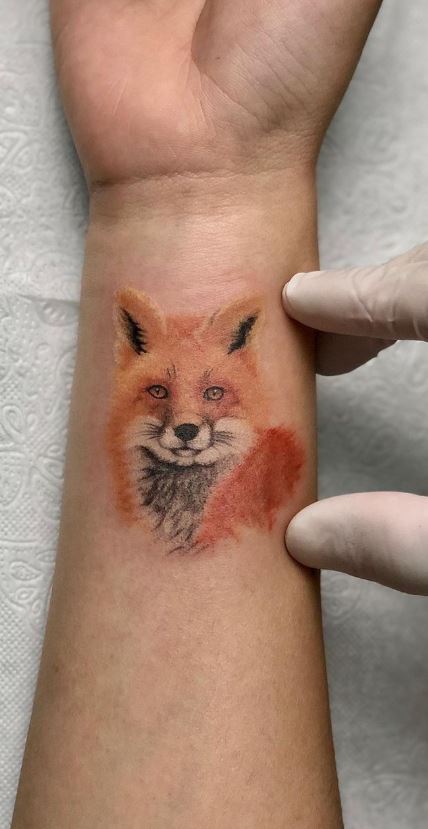 Japanese Fox Tattoos
In Japanese folklore, foxes hold significant importance as mystical beings known as "kitsune." Japanese fox tattoos often feature intricate details, vivid colors, and elaborate backgrounds. The kitsune is usually depicted with multiple tails, symbolizing its age and wisdom.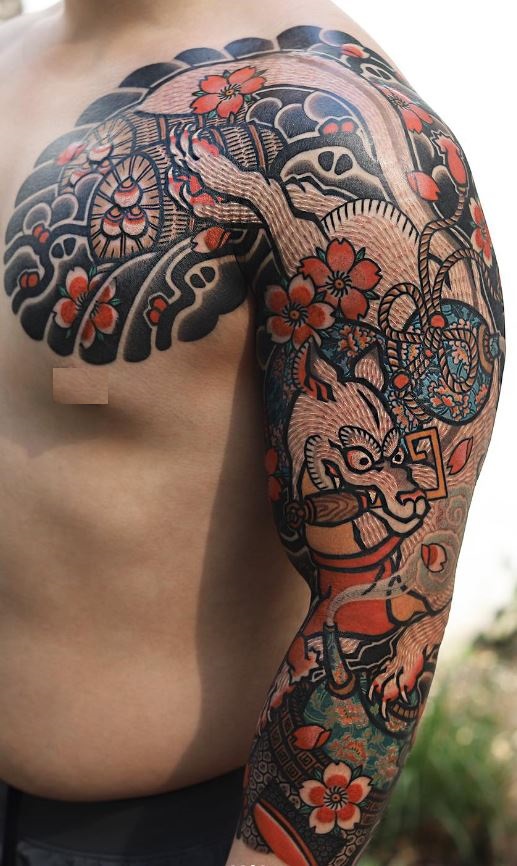 Minimalist Fox Tattoo
Minimalist fox tattoos distill the essence of the fox into a simple, abstract, or symbolic design. They focus on essential elements, such as a tail, face, or a single characteristic that instantly identifies the creature as a fox. This style exudes sophistication and elegance.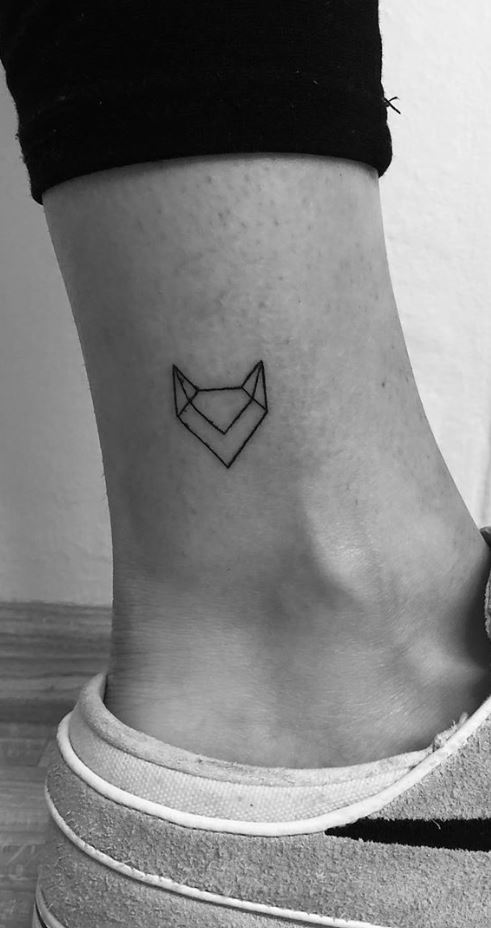 Cute Fox Tattoo
Cute fox tattoos celebrate the adorable side of these creatures. They often feature cartoonish or kawaii-inspired designs, with large, expressive eyes and a playful demeanor. Cute fox tattoos add a touch of charm and whimsy to the wearer's skin.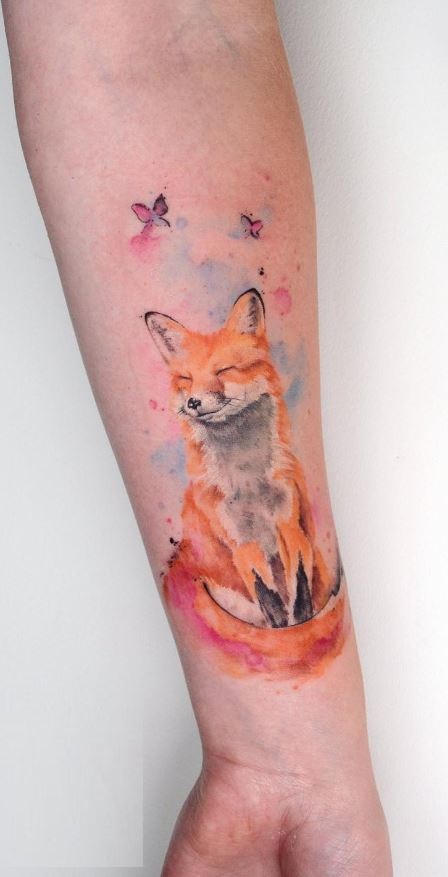 Cartoon Fox Tattoos
Cartoon fox tattoos lean into the playful and fun aspect of these creatures. Bold outlines, exaggerated features, and vibrant colors characterize them. Cartoon fox tattoos often capture the fox's mischievous nature and bring a sense of joy and liveliness to the design.
Black and Grey Fox Tattoos
Black and grey fox tattoos use shades of black and varying degrees of gray to create depth and dimension in the design. This style offers a more realistic and sophisticated look, capturing the fox's natural beauty subtly and monochromatically.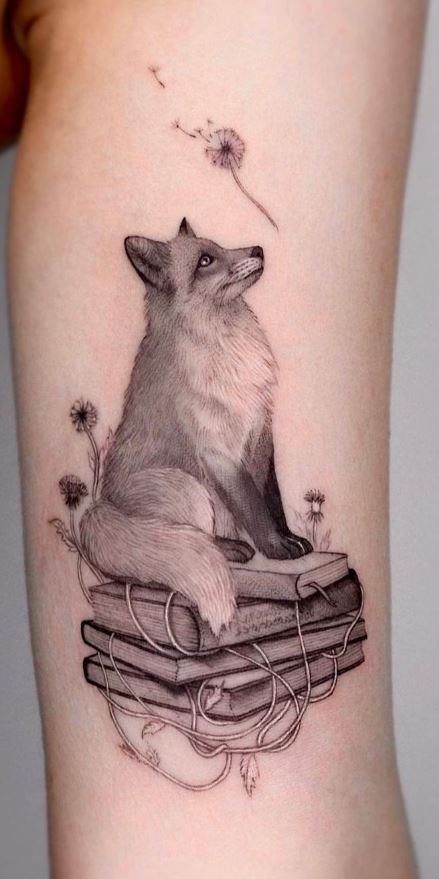 Feminine Fox Tattoo
Feminine fox tattoos incorporate elements that appeal to a more feminine aesthetic, such as flowers, jewels, or intricate patterns. These tattoos often celebrate the fox's grace and elegance, portraying them as captivating and mysterious creatures.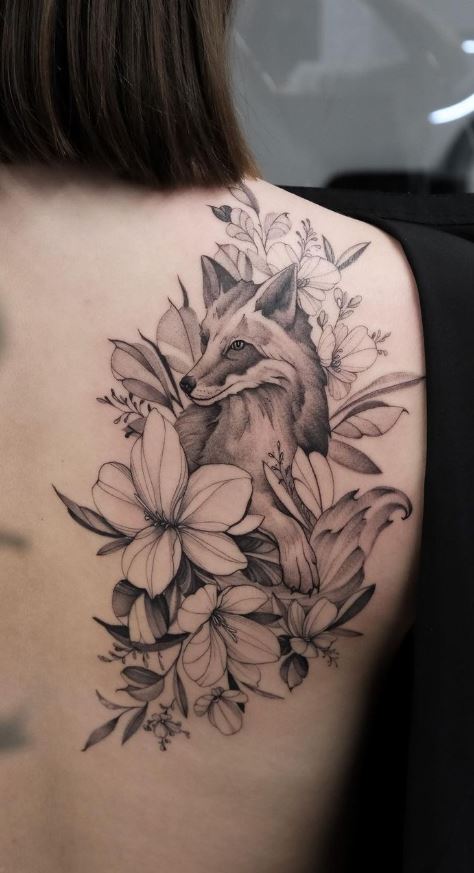 Fox Tattoo Placement and Design Considerations
Choosing the right placement and design for your fox tattoo is crucial. It ensures the artwork resonates with your personality and preferences while harmonizing with your body's natural contours. Whether you want a prominent display or a more discreet placement, here are some essential considerations for your fox tattoo:
Placement Considerations
Forearm: The forearm offers a visible and versatile canvas for showcasing your fox tattoo. This location allows you to easily display the artwork or cover it up as needed, making it a popular choice for those seeking a balance between visibility and discretion.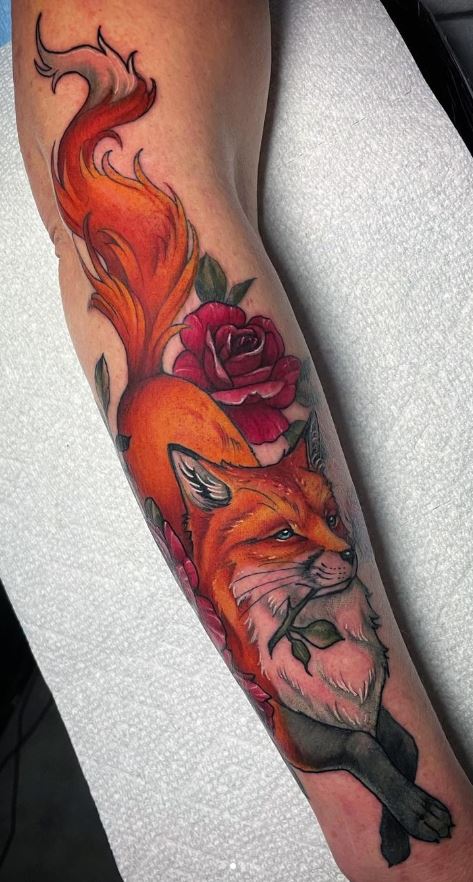 Back: The back provides a larger area for more intricate and detailed designs. A fox tattoo on the upper back can create a captivating centerpiece, while designs along the spine offer a stunning and symmetrical appearance.
Thigh: The thigh allows for larger and more elaborate fox tattoo designs. This area is particularly suitable for showcasing the fox's fluid movements and incorporating elements like nature scenery or other animals.
Ankle: An ankle fox tattoo is ideal for those who prefer smaller and more subtle designs. It can be easily displayed or concealed, making it a popular choice for those seeking a discreet and dainty fox tattoo.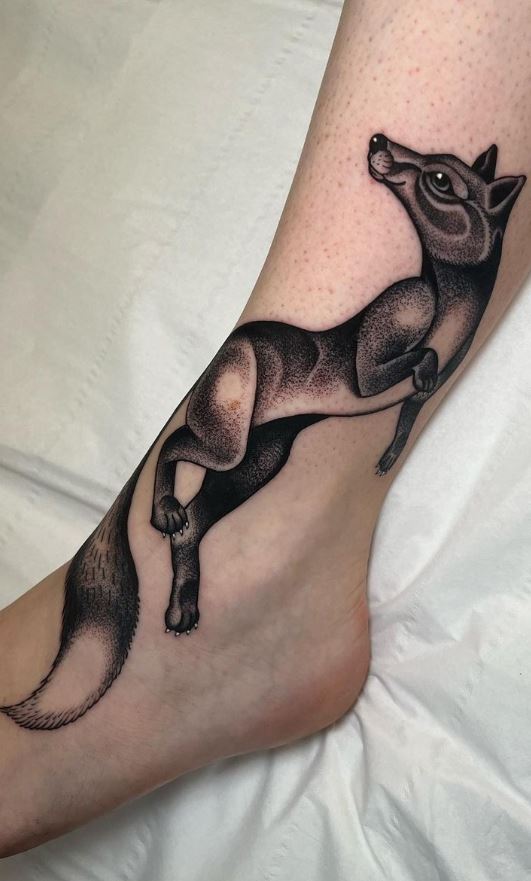 Wrist: The wrist offers a smaller canvas for minimalist or simple fox tattoos. This area is great for those who want a smaller yet meaningful tattoo that is easily visible.
Chest: A fox tattoo on the chest symbolizes the wearer's heart and passion. It can also create a striking and powerful statement, especially for larger designs that span across the chest.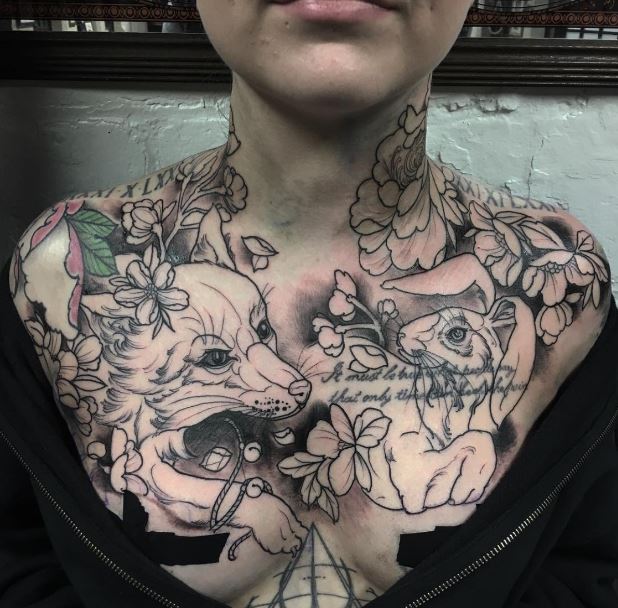 Design Considerations
Style: Consider the tattoo style that best represents your vision for the fox design. Realistic, watercolor, geometric, or traditional styles each evoke a different mood and aesthetic.
Pose and Expression: Choose a fox pose and expression that aligns with your intentions for the tattoo. The posture can convey various emotions and meanings, whether it's a playful, curious, or wise expression.
Background and Elements: Think about incorporating other elements into the design, such as nature scenery, flowers, or symbols that hold personal significance. These elements can add depth and context to the fox tattoo.
Color Palette: Decide on the color palette that complements your style preference. Vibrant colors create a bold and eye-catching tattoo, while muted tones or black and grey can evoke a more classic and sophisticated look.
Size: Consider the size of the tattoo in relation to the chosen placement. Smaller designs work well for discreet areas, while larger ones can make a bold statement on more extensive canvases.
Artist Selection: Choose a skilled and experienced tattoo artist specializing in your desired style. Review their portfolio and discuss your ideas to ensure they can bring your fox tattoo vision to life.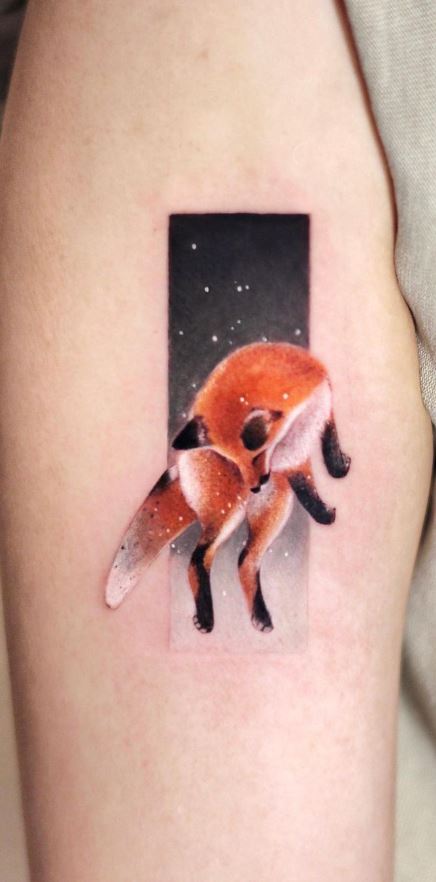 Remember that a fox tattoo is a personal and permanent expression of your individuality. So take your time exploring design options and consulting with a professional tattoo artist.