Fish tattoos have become increasingly popular in body art, captivating tattoo enthusiasts and individuals looking for a unique and meaningful design. With their rich symbolism and diverse range of species, fish tattoos offer a fascinating canvas for self-expression. Whether you're drawn to the vibrant colors of tropical fish or the powerful symbolism of koi fish, these aquatic creatures can represent various aspects of life, spirituality, and personal journeys.
Choosing a tattoo design is essential, as it becomes a permanent part of your identity. Fish tattoos, in particular, carry a depth of symbolism that can resonate with individuals on many levels. They can embody abundance, prosperity, resilience, transformation, and spirituality. Additionally, fish tattoos have roots in cultural traditions across the globe, adding further layers of meaning and significance.
In this blog, we will explore the world of fish tattoos and delve into the symbolic meanings associated with various fish species. We'll take a closer look at popular choices like koi fish, sharks, tropical fish, and salmon, as well as some lesser-known fish species that you can incorporate into unique tattoo designs. We'll also offer tips on choosing the right fish tattoo for you, discuss considerations for placement and size, and emphasize the importance of collaborating with a skilled tattoo artist.
So, join us on this captivating journey into the world of fish tattoos, where artistry and symbolism combine to create extraordinary expressions of personal identity.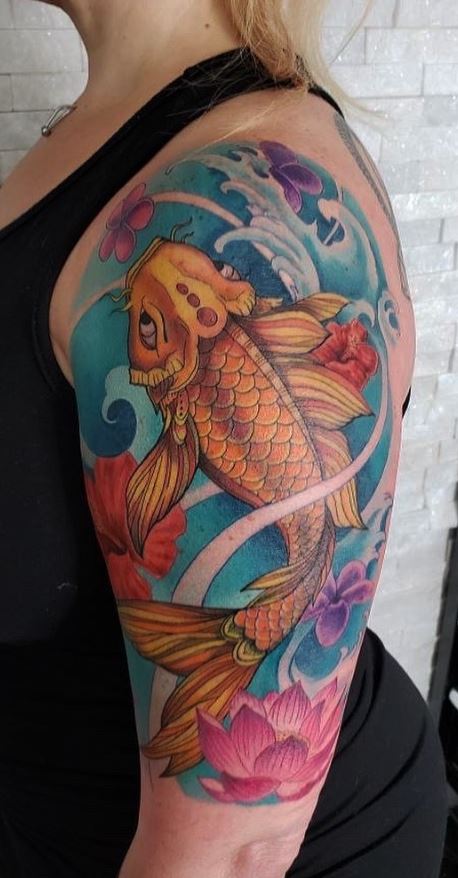 The Symbolism of Fish Tattoos
Fish tattoos hold significant symbolism across cultures and have deep-rooted meanings that resonate with individuals on various levels. These aquatic creatures embody multiple concepts, from abundance and prosperity to spirituality and transformation.
Let's explore some of the symbolic meanings associated with fish tattoos.
Abundance and Prosperity: Fish, mainly the koi fish, are often associated with abundance and prosperity. In Asian cultures, the koi fish is revered for its strength and perseverance. Legend says that if a koi fish successfully swims upstream and reaches the Dragon's Gate, it transforms into a mighty dragon. This transformation represents overcoming adversity and achieving great success, making koi tattoos popular for those seeking growth, resilience, and good fortune.
Spirituality and Transformation: Fish have a spiritual significance, representing the depths of the subconscious mind and the mysterious realms of the unknown. They are often associated with intuition, wisdom, and the journey of self-discovery. Fish tattoos symbolize personal transformation, inner strength, and the ability to navigate life's challenges. They serve as reminders to embrace change and trust in personal growth.
Symbolic Meanings in Different Cultures: Different fish species carry unique symbolism within specific cultures. For example, the carp (koi) represents strength, courage, and determination in Japanese culture. The goldfish symbolizes wealth, prosperity, and good luck in Chinese culture. Similarly, the salmon is symbolic in Native American cultures, embodying determination, perseverance, and life cycle.
Connection to Nature and Environmental Consciousness: Fish tattoos represent a deep connection to the natural world and a sense of environmental consciousness. As creatures of water, fish remind us of the delicate balance of ecosystems and the importance of preserving our oceans and waterways. Some individuals choose fish tattoos as a symbol of their commitment to environmental stewardship and the protection of marine life.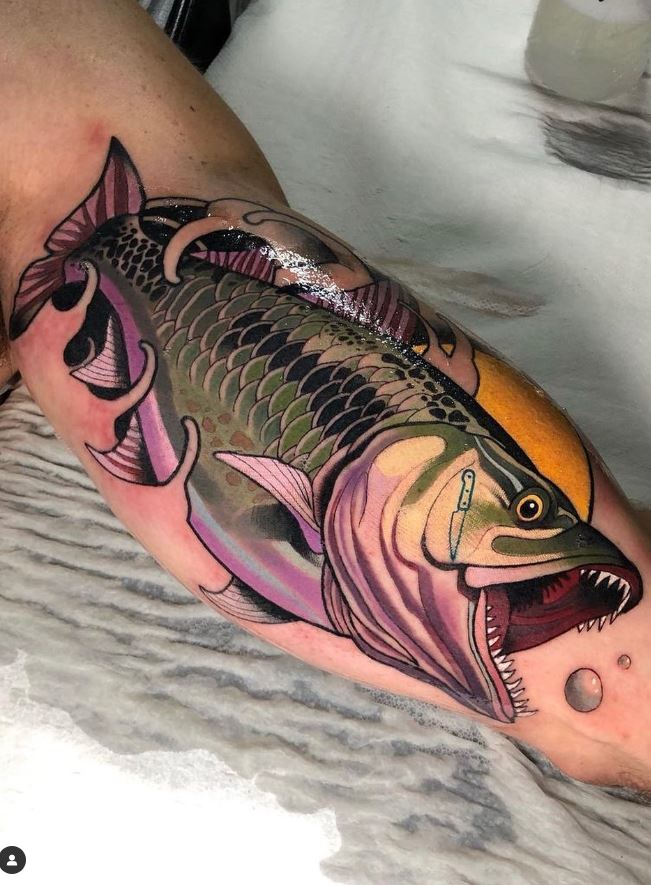 Fish Tattoo Designs and Ideas
Koi Fish Tattoos
The majestic koi fish is a favorite choice for many tattoo enthusiasts. These vibrant and colorful creatures symbolize strength, perseverance, and transformation. Koi tattoos often depict the fish swimming upstream, representing overcoming challenges and achieving success.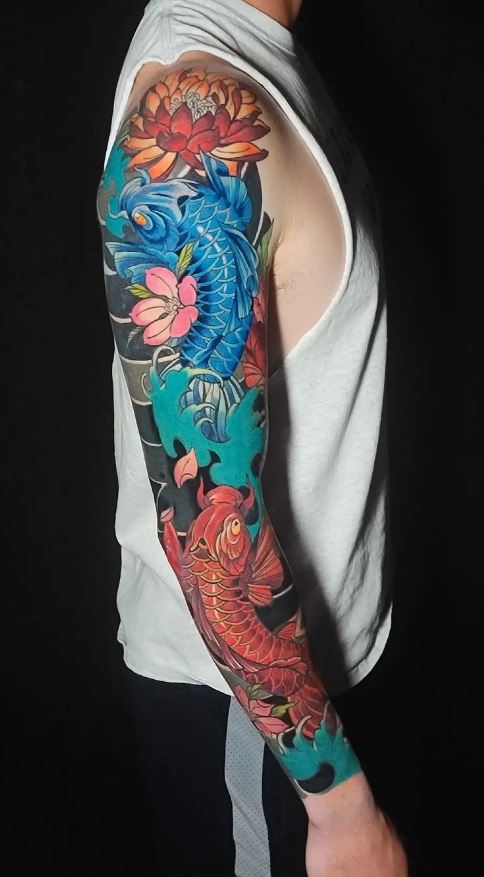 Traditional Fish Tattoo
Traditional fish tattoos draw inspiration from classic American tattoo art. These bold and vibrant designs feature a variety of fish species, such as sharks, sailfish, or tuna, in a traditional tattoo style characterized by bold lines, solid colors, and minimal shading.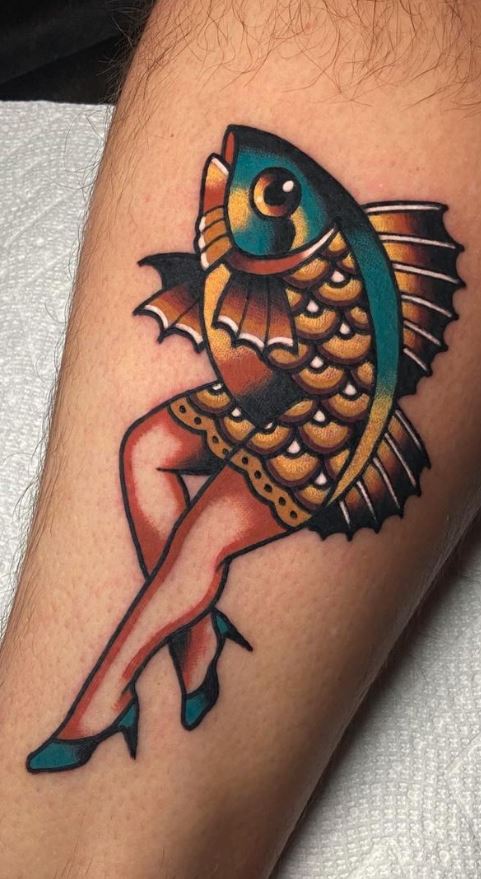 Simple Fish Tattoos
For those seeking a minimalist approach, simple fish tattoos offer clean and understated designs. These tattoos often feature a single fish or a small school of fish with minimal details and linework, emphasizing the beauty of simplicity.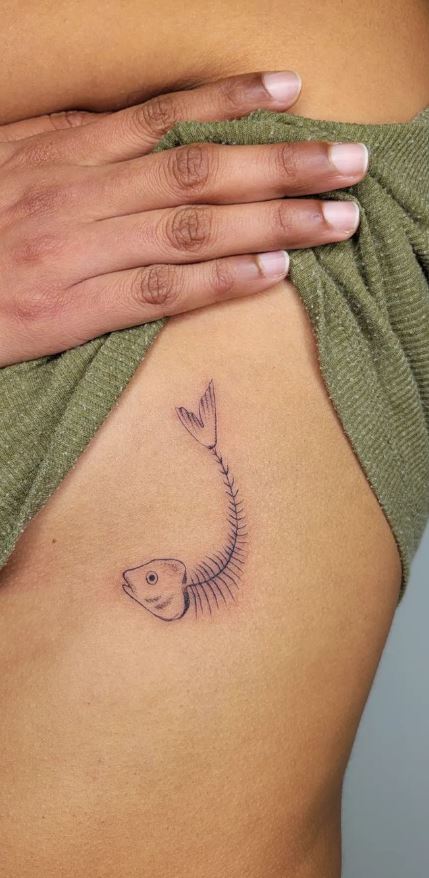 Geometric Fish Tattoos
Geometric fish tattoos merge the elegance of fish imagery with geometric shapes and patterns. These tattoos utilize precise lines, angles, and symmetrical designs to create a visually striking fusion of nature and abstract art.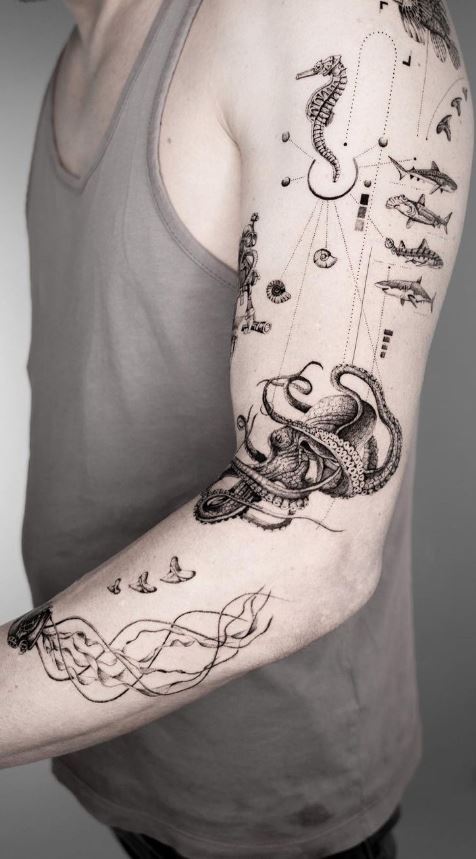 Yin Yang Fish Tattoos
This design combines the concepts of balance and harmony. Yin Yang fish tattoos represent the interplay of opposing forces. These tattoos often depict two black and white fish swimming in a circular yin-yang symbol, symbolizing the balance between opposing energies.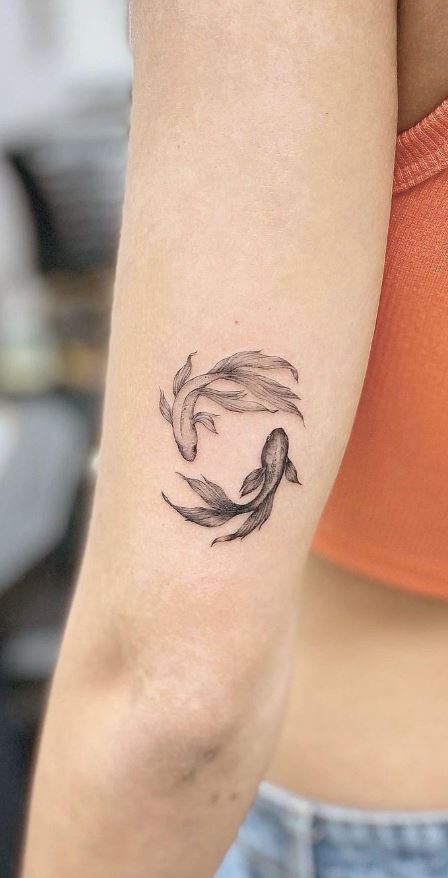 Cute Fish Tattoo
Cute fish tattoos capture these aquatic creatures' playful and adorable side. These designs often feature cartoonish or animated interpretations of fish, showcasing vibrant colors, big eyes, and whimsical expressions.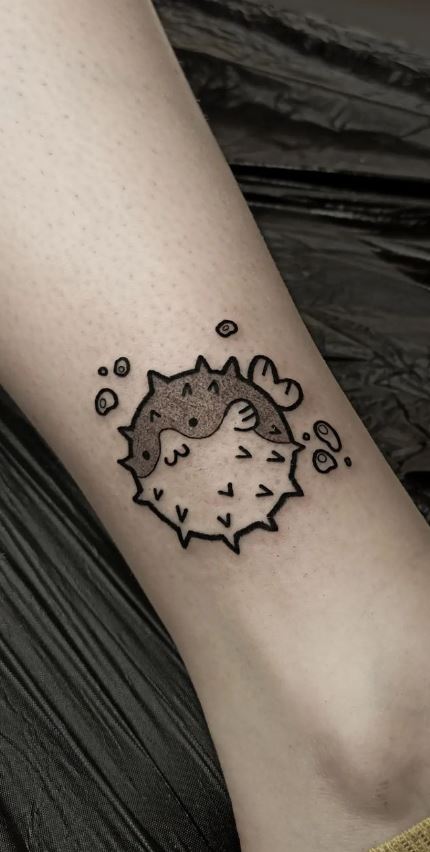 Outline Fish Tattoo
This design focus on capturing the essence of fish through clean and precise outlines. These tattoos use minimal shading or colors, emphasizing the contours and silhouettes of the fish, resulting in a bold and graphic aesthetic.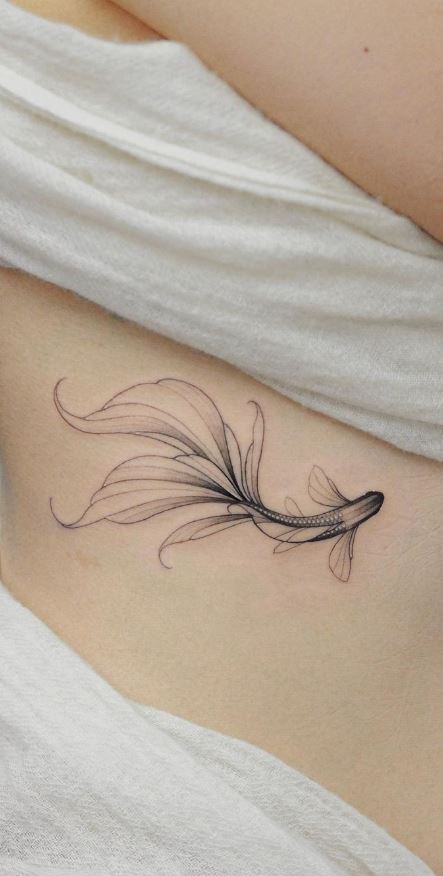 Realistic Fish Tattoos
Realistic fish tattoos aim to replicate fish's intricate details and textures with remarkable accuracy. These tattoos often feature meticulous shading, highlighting scales, fins, and other distinctive characteristics, creating an incredibly lifelike representation.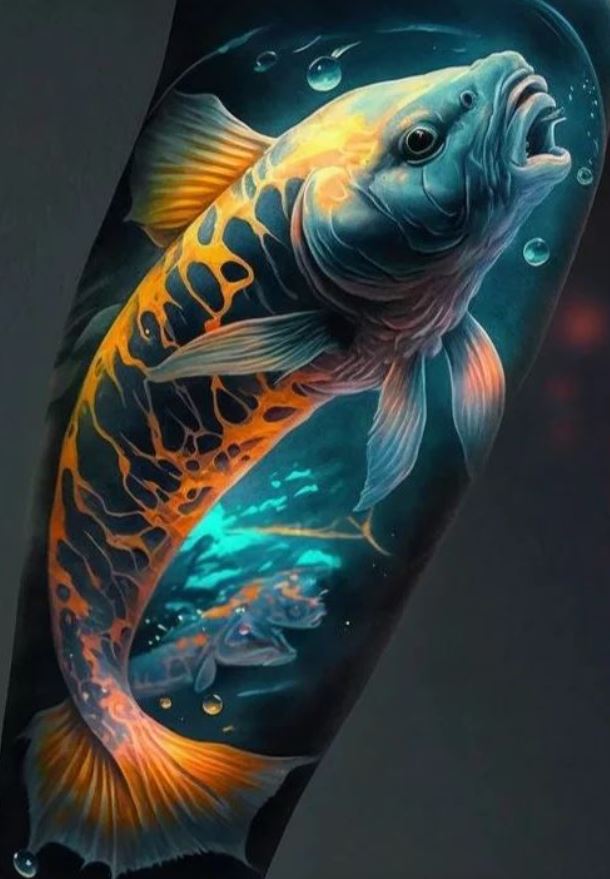 Watercolor Fish Tattoos
Watercolor fish tattoos incorporate vibrant splashes of color, mimicking the artistic technique of watercolor paintings. These tattoos feature fluid brushstrokes, blending hues and creating a dreamy, ethereal effect.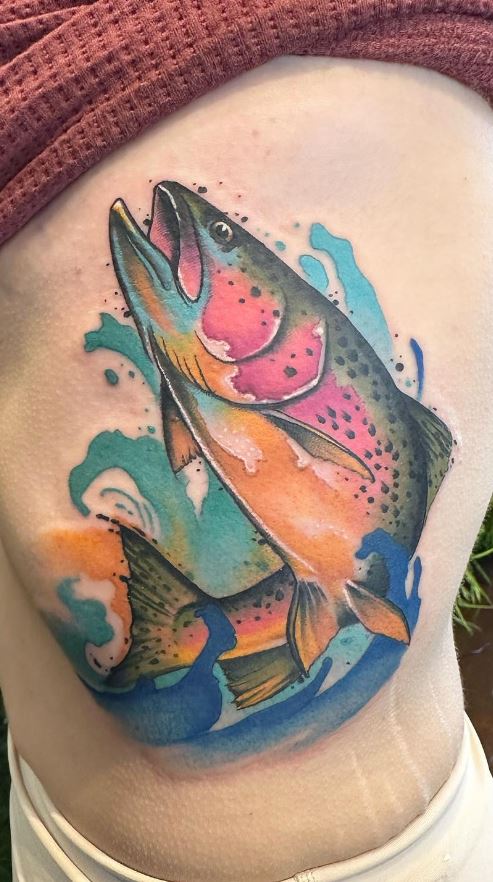 Japanese Fish Tattoo
Inspired by traditional Japanese art and folklore, Japanese fish tattoos, such as the carp (koi), hold deep cultural significance. These tattoos showcase intricate designs, bold colors, and flowing movements, often telling stories of courage, resilience, and transformation.
Small Fish Tattoos
Perfect for those seeking a discreet and subtle tattoo, small fish tattoos offer a delicate and minimalist approach. These designs feature tiny fish motifs, allowing for placement versatility and providing a touch of symbolism without overwhelming visual impact.
Blackwork Fish Tattoo
Blackwork tattoos rely on bold black ink and intricate patterns to create striking and visually impactful designs. These tattoos often feature heavy black shading, linework, and dotwork techniques, resulting in bold and captivating imagery.
New School Fish Tattoo
New school fish tattoos break away from traditional tattoo aesthetics, incorporating vibrant colors, exaggerated proportions, and whimsical elements. These designs embrace creativity and often feature playful and imaginative interpretations of fish.
Neo Traditional Fish Tattoo
Neo Traditional fish tattoos combine elements of traditional and contemporary tattoo styles. These designs feature bold outlines, vibrant colors, and intricate detailing, blending the timeless appeal of traditional tattoos with modern flair.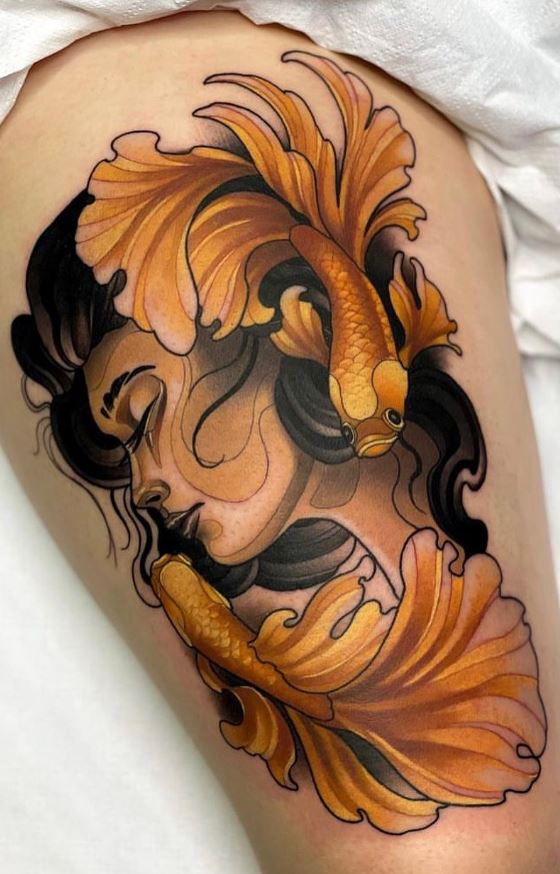 Feminine Fish Tattoos
Feminine fish tattoos cater to those seeking a softer and more delicate aesthetic. These designs often incorporate floral motifs, graceful curves, and subtle color palettes, offering an elegant and feminine interpretation of fish imagery.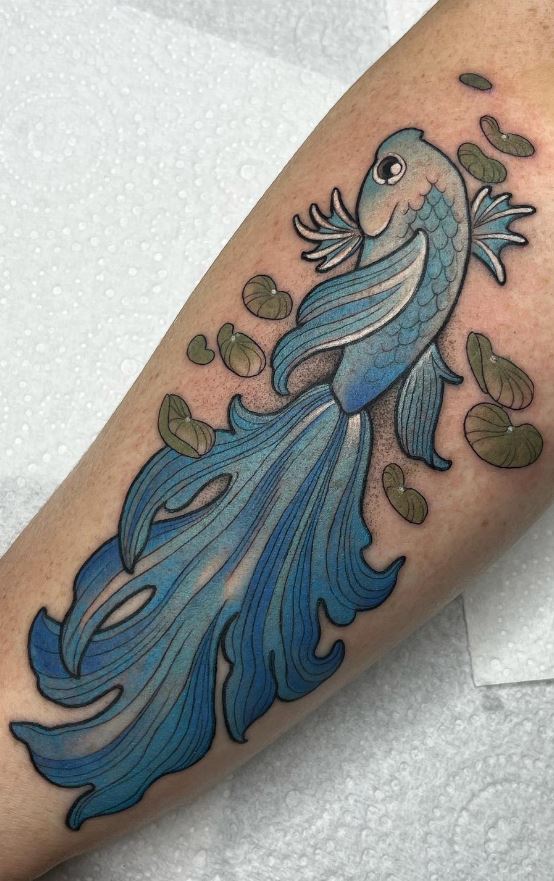 Black and Grey Fish Tattoo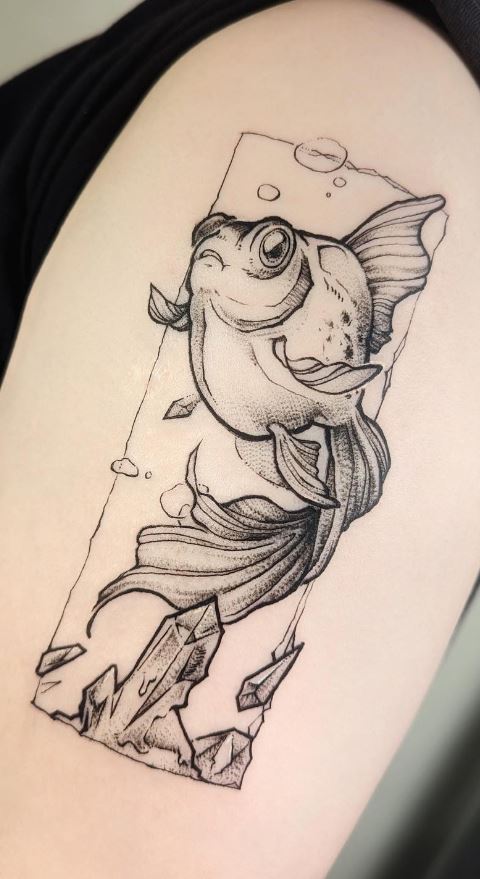 Each type of fish tattoo carries its own artistic and symbolic significance. Whether you opt for a traditional koi fish tattoo, a playful cute fish design, or an intricate black and grey fish tattoo, the choice ultimately depends on your personal style, preferences, and the story you want to tell through your ink.
Placement Ideas for Fish Tattoos
When deciding on the placement of your fish tattoo, actively considering various options enhances its visual impact and aligns with your personal preferences. Explore the following placement ideas to help you determine where your fish tattoo will shine:
Arm and Forearm
Showcase your fish tattoo on your arm or forearm, providing ample space for the design. Opt for a large-scale tattoo, such as a koi fish swimming up your arm, utilizing your limb's natural length and curves. Position smaller tattoos on the inner or outer forearm for easy visibility and versatility with different clothing options.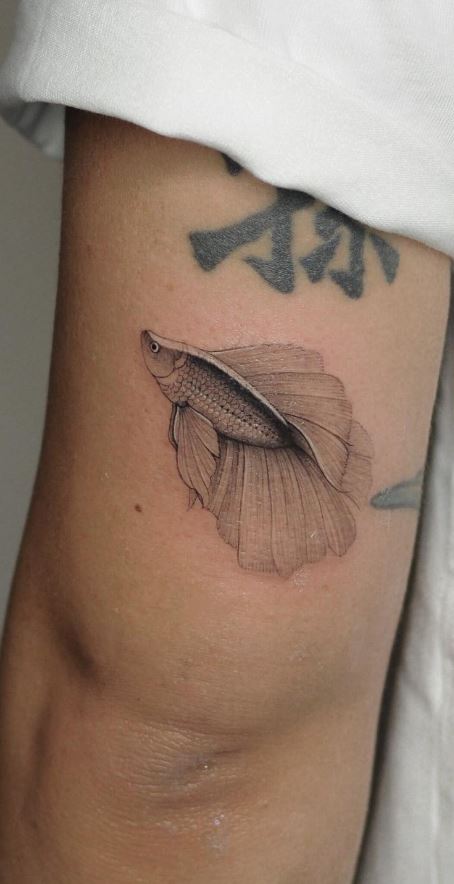 Back
Utilize the generous canvas of your back to display intricate fish tattoo designs. Make a bold statement with an entire back piece featuring a school of fish, a detailed underwater scene, or a majestic shark. Alternatively, position a smaller fish tattoo on the upper or lower back, allowing for flexibility in terms of display and concealment.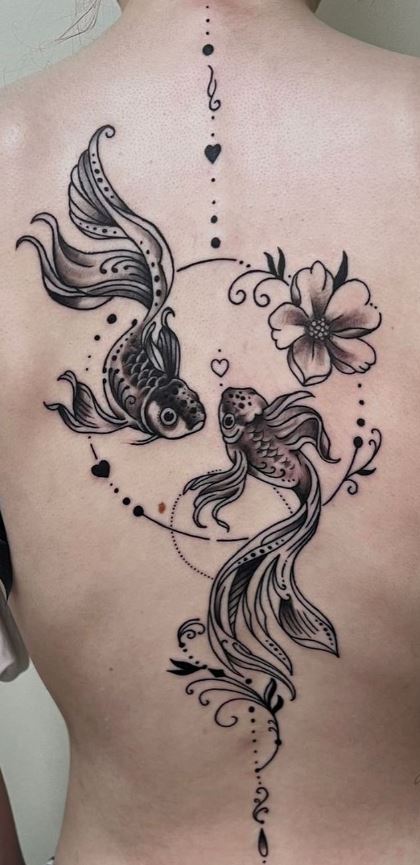 Chest
Highlight your fish tattoo by placing it prominently on your chest. Position a larger fish design at the center of your chest or incorporate it into a larger chest piece. This placement demands attention and creates a visually striking display.
Leg and Thigh
Utilize the expansive areas of your leg and thigh for fish tattoo placement. Display a larger design on your thigh featuring a flowing underwater scene with fish and aquatic elements. For a smaller tattoo, position it on the calf, shin, or ankle, creating a cohesive theme when multiple fish tattoos are incorporated.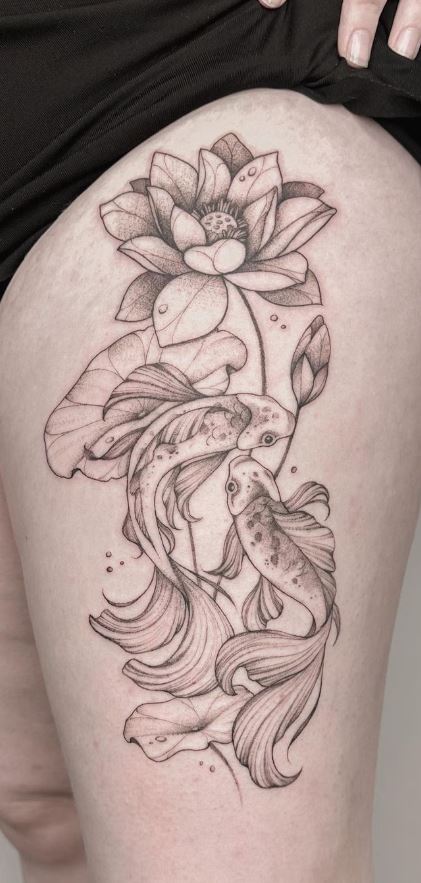 Wrist and Hand
Opt for a subtle or discreet fish tattoo by placing it on your wrist or hand. Display a small fish tattoo on your wrist, easily visible and capable of being showcased or easily concealed. Choose finger tattoos depicting small fish or fish-related symbols for a unique and subtle touch.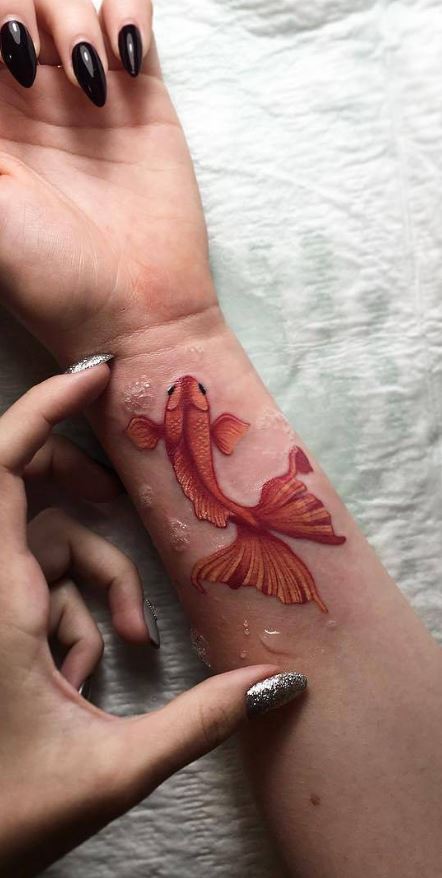 Shoulder and Collarbone
Highlight your fish tattoo by placing it on your shoulder and collarbone areas. Span your shoulder or wrap the design around your collarbone for a larger fish tattoo, creating an elegant and captivating look. Position smaller tattoos on your shoulder blade or the front/back of your shoulder for a more compact design.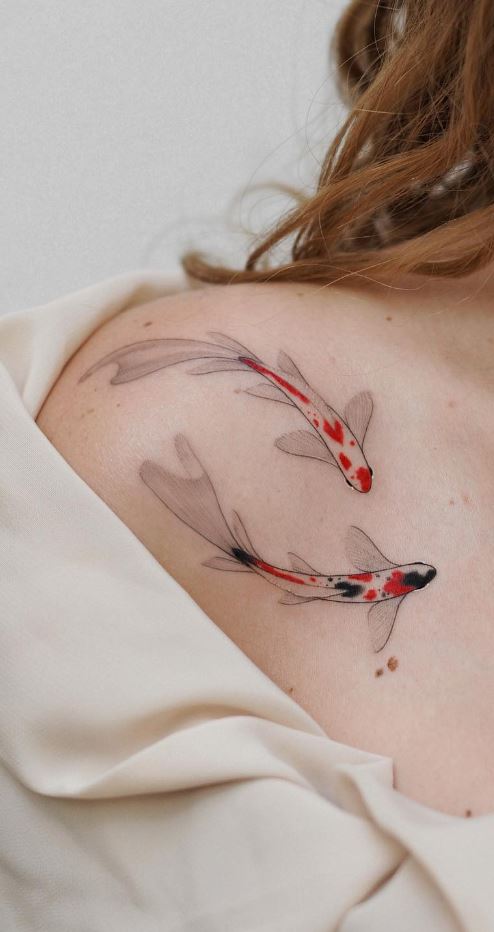 Ankle and Foot
Achieve a graceful and delicate placement for your fish tattoo by choosing your ankle or foot. Display a small fish tattoo on your ankle, easily showcased with sandals or concealed with footwear. Consider a larger fish tattoo extending from the ankle to the top of your foot for a more intricate design.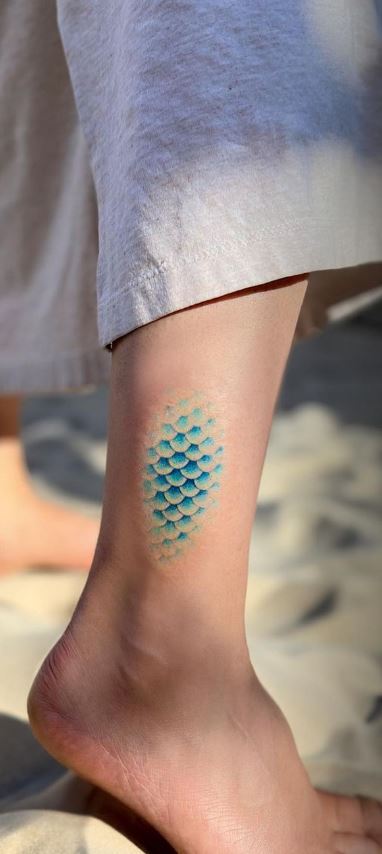 Remember, these placement ideas inspire you, but the final decision should align with your personal preferences and the size and style of your chosen fish tattoo. Collaborate with a skilled tattoo artist, who can provide expert advice on placement options and ensure the design harmonizes perfectly with your chosen body area.
Choosing the Right Fish Tattoo
When choosing the right fish tattoo, several factors come into play that go beyond mere visual appeal. Considering symbolism, personal meaning, and aesthetic elements aligns the tattoo with your individuality. Here are key factors to consider when making your decision:
Reflect on Personal Meaning and Symbolism: Take time to reflect on the symbolic meanings associated with different fish species. Consider the qualities and characteristics that resonate with you and align with your personal journey. Choosing a fish tattoo that holds personal significance adds depth and meaning to the design.
Consider Tattoo Placement and Size: Consider the placement and size of your fish tattoo. Evaluate which designs work best on specific body parts and which offer versatility. For instance, a large koi fish swimming up your arm or back may require more space, while a small fish tattoo can fit nicely on your wrist or ankle. Consider how the tattoo will complement your body's natural contours and any potential career implications or personal preferences.
Determine Visual Style and Aesthetic Preferences: Consider the visual style and aesthetic that appeals to you. Decide whether you prefer realistic tattoos, bold traditional designs, or something more abstract. Explore different tattoo styles and examine artists' portfolios to observe how they execute fish tattoos in various styles. Find a style that resonates with you and aligns with the overall look and feel you desire for your tattoo.
Incorporate Meaningful Elements and Customize: If you desire a more personalized touch, consider incorporating additional elements into your fish tattoo design. This can include symbols, flowers, waves, or specific backgrounds that enhance the overall symbolism and create a unique composition that tells your story.