Dinosaurs are some of the most fascinating creatures to have ever walked the earth. Unsurprisingly, they continue to captivate our imaginations to this day. These prehistoric animals have left an indelible mark on our collective consciousness, from the fearsome Tyrannosaurus Rex to the gentle Brachiosaurus.
For those who love these magnificent beasts, what better way to show your passion than with a dinosaur tattoo? Whether you're a paleontology enthusiast or appreciate the aesthetic of these ancient creatures, there's a dino tattoo out there that's perfect for you.
In this blog, we'll explore the world of dinosaur tattoos and showcase 100 incredible designs that will inspire. From realistic depictions to stylized interpretations, these tattoos prove there's no shortage of creative ways to pay homage to these timeless icons. So, whether you're looking for inspiration for your next ink or want to appreciate some stunning Dino art, keep reading to see some of the best dinosaur tattoos.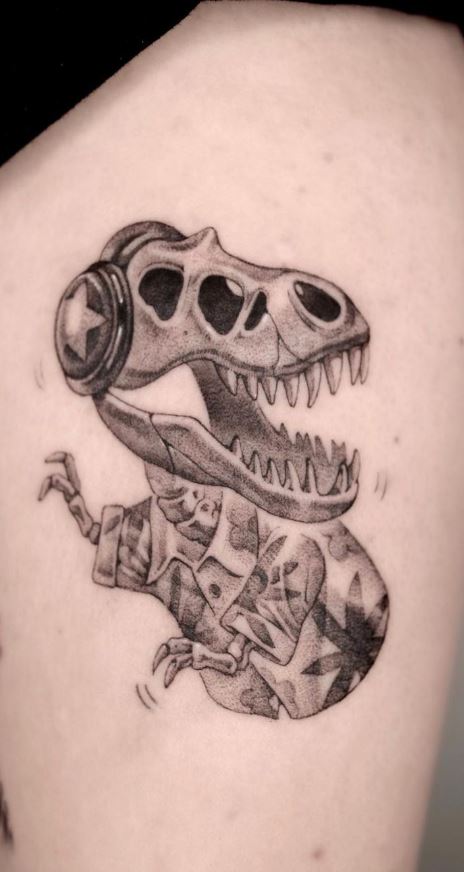 Meanings Of Dinosaur Tattoo
Dinosaur tattoos can hold a variety of meanings, depending on the individual wearing them and the specific design chosen. Here are a few common meanings associated with dinosaur tattoos:
Prehistoric power and strength: Dinosaurs are often viewed as symbols of immense power and strength, as they were among Earth's largest and most fearsome creatures. A dinosaur tattoo can be a way to tap into this primal energy and assert one's strength and power.
Connection to the natural world: Dinosaurs represent a connection to the natural world and the Earth's ancient history. For some, a it may serve as a reminder to stay connected to the natural world and appreciate the beauty and complexity of the planet we call home.
Nostalgia and childhood memories: Many people develop a fascination with dinosaurs during childhood, and a dino tattoo can be a way to honour and revisit those fond memories. For some, a it may represent a return to a simpler, more carefree time.
Individuality and uniqueness: While dinosaur tattoos are becoming increasingly popular, they remain a relatively uncommon choice compared to other tattoo designs. For some, a it may represent a desire to stand out and embrace their unique identity.
Scientific curiosity: For those with a passion for science and palaeontology, a dinosaur tattoo can be a way to express their interest and fascination with these ancient creatures. It can symbolize the ongoing quest to learn more about the natural world and our place in it.
Dinosaur Tattoo Designs and Ideas
There are countless dinosaur tattoo designs, but some have become more popular than others in recent years. Here are a few of the most popular tattoo designs:
T-Rex
The Tyrannosaurus Rex is one of the most iconic and recognizable dinosaurs, and it's no surprise that it's a popular choice for tattoos. T-Rex tattoos can range from realistic depictions to stylized, cartoonish designs.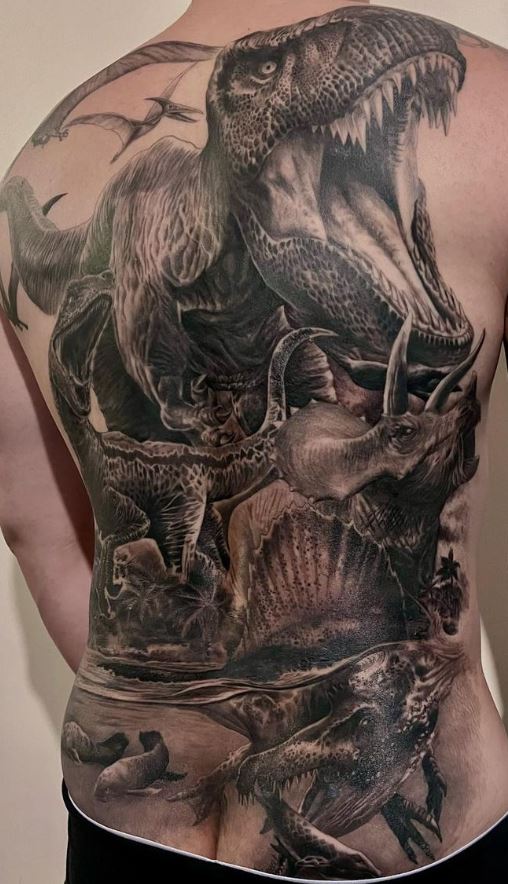 Stegosaurus
With its distinctive plates and spiked tail, the Stegosaurus is another popular choice for dino tattoos. Its unique silhouette makes for a striking tattoo design.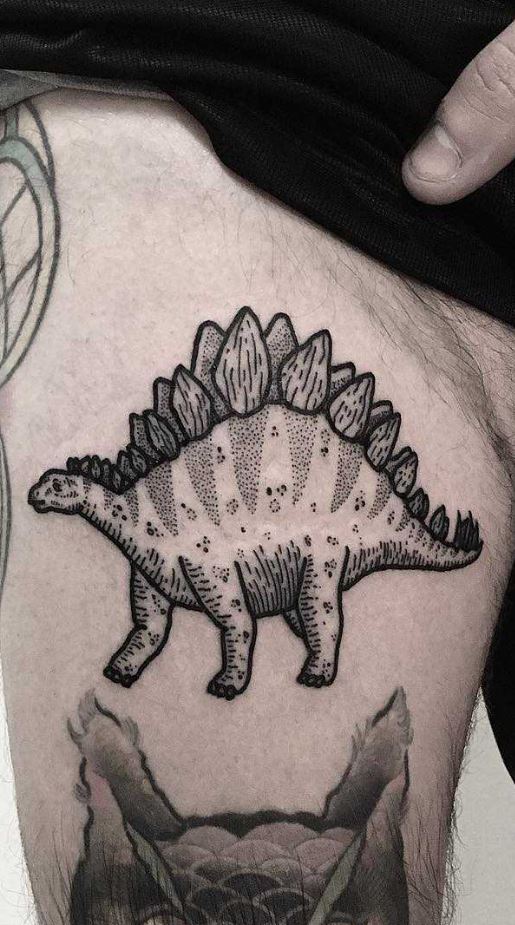 Velociraptor
The Velociraptor is a smaller, but no less fearsome, dinosaur that has become popular in recent years thanks to its depiction in movies like Jurassic Park. Velociraptor tattoos often emphasize their sharp claws and agile movements.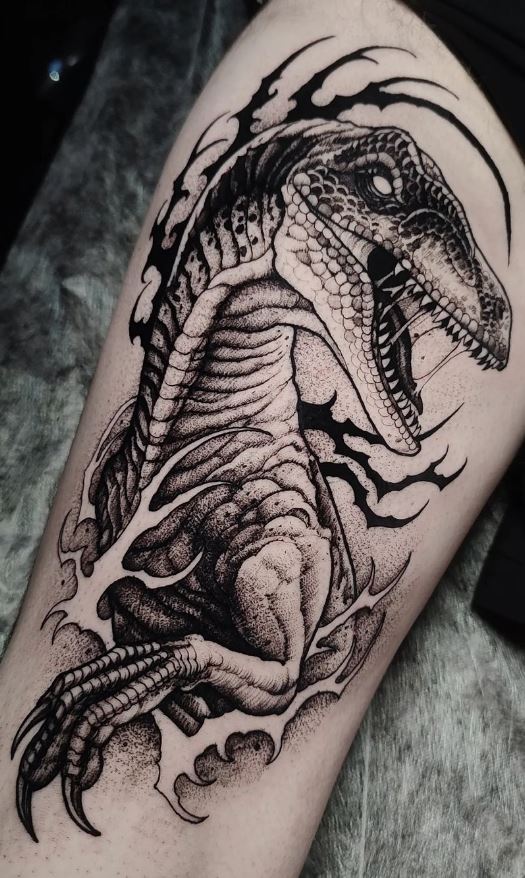 Triceratops
The Triceratops was a herbivorous dinosaur known for its three horns and bony frill. Its distinctive features make it a popular choice for tattoos, and you can design it in various styles, from realistic to cartoonish.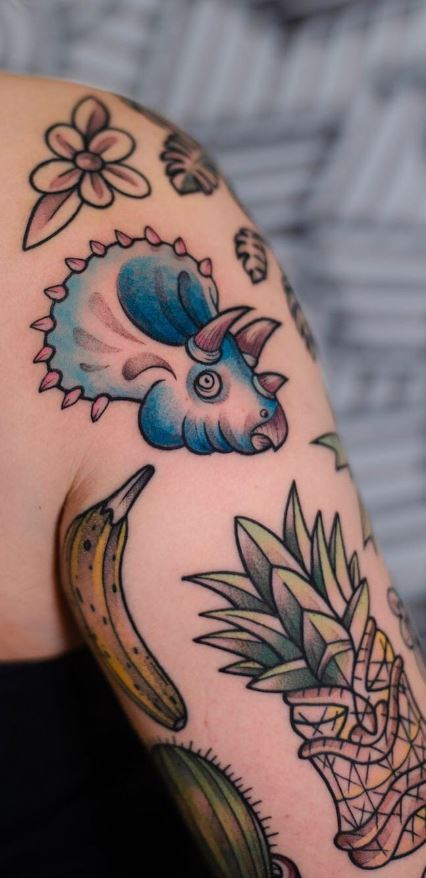 Dino Skeletons
Some dinosaur enthusiasts prefer tattoos depicting these ancient creatures' skeletal remains. These tattoos can be highly detailed and intricate, showcasing the complexity of these long-extinct animals.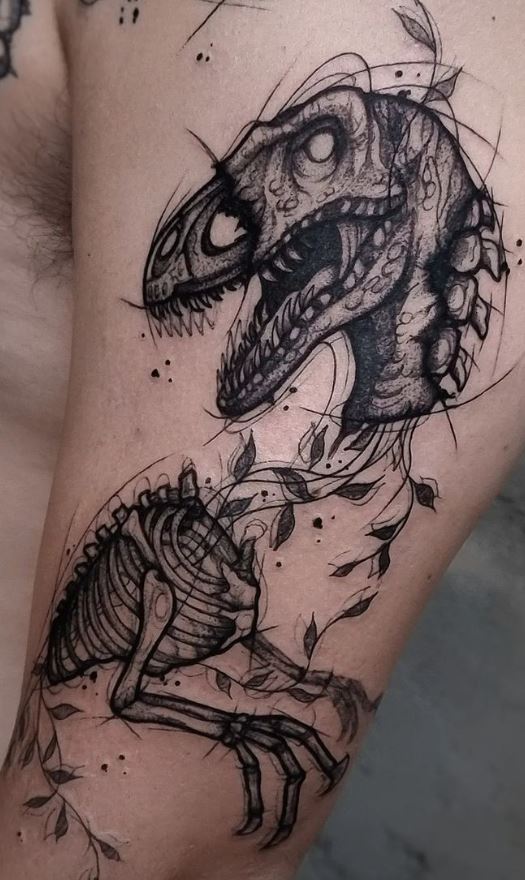 Dinosaur Skull Tattoo
A dinosaur skull tattoo can be a unique and visually striking design choice. Here are a few dinosaur skull tattoo ideas to consider.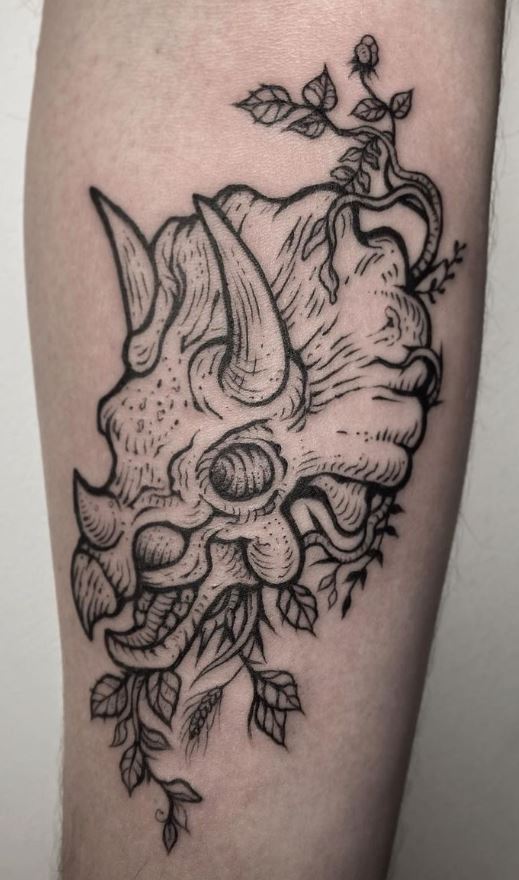 Dino Landscapes
For those who want a larger, more elaborate tattoo, dino landscapes can be a great option. These tattoos depict scenes from the prehistoric world, often featuring multiple dinosaurs in a naturalistic setting.
Cute Dinosaur Tattoo
Cute dino tattoos are a popular choice for those who want to showcase their love for these prehistoric creatures in a playful and whimsical way.
Cartoon dinosaur: A cartoonish dinosaur design can be a great option for those who want a cute and playful tattoo. Consider a design with large eyes or a friendly smile to add to the charm.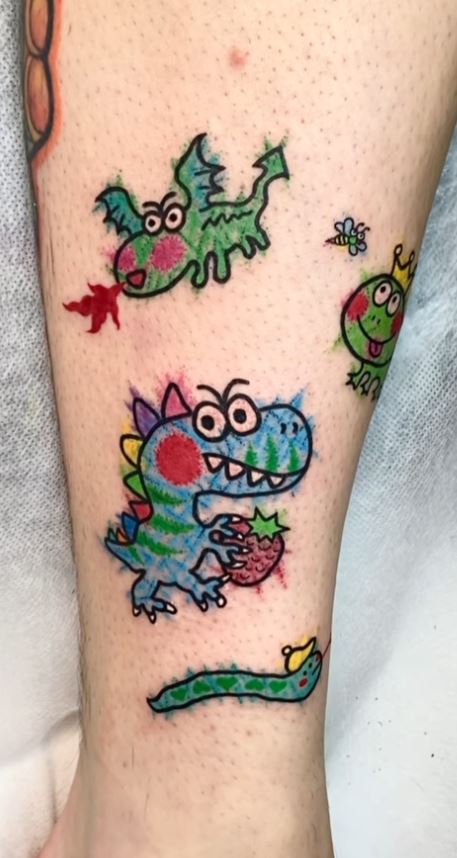 Dino couples: Some people opt for cute dinosaur designs that depict a pair of dinosaurs together, such as a pair of T-Rexes nuzzling or a Stegosaurus with its mate.
Baby dino: A tattoo of a baby dinosaur can be an adorable and endearing option. Consider a design that shows the baby dinosaur hatching from an egg for added cuteness.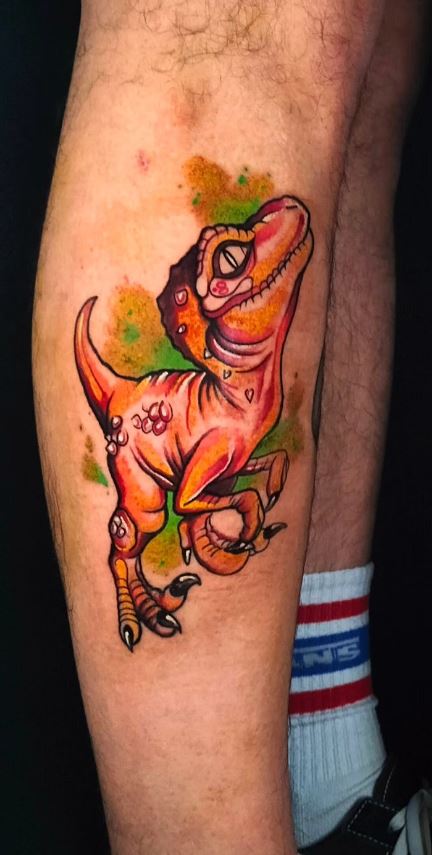 Dino heart: A cute and simple design involves a heart with a dinosaur silhouette in the middle. This design is perfect for those who want a small, sweet tattoo.
Dino holding an object: A cute dinosaur tattoo design can include a dinosaur holding something like a flower or a balloon. It adds a whimsical touch to the tattoo while showcasing your love for these ancient creatures.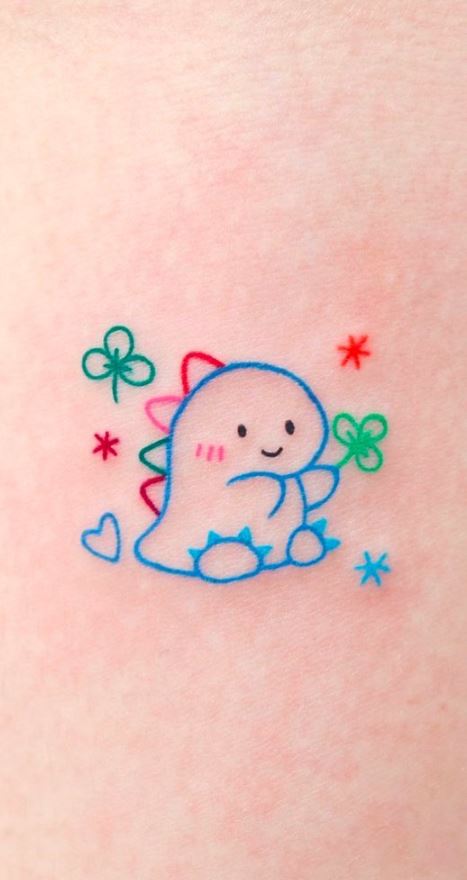 Small Dinosaur Tattoo
Small dinosaur tattoos are popular for those who want to show their love for these ancient creatures without committing to a large and elaborate design. Here are a few small dinosaur tattoo ideas: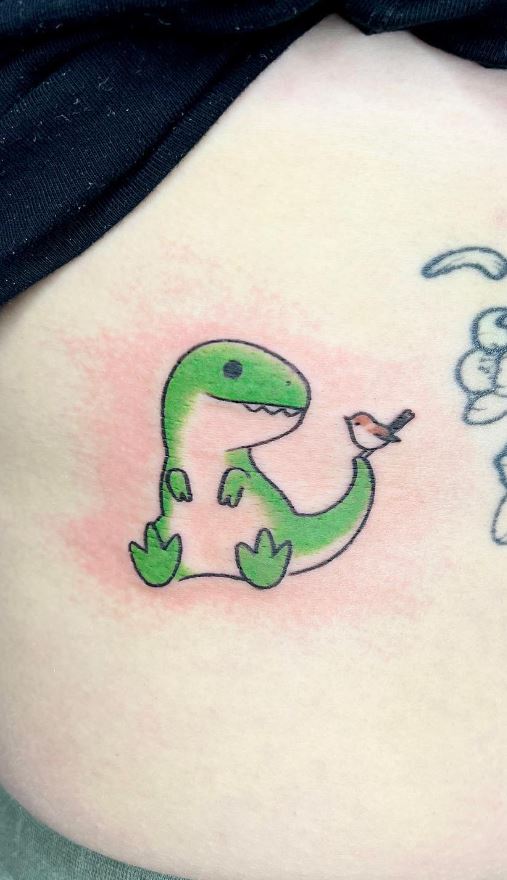 Simple Dinosaur Tattoo
A simple outline of a dinosaur can be an excellent option for those who want a small and understated tattoo that still showcases their love for these ancient creatures.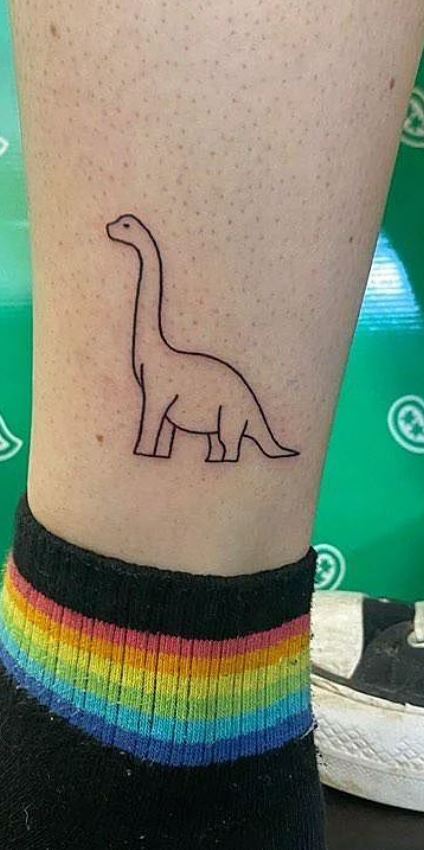 Whether you prefer a fierce and realistic T-Rex or a more whimsical cartoonish Stegosaurus, there will always be a dinosaur tattoo out there to suit your style and sensibilities.
Placement
You can place a Dinosaur tattoo on various body parts depending on the size and design of the tattoo. Here are a few body parts that are popular for dinosaur tattoos:
Arm: The upper arm is a popular spot for a dinosaur tattoo, especially for larger designs that require more space. A sleeve tattoo that features multiple dinosaur designs can be an impressive option.
Back: The back is a perfect canvas for more extensive and elaborate dinosaur tattoo designs. Consider a tattoo design that covers the entire back or just a specific area, such as the upper or lower back.
Chest: A dinosaur tattoo on the chest can be a bold and striking design choice. Consider a design that spans across the chest or a smaller, more subtle tattoo design to place over the heart.
Leg: The thigh and calf are popular spots for dinosaur tattoos, especially for larger designs that require more space. A design that wraps around the leg, such as a dino landscape, can be a unique option.
Wrist: For smaller dinosaur tattoos, the wrist is a popular spot. A small dino silhouette or footprint can be a subtle yet compelling design choice.
Ultimately, the placement of a dinosaur tattoo will depend on the size and design of the tattoo and your preference.
Various Dino Tattoos