Cherub tattoos have become increasingly popular thanks to their timeless beauty and symbolic meaning. These angelic beings have captured people's imaginations for centuries, and their image inspires artists, writers, and tattoo enthusiasts alike.
In this blog, we will delve into the rich history and symbolism of cherub tattoos, explore different design options, and discuss the significance of these heavenly creatures in various cultures and religions.
Whether you are considering getting a cherub tattoo or admire their ethereal beauty, this blog will provide valuable insights and inspiration to help you make the most of this powerful symbol.
The History Behind Cherub (The Baby Angels)
Cherubs, also known as baby angels, have been a popular subject of art and literature for centuries. These celestial beings are often depicted as winged infants or young children with chubby cheeks and innocent expressions and have captured the imaginations of artists, writers, and religious figures alike. The history behind the baby angels is rooted in various cultural and religious beliefs.
In Greek mythology, Eros, the God of love, was depicted as a winged infant, and in Roman mythology, Cupid was also depicted as a winged child with a bow and arrow.
Christians believe that cherubs are angels who represent love, protection, and guidance. Religious iconography often portrays cherubs as messengers of God and protectors of the throne of God. The Bible mentions cherubs as the guardians of the Garden of Eden and depicts them on the Ark of the Covenant.
During the Renaissance, cherubs became popular in art, mainly in religious paintings and sculptures. Artists such as Michelangelo, Raphael, and Botticelli all created works featuring cherubs, and their depictions of these baby angels have become iconic.
In the 18th and 19th centuries, cherubs became popular in Rococo and Neoclassical art. Artists often portrayed them in a more playful and whimsical manner.
Today, cherubs remain popular in art, literature, and even tattooing. Cherub tattoos have become increasingly popular, with many individuals choosing to incorporate the symbolism of these baby angels into their expressions. Whether viewed as symbols of love, protection, or divine guidance, the history behind the baby angels continues to inspire and captivate people today.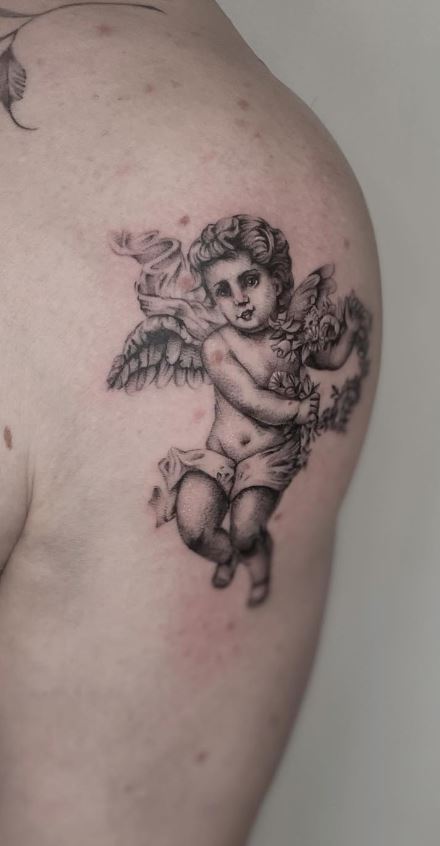 Meanings Of Cherub Tattoos
Cherub tattoos are a popular way to incorporate the symbolism and beauty of these celestial beings into one's expression. The meanings behind cherub tattoos can vary depending on the individual and their beliefs. Some common meanings associated with cherub tattoos include:
Protection: People see Cherubs as protectors; their image can symbolize protection for the wearer. Some people choose to get a cherub tattoo to feel safe and protected or honour a loved one who has passed away.
Love and Relationships: Cherubs are also commonly associated with love and relationships. They are often depicted with bows and arrows, which symbolize their ability to shoot love arrows into the hearts of others. A cherub tattoo can symbolize romantic love or a strong emotional connection with someone.
Innocence: Cherubs are often depicted as innocent and pure beings with chubby cheeks and angelic expressions. A cherub tattoo can symbolize purity or a reminder to stay true to one's inner child.
Spirituality and Faith: Cherubs symbolize spirituality and faith, particularly in the Christian tradition. People believed that they are messengers of God, and their images can symbolize divine guidance and protection.
Beauty and Aesthetics: Cherubs are undeniably beautiful creatures with delicate features and delicate wings. A cherub tattoo can be a way to incorporate this beauty and aesthetic appeal into one's style.
Overall, the meanings behind cherub tattoos are diverse and people interpret them in various ways. Whether seen as a symbol of protection, love, innocence, spirituality, or beauty, a cherub tattoo can hold deep personal significance for the wearer.
Cherub Tattoo Designs and Ideas
Cherub tattoos are popular for those seeking a beautiful and meaningful tattoo design. Here are some ideas and designs for cherub tattoos:
Traditional Cherub Tattoos
The classic cherub tattoo design is based on traditional art, featuring a chubby-cheeked baby angel with wings and a bow and arrow. This design is perfect for those looking for a traditional tattoo with a spiritual or religious meaning.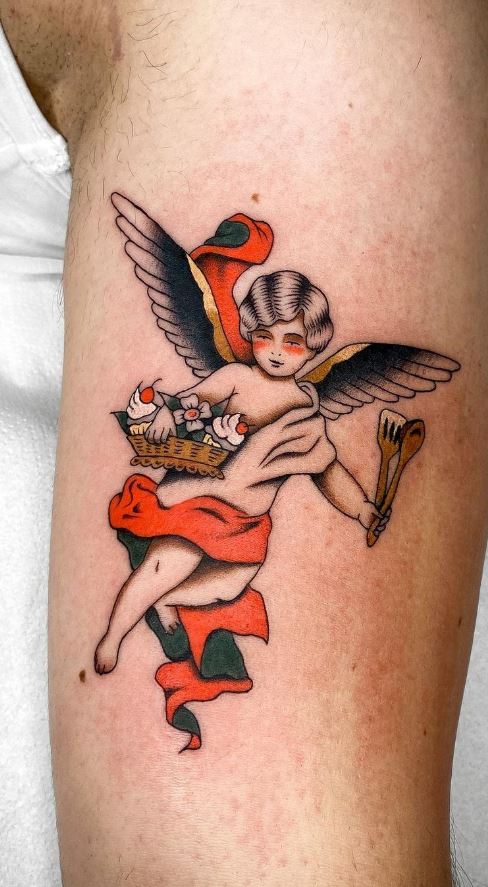 Sleeping Cherub Tattoo
A sleeping cherub tattoo is popular, featuring a cherub with its head resting on its arms, often with a peaceful expression. This design can represent peace, tranquillity, and innocence.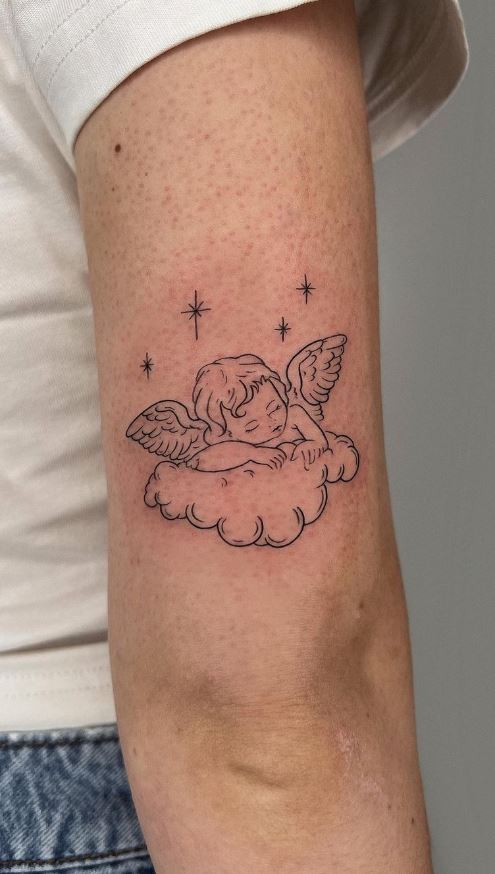 Cherub Holding a Heart
This tattoo design features a cherub holding a heart, often with an arrow through it. This design is a popular symbol of love and romance and can be a great way to honour a significant other or loved one.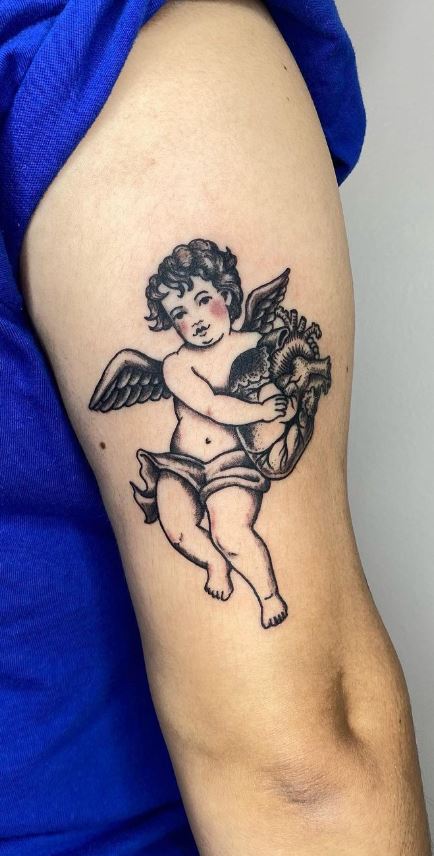 Cherub with Roses
A cherub tattoo featuring roses is a beautiful and romantic design, with the roses symbolizing love and passion. The cherub can be holding the roses, or you can incorporate the roses into the background of the design.
Fallen Cherub
A fallen cherub tattoo features a cherub that has fallen from grace, often with a sad expression. This design can represent the struggle between good and evil or the idea of redemption.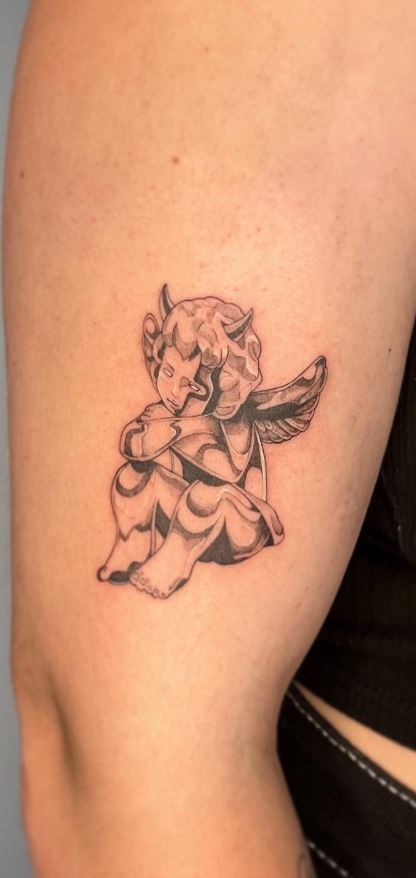 Guardian Cherub
A guardian cherub tattoo features a cherub with its wings spread as if protecting or guarding something. This design can represent protection, strength, and guidance.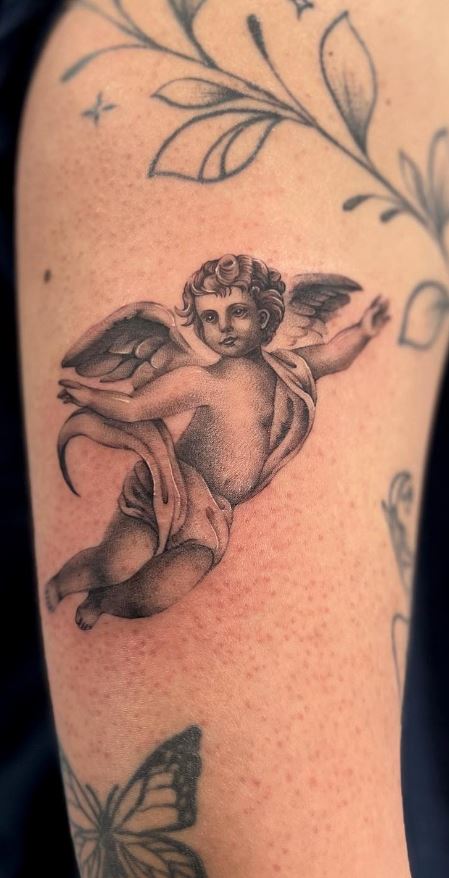 Cherub with Skull
A cherub tattoo featuring a skull is a unique and edgy design, symbolizing the contrast between life and death. This design can represent the idea of mortality and the importance of cherishing life.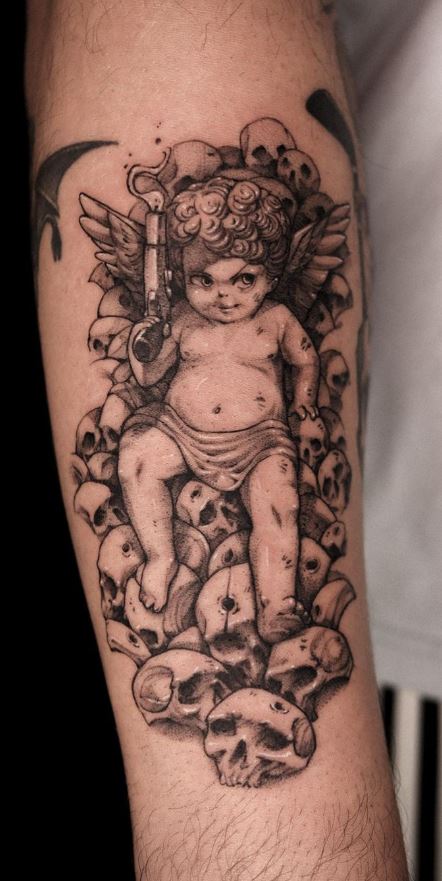 Crying Cherub Tattoos
A crying cherub tattoo features a cherub with a sad expression, often with tears streaming down its face. This design can represent emotional pain or sorrow and can be a way to express one's struggles with mental health or personal issues.
Evil Cherub Tattoos
While cherubs are often associated with innocence, purity, and divine protection, there is also a darker side to these celestial beings. Evil cherub tattoos can be a unique and edgy way to express individuality and rebellion against traditional notions of cherubs as solely positive entities.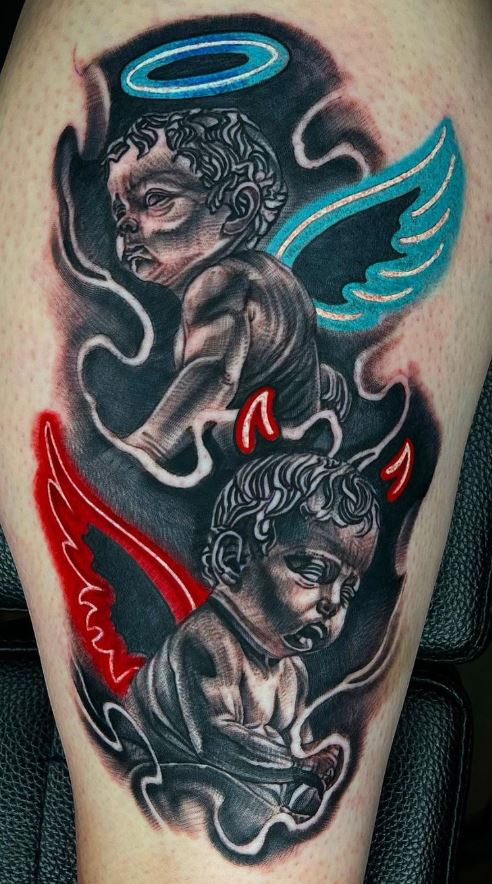 Dark Cherub with Weapons
A dark cherub with weapon tattoos features a cherub with dark wings and wielding weapons such as knives or guns. This design can represent a desire for power or control or a rebellion against traditional notions of innocence and purity.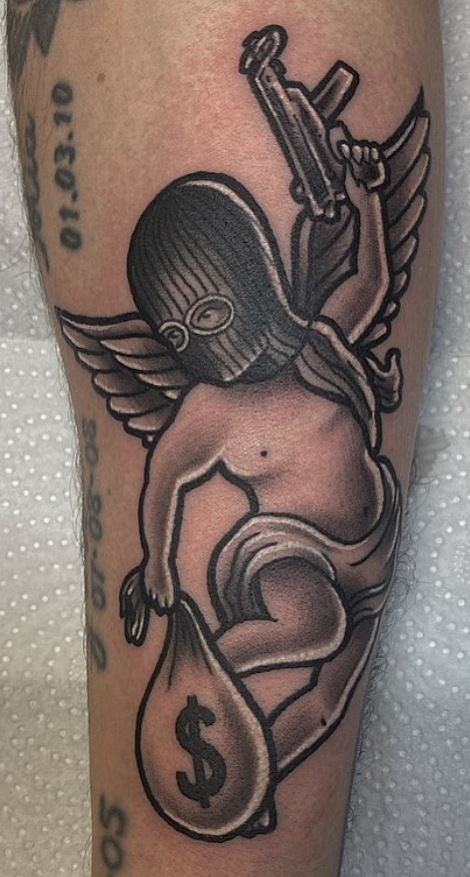 Realistic Cherub Tattoos
Tattoo artists often create realistic cherub tattoos as an alternative to traditional designs, focusing on the baby angel's features. These tattoos can be intricate and detailed, using shading, highlights, and depth to produce a realistic 3D effect.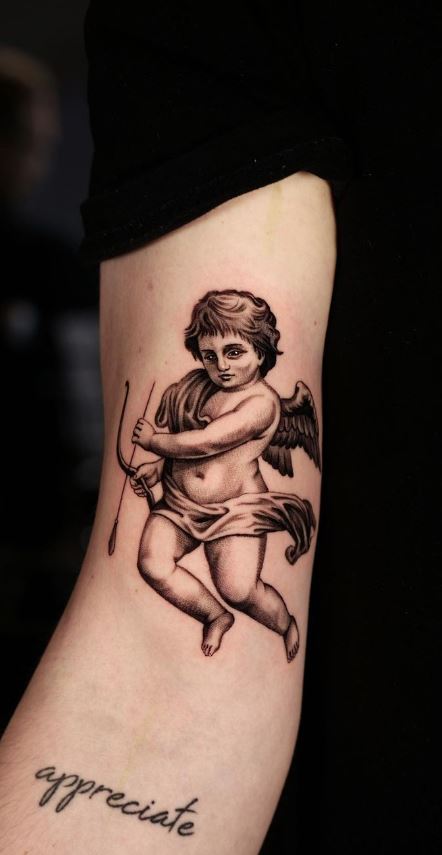 Cupid Tattoos
A Cupid tattoo typically depicts the Roman god of love and desire, Cupid. Cupid is often depicted as a chubby, winged infant with a bow and arrow, which he uses to strike the hearts of his targets and make them fall in love.
Depending on your preferences, you can design the tattoo in various styles and sizes. Some people get a small and simple Cupid tattoo, while others may opt for a more intricate and detailed design that covers a larger area of their skin.
Cupid tattoos can have different meanings but generally symbolize love, romance, and passion. Some people get a Cupid tattoo to represent their love life or show affection for someone special. Others may choose a Cupid tattoo as a symbol of their belief in the power of love and the ability of love to conquer all obstacles.
Cute Cherub Tattoo
Cute cherub tattoos are a popular choice among women who want a tattoo design that is both adorable and meaningful. You can design them in small, angelic figures with chubby cheeks, wings, and a playful demeanor.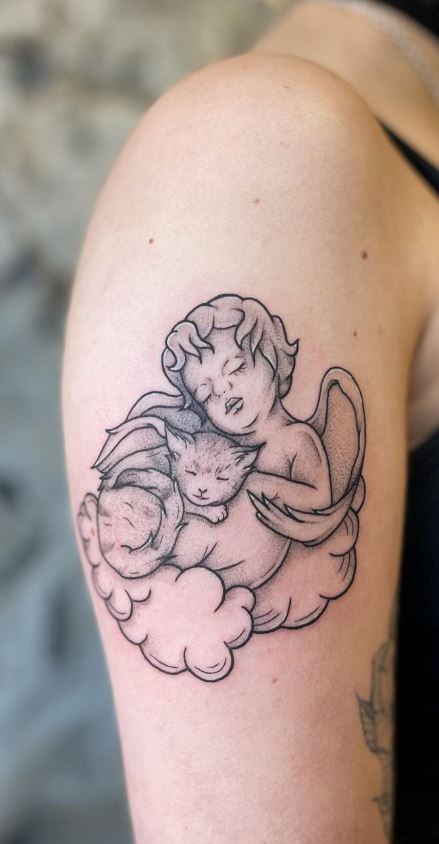 Simple Cherub Tattoo
A simple cherub tattoo can be a beautiful and elegant design that represents innocence, purity, and love. A simple cherub tattoo is usually a small and minimalistic tattoo that depicts a cherub with wings and a bow and arrow. You can get them in a single colour or in black and white.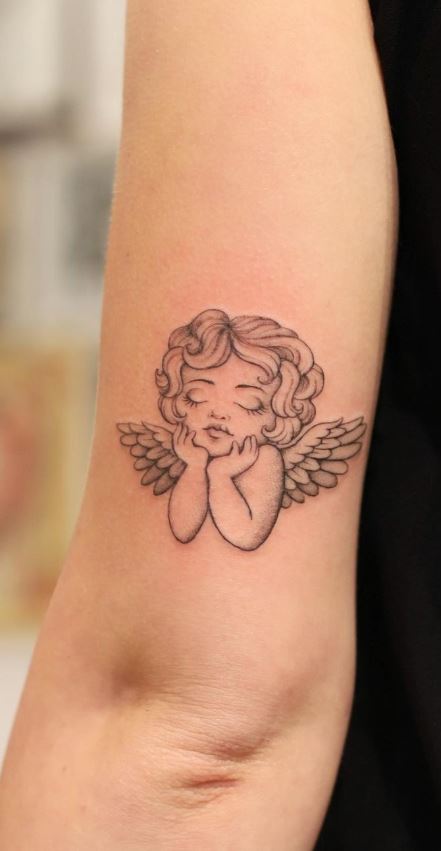 Various Cherub Tattoos