If you are planning to dress up as Harley Quinn for Halloween or your next Cosplay party or simply a die-hard fan thinking of getting a Harley Quinn tattoo then you have come to the right place.
Harley Quinn is one of the most well-known characters in DC Comics world. She first appeared in Batman comic series in September 1992. Harley Quinn also known as Clown Princess is the lover and sidekick of the Joker, one of the most popular batman villains. Harley Quinn's popularity reached to the top after the release of the movie Suicide Squad in August 2016, played her character by Margot Robbie.
There are few female villains in the comic book world but none of them are as crazy and sexy as Harley Quinn. Initially Harley Quinn appeared in a black domino mask, white facial makeup, and a one-piece, black, and red motley outfit with a cowl. In the movie Suicide squad Harley debuted a new look. She wears a tight blue and red shorts, ripped tee shirt, satin jacket that says "Property of the Joker", finger less gloves, fishnet stockings, studded belt, and lace-up boots.
Margot Robbie's Harley Quinn is heavily tattooed in the film. The tattoos on her, express her obsession with the Joker. Harley's love affair with the Joker is very complex and twisted. The Joker abuses and manipulates Harley all the time but she always forgives him.
Harley Quinn's Tattoos
Harley Quinn Face Tattoos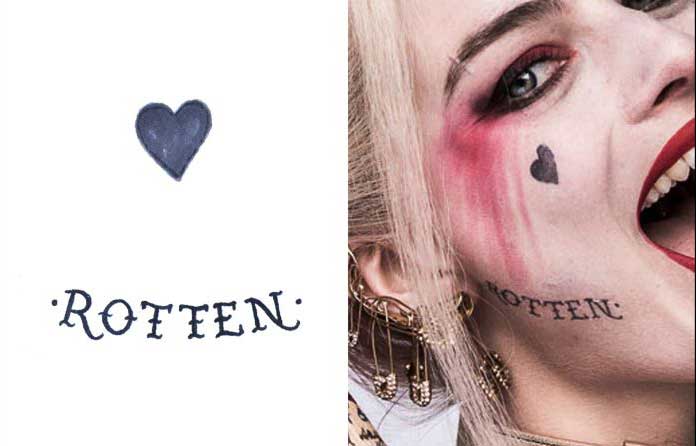 Harley got a Black love heart and the word 'ROTTEN' tattooed on the right side of her face. The Black love heart shows how much she values love and 'Rotten' is her matching tattoo with the Joker's forehead tattoo 'Damaged'.
'Daddy's lil Monster' Tattoo
The words 'Daddy's lil Monster' is not only on her t shirt but she also got them tattooed on her left chest.
'Property of Joker' Tattoo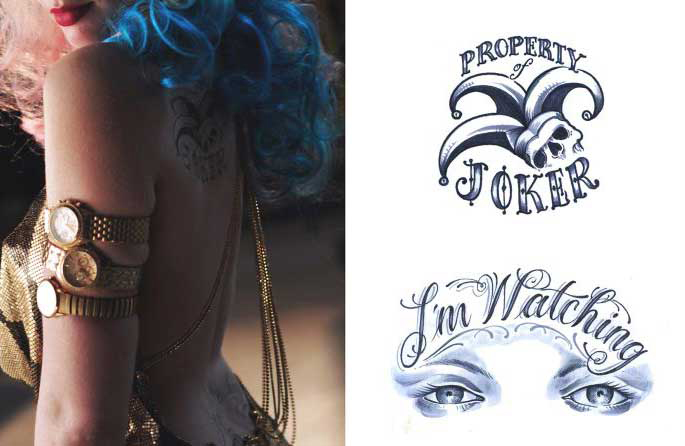 Harley got 'Property of Joker' tattooed on her left shoulder. This tattoo shows her love and devotion for the Joker.
'I'm Watching' Tattoo
On her lower back Harley got the words 'I am Watching' tattooed.
Initial 'J' Tattoo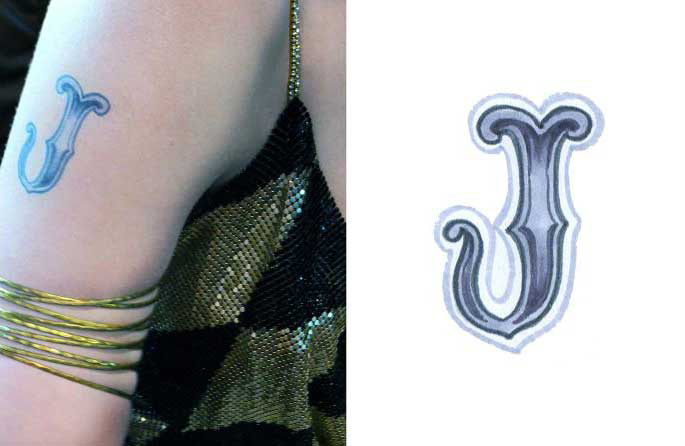 Harley got the initial of Joker's name 'J' tattooed on her right arm.
Harley Quinn Diamond Tattoos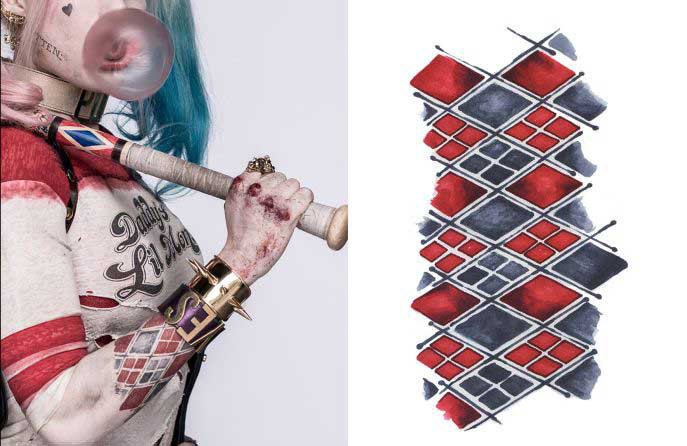 Bundles of Diamonds tattooed on Harley's right forearm shows her connection to the Joker.
'Lucky you' Tattoo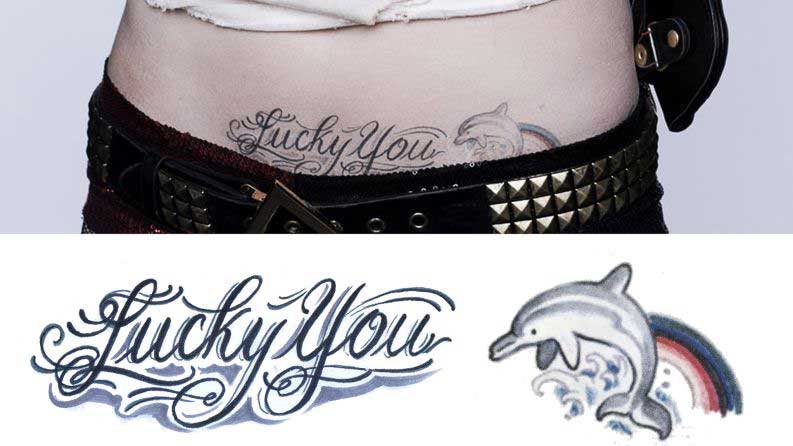 Harley got 'Lucky You' and a dolphin with rainbow tattoo on her lower abdomen.
Harley Quinn Leg tattoos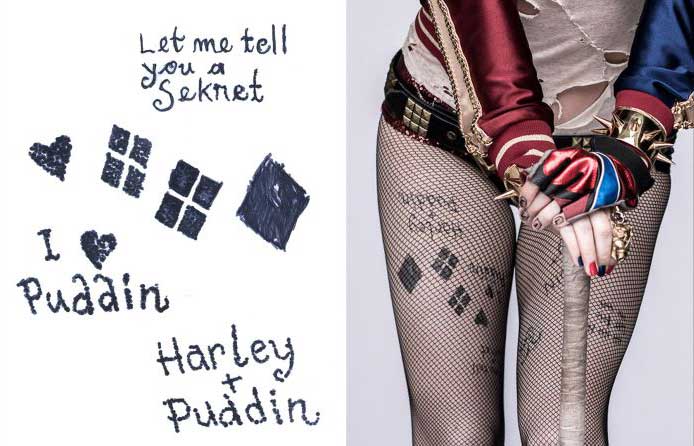 The tattoos on Harley's right thigh read "Harley + Puddin", "I heart Puddin" and couple of Diamonds and Black love hearts.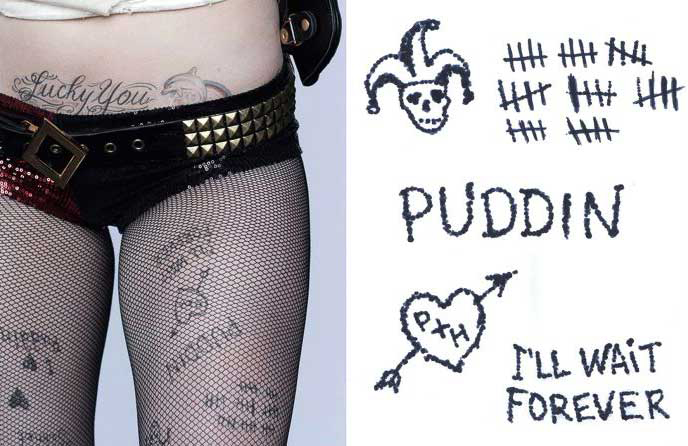 The tattoos on Harley's left thigh read "PUDDIN", "I'LL WAIT FOREVER", and a heart with an arrow going through it that says "P+H".
The tattoos on her legs are all upside down because she did them to herself in the prison. Puddin is her pet name for the Joker. She also calls him Mr J.
Full Body Harley Quinn Temporary Tattoo Bundle at Amazon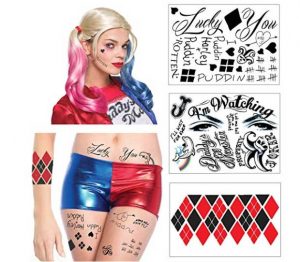 Harley Quinn Tattoo Designs and Ideas inspired by the Comics and the Movie
Harley Quinn in Black and Red Jester Costume
Harley Quinn and The Joker Tattoo
Harley Quinn Rotten Tattoo
Harley Quinn Tattoo Animated
Harley Quinn Tattoo inspired by Margot Robbie