Originating in Asian cultures, the yin yang symbol as well as the yin yang tattoo is said to represent stability and balance in life.  The contrasting sides of black and white can represent night and day, good and evil, or a variety of other dualities that exist in life. The general idea is enforced in the Taoist concept that there can be no light without darkness, and no happiness without sadness. The two sides can be seen as complementary parts to a whole.
Yin, the dark side of the symbol, is thought to be slow, soft, and passive. It is associated with water, the earth, the moon, and femininity.  Yang, the light side of the symbol, is fast, hard and aggressive. It is associated with fire and masculinity. Together, these two sides form a symbol that is representative of humanity.
Because the meaning of this symbol is so versatile, it is a very popular option for tattoos. Below are some great examples.
 Natural Yin Yang Tattoo
This yin yang tattoo is used as the background for a green character, giving the impression that the person is one with nature.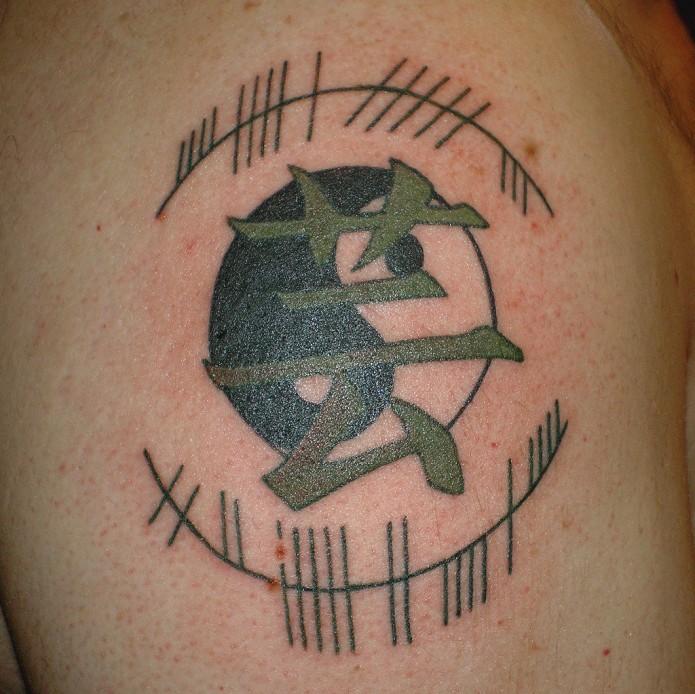 Lower Back Yin Yang
This yin yang appears to have wings, making for a perfect lower back tattoo.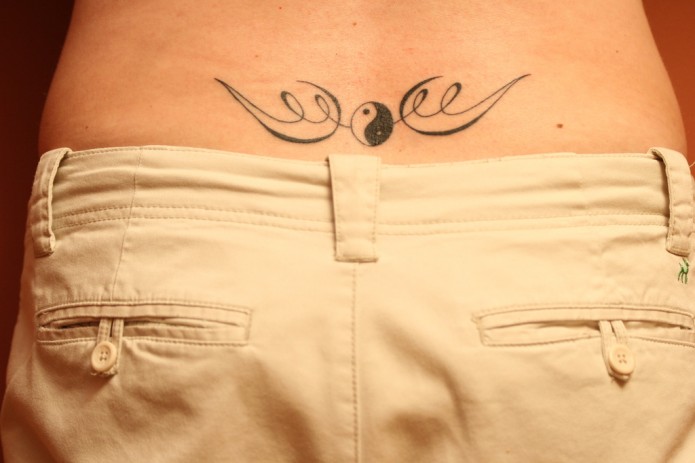 Musical Yin Yang
This tattoo incorporates the yin yang symbol into a base cleft, combining the idea of duality with a love of music.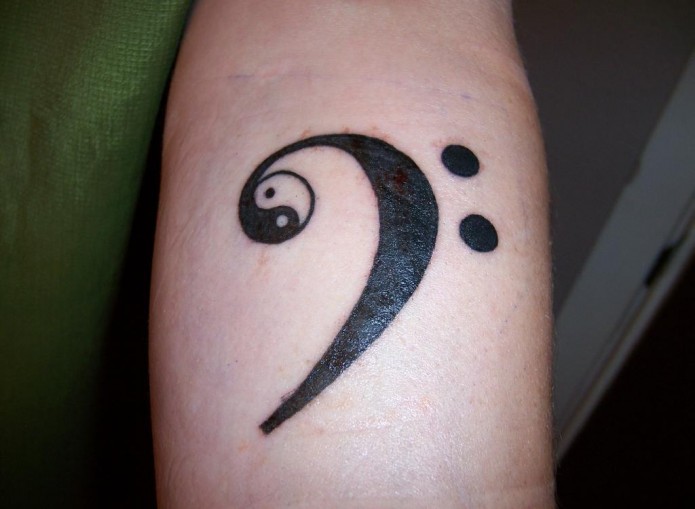 Asian Yin Yang Tattoo
In this tattoo, the yin yang symbol serves as the center of balance for all of the elements.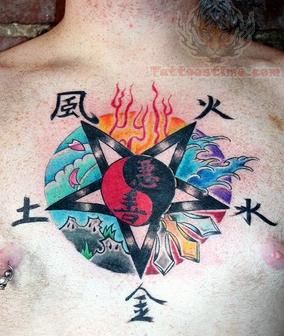 Flower Yin Yang Tattoo
An orange and pink flower background makes this black and white yin yang tattoo stand out.
 Red and Blue Yin Yang
Instead of the traditional black and white yin yang, this tattoo incorporates different colors to bring these creatures to life.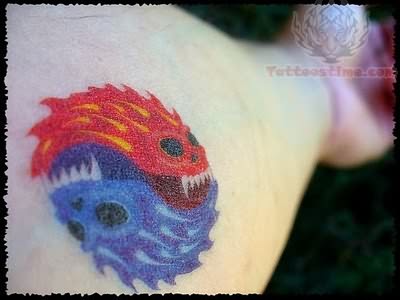 Tiger and Dragon Yin Yang
A tiger and a dragon perch on either side of this yin yang tattoo, making for a beautiful and intricate work of art.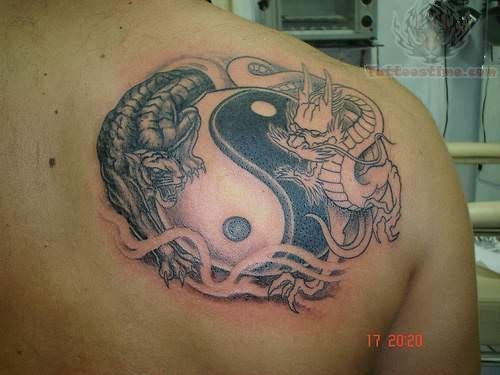 Patriotic Yin Yang Tattoo
By replacing a dot with a maple leaf, this yin yang tattoo becomes a symbol of Canadian pride.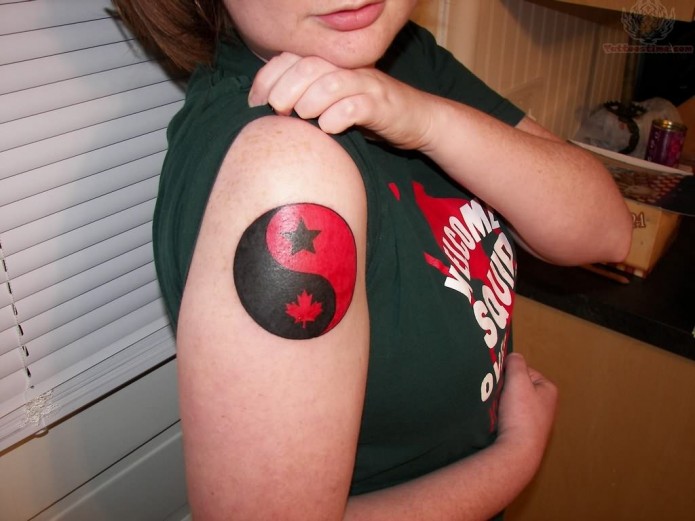 Swirled Yin Yang Tattoo
By adding a small swirl to each half of the symbol, this tattoo puts a slight spin on a traditional symbol.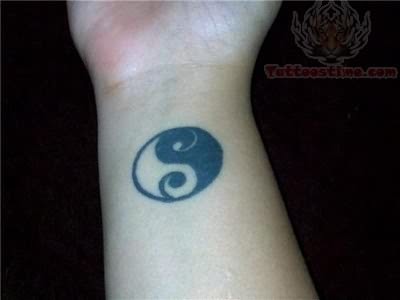 Battling Dragon Yin Yang
In this unique tattoo, a dragon appears to crawl out of the yin yang to prepare for battle with its opposing force.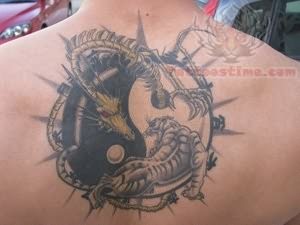 Simple Dragon Yin Yang Tattoo
A simple dragon wraps its body around the delicately shaded yin yang.
 Paw Print Yin Yang Tattoo
Paw prints can be seen in both halves of this symbol, perhaps indicating a love for animals.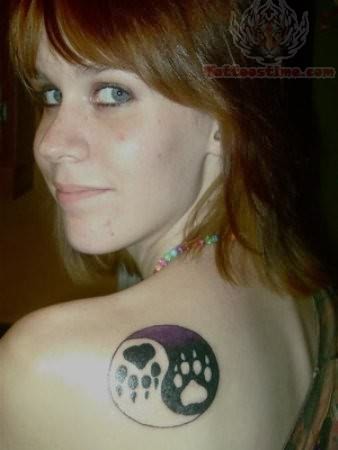 Tribal Yin Yang Tattoo
A tribal pattern adds something extra to this yin yang symbol.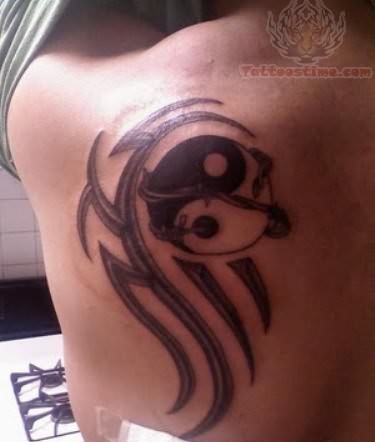 Fire and Water Yin Yang
This yin yang tattoo takes two opposing forces and combines them as one.
 Dolphin Yin Yang Tattoo
These dolphins contribute to the sense of peace and harmony on this yin yang tattoo.