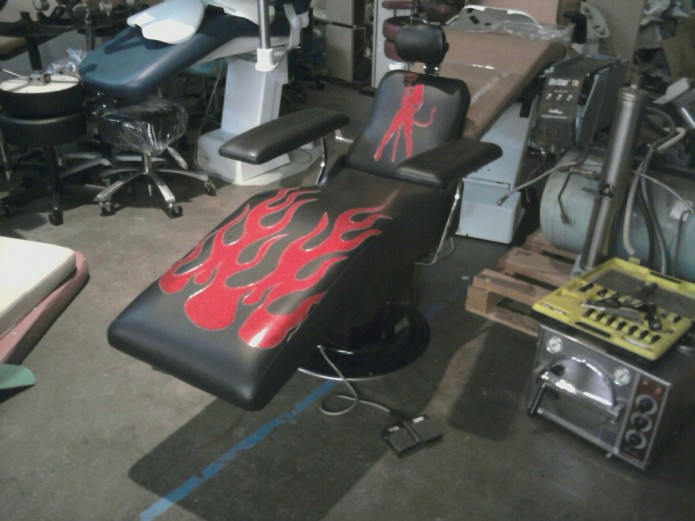 After spending weeks really brainstorming the concept of getting a tattoo, and after finding the perfect artist to gift your skin with a beautiful piece of permanent body art, are you mentally prepared for this awesome experience? You bet! Is there anything else you need to know before you sit in the chair? Possibly.
Getting Prepared
First, make sure that you've eaten within at least 2-3 hours of going to your appointment. I'm sure you've heard all this talk about fainting during a tattoo, but it does happen sometimes, and it has nothing to do with your pain tolerance. Light-headedness, dizziness, and fainting are caused by the drastic blood sugar spike that happens when your body realizes that it's in pain, and its quick descent back to normal levels after your brain figures out that you aren't dying after all. Eating will keep your blood sugar levels more stable, which also boosts your ability to endure being tattooed for long periods of time. It's equally important to stay properly hydrated, especially during warmer months and climates.
Next, please wear appropriate clothing for the part of you being tattooed. The body part being tattooed should be easily accessible; for example, wear open-top shoes if you're getting your foot tattooed, or wear shorts if you're getting a thigh tattoo. If you want to look nice before you come in, wearing separate clothes underneath or bringing additional clothes to change into is a superb idea. Don't wear clothing that you would hate to get ruined; tattoo ink does NOT come out of clothes.
And finally—this one may seem obvious—don't be under the influence of anything when you come in. One or two ibuprofen is fine, but prescription/recreational drugs and/or alcohol will not serve to make the experience physically easier for you; it will make it more difficult, especially for your tattoo artist. If we can tell that you aren't sober, we're likely to push your tattoo appointment to a day when you will be.
In the Chair
A tattoo machine pokes the needle into your skin at 1,000 times or more per minute. You should already know that this won't feel like a summertime picnic, and you should be prepared to do your best to relax and just wait it out.
Once the tattoo begins, the most important advice I can give you is to sit still, no matter how much it hurts. You can whine, you can complain (within reason—make sure you aren't rushing your artist as previously stated), but you absolutely cannot move. There is very little room for error in tattooing, especially if the piece is especially small or ornate, and if a mistake is made because of you, then it'll take even longer for the artist to finish because we'll spend time trying to fix it—if we can. If we can't, then it's on you. While you may understand that and have to live with it, your artist will also have to live with his/her name on your wobbly-lined tattoo. This is permanent.
If you feel close to tapping out and you need a break, don't be afraid to ask for one if you think it'll help you finish out the tattoo session. Just don't ask every 10 minutes–that can be pretty time-consuming and frustrating. Just remember that it's all worth it, and as soon as you're done, you'll never have to do it again, at least in the same place!
Take Care of Your Tattoo
As elated as you'll be to look at your new tattoo for the first time, the tattoo experience doesn't end after you pay. The first two weeks of your tattoo's life are the most important in terms of its longevity, and it's your responsibility to make sure you follow all healing instructions given to you. Each artist is different in what he/she recommends for aftercare, but generally speaking, the tattoo will be kept moist enough that it doesn't scab, but not so moist that it is suffocated, because they need air to heal more than anything else.  Follow your artist's instructions, and call if you aren't sure. It's not a hassle to hear from you, it's part of our job, and we want your tattoo to look perfect just as much as you do!
And there you have it—the recipe for getting a fantastic tattoo blends the right tattoo idea with the perfect tattoo artist, and is topped off with a little knowledge of what you're getting into. Tattoos are a wonderfully unique personal statement that will last for years and years to come. And they're pretty awesome.
Photo by tattooequipment