Tattoos for couples are a great way to celebrate permanent love.  There are many choices. We'll touch upon a few.
Ideas for Tattoos for Couples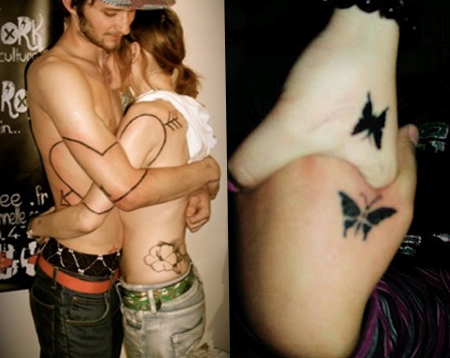 If you are a true lover of body art, we actually know people who have their wedding rings inked.  This is a great tattoo for couples.  One couple in particular I am thinking of had his profession, a cook, used as the design for his ring and it included a tiny knife.  She is a baker and her ring included a tiny wooden spoon. Wedding ring tattoos for couples have become so sophisticated that if you find the right design artist you can actually get inked with a Victorian style ring.
Another idea for tattoos for couples is to use the traditional half  hearts.  Not a broken; but rather a heart split in two, vertically with a straight line or in puzzle piece design so that it's evident that they fit together when you are seen together.  Along this same line of thought is putting any two shapes that fit together perfectly on each other.  Puzzle pieces, nuts and bolts, you get the idea. This is reminiscent of the tattoos for couples that are inked typically on the arms that are complete alone; yet themed when standing side by side.  An idea for this tattoo could be an under water scene. She could wear Neptune and he could wear his mermaid, each could have other complementary sea life.
Smaller less complex tattoos for couples can be the key and lock tattoos for couples. Generally she wears the lock and he wears the key.  However, you can wear them any you want.  Ideas for these tattoos range from elaborate Victorian style skeleton key and locks to the very minimalist skeleton key and lock.
Tattoos for couples don't have to match either.  Simply getting your tattoos at the same time is meaningful, especially if you're celebrating an event; for instance if you are celebrating the birth of a child, one may choose the name and the other may choose a footprint.
Yin Yang symbols are great tattoos for couples.  They represent the female and male duality of life.  The female aspect is the darker side while the male aspect is the lighter side.  It wouldn't be good idea to separate the symbol for the circle itself is meaningful; representing the never ending circle of life and its duality.  However, you could get matching Yin Yang tattoos or each gets your own version.
Coloring & Placement of Tattoos for Couples
Coloring for tattoos for couples depends on what you've chosen.  Rings can be inked in simple black, but look really spectacular and subtle in metallic colors. The same can be said for the lock and key tattoos for couples.  Metallic gold, silver, gray, blue and chrome are especially nice.
Placement of tattoos for couples can be personal, meaning only the two of you ever see them or placed out as body art as in the themed underwater side by side tattoo for couples described above.  That tattoo would require each of you to devote an upper arm. Puzzle piece, key and lock, half hearts all require a small amount of skin and can be placed just about anywhere. Because these are tattoos for couples however, ladies keep your man in mind.  He probably doesn't want to wear a half heart on his ankle.
Images from:
infobarrel.com and blog.rounds.com