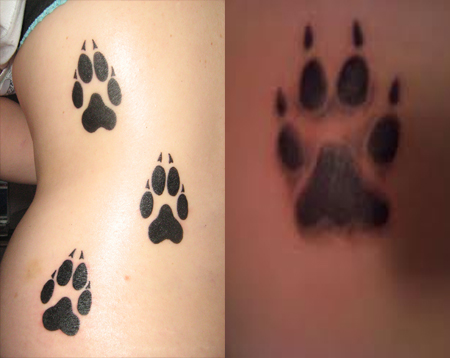 Paw print tattoos are popular with both men and women. They can offer mysterious options in their design patterns and keep the viewer guessing the meaning. When considering paw print tattoos designs there are no defined rules or guidelines you have to follow, so if this style of tattoo is for the fun of it then have fun with it. Paw print tattoos can be simple in design with one or two paw prints or very complex with twenty or more. Paw print tattoos are often seen as memorials to honor the loss of your pet.  Here are a few general paw print meanings that are out there. The bear paw print, courage, strength and wisdom. The lion paw print, heart, soul and courage. The cat's paws print represents, focus, vision, opportunity, mystery and train of thought.
Ideas for Paw Print Tattoos
Paw print tattoos for the fun it or because they look cute can be very fun to design. Most often these tattoos are inked on women for the cute appeal they offer. The cat paw print is small and can have one or two prints alone or have a pattern traveling all over the body. Pick your paw print type and have fun with the design, then ink away.
Paw print tattoos used as a memorial are a nice style to remember the loss of your pet. This tattoo design allows for you have your pet's name under the paw print, or even in the paw print. An idea here is for a dog; the paw print has five pieces to it, the picture of the dogs face looking at you will be broke in to five pieces in the same shape of the paw print.
Paw print tattoos inked in the bear paw print can be seen in a many different tribal art styles. They fm soft edges to very sharp edges; try adding a tribal turtle in to the design that will add the meaning of longevity as well as strength to this tattoo.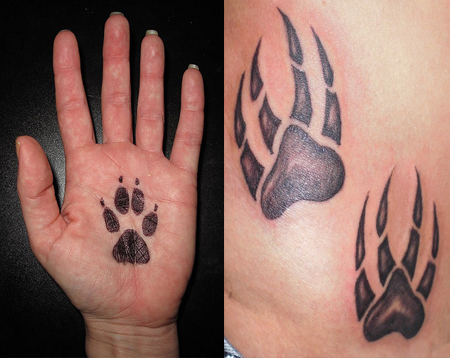 Paw Print Tattoos with a lion paw print are popular with athletes because of their meaning of heart and courage and the lion's good looks. In a single print they look great with school or team name logo.
Paw print Tattoos in the design of a cat's paw print are the most common seen on both men and women. There meanings like focus, vision, opportunity and mystery have an appeal to all. Paw print tattoos with a cat's paw print look great when inked in single or multiple prints designs.
Colors & Placement of Paw Print Tattoos
Colors for paw print tattoos are most often seen in single dark ink colors. Adding colors is a personal choice that you will have to make, but with your tattoo artist's help and looking through the galleries should help with your color ideas.
Placement and sizing can range here a bit. Memorials, Bear and Lion paw prints may be a mid to large size on the upper back, chest, arm, stomach or leg. Cat and for the love of paw print tattoos look the best in small design patterns running up the leg around the stomach over shoulders and down the back.
Images from:
silverfang-chaos and ratemyink.com