Introduction to Motorcycle Tattoos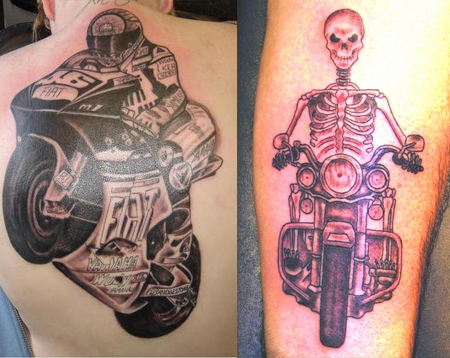 Motorcycle tattoos can be seen in every country in the world today. For some people the motorcycle is a cheap form of transportation; then for some it is a fun weekend toy, and for others it is a way of life. For many, motorcycle tattoos represent the brotherhood of the rider; it doesn't matter what you ride as long as you do ride. There are so many motorcycle tattoos designs and styles out there that it is easy to change them up a bit to suit your needs. When inking this tattoo design keep in mind that you can choose a motorcycle logo, engine, or your motorcycle as the design for your tattoo.
Types of Motorcycle Tattoos
Motorcycle logos are used often in the motorcycle tattoo design. The Harley logo needs no introduction here. Try using the #1 Harley Logo with the top of the logo in blue with small stars, and the middle section in red and white stripes running down to the base in blue. Under the base of the #1 tattoo, ink the name Harley Davidson Motorcycles in a dark bold color. You may consider adding eagle wings or flames to personalize your motorcycle tattoos.
Motorcycle engine tattoos are a fun way to show off the beast that powers your bike. These forms of motorcycle tattoos can be inked as a full engine with exhaust or in an engine piston design. A quick engine design could be, a Ducati L Twin engine with full plumbing sitting in a cross piece section of the distinct Rossa Red trellis frame. The engine piston is usually seen in a v shape representing Harley Davidson, with an eagle, eagle head, eagle wings, or evil skulls.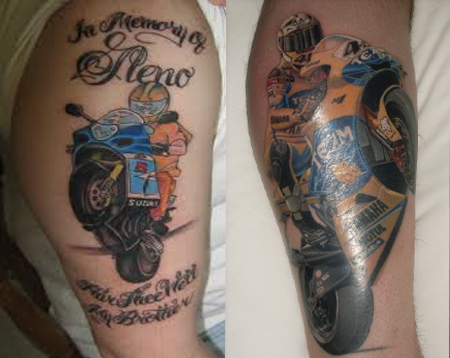 Motorcycle Tattoos with your bike or your favorite motorcycle can make a statement of who you are and what you are about. As an idea for personal bike tattoo; use the Ducati 1098 in a two dimensional view with rider in a power lift at speed. For a static display use a side view of the bike on the rear wheel stand. Adding trees, park bench, and short light poles can give a nice outdoors look. Ducati Corse logo with the static motorcycle tattoos will finish them off nicely.
Colors for motorcycle tattoos can be in single color to eye catching multiple color ink paint job. Motorcycle logos offer many different color options to choose from orange, black, silver, red, blue, yellow and then some. Engine tattoos can be a little simpler with single dark ink for most of the engine detail, with shading playing a key role in the design to add dimension to the tattoo. Motorcycle tattoos with your bike or favorite bike can have a wide range in ink colors from a simple single color ink or this may be the time to have fun and customize your bike a little with new ink colors.
Size & Placement of Motorcycle Tattoos
Motorcycle Tattoos sizing and placement for the logo and engine work are great in medium size on the shoulder blade, arm, chest and leg. Motorcycle tattoos looks great in large size on the upper back or medium size on chest or arm. Check with your tattoo artist for their galleries and motorcycle tattoos ideas.
Images from:
wall-collection.blogspot.com and free-tattoo-designs.org