Jaguar tattoos hold an undeniable allure, with each creature holding unique symbolism and significance. Among these majestic beasts, the jaguar is a captivating and powerful symbol in various cultures and mythologies. In this blog, we will delve into the world of Jaguar Tattoos, exploring the artistry, cultural connections, and deeper meanings behind these remarkable designs. Get ready to embark on a journey that unveils the strength, courage, and protection embodied by the enigmatic jaguar in the form of awe-inspiring tattoos.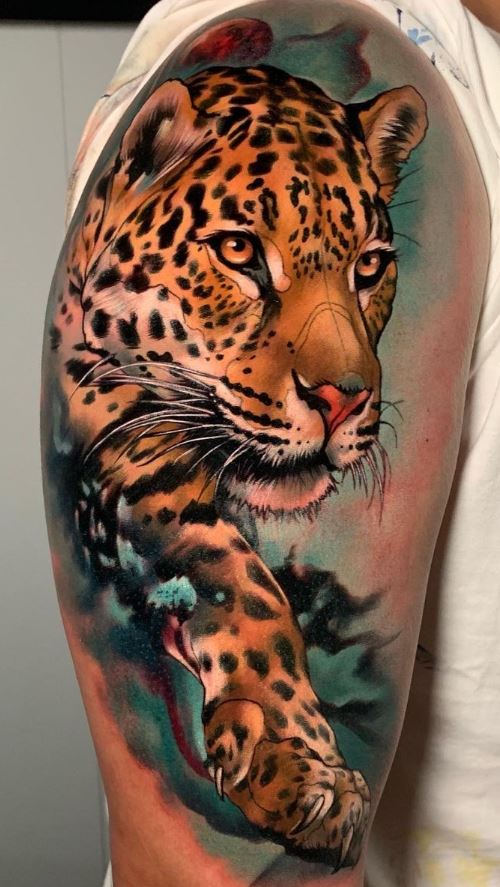 The Cultural Significance
Throughout history, the jaguar has held a special place of reverence and awe in various cultures worldwide. As one of the most powerful and enigmatic creatures in the animal kingdom, the jaguar's presence in mythology, spiritual beliefs, and folklore has given rise to its symbolic representation in tattoos. In exploring the cultural significance of jaguar tattoos, we uncover the deep-rooted connections between this majestic feline and humanity's collective consciousness.
Ancient Mesoamerican Civilizations
The jaguar held immense significance in ancient Mesoamerican societies, particularly among the Mayan and Aztec civilizations. Revered as a deity symbolizing strength, courage, and protection, the jaguar was often associated with powerful gods and played a central role in religious ceremonies. Jaguar warriors, adorned with tattoos of the fierce feline, were seen as elite fighters, embodying the animal's ferocity and unwavering spirit.
Native American Traditions and Folklore
Native American tribes also held the jaguar in high esteem, considering it a powerful totem animal and spiritual guardian. In some tribes, jaguar tattoos were worn as a mark of honor and respect for the animal's hunting prowess and mystical qualities. The jaguar's ability to move seamlessly between the physical and spiritual realms symbolized transformation and shamanic journeying.
Jaguar Symbolism in South American Cultures
In South America, where jaguars still roam the dense rainforests, the big cat's significance is deeply ingrained in the cultural fabric. Amazonian tribes view the jaguar as a symbol of strength, fertility, and protection. Jaguar tattoos in these cultures often represent a connection to nature, reflecting a reverence for the wild and untamed aspects of life.
The Modern Interpretation
While ancient traditions and beliefs continue to influence the meaning behind jaguar tattoos, the modern interpretation of these designs has also evolved. Today, many individuals choose jaguar tattoos to connect with their inner strength and embrace their wild, untamed spirit. These tattoos serve as a reminder of the power within and a source of courage in facing life's challenges.
Jaguar tattoos are far more than ink on the skin; they carry the weight of ancient cultures, spiritual beliefs, and the enduring fascination with this magnificent creature. As people continue to be drawn to the symbolism and cultural significance of jaguar tattoos, these awe-inspiring designs will remain a timeless expression of power, spirit, and the profound connection between humanity and the animal kingdom.
The Symbolism of Jaguar Tattoos
Jaguar tattoos hold a profound symbolism that transcends borders and cultures, representing a potent blend of power, spirituality, and primal energy. As a majestic predator, the jaguar has long been revered and feared, making its mark in mythology and spiritual beliefs. In the world of tattoos, these enigmatic creatures carry deeper meanings that resonate with those who choose to wear their likeness permanently etched on their skin. Let's explore the symbolism of jaguar tattoos and the significance they hold for those who embrace them:
Strength and Courage
The jaguar's physical prowess and fearlessness in the face of danger make it an emblem of strength and courage. When depicted in tattoos, the jaguar embodies the essence of these qualities, serving as a reminder to the bearer of their own inner fortitude. It encourages one to stand tall in the face of challenges and to confront life's obstacles with unwavering determination.
Spiritual Guardianship
In various cultures, the jaguar is revered as a spiritual guardian and guide. People believed that Jaguar possessed a unique ability to bridge the gap between the physical and spiritual realms. As a tattoo, the jaguar is a protective talisman, watching over the wearer and offering guidance on their life journey. It symbolizes a connection to higher consciousness and a deeper understanding of the universe.
Connection to Nature
Jaguars are elusive creatures that inhabit dense jungles and rainforests, representing a profound connection to the natural world. Jaguar tattoos often serve as a tribute to nature, reminding the wearer of their inherent bond with the environment and the importance of preserving the delicate balance of the ecosystem. It encourages a sense of environmental stewardship and appreciation for the beauty of the wilderness.
Transformation and Rebirth
The jaguar's ability to move silently and swiftly in the darkness of the jungle has led to its association with transformation and rebirth. In tattoo art, the jaguar's presence signifies the potential for personal growth, renewal, and shedding old habits or beliefs. It encourages individuals to embrace change and emerge stronger, just as the jaguar gracefully navigates its ever-changing habitat.
Feminine Energy and Fertility
In some cultures, the jaguar is associated with feminine energy and fertility due to its mysterious and alluring nature. Jaguar tattoos can be a tribute to the sacred feminine and a celebration of the life-giving power of women. For some, it represents the wild and untamed aspects of femininity, embracing the beauty and strength found within.
Jaguar tattoos encompass a rich tapestry of symbolism that echoes the timeless allure of this awe-inspiring creature. Whether worn for their representation of strength, spiritual connection, or transformative qualities, these powerful tattoos hold the potential to resonate deeply with individuals and serve as potent reminders of the untamed spirit that resides within us all.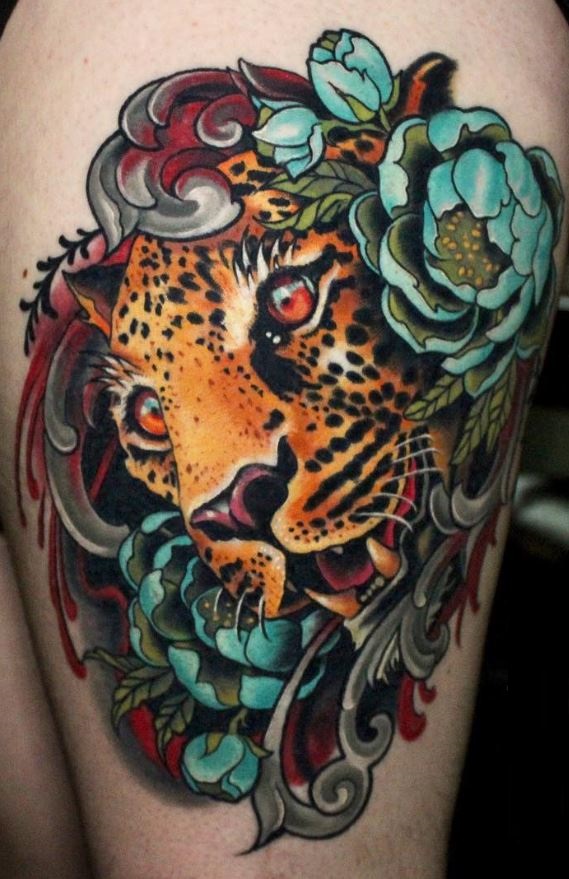 Jaguar Tattoo Designs and Ideas
Jaguar tattoos offer a captivating array of designs that capture this majestic creature's fierce essence and symbolic significance. As you embark on your journey to ink the enigmatic jaguar onto your skin, exploring the various design styles will allow you to find a representation that genuinely resonates with your spirit. Here are some popular types of jaguar tattoo designs and styles to consider:
Realistic Jaguar Tattoos
Realistic tattoos are the way to go for those seeking a lifelike representation of the jaguar. These designs showcase intricate details, vivid colors, and impeccable shading, capturing the jaguar's powerful muscles, mesmerizing eyes, and distinctive rosette patterns. Realistic jaguar tattoos provide a sense of awe and admiration for the beauty of this elusive predator.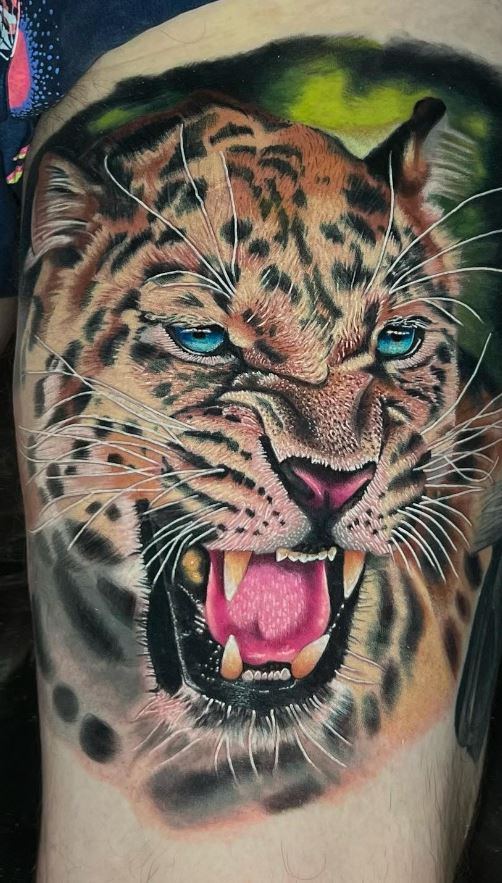 Tribal Jaguar Tattoo
Embracing the ancient roots of jaguar symbolism, tribal tattoos pay homage to the cultural significance of the feline in indigenous traditions. These designs feature bold, black lines and geometric patterns inspired by Native American, Mayan, or Aztec art. Tribal jaguar tattoos evoke a primal and mystical aura, connecting the wearer to the wisdom and spirituality of ancient civilizations.
Geometric Jaguar Tattoos
Geometric tattoos merge modern artistry with the essence of the jaguar's grace and strength. Using geometric shapes and lines, these designs create a visually stunning representation of the animal. Geometric jaguar tattoos offer a contemporary and abstract take on the traditional animal motif, making a bold statement and showcasing the complexity of the jaguar's character.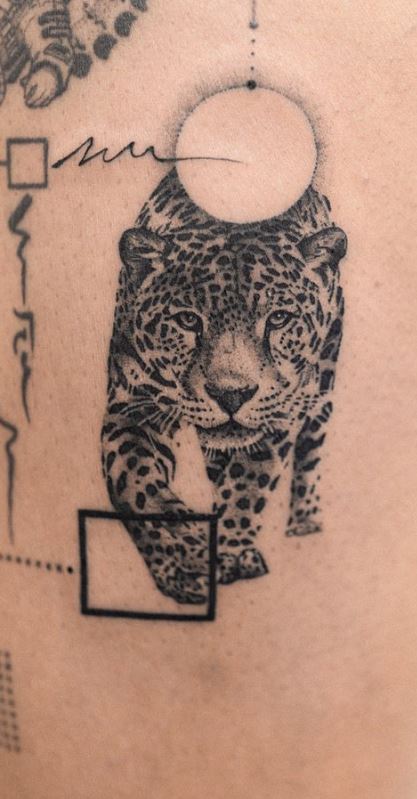 Watercolor Jaguar Tattoos
Bursting with vibrant hues and free-flowing brushstrokes, watercolor jaguar tattoos infuse creativity and expression into the design. These tattoos evoke a sense of fluidity and movement, mirroring the agile nature of the jaguar. Watercolor tattoos are ideal for those seeking a unique and personalized representation of the jaguar's beauty and spirit.
Minimalist Jaguar Tattoos
Less is more with minimalist tattoos, which focus on simplicity and clean lines to convey the essence of the animal. These tattoos often feature a single outline or silhouette of the jaguar, creating an understated yet striking visual impact. Minimalist designs are perfect for those seeking a discreet and elegant tribute to the jaguar's symbolism.
Roaring Jaguar Tattoos
Roaring jaguar tattoos capture the raw power and intensity of the animal's vocalization. These designs portray the jaguar in mid-roar, showcasing its dominance and ferocity. Roaring jaguar symbolize courage, fearlessness, and the ability to confront challenges head-on.
Aztec Jaguar Tattoos
Drawing inspiration from the ancient Aztec civilization, Aztec jaguar tattoos pay homage to the cultural significance of the jaguar in Aztec mythology and rituals. These designs often incorporate intricate patterns, symbols, and geometrical elements, reflecting the mysticism and spiritual reverence of the Aztecs for the jaguar.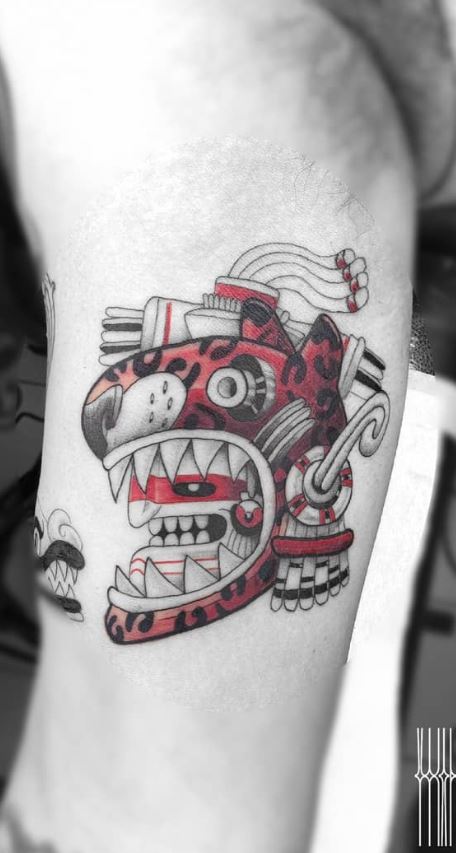 Mayan Jaguar Tattoos
Similar to Aztec designs, Mayan jaguar tattoos honor the powerful role of the jaguar in Mayan culture and beliefs. Mayans considered the jaguar a symbol of strength and a divine messenger between the mortal world and the afterlife. Mayan jaguar tattoo designs may feature hieroglyphics, sacred symbols, and elements representing the cycle of life and death.
Traditional Jaguar Tattoos
Traditional style tattoos embrace classic tattoo artistry with bold lines, limited color palettes, and a strong emphasis on essential features of the jaguar. These designs often depict the jaguar in a confident and imposing stance, capturing its untamed nature and fierce presence.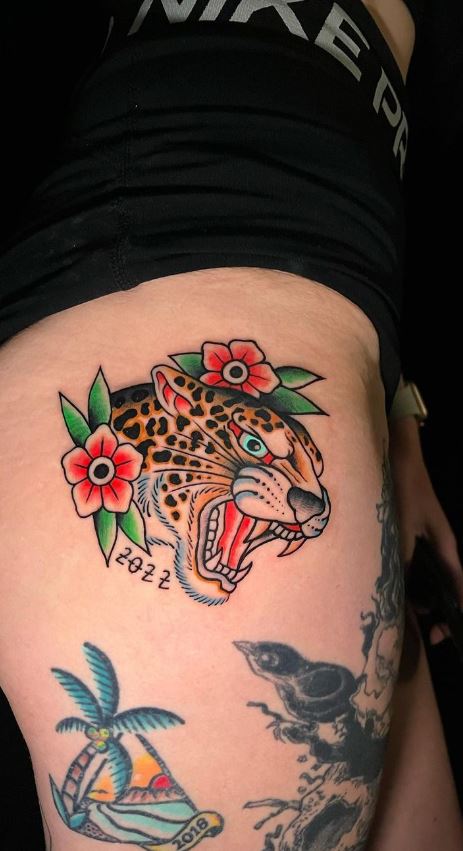 Simple Jaguar Tattoo
For those seeking a more understated representation of the jaguar's symbolism, simple jaguar tattoos offer a minimalist approach. These designs feature clean lines and uncomplicated shapes, focusing on the essence of the jaguar's form and its significance. Despite their simplicity, they still convey the power and grace of the animal.
Neo-Traditional Style
Neo traditional tattoos combine the classic elements of traditional tattoos with modern artistic techniques. These designs incorporate vibrant colors, dynamic compositions, and creative interpretations of the jaguar. Neo-traditional jaguar tattoos allow for a fresh and imaginative take on the timeless symbolism of the animal.
Small Jaguar Tattoo
Small jaguar tattoos provide a discreet yet impactful way to display your connection to the jaguar's symbolism. These designs are perfect for subtle placements like wrists, ankles, or behind the ear. Despite their size, small tattoos can still capture the strength and spirit of the powerful predator.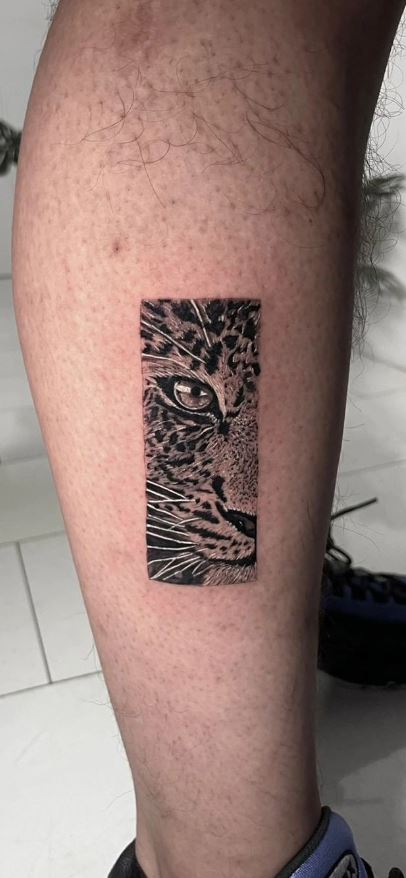 Japanese Jaguar Tattoo
Drawing inspiration from Japanese art and mythology, Japanese jaguar tattoos fuse traditional Japanese tattoo elements with the imagery of the jaguar. These designs may incorporate elements such as cherry blossoms, waves, or dragons, blending the elegance of Japanese aesthetics with the jaguar's ferocity.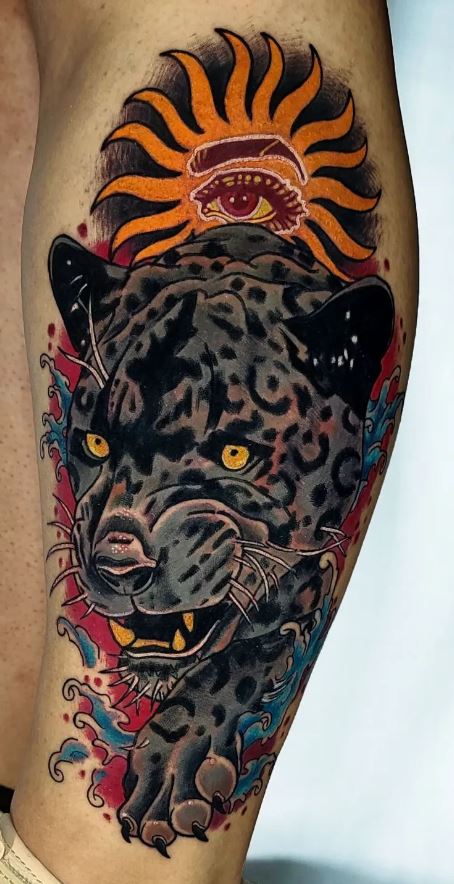 Blackwork Jaguar Tattoo
In blackwork jaguar tattoos, tattoo artists use solid black ink to create a striking, bold design that delivers a visually impactful impression. This tattoo style involves inking the jaguar in solid black without shading or color gradients. The result is a powerful and eye-catching representation of the jaguar's form and features, accentuating its strength and elegance. Blackwork tattoos hold up well over time, making them popular for those seeking a long-lasting and impactful jaguar tattoo.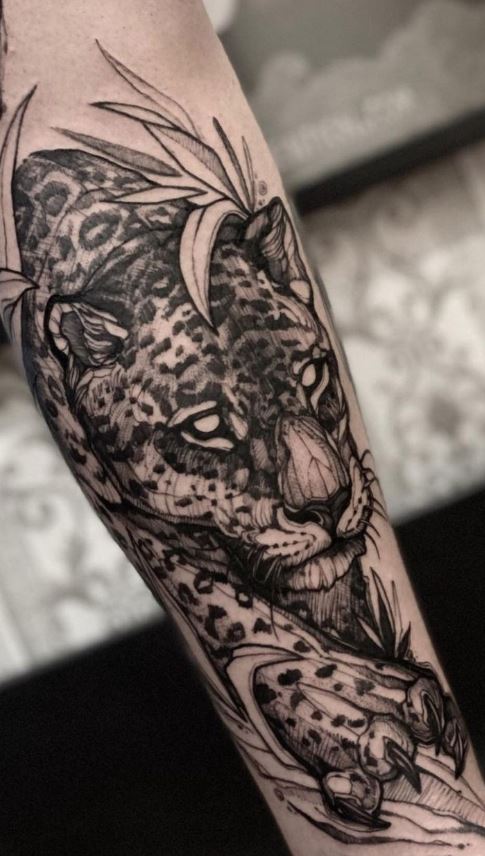 Black and Grey Jaguar Tattoo
Black and grey jaguar tattoos provide a more nuanced and realistic portrayal of the majestic feline. Tattoo artists use shades of black and grey ink to create depth, dimension, and texture. Using shading techniques skillfully, they capture the play of light and shadow, giving the jaguar a lifelike appearance and a three-dimensional effect. This style showcases the intricate details of the jaguar, such as its fur, eyes, and rosette patterns, with heightened realism. The versatility of black and grey tattoos allows them to be adapted to different sizes and placements, making them suitable for various body parts and ensuring a captivating and elegant representation of the jaguar's beauty and power.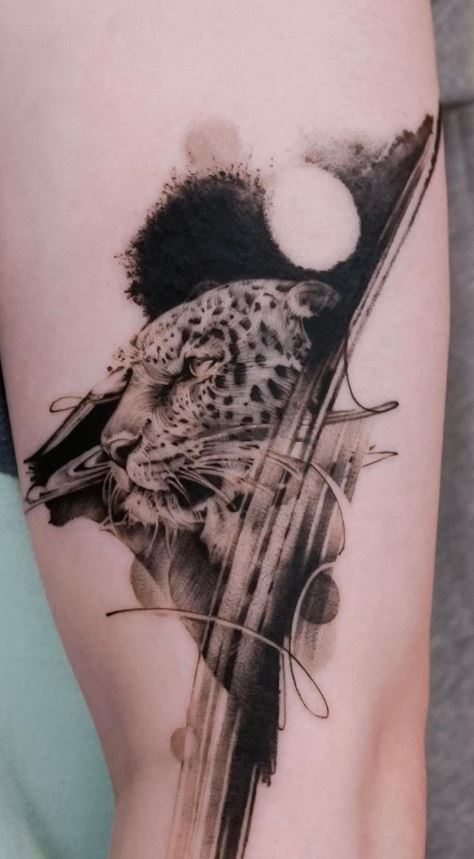 Feminine Jaguar Tattoo
A feminine jaguar tattoo is a unique and empowering representation of the majestic feline. It tailored to embody the essence of feminine energy. In this style, artists use design elements that evoke grace, elegance, and beauty while incorporating the fierce and untamed nature of the jaguar.
These tattoos often feature the jaguar adorned with intricate patterns, floral motifs, or delicate details that add a touch of femininity. The use of flowing lines and soft curves accentuates the jaguar's graceful movement, symbolizing women's strength and resilience.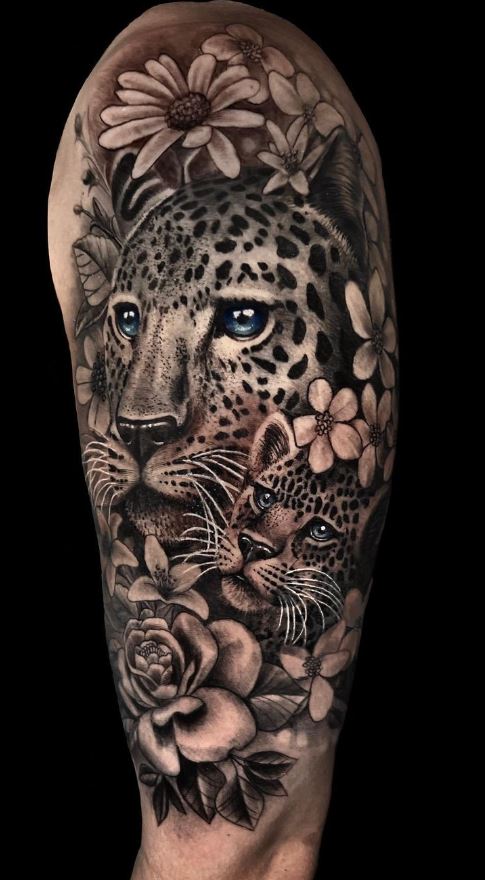 Jaguar Warrior Tattoo
The jaguar warrior tattoo pays homage to the revered warriors of ancient Mesoamerican civilizations, notably the Aztecs. These elite warriors were known for their exceptional bravery, combat skills, and unwavering loyalty to their people and gods.
The jaguar warrior is depicted in full battle attire in this tattoo style, adorned with traditional Aztec warrior garments and jaguar-inspired motifs. The warrior's face has jaguar-like features, symbolizing the warrior's fierce spirit and the belief that they embodied the strength and cunning of the powerful predator.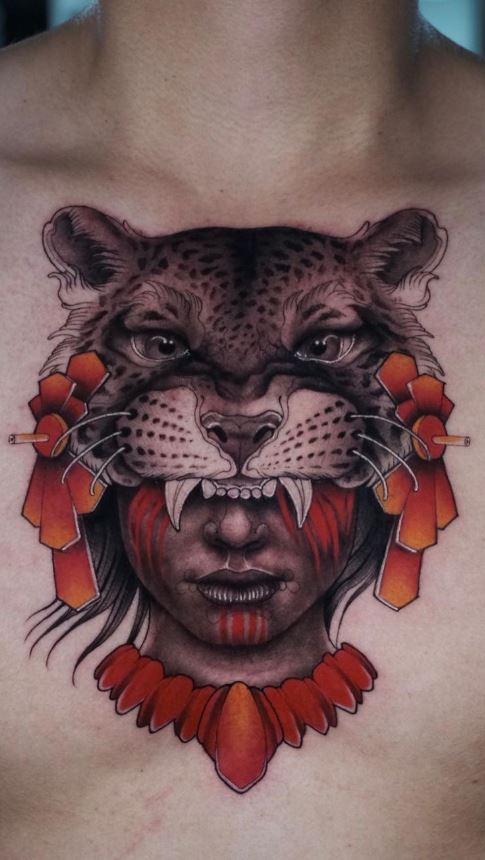 When choosing your jaguar tattoo design, consider each style's historical and cultural significance.
Placement and Size Considerations
When it comes to getting a jaguar tattoo, choosing the right placement and size is crucial to ensure the design aligns with your vision and complements your body structure. The location and dimensions of the tattoo can significantly impact its overall impact and symbolism. Here are some essential placement and size considerations for jaguar tattoos:
Placement Options and Design Styles
Upper Arm: The upper arm is popular for showcasing medium to large tattoos. This placement provides ample space to display intricate details and allows the jaguar to be the focal point of the tattoo. Realistic tattoos, tribal designs, or neo-traditional styles work well in this area.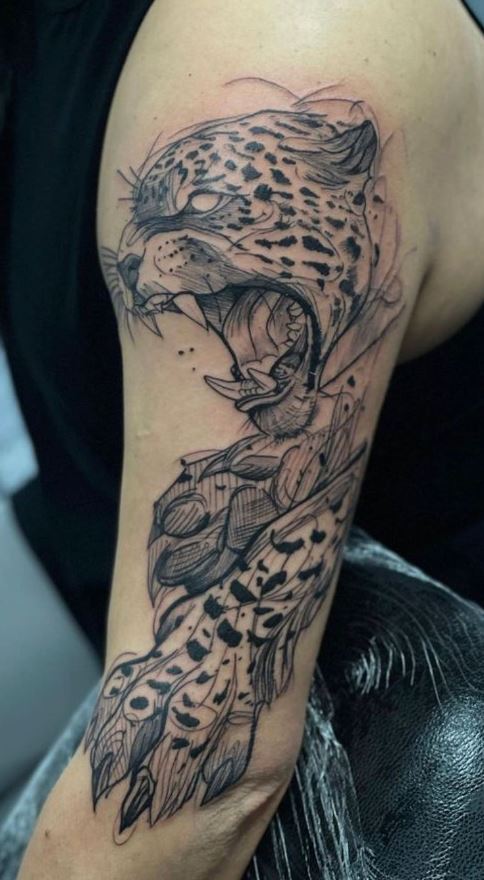 Back: The back offers a larger canvas, ideal for elaborate and expansive jaguar tattoos. A back tattoo can extend from the nape of the neck down to the lower back, allowing for a striking and dramatic portrayal of the powerful creature. Larger, more intricate designs, such as jungle scenes or a roaring jaguar, can be beautifully displayed on the back.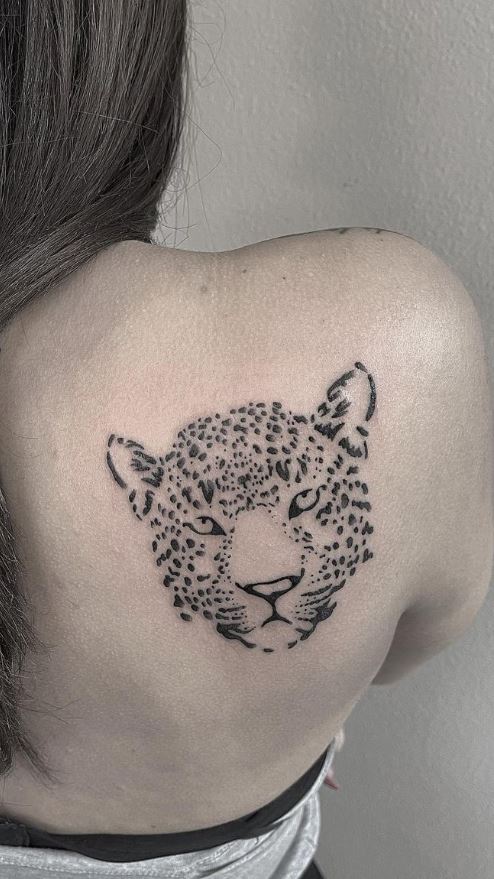 Chest: Placing a jaguar tattoo on the chest can evoke a sense of protection and courage as if the jaguar is guarding the heart. This placement also allows for impactful designs that align with the contours of the chest. A roaring jaguar or a jaguar with its claws bared can work well on the chest, symbolizing strength and fearlessness.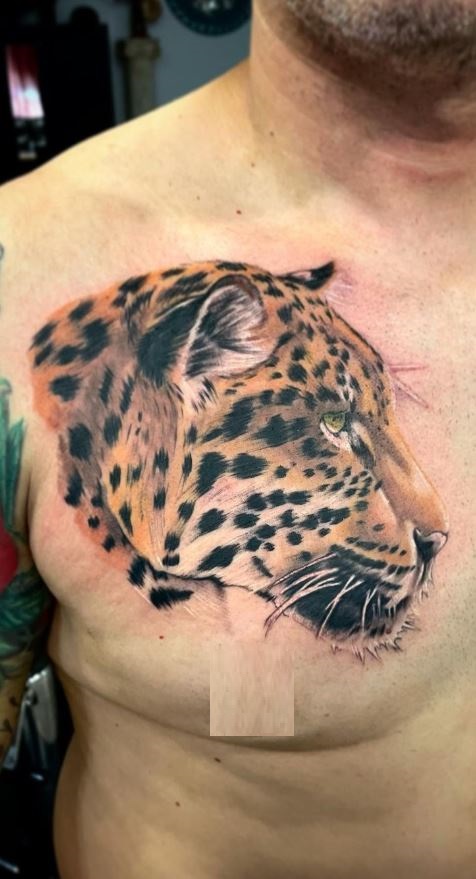 Thigh: Thigh tattoos are versatile, accommodating various sizes of jaguar designs. This placement allows for intricate details while offering the option to cover or reveal the tattoo as desired. Geometric jaguar tattoos or designs featuring the jaguar in motion can look stunning on the thigh.
Other Considerations 
Consider Body Curves: Keep in mind your body's natural curves and contours when choosing the placement of your jaguar tattoo. Certain designs flow better with specific body parts, accentuating your physique and creating a harmonious visual effect.
Size Matters: The size of your jaguar tattoo can significantly influence its level of detail and overall impact. A larger tattoo allows for intricate patterns, realistic features, and more elaborate backgrounds, making it a focal point of attention. On the other hand, smaller tattoos offer a discreet and subtle representation. Perfect for those who prefer a minimalist approach or have limited space.
Pain Tolerance: Consider your pain tolerance when deciding on the size and placement of your jaguar tattoo. Areas with thinner skin or closer to bones are generally more sensitive, while areas with more muscle and flesh may be less painful during tattooing.
Future Considerations: Consider how your chosen placement and size may affect your future lifestyle choices. For example, if you frequently wear clothing that exposes or covers certain body parts, consider how this may impact the visibility and significance of your tattoo.
Ultimately, the placement and size of your jaguar tattoo should be a personal decision. They should align with your preferences, aesthetics, and the message you want to convey through this powerful and symbolic ink.