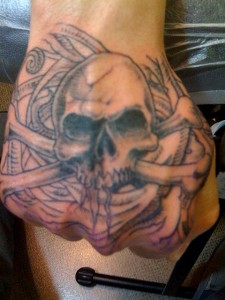 In recent times hand tattoos have become more popular with men and women because people are more excepting of tattoos in general. The popularity of tattoos these days have changed people's minds about the bad boy image associated with tattoos in the past. Some tattoo artist will only perform hand tattoos after plenty of discussion, and time so you can change your mind. Most often the meaning of a hand tattoos is very serious to the wearer and the placement of the hand to display their message is by no means an accident. Sometimes the symbol or message seen in hand tattoos may not be clear when people see it and do not be surprised if a clear explanation is not giving when inquiring about the meaning.
Ideas for Hand Tattoos
Praying Hands Tattoos – Praying hands tattoos can be a symbol of someone's faith.  There is generally obvious meaning but as with most tattoos it is sometimes more complicated. As an idea here try two hands with the finger tips and thumbs touching. There will be a gap in the in between the palms visible from the bottom of the hands in this classic side view of praying hands tattoos. A delicate chain looping over the hands with a cross made of wood will work well on this tattoo as a rosary. The skin wrinkles and knuckles will need very good detail work along with great shading to obtain the life like look. Placement of praying hands tattoos in large to medium size look great on the upper back, upper arm, forearm, chest and leg. Smaller designs look great on the shoulder, upper chest, forearm, hand, and lower leg.
Tribal Hand Tattoos –   The meaning seen in tribal hand tattoos are sometimes of the earth or as a symbol of connections to family or being grounded to the earth itself. Ideas for a simple tribal design are;  a tribal turtle design with the body in the shape of a heart. Using the tribal flame pattern makes a bold heart shape leaving it open at the top. The two front flippers will be curved down towards the back of the body and made in two flame patterns outlining the flipper. The head in an oval pattern and the back legs in triangle shape also in the tribal flame pattern
Hand Tattoos for Women.  Women will often wear items that are close to their heart or something that stirs their soul. Try the stars and moon pattern with the largest of the stars starting around the webbing in between the thumb and index finger; gradually decrease the size of the stars while curving them below the knuckles. Place a few moons and small stars in the center of the back hand and a shooting star for a finishing touch.
Skeleton Hand Tattoos – Skeleton hand tattoos are popular with men and are inked for the pure fun of it and the design can draw plenty of attention.  A design starts with the hand displayed flat out with the palm side down. From the fingernails back on each finger you will have each section of finger bone and joint and knuckles for all the fingers and thumb. Next the bones from the back of the knuckles to the end of the wrist bones all tattooed in dark ink and shading and shadowing to give it depth and a realistic look.
Hand Tattoos for Men  – Hand tattoos for men will often have a personal message of family or as a symbol of something they enjoy doing in life, or even the popular scare factor with creepy skulls. Try popular North Star hand tattoos inked in between the thumb and index finger. The star will have three parts with a 4 point star to represent north, south, east and west as the center section. The center of the star will have a circle filled in with dark ink. A small line inked in between all the branches to represent northwest, southwest and so on to finish the North Star itself. A small n, s, e and w above the points need to be inked next to give the tattoo the completed look.
Side of Hand Tattoos – This area of skin allows nice room for a tattoo that is not always visible. Most often the design has a personal message behind it or is on the funny side. You can place a long stem rose seen in a 45 degree angle with three leaves branching off the stem. The rose petals will need good detail and shading work that will result in a great work of art. You may want to add small streamers or a banner with a message for a personal touch. You may also try a quote in small print. Quotes look great here because of the length of skin that can be used. Try your favorite quote like; you may say I'm a dreamer,  in thin delicate dark ink.
Small Hand Tattoos –  Hands offer great placement for small hand tattoos. These designs can be simple or highly detailed.  Ideas here are;  a small music note behind the knuckle in single dark purple ink. You may also try a manual 6 speed shift pattern inked in the middle of your palm. A dark colored ink looks great when used for 1st through 6th gear and then try red ink for the reverse link.
Coloring of Hand Tattoos
Color choice for hand tattoos can be a single dark ink or colors seen in real life or even seen in fantasy colors. You may see red, blue, yellow, green, black, grey, brown, orange or purple in these designs. Have fun when choosing colors and don't limit yourself just to the basic color chart.
Hand tattoos may require a bit of thought and time to decide if they are right for you. Hand tattoos look great have strong meanings behind them. As always talk over your designs with your tattoo artist for their advice on hand tattoos. Be sure to look at the galleries for more hand tattoo ideas.