Once you have given some real thought to the concept of what design you'll be getting, it's equally important to put just as much effort into the consideration of who will be tattooing the artwork. There are an estimated 20,000+ tattoo shops spread across the United States alone, so as you can imagine, there are a TON of tattoo artists to choose from, many of which are very, very good. Where do you even start to find the right tattoo artist?
It's All About Customer Service
With as many shops and artists as there are out there, there has to be something that separates the competition. The tattoo industry is 100% a customer service industry, and just like with a mechanic, plumber, or other trade industry job, providing a good customer experience is absolutely crucial. Tattoo artists (mostly) know that you don't want to be in close proximity to someone for sometimes hours when they're a complete jerk, especially if they're also poking you with needles! You should find an artist that you get along with on a basic level; this can be just as important to your tattoo experience and overall result as the quality and price of the work.
Some artists have an 'artist ego,' that is to say, they know they're good and they don't really value customer service as much as their skill. They know what you want, and if it's not what you want, then it should be because they know about tattoos way more than you do.
Your tattoo artist should absolutely demonstrate knowledge in a polite, professional manner and offer helpful advice in the process, but good customer service means that it's up to you to take the advice or not once you've been informed. Some people are alright with the rockstar attitude, but keep in mind that 'artist ego' types are difficult to budge on their vision of your tattoo, and they're often pushy about it. Usually they really do know what they're doing, but if you feel pressured into getting something that you didn't necessarily want, then you might end up regretting it even if the tattoo is a solid work of art. If you and your artist are on the same page, the process will be smoother and you'll feel more involved with the decision.
Don't Be Stingy
Cost can be a huge deciding factor for a lot of people—I mean, let's face it, money doesn't grow on trees, and we want to make sure we get the best deal possible. However, the saying "You get what you pay for" is also very applicable to the tattoo industry, and you don't want price to be the only consideration.
As a tattoo artist, I've never really understood the concept of 'price shopping' for a piece of art that will be on your body for the rest of your life. Granted, yes, some tattoo artists will just be out to get your money, as can be expected in any industry, and they might not deliver sound quality work. However, it's your job to look into that, and it's also your job to inform yourself on what you should expect to spend on a tattoo.
A typical tattoo shop will either charge an hourly rate, or simply charge based on the individual design or concept. An hourly rate is roughly between $100-$150 per hour, but a really well-known artist like Kat von D can charge anywhere from $400-600 per hour! The price varies depending on the amount of experience and the popularity of tattoos in the area. Obviously an area with more tattoo shops will offer a variety of shops with more competitive prices, but normally you really will get what you pay for.
It's a good idea to work around a budget, but also be open to being quoted more than you expected and saving up for it if the artist is really worth it.
Portfolios Are There For a Reason
The worst thing you could do is combine the above price-shopping with a casual apathy towards the quality of an artist's work. Every tattoo artist worth going to has carefully put together a portfolio of his/her best work to showcase their skills, to provide you with an idea of the style that they render, and to show you what types of tattoos they like to do the most.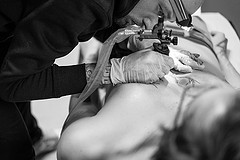 More people than you think who just walk in to a shop on the spot simply assume that because they're in a tattoo shop, that they'll be offered good service, and they skip right to the price quote and if the artist is available then and there. Please look at the portfolios to see if you like what you see first!
You have an idea for a tattoo, you have money in your pocket, and you're ready. You can't quell the itch to get a tattoo unless you get one right now.
I understand that in today's fast-paced society, immediate satisfaction is ideal. People want their phones to be the fastest, they pay $20 to have an item shipped to them the next day, they start a fad diet and want to immediately see the pounds fall off. Tattoo artists aren't copy machines though, and we aren't horrible human beings if we can't accommodate you right away.
As much as tattoo artists would love to sit down and know exactly how to draw your custom design for you right away and draw it in 20 minutes while you wait, it doesn't work that way. A decent-sized design could take an hour or more to draw, and take as long as a week or so to get it right—in between completing all of our other appointments who were willing to wait for us to tattoo them. Would you rather wait for us to get it right, or settle for a rushed design to wear for the rest of your life because you simply had to get it that day?
The artist should never rush the tattoo application either, whether it's because you have somewhere to be or because they're running late and don't want their next appointment to wait. Never squeeze a tattoo into your schedule. We can estimate how long it'll take, but we have no way of knowing for sure. We do know that your asking how much longer it'll be every 5 minutes will just make us think that we need to hurry up and finish instead of take the time to make your tattoo perfect. Never allow or ask a tattoo artist to squeeze you into their schedule either for the same reason!
Once again, tattoos are permanent. Patience is a virtue when making a permanent decision, so if you need to make an appointment for another day, set it up and be happy that your artist is taking the time to do things right for you.