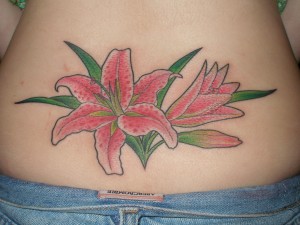 If you've had your eye on lily tattoos or is looking to get a lily tattoo design any time soon, this article is for you.
The lily has a rich and unique history and lots of meaning behind it. Their story dates all the way back to the days of the Greek Gods and Goddesses. This revered flower was said to have grown from the milk of the Greek Goddess Hera who was Zeus's queen. Today there are hundreds of kinds of lilies. Each one has a unique meaning, color and meaning. This flower is so special that it was chosen to be the birth flower to those born in the month of May, and the wedding flower to be gifted on a couple's 30th anniversary. Knowing all of this, it is no wonder that the lily is a popular flower to get as a tattoo!
Popular Lily Tattoos
The White Lily: This lily is also known as the Madonna lily. It contains white, scaly bulbs and are perennials. They symbolize several things:
The Virgin Mary
Easter (AKA the white Easter lily)
Life
Love
Death
Passing to a new level in life
The Peruvian Lily: This is also known as the Lily of the Incas. They vary in colors and can be found in orange, white, yellow, pink, purple and red. They are often the symbol of:
Graduation (many high school or college graduates get this lily tattooed on them)
Devotion
Commitment
Friendship
The Stargazer Lily: This lily is one of the largest in its species, reaching 36 inches tall and spreading up to 16 inches wide. As with the Peruvian's, it comes in many colors including:
The white flowers symbolize sympathy and empathy. The pinks symbolize prosperity and wealth.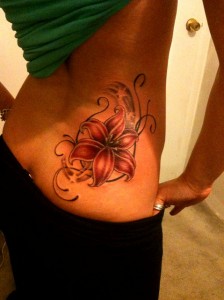 This lily is shaped like a bell and is one of the sweetest smelling lilies of all. The first lily of the valley is said to have grown from the tears cried by Eve when God exiled her and Adam from the Garden. It symbolizes the following:
Devotion
Humility
Love (it is the flower connected to the 2nd  wedding anniversary)
The Orange Lily: This flower is more commonly known as the tiger lily and is shaped like a bowl. It is colored in reds and oranges and has a bit less attractive meaning. Typically, it symbolizes hate and disdain.
The Calla Lily: This is my favorite of all the lily species! They bloom all year long and are simply graceful. They symbolize:
Awakenings
Love
Sensuality
Elegance
Purity
The type of lily you choose for your tattoo will depend on what you want the flower to say about you, what type of personality you have and what shapes and colors you prefer.
Where to Put Your Lily Tattoos: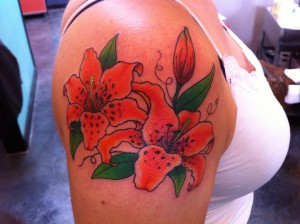 Lily tattoos can be either large or small. Some of the most popular places to put them include:
Small of the back
Shoulder blade
Hip
Chest area
Calf
Ankle
Neck
Upper leg (if adding crawling vines)
Even if you cannot find any particular meaning behind a lily to make it special for your body art, still consider getting one simply because they are beautiful and vibrant flowers that make fantastic works of art! Go it alone or add some butterflies, dragonflies or birds. Almost any other add on design can enhance the beauty of the lily!
More Lily Tattoos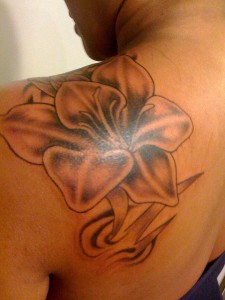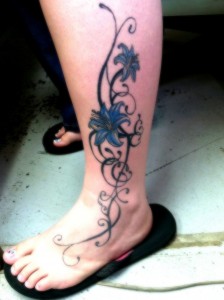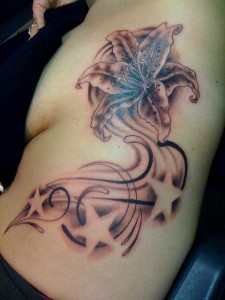 Lily Photos for Inspiration
Related Tattoos