Dolphin tattoos are among the most popular singular tattoo a female is likely to get. People simply love dolphins.  It is no wonder if you have ever given any thought or observation to their interaction with humans.  They want to be our friends.  Stories of dolphins rescuing humans abound.  The dolphin has been illustrated throughout written history as a respected image and symbol and continues to be today.
Dolphin tattoo designs make a statement that is extremely unique. They are very popular and have several meanings and types of symbolism surrounding them. The main thing that people think of when dolphin tattoo designs come to mind is freedom. Dolphins are thought to be creatures full of free spirit and happiness that enjoy having fun. These qualities are something that many people wish to convey in their body art. They are also great for people who are connected by their love of the beaches and oceans. Your dolphin design tattoo can come in many different styles and colors. Many people opt to have other designs added to their dolphin tattoo, such as flowers and tribal arts designs. One popular option is the have waves rising above the dolphin itself.
Dolphin design tattoos are more favored by women who love to get them done in either small or large designs. The size of your tattoo is a personal thing and depends upon the statement you wish to make and whether or not you want it to be a private piece of art or something that is to be shown off. There are also many places to put a dolphin design tattoo. Many people opt to put them on the side of their ankles, the top of their foot, the inner part of the wrist, the lower back, the shoulder blade and the lower part of the leg in the calf area. There are dolphin design tattoos for every personality type!
Ideas for Dolphin Tattoos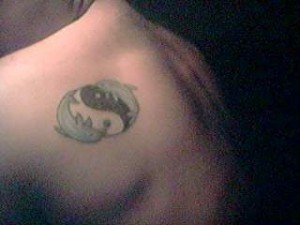 Women's Dolphin Tattoos – Women's dolphin tattoos are very popular with the ladies. The dolphin has so many meanings, but of them all the dolphin is known for its pure grace. Friendship is a meaning associated with dolphins and is often used in women's dolphin tattoos.  Try two Bottlenose Dolphins breaching the surface of the water very close together. You may also try, two dolphins in a cartoonish style coming out of the water in a side view in your personal color choices.
Tribal Dolphin Tattoos – Tribal dolphin tattoos are a beautiful and meaningful design. The bold dark ink and sharp lines work very well here. For a design in tribal dolphin tattoos try a dolphin with only the top half done in the razor wire pattern and the bottom half colored in grey. A blend of two styles can make great dolphin tattoos. As an additional idea, try a dolphin porpoising out of the water in dark ink with the splash of water in tribal razor design in light blue.
Miami Dolphin Tattoos – Miami Dolphin Tattoos are a must if you happen to a fan of the fins.  The dolphin logo is a green dolphin wearing white football helmet with an orange capital "M" on the side of the helmet the dolphin is wearing. The dolphin is illustrated jumping through a ring of fire.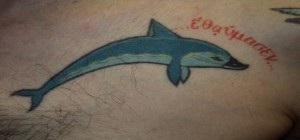 Yin Yang Dolphin Tattoos – Yin Yang dolphin tattoos can be absolutely stunning.  For this tattoo you will need to design two dolphins circling each other.  They need to be tattooed very closely together as if following each other to imitate the Yin Yang symbol.  To further detail this design you will want one dolphin shaded darker than the other to symbolize the male and female aspects of the Yin Yang dolphin tattoos.
Dolphin Tattoos for Men – Dolphin tattoos for men will probably include some other feature along the lone dolphin.  Manly men will probably not gravitate to a lone dolphin since it's tattooed on so many females. However, in an underwater scene or accompanied by a mermaid or Neptune suddenly the whole design changes. This doesn't have to be a large tattoo.  If you are a dolphin loving male and want a more masculine tattoo simply include an anchor some water and your dolphin if you shy away from mermaids.
Unicorn Dolphin Tattoos – Unicorn dolphin tattoos and designs can be approached from several different directions.   The Unicorn Dolphin is actually a mammal called a Narwhal and is a whale. It has quite the legendary history around the globe. Vikings thought the horn of this creature to be so special they thought it could cure any poison.  Pictures of ships of ancient times are illustrated with the head of a Narwhal leading the way rather than a mermaid.  For your unicorn dolphin tattoos either speak with your tattoo artist or tweak some dolphin flash or have them design your Narwhal from an actual image.   The second approach that some people take to unicorn dolphin tattoos is to have the dolphin and the unicorn tattooed separately yet together.
Celtic Dolphin Tattoos – Celtic dolphin tattoos art designs work really well in dolphin tattoos.   They may even be pleasing to some of you men out there depending on the design you choose.  Some of the more stunning are done in black ink adding Celtic twists between the body and the tail.  Others are outlined and filled with Celtic knots, lace, and loops that are meaningful to you. Many are finished off with blue shading behind the entire Celtic design.
Butterfly Dolphin Tattoos – Butterfly dolphin tattoos are generally illustrated in three main designs.  One possibility is the dolphin porpoising and surprisingly finds a butterfly waiting to greet him or her.  A second version is to have the butterfly body replaced with the body of the dolphin and then otherwise continue on as if a butterfly.  A third version is to have tribal dolphin tattoos include tribal butterflies; all three very nice designs and drastically different.
Submarine Dolphin Tattoos – Submarine dolphin tattoos are the same as in all art and design; there always seems to be several ways to approach these types of requests.  By far it seems the Beatles' Yellow Submarine with dolphin tattoos are the most popular.   However it may be that people who request this tattoo are really asking for an illustration on their body of the Seabreacher mini submarine.  If this is your case, bring a picture with you and discuss this with your tattoo artist.  In addition, men wear body art illustrating submarines of their choice in an underwater themed tattoo that includes dolphins; yet another version.
Polynesian Dolphin Tattoos – Polynesian dolphin tattoos could be designed in any of the tribal art of the Polynesian Triangle.  Interestingly the most popular Polynesian dolphin tattoos seem to be a mixture of Maori and Hawaiian.  But when given some thought it makes absolute sense.  The curvature style of the Maori is used in shaping the body of the dolphin and then a blend of the curvature Maori and the linear Hawaiian is used to create the inner pattern of the dolphin's body.  Anything outside of the dolphin's body is your choice.  They look great alone or with blended styles, meaning go ahead and add that realistic blue wave to your tribal art!
Coloring & Placement of Dolphin Tattoos
Coloring of dolphin tattoos are blues; aqua, turquoise, blue-green, grey, white, and black.  For tribal art use dark ink such as dark blue, green, purple, and black.  Again, check out some images and galleries and get a look at tribal dolphins in realistic looking sea.
Placement of dolphin tattoos can be very small and placed on the foot, ankle wrist, neck, lower back, and hand.  For themed tattoos, you'll need considerable more skin.  Placement of dolphin tattoos in a themed setting wear well as an arm sleeve or totem, leg sleeve, or themed illustration on the back or chest.
Dolphin Tattoo Designs
Check them out in FULL SIZE – Click here.
[nggallery ID=5]
Check out the tattoos above in FULL SIZE – Click here.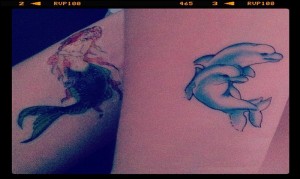 Inspirational Photos of Dolphins
Related Articles
Mermaid Tattoos – Tattoo Ideas, Designs and Meaning