The reason behind getting a dog paw tattoo can be as simple as the person likes the way paw prints look while others have a much more significant reason for this tattoo. Some people use a paw print to represent their four legged friend with or without the name of their beloved dog. Paw prints can be placed almost anywhere and still look amazing. A single print can be placed on the shoulder or neck whereas a trail of paw prints can look nice around the ankle or "walking" up the side of the body. There are many different designs from tribal to traditional that can be picked out. Some have even gone as far as getting their dog's actual paw print tattooed on their body. The bond between a person and his or her canine companion can be a strong one so it's no surprise that dog paw tattoos are as popular as they are.
In Memory of
This dog paw print tattoo is adorned with angel wings and a halo in memory of a beloved dog.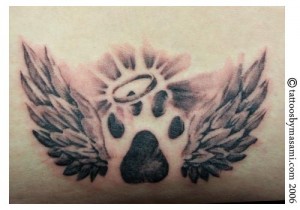 Smudged Dog Paw Print Tattoo
Four little paws placed above the hip bone as though a dog walked up this person's body.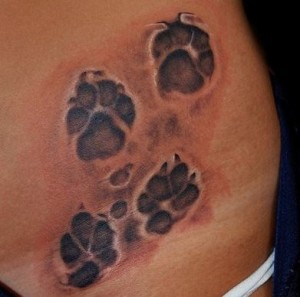 Simple Paw Print
A simple grey scale paw print with the dog's name in cursive above it.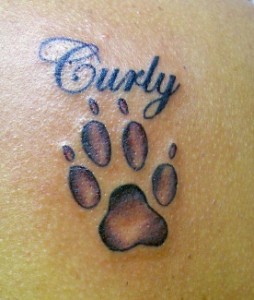 Dog Paw Prints on Lower Back
Cute little back paw prints on the lower back in a "v" like shape.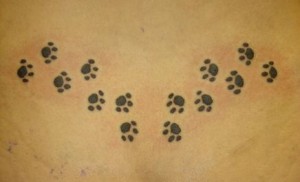 Forearm Dog Paw Prints
Basic black paw prints trailing up the arm.
Paw on Foot
A simple black dog paw on the top of a foot.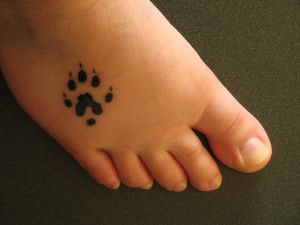 Brindle Paw Print
This brindle paw print tattoo was designed specifically in memory of lost loved one.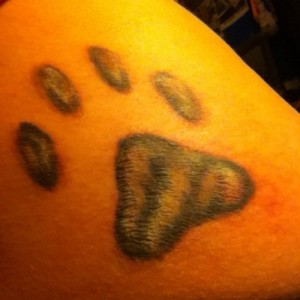 Paw on the Shoulder
A black and grey scale paw print of the left shoulder.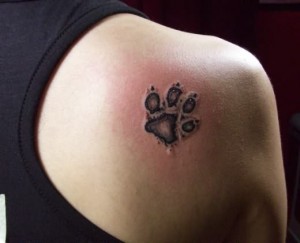 Upper Arm Dog Paw Print Tattoo
This paw print has a faded affect from bottom to top with the name "Sable" below.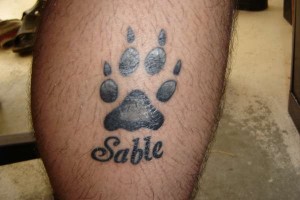 Ankle Paw Print
A grey scale paw print with the outline of a heart around it.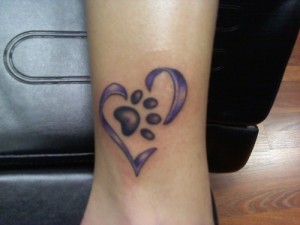 Bold Black Paw Print
A simple black paw print just below the wrist.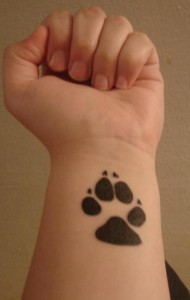 Black Tribal Paw Print
A tribal design makes for a unique paw print design.
Peaking Through the Paw
A neat tattoo design where the dog is looking through the paw print on the lower leg.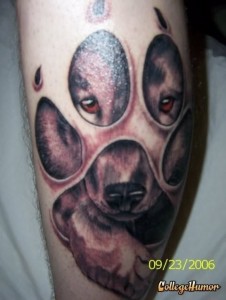 I See You
A paw print with an eye peaking through as a fox escapes.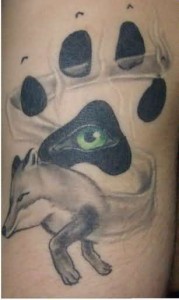 An Actual Dog Paw Print
The paw print is actually a print that was tattooed onto the forearm.