In Layman's term DNA represents the instructions for the development and function of living organisms. It is the code that determines an organism's physical characteristics, such as eye colour, hair texture, and height, as well as many of its other traits and characteristics.
DNA tattoos provide people with an opportunity to immortalize their DNA code and the family tree. You can customize your DNA tattoo design by adding different objects and elements, from animals or plants to geometric shapes or words. Some people choose symbols for life events they've had during their lifetime, such as marriage, children, military service, etc. There are many different ways one could customize this tattoo depending on what they want it to represent.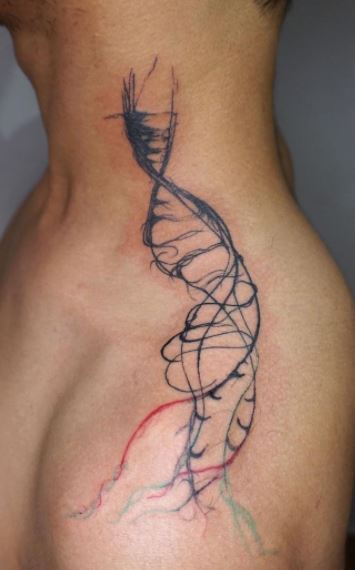 Meanings and Symbolism of DNA Tattoos
DNA tattoos hold several different meanings, which gives them versatility when it comes to design. The popularity of this tattoo has grown exponentially over the past few years. These tattoos might be worn by those who like to express themselves through body art and those who have lost a loved one and want to commemorate them. The symbolic meaning of DNA tattoos may be very personal, from honoring a family member to being the only living memory of someone who has passed on.
Our genetic code holds the secrets of our individuality, but with this information comes powerful symbolism. DNA tattoos are a perfect way to show your connection with people in the past, living or deceased.
Symbolism is integral to many tattoos, and you can use them to memorialize someone. For example, if you have children, you may add their handprints or footprints to your DNA tattoo design. This tattoo also goes along with other family-oriented designs, such as silhouettes of your siblings' or grandparents' names.
Combining DNA tattoos with other traditional tattoos gives them an extra layer of meaning. For example, if you have a portrait or landscape work going on already, then adding DNA helix strands could bring a nice balance to the piece's overall look.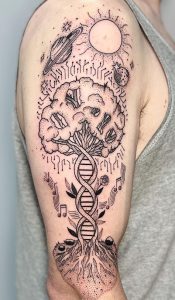 Designing Your DNA Tattoo
It's crucial to keep the design simple without adding too much detail. You can use one or two elements to make your tattoo stand out without looking overdone. The idea is that it should be stylized but still resemble the real thing.
Many people add color to their DNA tattoos, making them even more eye-catching than they already are. They can range from subtle color blends to vibrant hues of red or green. If you choose this route, stick with one or two colors, making your design simple and manageable. Some choose to have a gradient with one primary color at the bottom and another gradually fading in as it goes up toward the top. It adds a natural element that looks great when used correctly.
There are several options for designing your DNA tattoo, so get started finding out what shapes and colors go well together. Deciding where you will place it on your body is also essential. The more noticeable, the better, so get it out so everyone can admire your new design.
DNA tattoo designs can be unique to the individual. Last but not least, it's important to remember that these tattoos are entirely customizable. You can make them as simple or as complex as you want, and they will always be unique. DNA tattoos are sure to be fascinating and fun, no matter what design you want.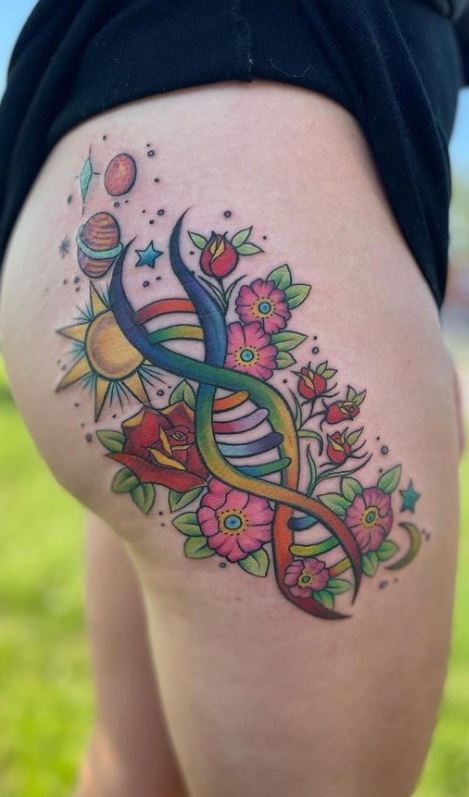 Placement Of DNA Tattoos
Many people get their DNA tattoos on the upper arm because it's such a visible area. However, it does not necessarily have to be there and can go anywhere on your body. You need to make sure that you feel comfortable with the spot you pick so that you don't regret your decision later down the line.
The forearm is another popular place for these types of tattoos. They are easy to show off and fit nicely with other tattoos on the arm, so it's an excellent area to consider if you intend to get more ink in the future. There is also plenty of space for shaping and colouring your design, making it all the more unique.
DNA Tattoo Designs and Ideas
DNA Tattoos With Flowers
Using the DNA structure as a background for other tattoos is another excellent idea. You can get your favourite flowers or a plant you enjoyed spending time with and use it to cover up some of the strands. It's also possible to use different kinds of leaves in place of each strand, and this works well combined with letters or numbers in the middle. These types of tattoos can be fun and add more complexity to your design.
DNA Tattoos With Trees
The DNA can be incorporated into the tattoo in several ways, such as using the amplified DNA to create a unique pattern or using the DNA to create a portrait of the person. It is also possible to create a DNA tattoo incorporating a tree design using the DNA to represent the tree on the skin.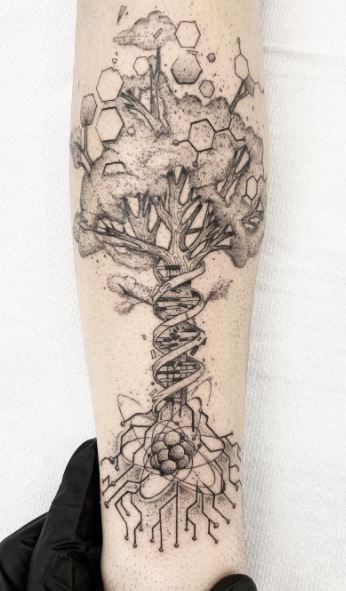 Double Helix Tattoos
These are great for those looking for something simple but want it to stand out. You can make the helix strands with continuous lines (do not make them dotted like actual DNA strands, instead, make them solid). They should go around in opposite directions and either overlap at some point along the strand or come together at one end to form a double-helix shape. The double helix is the most well-known version of this structure but it can also take on different shapes.
Some people get their helix strands with a flat top and bottom, but they can also be round. It is up to you whether you want the double helix shape or if you'd rather have something that looks more like a ladder.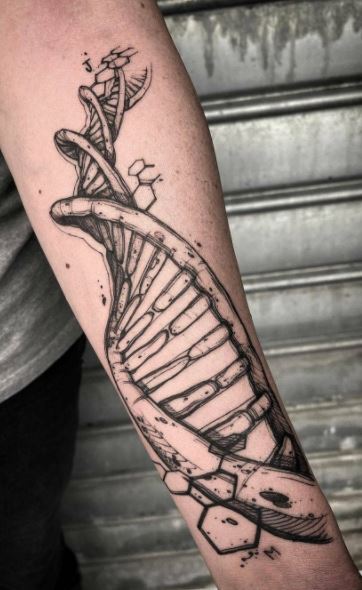 Watercolour
It is possible to create a DNA tattoo in a watercolour style using the amplified DNA to create a design on the skin that resembles a watercolour painting. This can be achieved by using different shades of ink to mimic the blend of colours characteristic of watercolour paintings and using techniques such as feathering and layering to create a soft, ethereal look.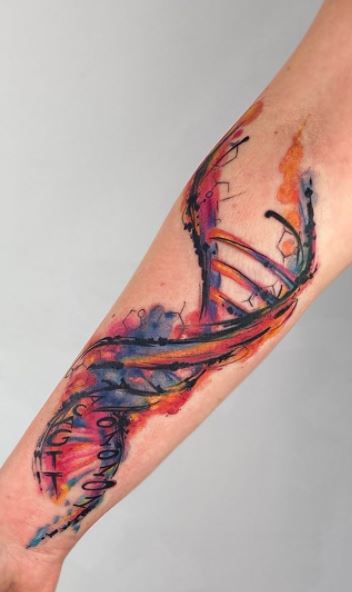 Realistic DNA Tattoos
DNA Tattoo On Arm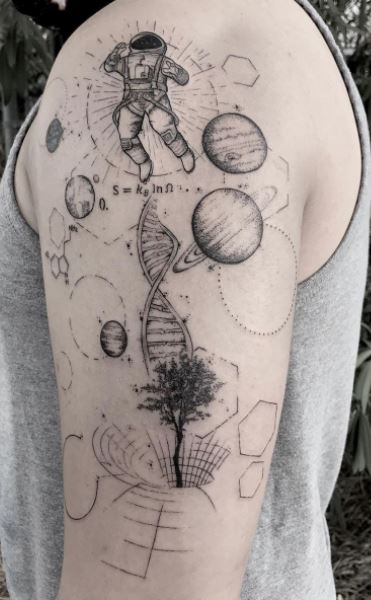 Blackwork
These blackwork DNA tattoos are very masculine and complex. They incorporate various elements to complete the masterpiece.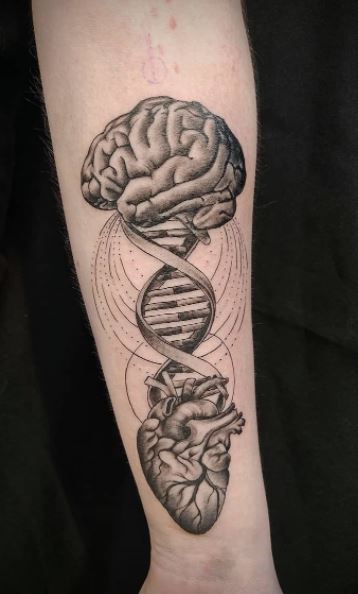 Simple DNA Tattoos