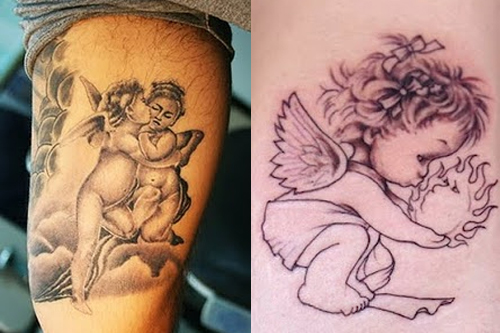 Baby angel tattoos, also known as, cherub tattoos, are considered by many as messengers from God.  They are believed to be our link between heaven and earth. Baby angel tattoos are often seen as child like or baby like in form, with wings.
In western culture we tend to associate them with religious and spiritual meanings. Maybe this is why they are so popular with both men and women. Baby angel tattoos are commonly seen today as memorial tributes or as cute and cuddly images. Remember to look in galleries and seek your tattoo artist's help and advice when selecting your favorite design.
Baby angel tattoos require some discussion. The first will be a memorial baby angel design. Second is the baby angel cupid tattoo design.
Types of Baby Angel Tattoos
Baby angel tattoos can be seen often as a memorial to a loved one. These tattoos are shared for everyone to see but are very personal and heartfelt. A sleeping baby angel tucked in to its own wings could be a good start. As a single color tattoo this will look great. This tat will need a good amount of detail work. With its soft lines this may look very good in dark blue ink. Place the baby angel's hands under his or her head or put the hands in together close to the lips as if praying. This type of baby angel tattoos look fantastic in any size.
A man may want to add a heart or a cross to the art work.  Small ones can be placed just about anywhere you want. Try the nape of your neck, wrist, inside of your arm, shoulder blade or ankle. Talk with your artist about more ideas like adding the name of your loved one or even a floral design. With their help you will achieve that close to your heart and personal look that you will love to share with others.
Baby angel tattoos with cupid as the focus are a fun way to go with this design. There are many styles you can find of this tattoo. You can find everything from tribal designs to colorful and a little humorous. Cupid tattoos can be found on men and women alike representing their love for each other. They can be found holding a heart shape in their hands or even a holding a love banner. The baby angel tattoos can be set in many different poses each giving a new meaning. A popular pose is with its bow and arrow, gold harp or in a praying image. These tattoos look great with a lot of different colored ink. Your tattoo artist can help with sizing and placement location.
Baby angel tattoos may be the right choice for you. They have qualities that appeal to both men and women. They look excellent in small form, and in single or multiple colors. Their personal message can represent your inner self. Look at the galleries of pictures and discuss with your tattoo artist the various ways you may want to display your new body art.
Images of Baby Angel Tattoos