Sugar Skull Tattoos – Designs, Ideas & Meaning of Sugar Skull Tattoo Designs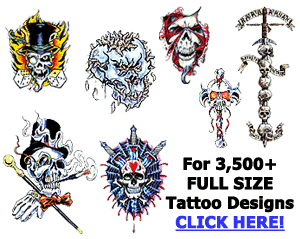 Sugar skull tattoos are colorful, cheerful and sometimes even a little comical. They represent a sad time in life but in a very positive way. The tattoo of the sugar skull is in celebration of your loved one who has passed on. The use of sugar art, including sugar skulls dates back to the twelfth century. They originate from Mexico with the very festive Dias de Muertos (Days of the Dead) celebration. On this day, families celebrate and honor their deceased. Sugar skull tattoos have no set of defined rules in their design. The size and shape of the skull, the colors used, the detail and any items added, are your choice. They normally have one thing in common and that is their use of multiple bright colors. The only known taboo is no copying of someone else's design. With the information just given, we can now discuss some ideas that may help you when looking for sugar skull tattoos.
A good place to start is with your tattoo artist. They will have help in the form of galleries and their experience will prove to be very handy. First you will have to decide your sugar skull tattoo will have a funny side to it or maybe a more serious side. If the person you are remembering is a sibling or a friend, using the funny side of sugar skull tattoos is a good way to honor the fun and good times you shared. You might notice that a little more of a passive presentation will be designed for an elder out of the respect for the love and close bond you both shared.
As stated before sugar skull tattoos have one thing in common, color, color and more color. Using images that are significant to your loved one give it meaning. If a rose is used, try using bright vibrant reds, purples, blues or oranges. Flowers are used often as the backdrop, with the skull set in the center of the flower. Flowers are also popularly often used in the forehead and eye socket of the skull. Tie dye gives the skull tattoo a great 60s look and is very colorful; it may even add a Grateful Dead (the band) image to it if that look is appropriate. Pirate hats and themes also look great in sugar skull tattoos; with colorful eye patches, bandannas, gold coins and knifes, that will remind you of the mischievous side of someone. A white skull with green vines wrapping around the skull with hearts on the side and a spade symbol for the nose is pretty cool also. Sugar skull tattoos are most often seen on the bicep or even forearm for easy visibility , but look great on the back or chest also.
When considering a sugar skull tattoos as a memorial piece for your loved one, have fun with it. Use things that bring back happy memories every time you see it. Use bright colors when possible. Use your tattoo artist's knowledge and experience along with their galleries to your advantage, and you're sure to find the right tattoo for you.
Images from:
amy_b and brokenarttattoo