Wolves are strong and fearless creatures, and there is a lot of symbolism associated with them. Because wolves usually move in packs, they are often associated with strong familial connections or loyalty to a specific group. A wolf tattoo depicting more than one wolf is usually thought to capture this idea, since the wolves are devoted to the pack and one another.
However, wolves can also symbolize dominance and power. Because wolf packs are led by an "alpha dog," they represent a sort of hierarchy in which one person has power over a larger group. This dominance and power can also be interpreted as leadership. Many people who find themselves in leadership positions find that a wolf tattoo is a suitable choice for them.
In Native American cultures, wolves are thought of as teachers and pathfinders, and they are considered to be very wise and knowledgeable.
If you are considering getting a wolf tattoo, check out these images for inspiration.
Fearsome Wolf Tattoo
This wolf appears as though it is tearing through skin.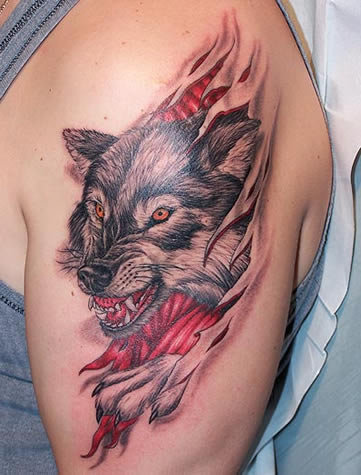 Wolf and Rose Tattoo
A wolf's head rising out of a bed of roses is both romantic and intimidating.
Wolf Head Tattoo
This design of a wolf's head is simple and iconic.
Wolf Back Tattoo
This tattoo of a wolf's head makes for a very masculine back tattoo.
Insanity Wolf Tattoo
This snarling wolf head tattoo looks a little bit deranged, but sometimes that's exactly what you need for a work of body art.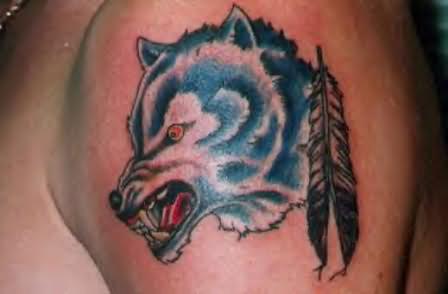 Intense Wolf Tattoo
This wolf looks extremely intense and intimidating with its teeth barred.
 Fury Wolf Tattoo
The details of this wolf's fur make for a really beautiful tattoo.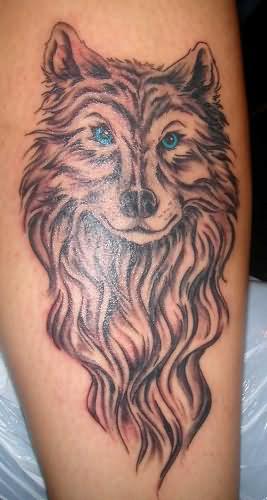 Tribal Wolf Tattoo
This tribal tattoo is especially masculine with the addition of a wolf image.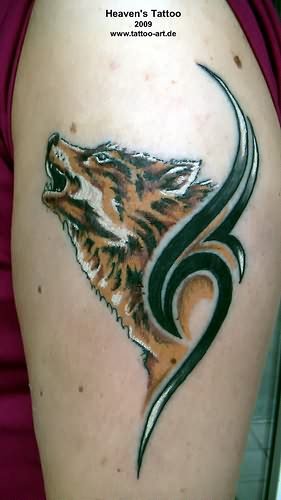 Blue-Eyed Wolf Tattoo
The feathered look of this wolf's fur is accented by its bright blue eyes.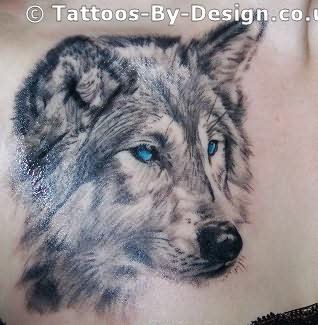 Wolf and Feathers Tattoo
This wolf tattoo is completed by a pair of Native American feathers.
 Angry Wolf Tattoo
This angry wolf tattoo is fierce and intimidating.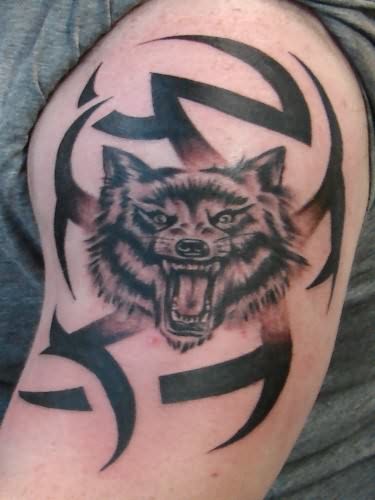 Colorful Wolf Tattoo
The colors on this tattoo bring the wolf to life.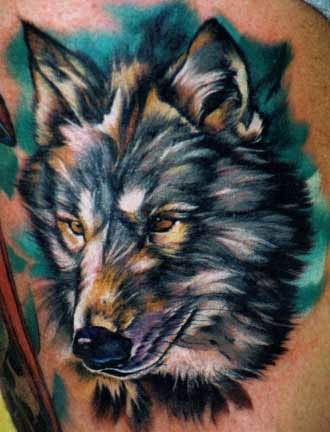 Howling Wolves Tattoo
Two wolves howl on this shoulder tattoo.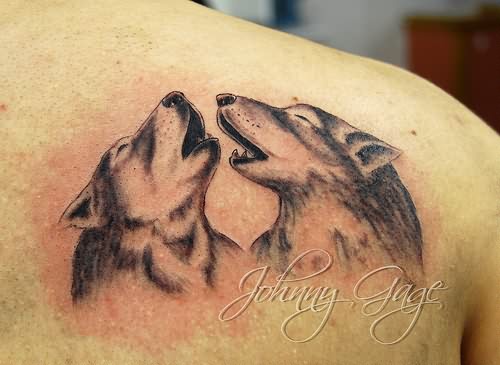 Wolf and Moon Tattoo
This wolf, on the background of the moon, has a distinctly Native American vibe which comes from the feathers.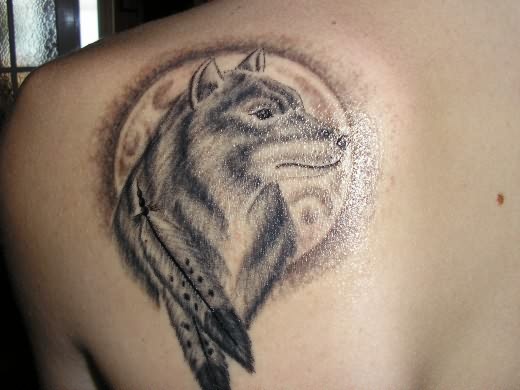 Wolf Outline Tattoo
The outline of this wolf tattoo is completed by the coloration of its eyes.