Many people choose to get star tattoos for a variety of reasons. Whether it's a tribute to a favorite childhood memory, a symbol of allegiance to a country, a representation of religious beliefs, or simply a love of outer space, stars have come to represent many ideas and lifestyles. For that reason, they also make for great tattoos. Because stars can be as large, small, simple, or intricate as you desire, there are countless options for design and placement of star tattoos on your body.
Below are some beautiful examples of what can be done with different variations on a standard star tattoo.
Celestial Back Stars
With some stars shaded and others remaining in their outline form, this tattoo flows beautifully down the woman's back.
Red Star Outline
This red star with a hollow center puts a unique spin on the typical star tattoo, and placing it next to a meaningful word sets this ink apart.
Black and White Stars
This tattoo uses black and white ink to add a little sparkle.
Mysterious Star Tattoo

Cool tones and shading give a sense of mystery to this pentagram star tattoo.
Whimsical Partial Sleeve
This partial sleeve incorporates stars and swirls, and accents of blue and yellow make it stand out in the crowd.
Bold Tricep Star for Men
This guy uses bold, black lines to give this tattoo a masculine feel.
Nintendo-Inspired Star Tattoo

This yellow star tattoo from Mario, complete with music notes, is a fun tribute to a much-loved video game.
Stars in the Shade
Unique use of shading forms these stars in the background of another tattoo.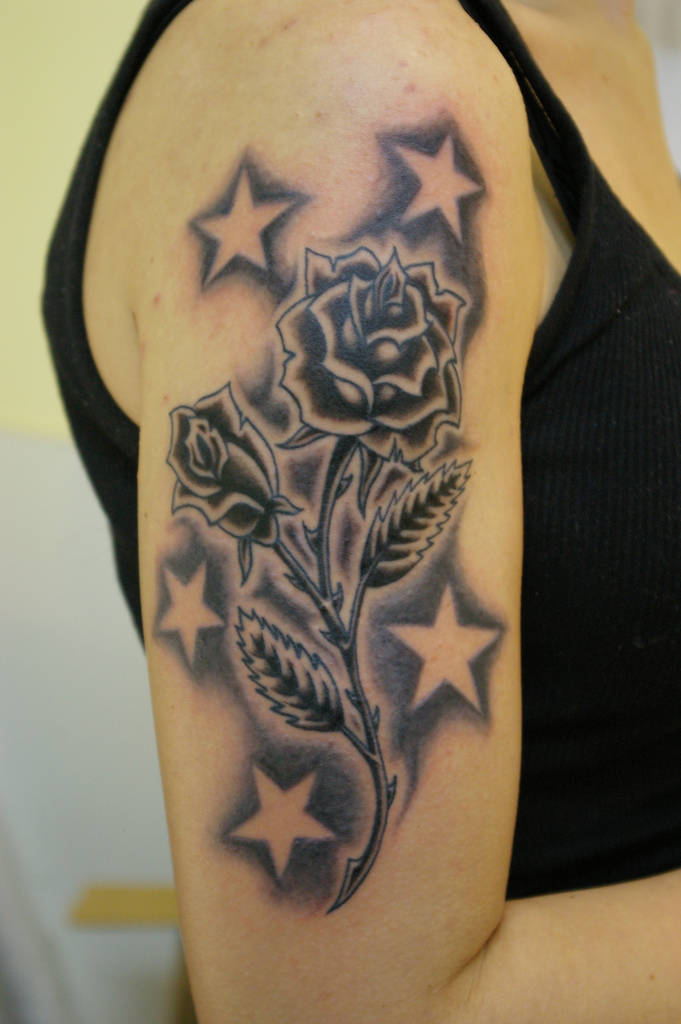 S Constellation
This individual used star outlines to form a larger S shape constellation on their arm.
Black and Red in Three Dimensions
This tattoo uses color and shading to form a cool, three dimensional appearance.
Colorful Mario Star
This star tattoo, also inspired by Mario, is surrounded by smaller, vibrant stars that give it a sense of life.
Blue Swirl
This star is colored with a blue spiral pattern, which could be a nod to another celestial theme.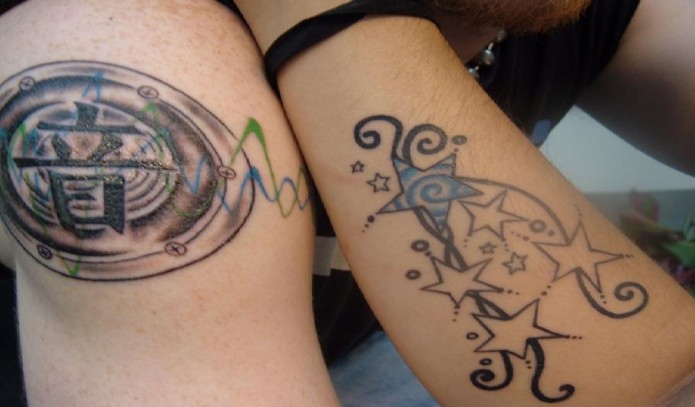 Stars and Sides
This woman chose to place several bold, black stars on her side; while they will be undetectable in most clothing, beach-goers will appreciate the beautiful precision of the sharp lines.
Blue and Yellow Foot Tattoos
These small blue and yellow stars are a perfect accent to any open-toed shoes.
 Stars and Dots
This combination of stars, lines, and dots makes for a very whimsical tattoo.
 Subtle Hairline Star Tattoo
This tattoo, placed just below the hairline, can be a reminder to reach for the stars.
 Vibrant Blue Star
The bright coloring in this star might serve as a reminder of the wearer's religious beliefs.
Behind the Ear
This woman can easily conceal her dark star tattoo by wearing her hair down, but by putting her hair in a ponytail she can display her ink with pride.
Ankle Constellation
These stars look like a constellation on a woman's ankle, and they flow perfectly onto the top of her foot.
Hearts and Stars
These red and black stars have hearts in the middle, indicating a love for outer space or a special star in someone's life.
Patriotic Stars
Coupled with the image of rising sun, these stars pay tribute to national patriotism.
Punk Stars
These three stars give off a punk, nonconformist vibe.
 Bold black star
Perfectly centered over the elbow, this star is bold and unexpected.
Death of a Star
The skull image seen in this star is an edgy spin on the delicate star tattoo.