Throughout different cultures all over the world, lions are a symbol of power and royalty. Kings and Queens often placed a lion on their coat of arms in order to show a symbol of their supremacy and power, giving lions an ages-old association with the royal crown.  As the dominant predator in any environment they encounter, lions are also representative of great strength and power. This has given them the title "King of the Jungle."  Because lions are nocturnal animals, they are also thought to be dominant over subconscious thought.  Their power was thought to be so great that many ancient cultures equated lions with images of their mighty Gods. The lion is also a symbol of courage, bravery, and loyalty, making it representative of many admirable qualities.
If you are considering getting a lion tattoo to symbolize your own strength and power, here are some great examples of lion body art.
Royal Lion Tattoo
This intricate lion tattoo comes complete with a highly detailed crown.
Blue Lion Tattoo
This blue lion tattoo is done in a style commonly found on the family crests of Europe.
Orange Lion Tattoo
This lion tattoo, done in orange, appears to fade into flames.
Roaring Lion Outline Tattoo
Bold lines and geometric shapes create the outline of this roaring lion.
 Detailed Lion Tattoo
The details on this lion tattoo, especially its eyes, bring the beast to life.
Determined Lion Tattoo
Coupled with a mantra that demands success, this lion tattoo encourages the person who has it to be courageous.
Peaceful Lion Tattoo
This lion tattoo appears to be calm, indicating a silent but strong beast.
Lion Head Tattoo
This roaring lion's head makes for a great chest tattoo.
Fierce Lion Tattoo
Red and black ink give this lion tattoo a memorable appearance.
Studious Lion Tattoo
A top hat and monocle give this beautifully shaded lion a studious appearance.
King of the Jungle Tattoo
This lion tattoo takes the title "King of the Jungle" literally, giving the lion a crown of jewels.
Tribal Lion Tattoo
Tribal designs work together to create this masculine lion tattoo.
Hunting Lion Tattoo
With his mane billowing behind him, this lion tattoo has the appearance of the subject being on the hunt.
Roaring Lion Tattoo
Dark, bold lines and a fearsome expression give this lion tattoo an intimidating look.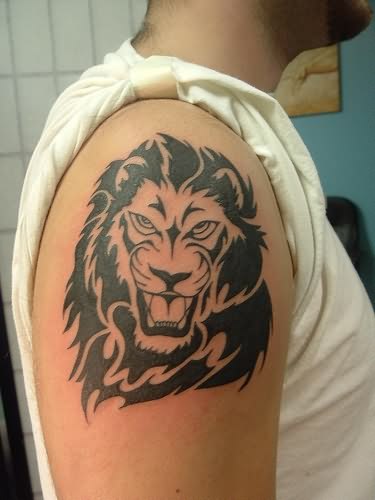 Lion and Cub Tattoo
This male lion interacts affectionately with his cub, representing family values.