Clowns have been around for centuries. Throughout history, there were court jesters hired to entertain royalty, mimes who entertained the masses, and circus clowns that put smiles on children's faces. While these brightly colored circus clowns are what most Westerners think of when they hear the word "clown," in other parts of the world it is very common to have sad clowns who use their clowning as a true art form of expression. No matter what form the clown takes or what they look like, clowns have traditionally entertained people with forms of self-deprecating humor.
Since the release of Steven King's "It," however, many people have come to associate clowns with insane serial killers. It isn't such an irrational fear; in all of that makeup, a clown could truly be anyone.
Whether it is a sad artistic clown, a bright circus clown, or a murderous clown, many people have chosen to get clown tattoos because of the wide variety of emotions that these characters show. If you are looking for a clown tattoo, check out some of these tattoos for inspiration.
Suicidal Clown Tattoo
This really dark, grim tattoo is not for the faint of heart.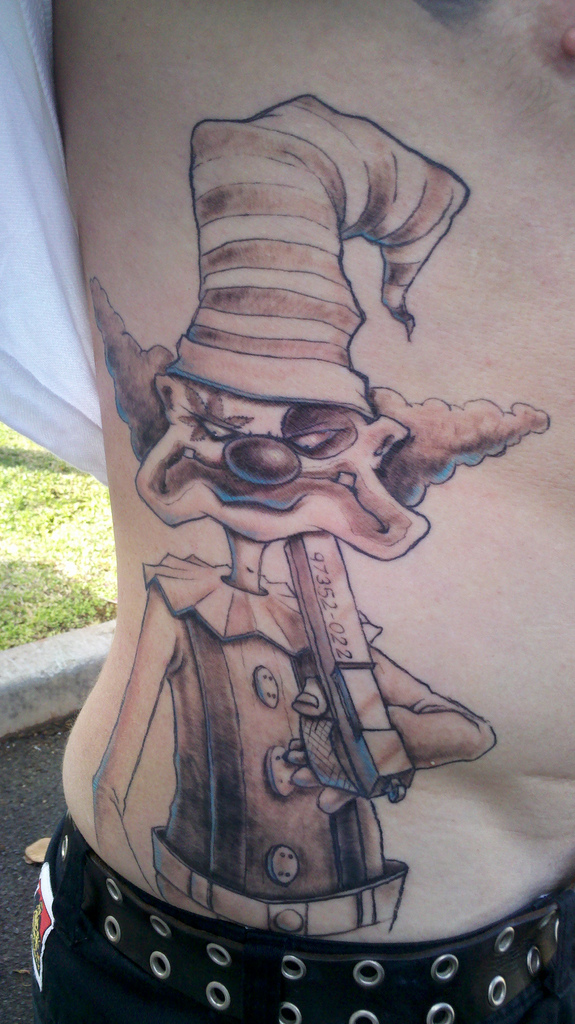 Evil Jester Tattoo
The diabolical look in this clown's eye means that he's up to no good.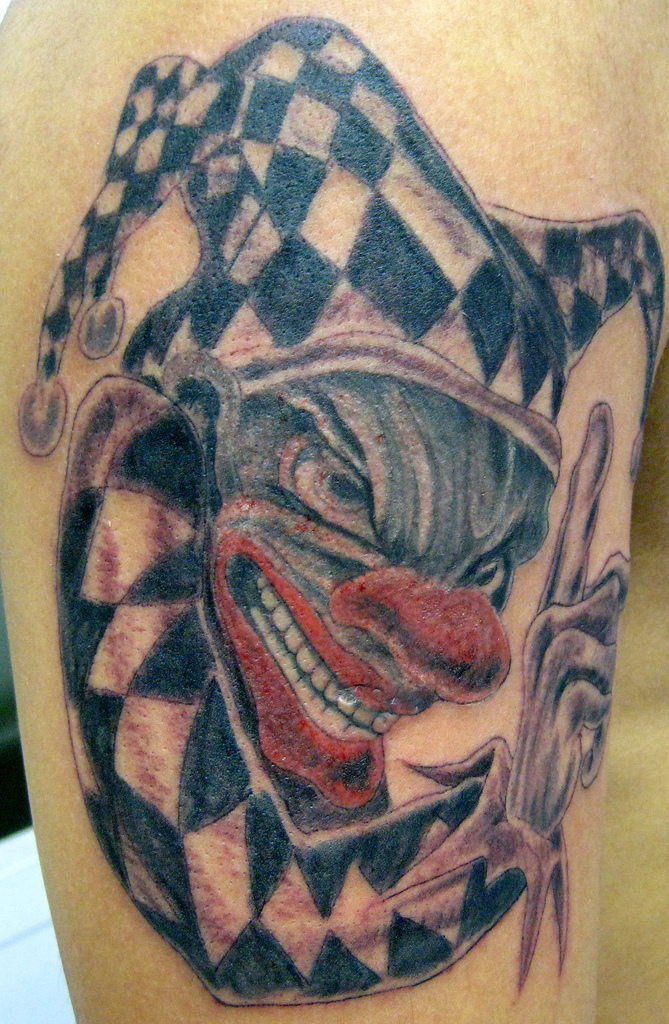 Ghostly Clown Tattoo
Images of several different clown heads emerge from the cloud above the Golden Gate Bridge.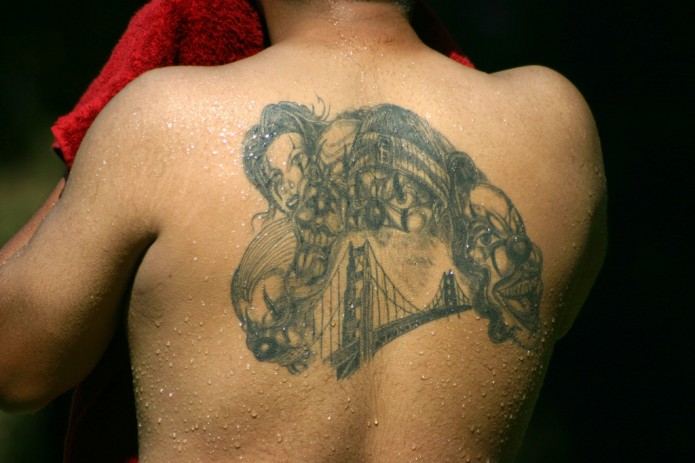 Circus Clown Tattoo
This clown tattoo has all of the standards, including the round red nose.
Crazy Clown Tattoo
Blue hair and intense, crazy eyes make this clown look certifiably insane.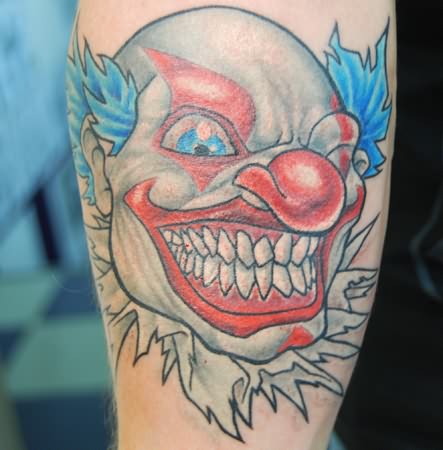 Devil Clown Tattoo
This tattoo pretty much sums up how a large percentage of people feel about clowns.
Razor-Tooth Clown Tattoo
If your goal is to terrify the pants off of everyone you meet, then this evil clown tattoo will do the trick.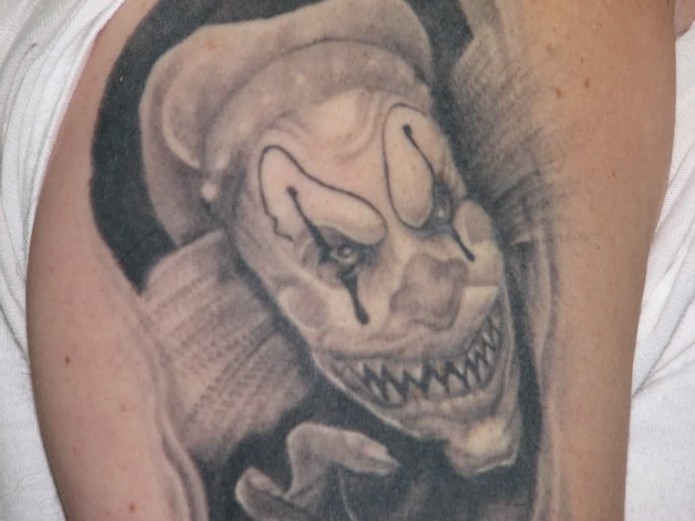 Sad Clown Tattoo
This intense portrait of a sad clown is done with great shading and attention to detail.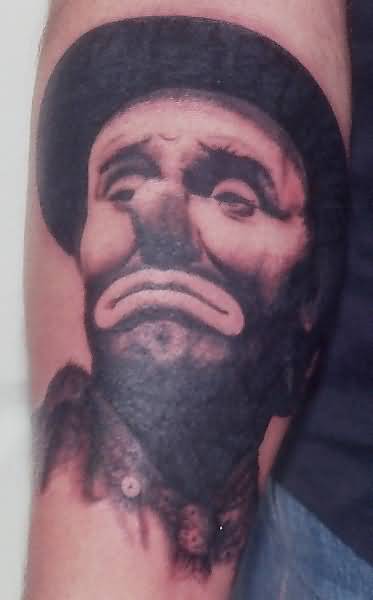 Inquisitive Clown Tattoo
Instead of looking terrifying, this clown tattoo actually manages to capture the kind of clown you might see at a child's birthday party.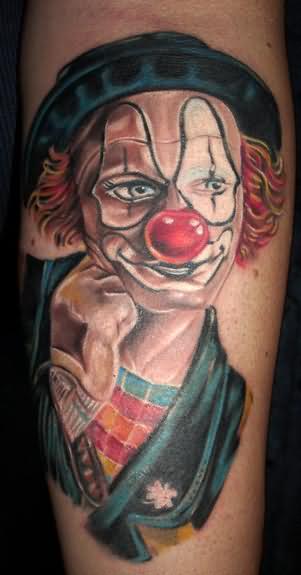 Joker Tattoo
This green-haired clown can be none other then The Joker from Batman.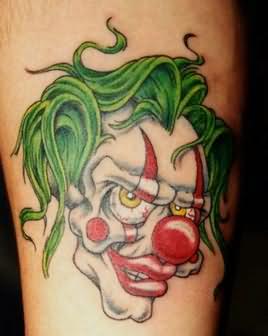 Comedy and Tragedy Clown Tattoo
The traditional masks of comedy and tragedy are interpreted in a new way in this clown tattoo.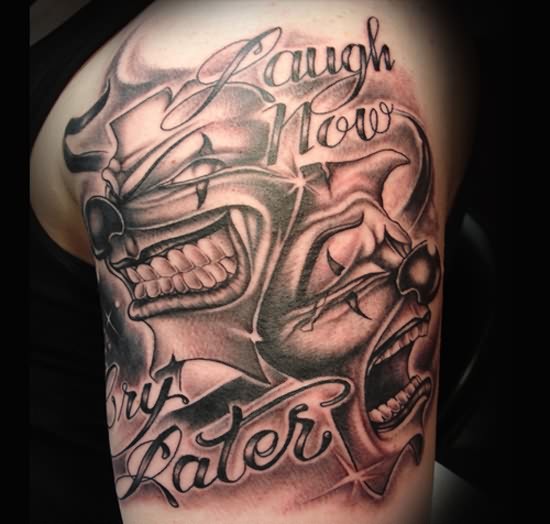 Dead Clown Tattoo
This combination of a skull and a clown is creepy, but has a Day of the Dead vibe to it.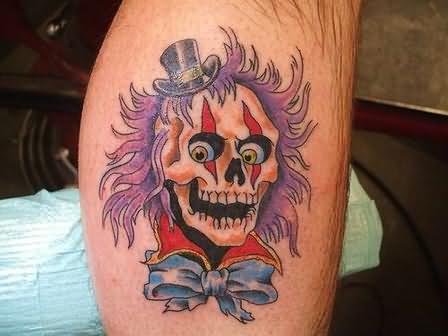 Yelling Clown Tattoo
This clown appears to be screaming; it might have something to do with the blood seeping from its orifices.
Creepy Clown Tattoo
This clown appears to have burrowed into someone's flesh. Nothing creepy about that.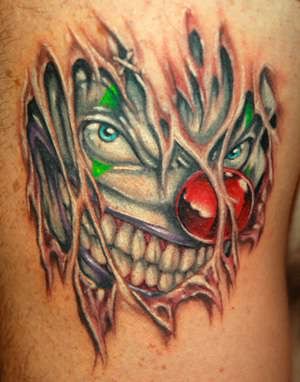 Deranged Clown Tattoo
This terrifying clown is really serious about rolling that die.