Many people throughout the world are fascinated by Chinese culture, and some choose to get Chinese tattoos that reflect the Chinese culture or style of art work. One very popular image in Chinese culture is the dragon. In contrast with Western cultures, Chinese dragons are thought to be good omens and have domain over the elements of air and water. These more peaceful dragons are thought to be a sign of prosperity and good luck.
Chinese lettering tattoos are also very popular images for tattoos. Instead of writing out a word using letters as we do in English, each word has a different, unique symbol in Chinese. Because the intricacies of Chinese writing are so detailed and difficult to master, it is a good idea to get any ideas for Chinese writing tattoos double-checked by a professional or native speaker.
If you are considering getting a Chinese tattoo, whether it be an image or a character, check out some of these images for inspiration!
Chinese Fan Tattoo
This traditional Chinese fan combines with the rope to form a treble clef.
 Chinese Yin Yang Tattoo
This yin yang tattoo features a Chinese character in the center.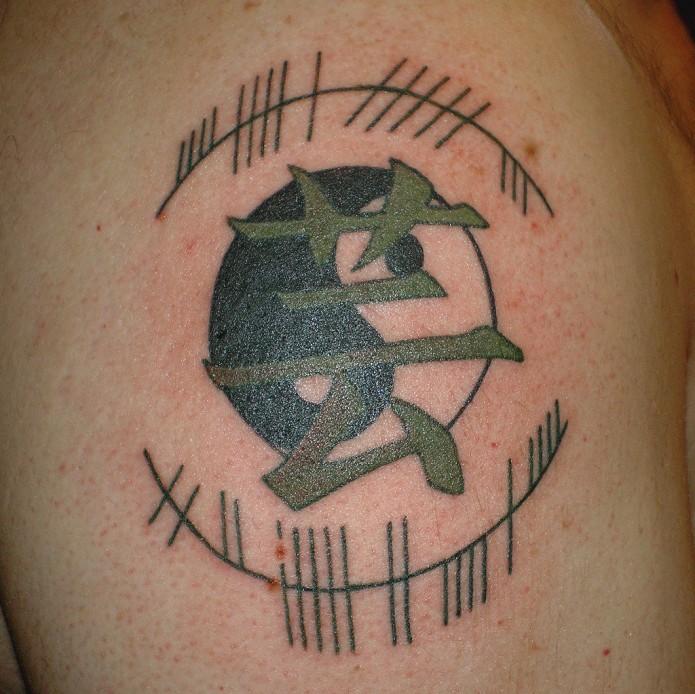 Chinese Lower Back Tattoo
The wings on this yin-yang give it the perfect shape for a lower back tattoo.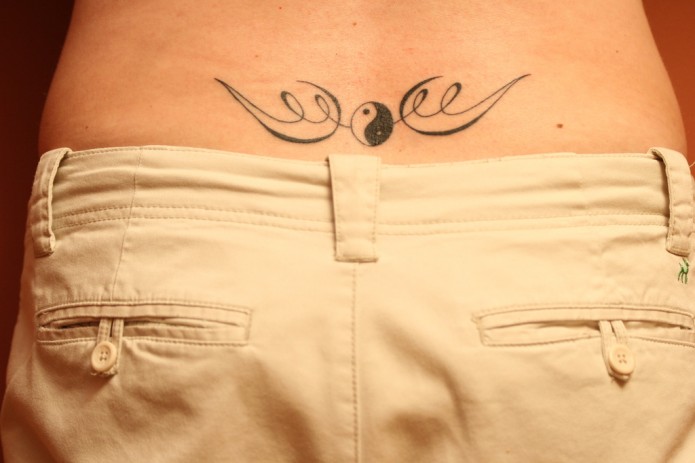 Chinese Communist Tattoo
This skull tattoo incorporates many symbols of communism.
Chinese Political Tattoo
Chinese writing at the top, accompanied by attractive women sporting weapons and symbols of communism, give thi Chinese tattoo the impression of being political.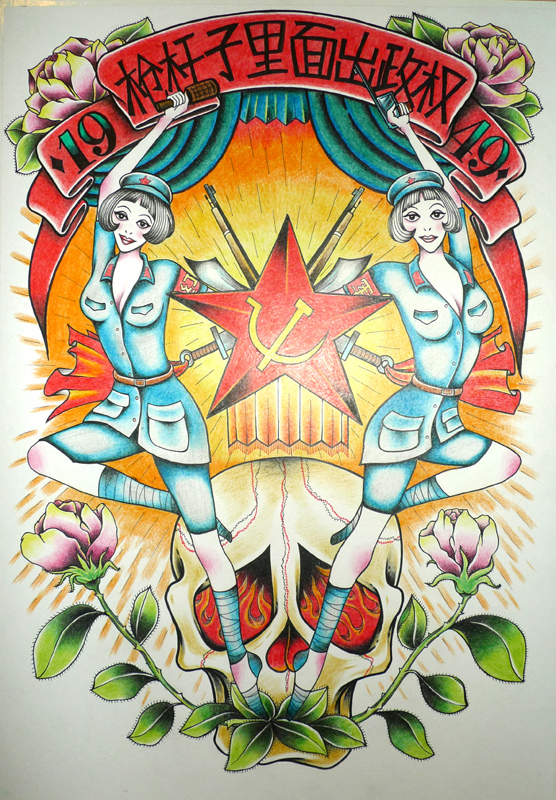 Colorful Chinese Tattoo
The bright colors of this tattoo of a woman pays tribute to the vibrant culture of China.
Chinese Writing Tattoo
Chinese characters on the wrist give great meaning to this Chinese tattoo.
Chinese Characters Tattoos
Below are some popular Chinese characters used in tattoos.
Chinese Firework Tattoo
Flowers and stars erupt in an image of a firework in this Chinese tattoo.
Chinese Dragon Tattoo
This Chinese-style dragon tattoo is carrying a symbolic Chinese character.
Chinese Mask Tattoo
This red mask is a bright and intricate tattoo.
Chinese Back Tattoo
This beautiful and detailed back piece is a tribute to Chinese culture.
Unique Chinese Character Tattoo
This Chinese writing tattoo is accented by swirls of black and red, with small rose blooms.
Chinese Sun Tattoo
A small dragon located inside the sun is a reflection of two images important to the Chinese culture.
Chinese Lower Back Tattoo
The bright colors of this tattoo are a reminder of the vivid Chinese culture.
Chinese Man Tattoo
The garments that this man wears appear to be symbolic of all of China and its civilizations.