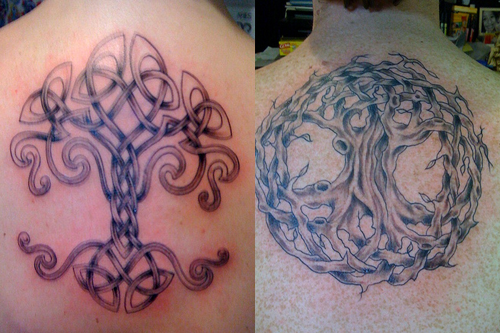 Celtic tattoos for men have seen a rise in popularity once again in recent times. Most Celtic tattoo designs have a deep hidden message to them, and are rich in folklore and history; not just simply dark lines in patterns. The popularity now days of Celtic tattoos for men may be of a symbolic nature or just for love of the intricate and interlaced work. We will discuss some tattoo designs ideas, along with color choices and possible placement and sizing of your new tat. There are many patterns available to choose from these days.
Ideas for Celtic Tattoos for Men
The first idea for Celtic tattoos for men will be the ever popular Celtic cross. Try this design in five separate parts with the center as a circle. This being the focal point, try using a three leaf clover or initials of a loved one. The four branches of the cross can be done in classic knots. Dark purple or dark blue ink will keep that classic look. Color can be added to give a personal touch. This may look great with green in between the knotting and the clover. This Celtic tattoo for men is most often seen on the upper arm or center of the back, as a large piece of body art.
Animal Celtic tattoos for men are a fun way to go also. Zoomorphic (Animal shaped) Tattoos use the shape of the animal or even animal and human features blended as one.
The Celtic war horse tattoo often shows just the head and mane. The image looks very good in dark blue or purple ink. The use of knots and spirals in the pattern will give the feeling of movement. Try using dark blue ink in the pattern with purple ink used to add highlights to the war horse's mane. Most often these are seen on the shoulder blade, fore arm, chest or lower leg. The design works great in a small to medium size.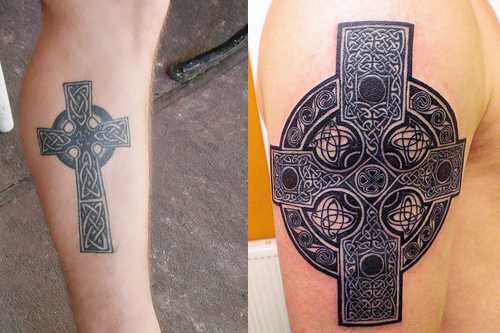 Celtic tattoos for men with a Celtic knot design are commonly seen. They are also known as mystic or endless knots. They represent eternity and look as if they are an endless intertwined loop. Celtic knot designs appear in circle shapes, diamond patterns, stars, triangle and arm bands. Celtic tattoos for men inked as an arm band design look great with color. Using green in the knot keeps a classic look. The use of dark red, purple, yellow and blue contrast perfect, with the dark ink. This art work is most often seen as a large bold tattoo. Your chest, back, upper arm and lower leg are great locations to show off your Celtic tattoos for men knot art work.
If you are considering ideas for Celtic tattoos for men, hopefully this has helped a little. We have looked at a few patterns, color choices, tattoo sizing, and good locations for their placement. You will have no problems finding perfect Celtic tattoos for men looking at the galleries and talking with your tattoo artist for their advice.
More Celtic Body Art for Men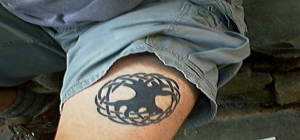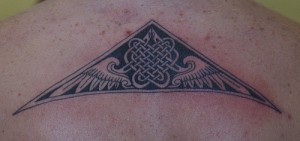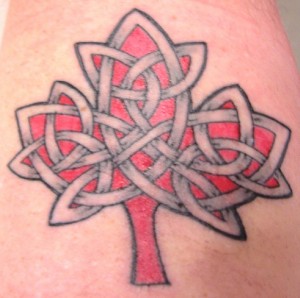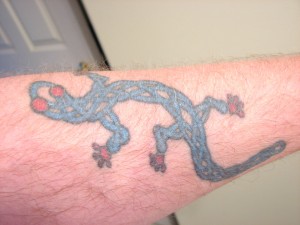 Related Articles
Images from:
denaldo and Tattoo_Lover