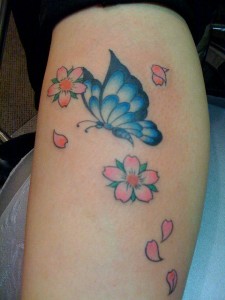 Small butterfly tattoos are a popular choice for women. This is not only because of their beauty, but also because of the meaning attached to butterflies themselves. The butterfly symbolizes growth, freedom and life changes. These are all wonderful associations, and the main reasons that people opt for small butterfly tattoos as opposed to larger ones, is that the butterfly is a delicate creature. When one is tattooed in a large design, it can look overdone and unrealistic.
Getting a small butterfly tattoo leaves room for artistic freedom and creativity. Since real butterflies come in a multitude of prints and colors, no matter what you choose, it will look realistic and beautiful. For your small butterfly tattoo, you can choose from the 50,000 species in existence or create one in your own image. You can use tribal designs, Celtic designs or any other design you can dream up.
Many people choose to have their small butterfly tattoo placed in the following areas; the back of the neck, he should blade, the shoulder itself, the ankle, the hipbone, the stomach and the foot. These are all perfect locations as they are feminine and place the tattoo in an area that looks as if it truly belongs there. Having a smaller sized tattoo also allows for future, or even current, additions. Many people opt for an extra design around their small butterfly tattoo and others add names or other words that have a special meaning to them. When it comes to small butterfly tattoos, the possibilities are endless.
Small Butterfly Tattoo Designs
Check them out in FULL SIZE – Click here.
More Small Butterfly Tattoos
Beautiful Butterfly Photos
Related Articles