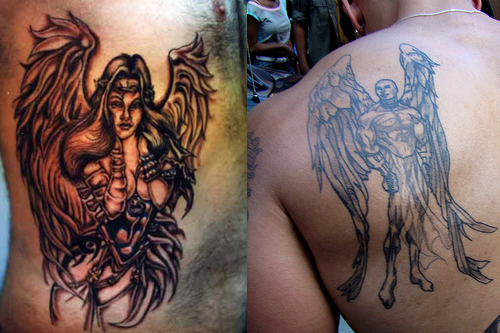 The reason a guy might search out designs of angel tattoos for men are numerous.  They include, but are not limited to; spiritual beliefs, respect for archangels, love of their guardian angel, recognition of the existence of good versus evil, a reminder of his faith, to show sensitivity, represent his female or male friend, and to immortalize a deceased loved one. Each of these topics will send a personal message or symbolic meaning when wearing as body art. You will need to keep that in mind when designing the tattoo with your artist.
Spiritual beliefs of men are often depicted by using an angel tattoo.  An angel is recognized by many cultures as an intermediary between God and his creations.
Types of Angel Tattoos for Men
Angel tattoos for men are frequently archangels.  In the western world the most popular is Michael.  Common among all beliefs is that Michael is a warrior for God and he is time and again depicted in images, pictures and by tattoo artists, wearing armor and wielding his sword.  He is frequently illustrated with his foot on the back of evil.   Many men wish to represent that they too, are a warrior.  Michael is a great choice when searching out ideas in angel tattoos for men.  If you want your tat small but allow for detail, you may want to consider Archangel Michael alone.  A good location for Michael alone would be an arm or leg to allow for length.  There is opportunity to expand on this theme, if you happen to be a fan of good versus evil, in which case you may want to consider putting the tat on your back.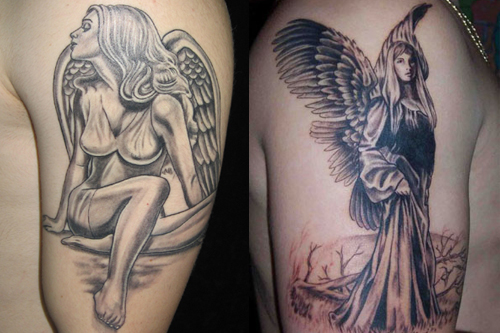 Depending on how much skin you want to devote to this tat, the possibility for creating an outstanding angel tattoo is wide open. As mentioned earlier, Michael standing on the back of evil is an image we see a lot.  Many photographs include evil.  Evil can be symbolized in a couple of different ways.  Some images use a dragon and others the devil.  These types of angel tattoos for men leave two doors open for design; one, the design of Michael and secondly the design of evil.  Lastly, there is further opportunity in design, when you and your artist decide how Michael and evil will interact. Michael is also recognized as a protector of God's children on earth, which takes us to guardian angel tattoos for men.
Guardian angel tattoos for men are considered to be a personal vision of your guardian angel.  A guardian angel protects and guides you through life.  The chest would be a good spot for this type of tattoo because if you're a really symbolic person, you'll keep that guardian close to your heart.
Other ideas for angel tattoos for men lean more toward the emotional side.  Angel tattoos for men are used to symbolize their female love, to show their sensitive side, and as a memorial to a deceased love one.
Many times, men will wear a memorial tattoo on their back, however another possibility is to design a tat that somehow symbolizes the personality of the deceased only in the angelic form they now inhabit.
Angel tattoos for men seem to be symbolic of deep inner beliefs or emotions.  Study the gallery, pictures, images, videos and other art before choosing an angel tattoo design.
Angel Tattoos from the TattooMeNow Gallery
Images from: