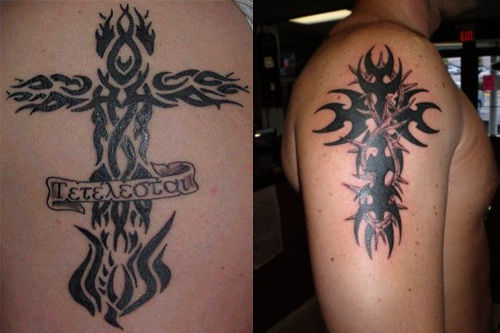 Tribal cross tattoos can have different meanings. This is completely subjective. The Christian cross has a religious connotation. In general, you will see it used in personal memorial tats or for a display of your faith. The Celtic cross is believed by most to represent the sun and all of its power. The tribal cross continues to be spiritual or symbolic in meaning. For instance, many people wear this design to identify with a certain tribe as well as show pride in their heritage. With all that said, in this article we will discuss in small detail a few tribal cross tattoos that are often seen today.
In modern times we find tribal cross tattoos used more often to have your body art noticed in a crowd; the bold dark colored ink stands out very well. This tat is also a great ice breaker for finding friendship or attracting the opposite sex. The classic tribal cross, the tribal floral cross and tribal Celtic cross tattoos are very popular.
Classic tribal cross tattoos have a design that is all their own. Even the basic design, with its bold dark ink with broad strokes, sharp edges and symmetrical design gets attention wherever you go. This tat looks great in black or dark blue ink and works well in a large scale; most often seen on the arm and shoulder and sometimes blending in the upper body. Talk with your tattoo artist about their tribal cross tattoos they have in their galleries and ink colors for that personal touch.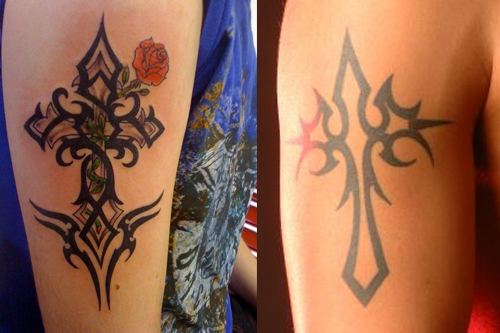 Tribal cross tattoos with floral features can add a soft side to this art which is popular with women. Once you and your tattoo artist have completed your tribal cross tattoo design, try using a floral boarder or maybe just 2 roses with their stems crossed; the tribal sharp edges of the petals of the flower and the leaf look remarkable and with dark red ink for the rose and dark neon blue and a soft yellow for the floral pattern. Adding floral themes may just give the tribal cross tat the feminine look a woman may want. This design looks great in an armband.
If you are in the market for tribal cross tattoos you may consider one with a Celtic background. The Celtic and tribal styles blend together very well. Try blending a band of single twist knots as a border or weave through the cross. The use of Celtic spirals and animal designs work very nice. Keep in mind that Celtic animals are symbolic and have meaning as well. If you're an animal lover or have an animal totem, using it or them in your cross tattoo can add a special touch. Your tattoo artist can add light coloring and shading to give this tattoo some life. This tattoo looks great on the shoulder blade, upper side of the chest, bicep and calf.
When shopping for tribal cross tattoos, be sure to look at as many gallery pictures as you can and find one that fits your personality or lifestyle.
Images from:
http://www.freecrosses.com and http://www.bestqualitytattoo.us