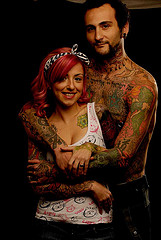 Love tattoos for couples may just be the way for you and yours to show everyone in your life the comment the two of you have made. Tattoos for couples have a long history and offers many different serious to funny designs to convey your message. Tattoos for couples will give you and yours along with the tattoo artist so many different directions to go with. Here are a few ideas for love tattoos for couples you can use; wedding ring bands or bells, love quotes, hearts, names, key and lock, or anything that appeals to the two of you.
Ideas for Love Tattoos for Couples
Love tattoos for couples with wedding rings or bells have that timeless and classic look that some couples are looking for. A quick tattoo idea here would be matching rings in gold with your names in each other's ring or the same in two silver bells with name and date of marriage.
Tattoos for couples with love quotes are very popular as well. The quote, "Always and forever for the rest of our life", can be inked in whole on both of you or half of the quote on each of you. The "Love always" quote works well here also, and you can also add your child's name to the bottom of the quote. Tattoos for couples with hearts have a classic appeal to them as well. Once you both have your heart design inked on your body, you can add your names, date of marriage, children's name our quote. Then you can add flowers or scroll work to give a finishing touch.
Tattoos for couples look great when using both of your names, and can be fun to design. Most often couples name tattoos are seen with each of you having the others name in ink, but use your imagination here and have fun, by using a nick name possibly. Tattoos for couples in the popular key and lock design, are seen quite often these days, due to their timeless great looks. Most often the key will be inked on the man and the lock on the women. Try using the classic skeleton in brass with the women's name in it for the guy and a heart shaped lock for the women.
Love tattoos for couples with personal items that the two of you enjoy are a safe way to go also. You could use Mickey and Minnie mouse, heart and moon, Bonnie and Clyde; as just a few ideas to get things rolling.
Coloring & Placement of Love Tattoos for Couples
Colors for tattoos for couples can range from simple single dark ink for quotes and name theme to very colorful patterns with reds, silver, gold, brass, copper and any other color you need for any add on items. Placement for love tattoos for couples can range from very small to a medium size. Small couple's tattoos work well on the neck, hands, forearm and lower leg. Medium patterns work well on shoulder blade, upper arm, waist and lower leg.