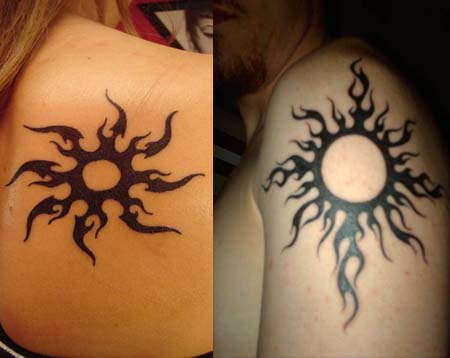 Tribal sun tattoos are very popular. The tribal design style is what you will have to spend time considering.  Tribal designs come from all over the globe. Many have been around for thousands of years.  Their art has been perfected and built upon continuously for all of that time and continues to be.  You can be part of that. The meaning of tribal sun tattoos, if you're looking for meaning, is new life, rebirth, strength, and power.
Ideas for Tribal Sun Tattoos
Tribal sun tattoos can be used in armbands, alone, in Celtic knot, a Maori pattern, and an Aztec design. Armbands are currently very popular and incorporating tribal sun tattoos into your armband would work very nicely. Actually you could create the entire armband with the tribal sun.  Some tribal designs lend themselves more to women or men.  For instance, the Celtic knot design can encompass tribal sun tattoos and still maintain a feminine look for you ladies.  You can create an armband with Celtic knots, twits and loops, with the sun repetitiously inked around the band.  To keep this design more simple so that the sun stands out, you could just surround the suns with the Celtic loops.  The meaning of this tattoo for a female would be one of rebirth, strength, and depending on the loop pattern, could symbolize the never ending circle of life, or if using two loops intertwined; the never ending love you share with another.
For tribal sun tattoos for men some ideas are the traditional Maori style which is very bold and subtle.  They don't scream SUN, and are very popular and blend in with your other tribal art. Adding additional items that represent your personality could be included to tribal sun tattoos such as the Maori shark and turtle.  It's kind of like a totem pole; using different symbols and animals that represent you. The sun would represent your life, the shark your strength and masculinity and the turtle, longevity and long life.
Aztec tribal sun tattoos are a little touchy.  There really is no Aztec sun god.  However the sun has great meaning to those of Aztec descent and many people are desirous of this tattoo.  Study some images and gallery pictures when choosing the Aztec tribal sun tattoos.
Tribal sun tattoos inked alone are not a bad choice; it's good way to start your tribal body art.  It's also a good way to get a small tattoo.  Tribal sun tattoos alone can easily be sized from very small to medium sized.
Coloring and Placement of Tribal Sun Tattoos
Coloring of these tattoos are traditionally dark ink; black or very dark blue.  However, now day's people are starting to add some color here and there.  Color is being added in background in the form of themes or into existing body art.  Another example would be a small tribal sun tattoos in Celtic design on a female's abdomen in bright green, blue, red or orange.
Placement of tribal sun tattoos depend on the style and design you've chosen. For instance, some people like to drape their tribal body art down from their shoulder to their elbow.  Others prefer full back tribal sun tattoos with additional tribal symbols worked in.  It's your body and your preference.
Images from:
http://tattoosdesigns.ws and http://highqualitytattoodesigns.blogspot.com/
http://tattoopics.wordpress.com and http://www.oftattoo.com/