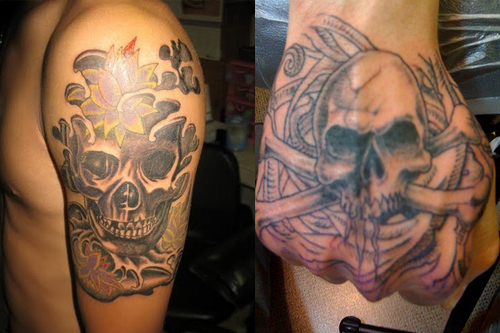 [adrotate banner="28″]
Skull tattoos for men are still just as popular for the same reason as they have always been; for their chilling and fearless look. In recent times, skull tattoos has become iconic with bikers, gang members, and just people wanting to look more menacing and grim. There are however other ways to interpret the skull tattoo than just evil and death. In a positive way skull tattoos for men could mean overcoming a tough time, be military themed, or be just for fun.
Skull tattoos for men overcoming a tough time in their lives is popular. For instance it could help them to stay on the path while kicking their addiction with alcohol or drugs by giving them a visual reminder. Talk to your tattoo artist about how and where to place your skull tat to get that look you want. Placement on upper arm or chest is great so you can see it without a mirror when needed for strength.
Military themed skull tattoos for men are very common also. With the skull tattoo you can simply incorporate your branch of service and unit into the skull or make it a very complex one with equipment, weapons, and flag. Your tattoo artist can help with ideas and arrangement. This tat will look great on upper back, chest and forearm. Be sure to have fun with multi colors.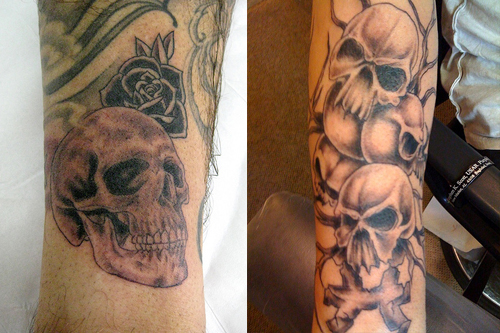 Skull tattoos for men can also be just for fun. Many menacing and chilling tats are worn just for the fun of it. Work with your tattoo artist to come up with the design. You can keep it simple or something you could be working on for a long time. Skull tattoos for men look great when done in themes. Try adding a pirate's hat with sword and pistol crossed behind the skull. There was a very popular movie series a few years back that inspired many pirate theme skull tattoos for men and by keeping soft lines on the tat and bright colors you can a achieve a cartoonish look that your kids will love. These may need more room and look great on the back, bicep or on the calf.
Skull tattoos for men also look great with a flaming background. These tend to be a little simpler; it's just a skull with flames. But a good tat artist can give this work a 3D appearance and it looks awesome. Skull tattoos that have been split in two pieces or more are a great way to go, as well. They give a nice evil look. Some of the upper half of the skull is inked in tribal art and with good tribal art work detail; they're awesome. This tat shows very well in a single color. They wear nice on the shoulder blade, neck, bicep and the calf area.
Skull tattoos for men can be scary, menacing, a memorial, military, tribal, and just plain fun. Shop pictures, images, the gallery and talk with your designer about the skull tattoo that fits your personality.
Images from:
Tattoo_Lover and mytat_2
micaeltattoo and mytat_2