Maori Tattoo meanings and designs actually translate to Maori symbolism. All Maori tribal type tattoos mean something. Not only does the tattoo itself symbolize something important in Maori tattoo meanings, where you put it, has serious implications, especially if on the face.
In the current culture, there seems to be two differing sets of opinions and actions taking place; concerning being tatted with a Maori symbol. Some people do not take the culture and history of the Maori moko seriously or they aren't aware, and others want to be compliant when using a Maori tattoo.
Maori Tattoo Meanings
All that being said here are some common symbols and their Maori tattoo meanings:
Bird like figure – Normally this design is represented with a fish tail, a human body, and bird head. Wearing this symbol is believed to be protective in many ways, and to guide your spirit on to the next path. Because of the length versus the width of this design, it would wear well on an arm or leg by men or women.
Single, double and triple twists – In the world of Maori tattoo meanings, the single, double and triple twists appear to be considered a basic tattoo. The single twist represents your path in life. The double and triple, however carry further meaning. These twists represent friendship, the path of two lives that have intertwined and become one. Some information about Maori tattoo meanings, implies that even if parted, the two paths will cross once more. This might good tattoo for couples each filling their twist with symbols representing their individuality.
Guardian Spirit – In the world of Maori tattoo meanings the guardian spirit symbol is known as Manaia. This symbol of the Maori guardian angel is depicted historically with three fingers included in the tat. The fingers represent life, birth, and death in keeping with the beliefs of the Maoris' in the circle of life, as opposed to a linear perspective.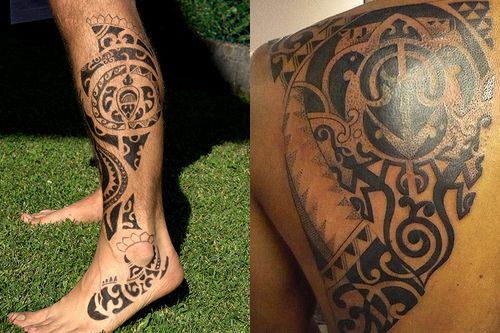 Good Luck Charm – The symbolism of the Maori fishhook represents good luck, prosperity, abundance, water safety, and is generally worn by people who play and travel on the water. This is another design that would be appropriate and wear well by both men and women.
Heart – Within the Maori culture, the wearing of a heart tattoo design, is unique in Maori tattoo meanings because it represents a person who is of a generous, kind, loving, and compassionate nature. This tattoo, would go well anywhere but would of course present nicely on the chest of a man or a woman.
Basic Circle – The Maori tattoo meanings based around the circle are vast. The tattoo design of a Maori circle represents practically the entire universe. It represents the circle of never ending life and everything involved in that circling; what is inside the circle is between you and your tattoo artist. The circle can contain symbols that describe who you are, what you are and what you represent, to name a few. You will want to understand Maori tattoo meanings before designing the interior of the circle.
If you are considering adding some tribal Maori tattoos to your body art, check out some Maori tattoo pictures and the tattoo gallery. Hopefully you've gained an understanding of the importance of Maori tattoo meanings, even though this is a short list of some of the most common symbols and their meanings.
120 Amazing Maori Tattoo Designs for Men and Women
Images from: