Introduction to Tribal Horse Tattoos
Because of the humans' relationship with the horse for thousands of years, tribal horse tattoos are a wonderful expression of that relationship. Originally horses were our partners in war. They wore suits of armor, just as their riders; and were just as respected as the soldier or warrior upon their back. However there are other reasons to wear tribal horse tattoos. Horses are beautiful creatures and many people love them for just that reason. Some find meaning in the horse such as wild abandoned freedom, power, strength, companionship, as their astrological sign, and as a creature willing to help in their labor.
Ideas for Tribal Horse Tattoos
Tribal horse tattoos used as a warrior companion in battle would look extremely nice in a themed armband. A design that told a story of an important battle in your life using the horse as a symbol who aided you in the battle along with other symbols that represent what the two struggled against would create the theme. Another idea would be to use just the horse in the armband. Visualize this armband on your upper arm near the shoulder, with the horse's face and then a horse face shield repeated around the armband. Another idea would be a full horse in Mayan tribal art, along with a Mayan deity who may have assisted in your struggle.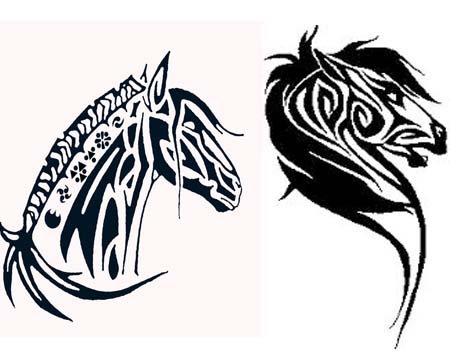 Wearing body art in the form of tribal horse tattoos because they are simply beautiful leaves this category wide open. There are many styles of tribal art from all over the globe. They include Celtic, Maori, African, Mayan, Aztec, Native, Egyptian and more. Choosing a style will be the first decision. In these tribal horse tattoos, perhaps having the entire horse tattooed would be a good idea. A background for your tribal horse tattoo offers even more ideas. Some ideas for your background would be additional tribal symbols surrounding the horse. Depending on the tribal style you've chosen, these will be geometric, circular rounded edged pieces, or Celtic knot or lace patterns. You may or may not select those pieces that have meaning. But tribal art really looks best in large size depending on the style and detail involved, so keep that in mind when choosing your style. Tribal horse tattoos can be sized from very small to very large. That's nice, and allows for placement just about anywhere for men and women.
Tribal horse tattoos with meaning as described above might apply to you and you might choose them for that reason. The most popular is the meaning of power, strength and wild freedom; second as Sagittarius' astrological sign. Tribal horse tattoos' meaning is personal to you. You can choose any style of tribal horse tattoos to represent your meaning; if you really want to get the point across talk to your tattoo artist about the best design to represent your meaning. Tribal horse tattoos for the astrological sign would want to include a bow and arrow somewhere in the tattoo. You wouldn't necessarily need to show Sag as half horse half human. Have fun with this tattoo.
Horse Tattoo Designs
Tattoo designs from the TattooMeNow Gallery
[nggallery id=11]
Get access to ALL our horse designs in FULL SIZE here
Related Articles:
Dark Horse Tattoos – Tattoo Ideas, Designs & Meaning
Horse Shoe Tattoos, Tattoo Ideas, Designs & Meaning
Blue Horse Tattoos – Tattoos Designs, Ideas & Meaning
Horse Tattoos – Ideas, Designs & Meaning
Images from:
http://www.ratemyink.com and http://www.horsetattoos.net
http://fendo-slanzar.deviantart.com/ and http://www.goldenwolfen.com