Whether you're a cat lover or a lover of awesome tattoos, the cat tattoo is worth investigating.
The cat has long been worshipped in some cultures as being almost God like. We know the lore that says that cats have nine lives; that cats will always land on their feet. Subsequently, the cat as a tattoo is symbolic of the wearer of the tattoo being resilient, strong, and fortunate. Cats are definitely soft and fluffy, but you know not to mess with a cat, right? The claws will be out and it will be hissing and scratching to the end. The 'stand up for itself' nature of the cat, despite its soft exterior, is also a sound reason to choose a cat tattoo.
There is little wonder the cat has long been associated with witchcraft and the occult, particularly the renowned black cat.
Who could resist wearing a tattoo that carries such mystery and infamy? Included below are several examples of portrait work of cats, perhaps in honour of a treasured companion. There are also examples of black work, and small and dainty tattoos.
A simple and effective design, this small tattoo sums up the mystique and nature of the cat beautifully. Ideal for the wrist or forearm, possibly the ankle. Would look just right on the base of the spine, too.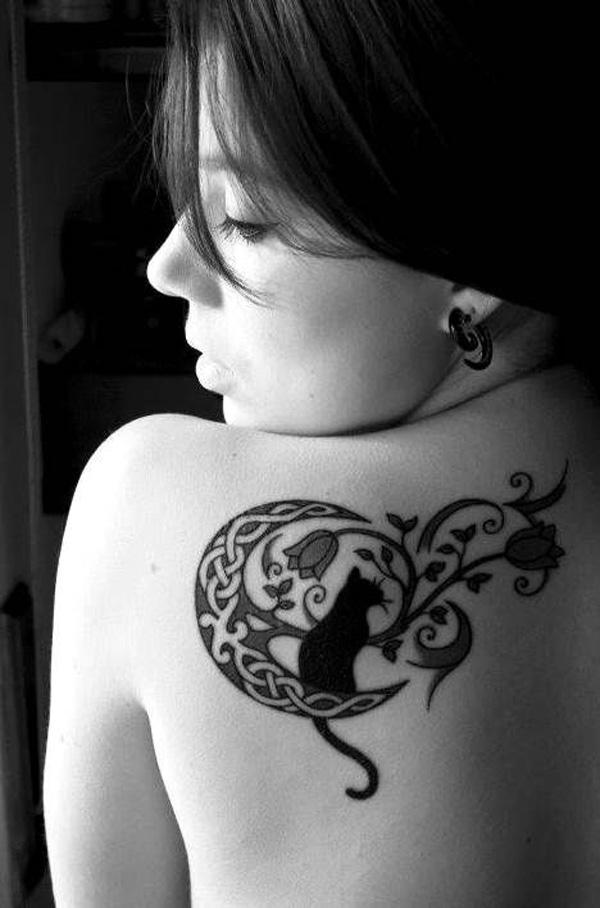 The black cat, the moon, the tree, the celtic style patterning…all immediately bring to mind the darker, yet alluring, aspects of the cat tattoo.
An intriguing tattoo. This one would look completely in place on the shoulder, the back of the neck or, as pictured, on the outer leg. The design is feminine, best suited for a woman.
Nothing wrong with a bit of humour !
http://rattatattoo.com
Intriguing and interesting – the viewer of the tattoo will wonder if the cat is poised ready to strike, or to welcome a rub.
This tattoo sums up the ultimate sex appeal of the black cat tattoo – slick and sleek, the cat is poised proud and inviting. Makes you look twice!
The colour in this tattoo is dramatic. The vibrancy of the eyes of the cat are stunning. Certainly a tattoo you can feel proud of wearing.
A zombie cat – a bit quirky, a bit macabre, a bit colourful. But – extremely interesting!
A tattoo like this one would be a fantastic memorial for a special companion. Cat lovers would agree – they leave paw prints on your heart.
A stunning portrait with intricate and well -crafted detail.  Absolutely beautiful!
Again, a touch of the macabre! The drama of this piece has been captured with great skill – the vibrancy of the eyes is certainly a stand out feature.
http://www.tattoopictureart.com
Paw prints – a lovely memorial for a lost friend. This tattoo would also be appropriate to sum up the possible personality of the wearer – cat like, feline, stealthy.