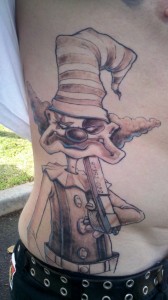 Though you many not think of a evil clown tattoo as a beautiful work of art, (they do after all synonymous to human natures darker side) there are different perspectives about this often misunderstood tattoos. Some people wear evil clown tattoos because they symbolize because they symbolize killer instincts and some may even wear them to help them overcome their clown phobias. Others simply love the evil clown tattoo look!
Types of Evil Clown Tattoos
There are several types of evil clown tattoos. One example is the gangster clown. This type of tattoo is typically one that is placed on the arm adorning some type of weapon. The overall look of it is scary and symbolizes death. On the opposite side of the spectrum is the Sad Gobo Clown. This one symbolizes sadness and misery. See how different the meanings are for these two Evil Clown Tattoos? This is why it is so important for you to really research the meaning of any tattoo before you get permanently inked. If your tattoo symbolizes murder and killing, others (such as employers) may judge you upon this even if it was not what you were trying to express. So, to sum it up, these types of tattoos are not for everyone .They are pieces of art that are unique and stunning but should be considered deeply before you get one.
The most popular part of the body to get Evil Clown tattoos are on the upper arms and the back. There are many different designs to choose from and a large variety of colors to use. Pick carefully and make sure that you get exactly what you want!
Evil Clown Tattoo Designs
Check them out in FULL SIZE – Click here.
[nggallery id=6]
Photos of Evil Clown Tattoos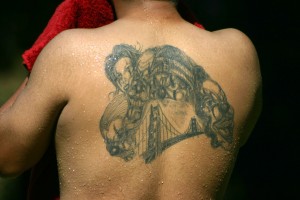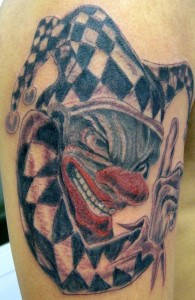 Related Articles